We Love —
The Atlantic is a small luxury hotel in Jersey, with spectacular ocean views
Jersey, while only 45sqm, is a unique environment that blends English and French influences to create an atmosphere unlike any other. 
Take in the stunning views of the hotel's 6 acres land and views of the ocean from your room.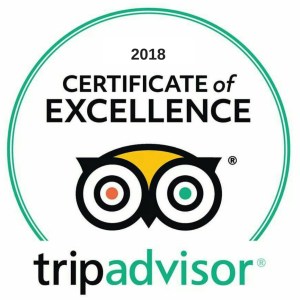 This hotel won the
Certificate of Excellence
from the world's leading review website, which honours hotels & accommodations that
consistently demonstrate a commitment to hospitality excellence
.
Your Destination —
Jersey enjoys some of the most varied landscapes that some countries would find hard to compete with, in only 45 square miles! From the cliffs on the north coast, home to many birds including puffins, to the golden sand beaches on the south coast. 
With unspoiled landscapes and a unique blend of British and French influences, Jersey really is a place where you can get away from it all. Relax and enjoy the famed hospitality of its people, and lose yourself in the Island's winding lanes or in its breathtaking seaside.
Culture vultures will be captivated by the island's history, lovebirds can fall in love with the land's natural beauty, while families can relax without a care on pristine beaches. Clear your head by relaxing all day or indulge in exhilarating outdoor sports!
The Atlantic 4* —
Situated on 6 acres of gorgeous landscape, The Atlantic is a family-owned hotel with a reputation for quality in Jersey. Discover stunning views of St. Ouens Bay and truly let yourself feel pampered when you check into this oceanside gem.
One of the Small Luxury Hotels of the World, 
The Atlantic also has an Ocean Restaurant, where you can enjoy gourmet food while taking in stunning views of the sea
. Be sure to indulge in an afternoon tea, sumptuous meal or well-crafted cocktail. 
There is also a health club available with an indoor swimming pool, spa pool, gym and saunas. 
Some services may incur additional charges, payable locally.
Your Room
This offer is based on a Ocean View Room.
Your Ocean View Room comes with an opulent marble-decorated ensuite and a large, sliding window that allows you to gaze over the stunning seaside. Enjoy all the amenities you need to be comfortable and a range of perks to make your stay convenient and cosy. Both spacious and intimate, the Ocean View Room is an ideal place to watch the sunrise from before you embark to explore the island.


2 Adults
Your Board Basis
This offer is based on a Bed and Breakfast stay. 

Just for you: A 3-course Market menu (table d'hote) on your first night & a 3-course A la Carte dinner on another night of your stay, both will be served at the Ocean Restaurant.

You've probably heard of Jersey Steak - where better to sample this delicacy than Jersey itself? The Ocean Restaurant overlooks the sea and has a delicious range of gourmet dishes, sure to leave all palates satisfied and happy. 
Be sure to indulge in an Afternoon Tea or cocktail in the bar or on the terrace - there are so many great spaces for you to enjoy yourself!
Your Time
The Atlantic Hotel also has a wellness centre - enjoy an indoor pool, sauna and fitness room during your stay for the ultimate relaxation!
Your Journey to The Atlantic 4* —
Flights: Included with either Easy Jet or Flybe

Offer 1 - EasyJet
Outbound: London Gatwick (between 07:10 - 18:50)
Arrival: Jersey (between 08:10 - 19:50)
Inbound: Jersey (between 08:40 - 20:40)
Arrival: London Gatwick (between 09:40 and 21:40)

Offer 2 - FlyBe
Outbound: Exeter (between 07:00 - 15:50)
Arrival: Jersey (between 07:45 - 16:35)
Inbound: Jersey (between 08:10 - 16:55)
Arrival: Exeter (between 08:55 and 18:15)

Offer 3 - FlyBe
Outbound: Manchester (between 07:20 - 18:05)
Arrival: Jersey (between 08:40 - 19:25)
Inbound: Jersey (between 09:10 - 20:00)
Arrival: Manchester (between 10:30 and 21:20)

Offer 4 - FlyBe
Outbound: Birmingham (between 07:20 - 15:25)
Arrival: Jersey (between 08:35 - 17:25)
Inbound: Jersey (between 09:50 - 17:45)
Arrival: Birmingham (between 11:40 and 19:00)

All flight times are local.

Luggage: 
  -  EasyJet: No hold luggage & 7kg of carry-on luggage.
  -  FlyBe: 20kg of hold luggage and 1 piece of hand luggage no greater than 55x40x23cm.
Transfers: Transfers are not included. 
Car Hire: Car hire is included.

The following will need to be paid when collecting your car:
  -  Collision Damage Waiver Insurance - £10 per day.
  -  Licences and Fees - £2 per day.
Please note: Please note: flight/train details are given as a guide only and may change.  We will, however, notify you in advance if flights/trains are more than 2 hours outside the time range given.  Specific flights/trains cannot be selected and confirmed timings will be shown on your official documentation from the tour operator.  Flights/trains are non-changeable and non-refundable at time of booking.