Jersey Holidays 2021/2022



Table of contents
Enjoy an island break in Jersey, a culinary hotspot and stunning beach destination. Despite its small size, the island packs a punch with world-renowned museums and a delightful zoo. Yet, it's also a natural wonderland with dreamy country walks and coastal paths to explore. Discover the island at your own pace, whether that's kicking your feet up at the beach or kayaking between coves.
The top 5 things to do in Jersey
1. Jersey Zoo
Founded by the beloved naturalist Gerald Durrell, Jersey Zoo is a world-renowned conservation zoo. You'll find many critically endangered species throughout, all of which are afforded space to roam. Among its highlights include lowland gorillas. A statue to local hero Jambo, a gorilla that protected a fallen child, adds to the zoo's mythos.
2. The Beach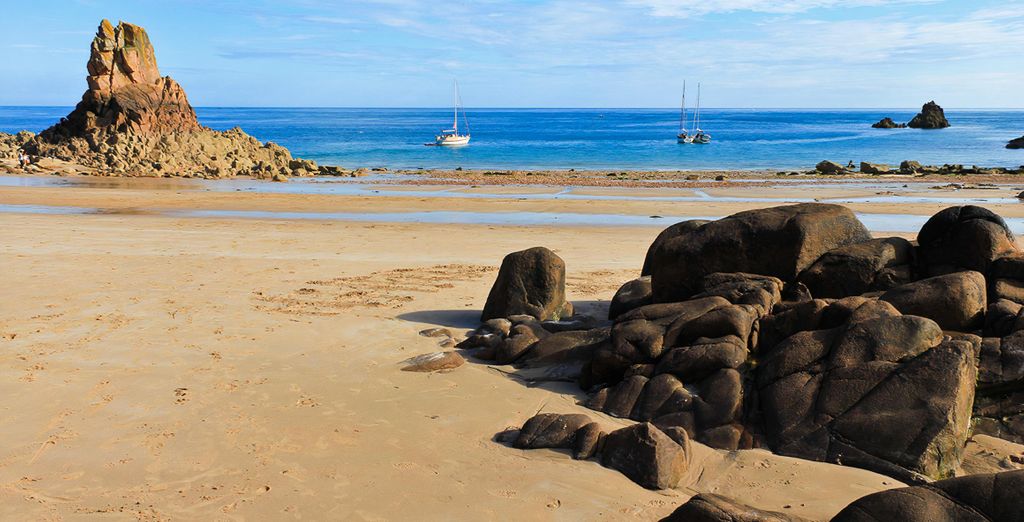 Jersey is blessed with many fine beaches. The varied coastline has everything from golden sandy shores to soaring cliff edges. One of the most serene options is Portelet Beach, a quiet little bay on the south coast. Other top beaches include St. Brelade, Beauport and Plement. These waters are among the most attractive in the British Isles for swimming.
3. Jersey War Tunnels
These spooky tunnels were dug by occupying Germans during World War 2 and worked as an underground hospital. Today, it's a museum documenting the occupation of the Channel Islands. It's an affecting but recommended experience that looks at the hardships suffered by islanders during this time.
4. Elizabeth Castle

This 16th-century castle guards St. Helier and has played a major role in the island's history. While it is accessible at low tide via a causeway, taking amphibious vehicles at high tide is more fun. There are several museums on the islets that outline the castle's ancient and recent histories.
5. Mont Orgueil Castle
Mont Orgueil Castle was overtaken by Elizabeth Castle as the island's prime fortification. Still, Mont Orgueil is a stunning and imposing sight overlooking Gorey on the east coast. The castle has a long and rich history dating back through prehistory and offers excellent views from its ramparts.
Our best hotels in Jersey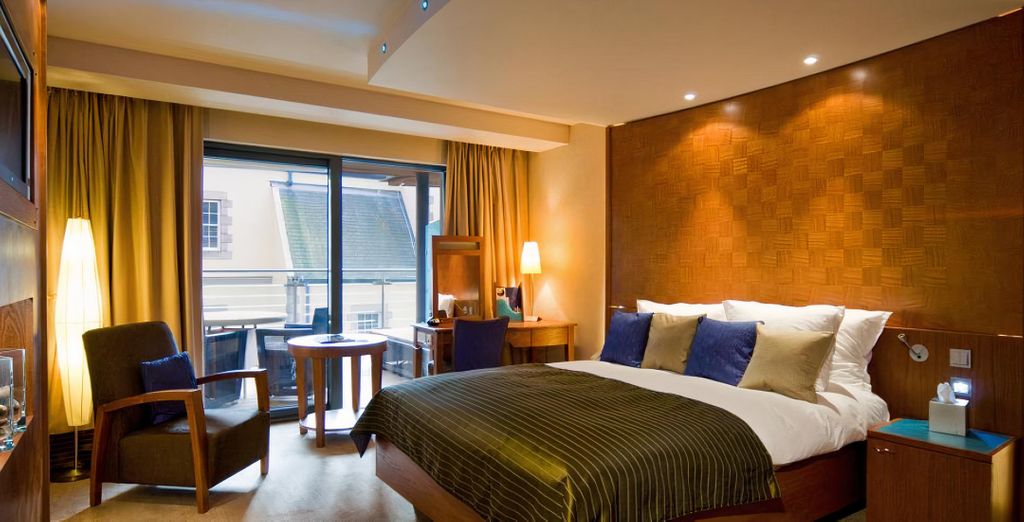 This scenic hotel in central St. Helier is perfectly placed for access to the town's best sites. It boasts peaceful and elegant rooms with balcony views of the bustling streets below. Guests have access to several fine dining and bar options on-site, making the hotel among Jersey's most beloved.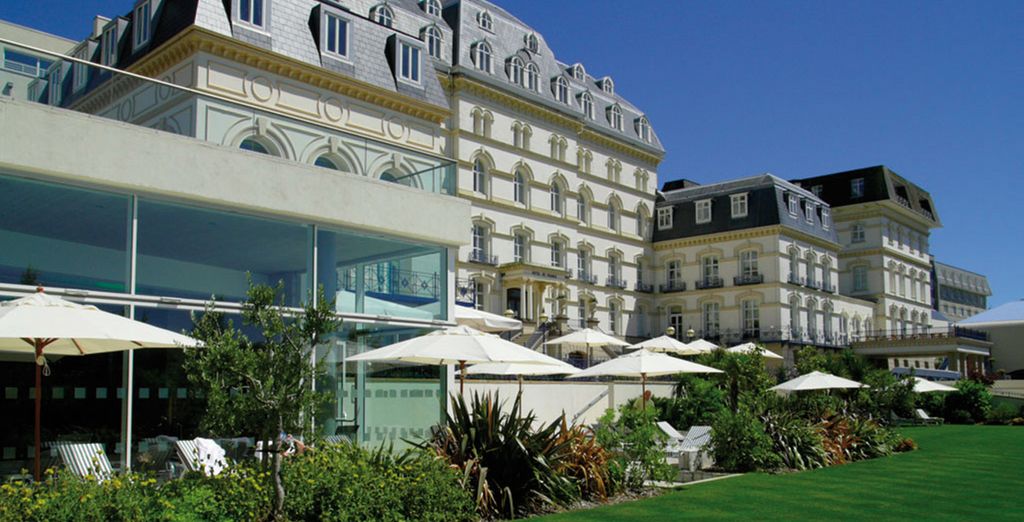 This delightful French Beaux-Arts-inspired hotel commands the eye with its pretty grounds and charming halls. Guests can enjoy a wealth of first-rate facilities, from luxury swimming and spa treatments to award-winning dining options. Rooms are comfortable and cosy, with scenic views of the surrounding greenery.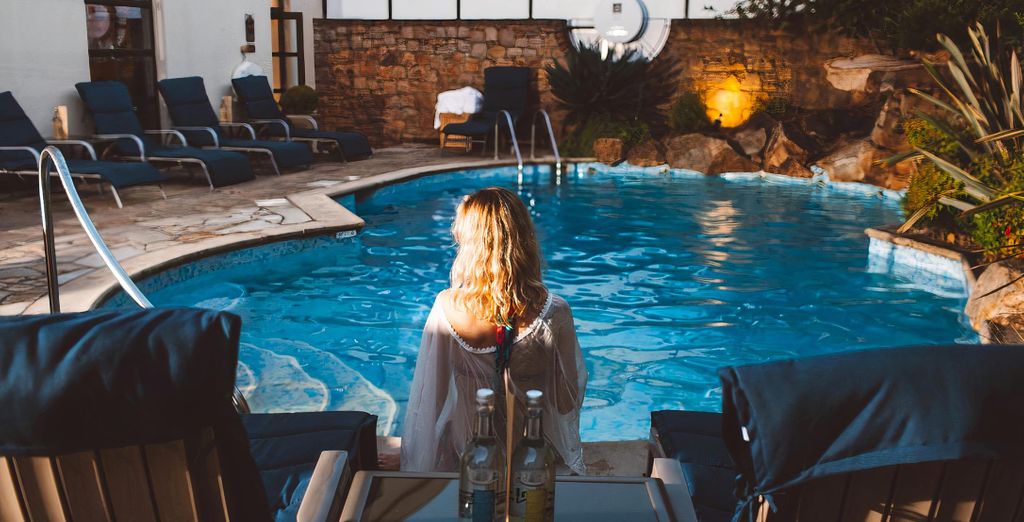 This luxurious hotel in the heart of St. Helier is among the top hotels in Jersey. Its Michelin-starred restaurant serves up much-lauded local produce, while the rooms reflect the hotel's focus on refinement. The spa and swimming areas provide charming oases with treatments and secluded sunbathing.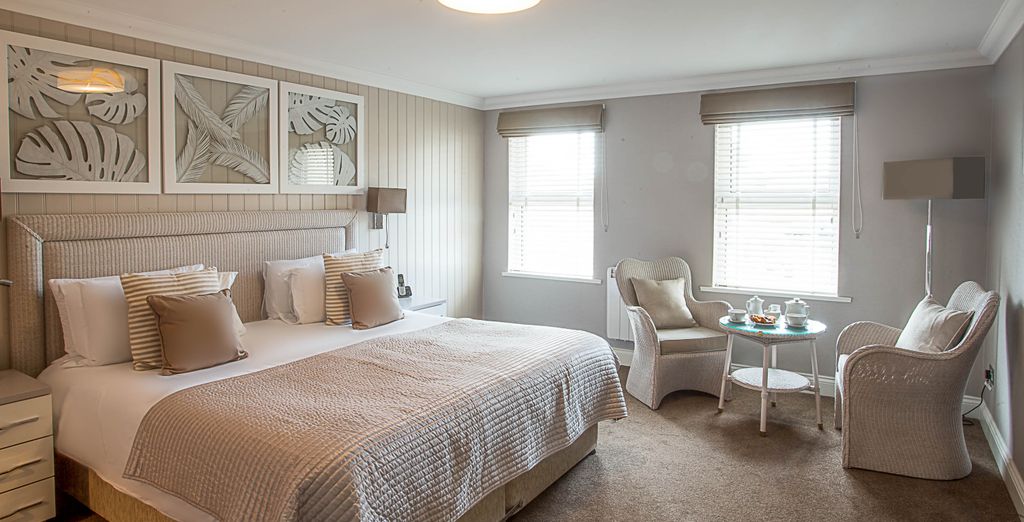 Enjoy a historic stay on this magnificent converted 17th-century farmhouse. Surrounded by Jersey's famous bucolic fields, it's just a short trip to the secluded sands of St. Brelade's Bay. Inside, you'll discover cute and chic interiors in a contemporary country style and an award-winning restaurant to indulge in.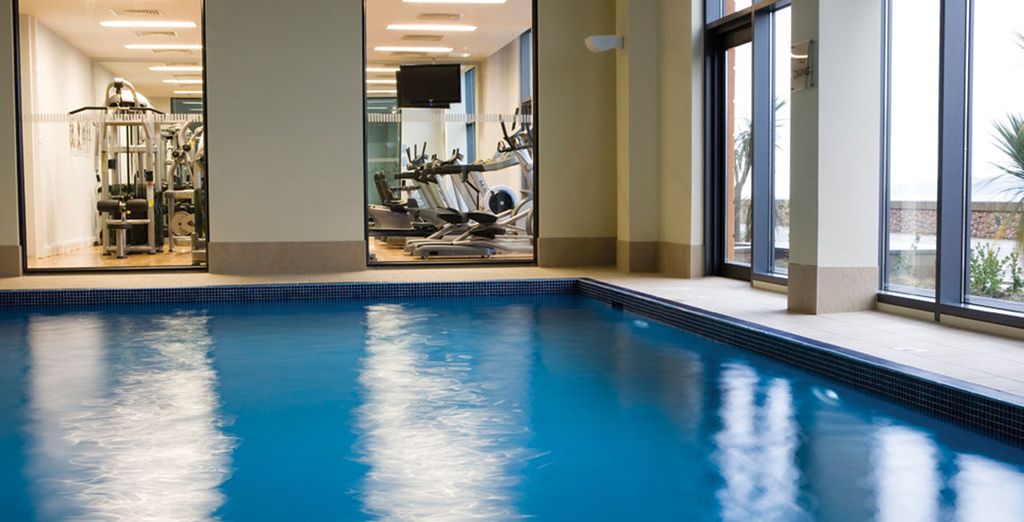 Experience prized harbour views with this dazzling waterfront hotel. Bright, airy and modern, the Radisson Blu boasts spa treatments, saunas and a large indoor swimming complex. The hotel's striking lounge and dining areas overlook the lapping waves beside Elizabeth Marina.
When is the best time to go on holiday in Jersey
Jersey is a spectacular year-round destination with different perks, depending on the season. The high season in summer sees large crowds on the coast from July until August. Hotel prices tend to rise with the temperatures, so book early for the best deals. Alternatively, consider travelling just before or after peak season. May to June and September offer serene beach scenes and warmer waters without the peak footfall. If hiking and sailing are more your style, why not visit in spring? The air is cool, the skies are clear, and coastlines provide excellent walking trails. Another key season for visitors is in October. The Channel Islands' food-loving Tennerfest is launched across Jersey with local food stalls spilling out over St. Helier's harbourfront.
Going on holiday in Jersey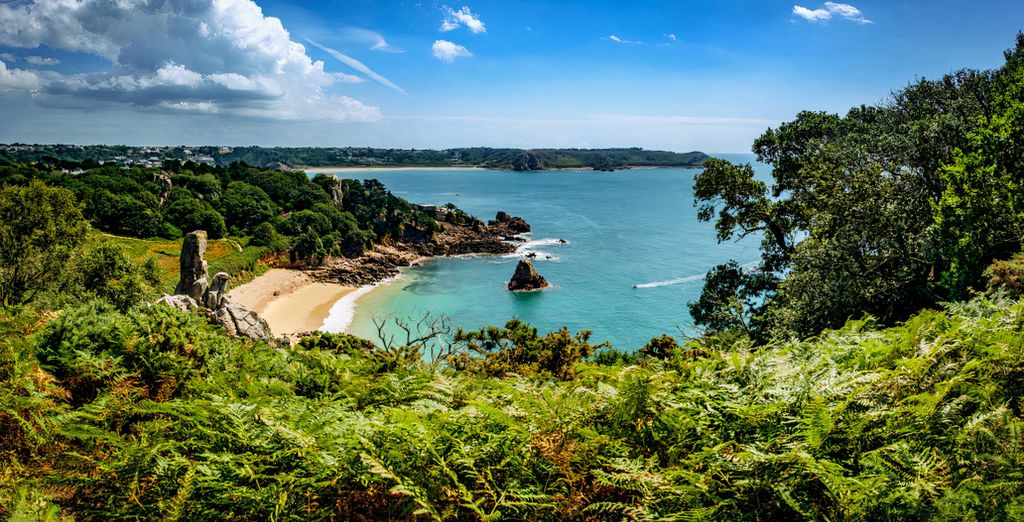 Jersey is a well-connected island escape with links by air and sea. Jersey Airport offers flights throughout the UK, including plenty of summer seasonal links through Europe, as well. Alternatively, a sea ferry connects Jersey with the UK and France. Links from Poole, Portsmouth, Guernsey and Saint-Malo allow visitors to bring their cars. Once you're in Jersey, you'll find the island navigable by foot, bus, car and bicycle. Speed limits are kept at a low 15 mph island-wide, making it very friendly to bicycle users.
Enjoy your holiday in Jersey
Jersey has something for everyone. Families, friends and couples will all find the island a fascinating destination. For families, in particular, a world-renowned zoo, vibrant ancient history and child-friendly beaches make for perfect days out. Couples, too, can make use of some of Britain's top stargazing areas and delightfully romantic restaurants. Our hotels provide many such top dining experiences and award-winning menus. For groups of friends, discover the coast with kayaking and surfing or head to St. Helier's best bars.
The Voyage Privé travel expert's opinion on Jersey
Jersey is a stunning island destination with an independent spirit running through its core. Surrounded by rugged natural beauty and protected sandy bays, it's a dazzling landscape for beachgoers and hikers alike. What's more, this is an island that's proud of its culinary heritage. Delightful seafood restaurants serve up locally harvested oysters enjoyed with the gentle soundtrack of lapping waves. For those seeking a laid-back holiday, it doesn't get better than Jersey.
An island of charm and intrigue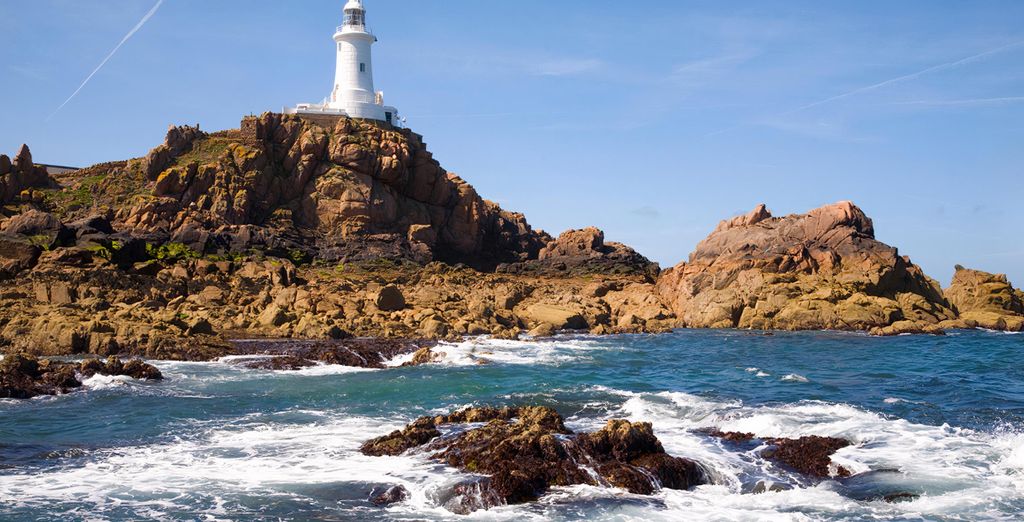 Jersey combines the best of two cultures to provide holidaymakers with memories that they will cherish forever. Just nine miles by five miles, everything is within reach. Enchanting for its history, Jersey is also curious for its prominent French flavour despite being a Crown dependency of the UK. Everywhere you go, road signs are French, and a portion of the older population speak Jerriais, the old Norman-French dialect. This is largely explained as a result of Jersey being lost by the kings of England 800 years ago and surrendered to France.
A taste of two great cultures
In many ways, Jersey offers the best of French and UK culture. Whether you're planning a family holiday, a break with friends or a romantic getaway, this charming island off the coast of Normandy has something for everybody. Lose yourself in pleasant walks and immerse yourself in the history of a place that drips with culture, tradition and no shortage of historical truths and myths.
The War Tunnels are a must-see, while both castles on the island offer a fascinating glimpse into the past. The beaches are pleasant and child-friendly while the local seafood cuisine is a delight. A trip to St Brelade's Bay, located on the south coast, offers welcoming eateries and picturesque views, while St Ouen's Bay is the ideal place to go for a swim.
A slow pace of life for a relaxing holiday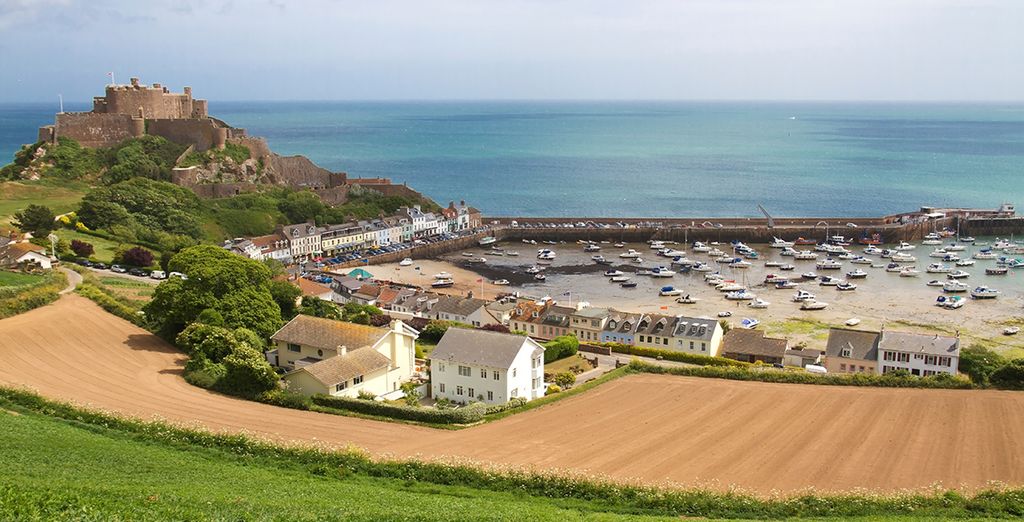 The financial services sector is a big employer in Jersey but don't let that cloud your judgement — this is a holiday haven where the pace of life is nice and slow. Perhaps that is best illustrated by a speed limit of just 40 miles per hour. With everywhere within reach, there is no such thing as a badly-located hotel here. That said, we have handpicked the best hotels with your comfort and enjoyment in mind.
Jersey truly is that special kind of place that everybody should visit at least once in their lifetime. We offer exclusive and well-priced holidays to Jersey that are sure to be snapped up in no time, so don't miss out on a luxury holiday to this idyllic, enchanting island.