Guernsey holidays offer a taste of island life



Table of contents
Discover our Holiday Deals to Guernsey ✅ Up to 70% Off on 4 & 5 ★ hotels. Enjoy the British Island with a distinctly Gallic flavour. Voyage Privé.
Enjoy luxury holidays in Guernsey and discover an island where fine dining, impressive coastlines and beautiful sunsets are a way of life.
Guernsey really is one of the most stunning islands in the world, with quaint harbour towns, a magnificent coastline and enormous seabird colonies, it really is something to see. Sitting just off of the Normandy Coast Guernsey offers a holiday location that is reminiscent of mainland Europe, without the long flight times. The island attracts plenty of sunshine, and with over 25 beaches, it is the perfect place to visit for the ultimate relaxing break. There are pretty, little towns with cobbled streets to stroll along as well as sites of historical interest, where you can learn about the island's heritage. Guernsey, it seems, has something for everyone.
Guernsey enjoys up to 2,000 hours of sunny weather every year and with more than 25 beaches, it won't be long before you find your favourite bay, whether you prefer the sandy beaches in the north of the island, or the spectacular cliffs and rocky landscapes of the beaches on the south coast. Throughout the year these beaches play a central role in Guernsey life, whether you are sunbathing during the summer months, enjoying water sports and sailing or enjoying the fresh sea air and dramatic coastline during the winter.
The pretty cobbled streets of the island's capital St Peter Port offers plenty of shopping opportunities and with both small boutiques and larger stores available it's easy to lose track of time. Don't forget that thanks to Guernsey having lower excise duty rates than in Britain, you might also pick up a bargain to take home with you. Every Friday is a market day when the town's market square is full of local suppliers and traders selling their local produce and goods. This picturesque harbour town is overlooked by the historic Castle Cornet, just one of the many historic buildings available to visit where you can learn about the island's proud heritage.
Island hopping offers chance to explore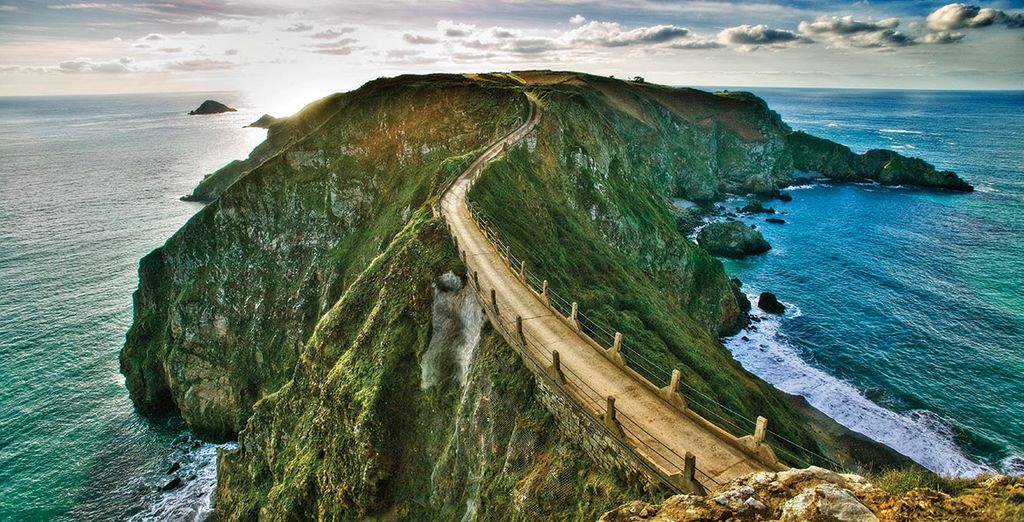 The Bailiwick of Guernsey actually includes several smaller islands, most of which can be easily visited which can be easily visited on a day trip. Each of these islands offers their own delights, from the attractive Shell Beach and peaceful walks on Herm Island to a horse-drawn carriage or cycle ride around the motor vehicle free island of Sark.
Food glorious food in Guernsey
Guernsey is proud of its delicious culinary offerings and not without good reason. There is plenty of excellent local produce available on the island, and of course, there is always freshly caught seafood on the menu, with lobster, crab, scallops, bass and turbot all readily available. The island is famous for its unbelievably creamy milk and butter and award-winning cheeses, produced by Guernsey cows who are reared on the island. Locals will tell you that there is nothing tastier than a slab of home Guernsey gâche (pronounced gosh), a traditional fruit loaf served with a thick layer of rich Guernsey butter.
Our handpicked offers enable you to make the most of your visit to Guernsey, so whether you are looking for relaxing holiday in the sun or an activity break for the family you are sure to get a great deal.
The Voyage Prive travel expert's opinion on travel to Guernsey
We love Guernsey, it's the perfect location for those who don't like long flights, yet crave the sun, sea and sand that you would expect from more long-haul destinations. There is everything you need for the perfect get-away but the location of the island also means that you can use it as a base to go island hopping and explore the other Channel Islands if expeditions are more your thing. There are many beautiful beaches on the north of the island where holidaymakers can enjoy some fantastic water sports and plenty of opportunities to sunbathe in the summer months. The south of the island has a more rocky coastline that acts as home to some amazing seabird colonies. You can head there to see puffins, gannets, or guillemots as they raise their young. Inland, there are some gorgeous little towns with plenty of shopping opportunities and attractions to help you pass the time. There is so much to do here for families, couples, and single people alike. Guernsey has the ideal climate and the right terrain to allow you to make your holiday to the island exactly what you want it to be. Whether you want adventure, sports, relaxation, or to soak up the history and culture of the island, you can do it all on Guernsey.
Top 5 things to do/see in Guernsey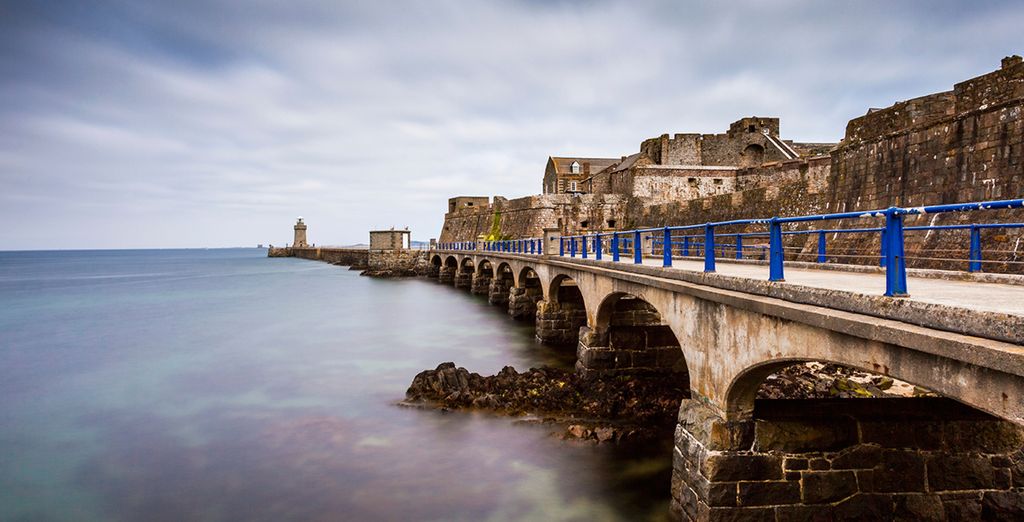 1. Have a stroll around St Peter's Port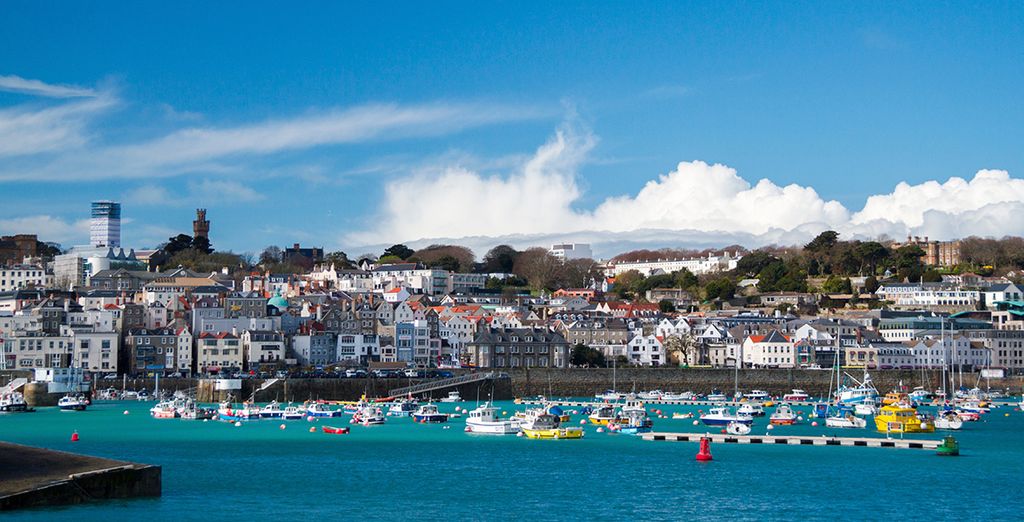 This picturesque harbour town is actually the capital of Guernsey. Wander through the cobbled streets and discover the history of the port which dates back to the Romans. You can also see locations used for the film 'The Guernsey Literary and Potato Peel Society' which chronicles the German occupation of the island as well as its liberation. Wander down to Castle Coronet for a stunning view of the bay and peruse the five museums and four period gardens that it contains.
2. Take a 'Tasty Walk'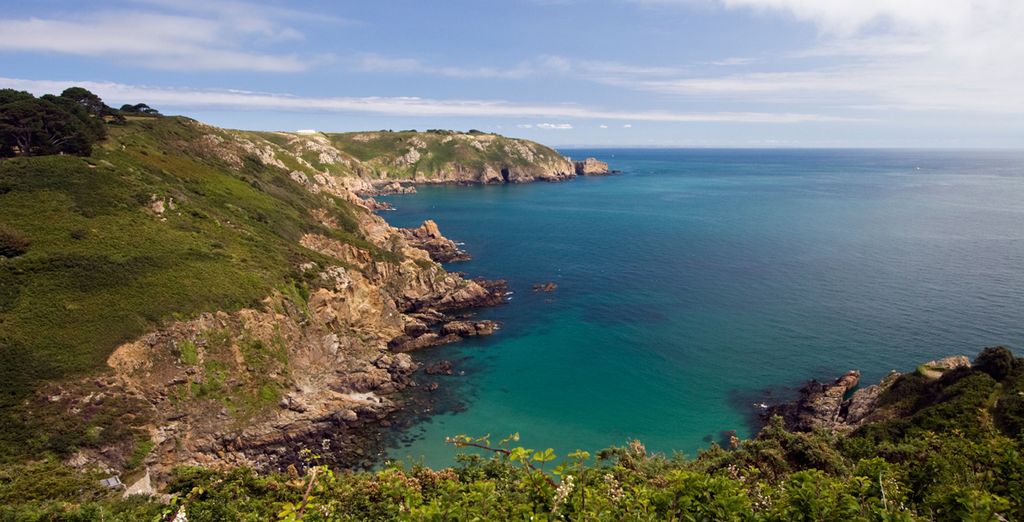 'Tasty Walks' are a series of self-guided walks which help you explore the best that the island has to offer. With over 20 walks to choose from, all with different terrains and durations, you are bound to find one that suits you.
3. Lihou Island
Lihou is a small island that is only accessible via a causeway at low tides. There are 150 species of birds that live here, making this the perfect location for nature lovers and it is also home to a natural rock pool that is deep enough to take a dip in. To be on the safe side, always check the timing of the tides before you head across to the island.
4. Cobo Bay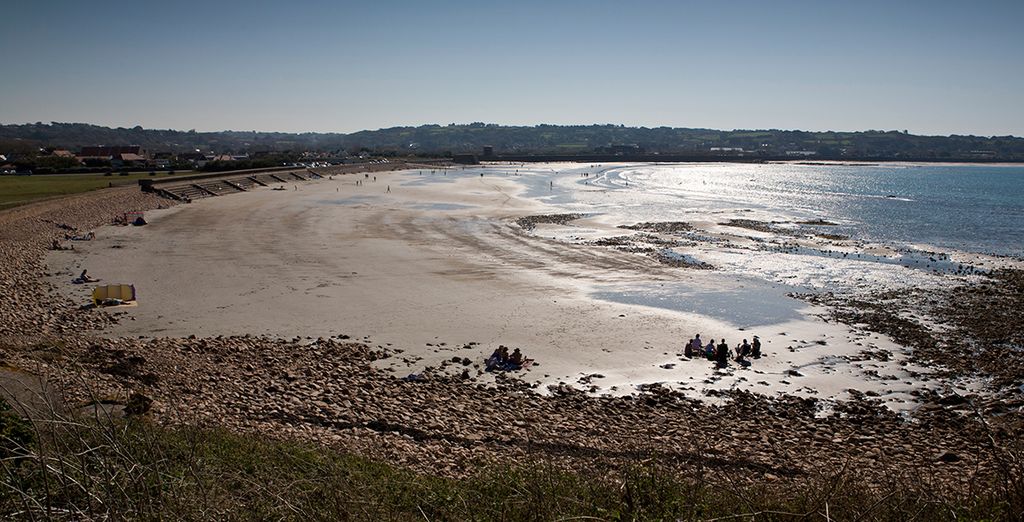 This is the most popular beach on the island and when you see the crystal blue sea and the white sands that stretch for miles, it's easy to see why. The beach is easily accessible and there are lots of great places to eat or relax with a drink just across the road. Have a family day, enjoying all that the bay has to offer.
5. Watersports
If you are a bit more adventurous, you could try out the range of watersports on offer on the island. Head to Sark to experience kayaking through caves or Vazon bay to try your hand at surfing. Scuba diving is also incredibly popular on the island, as is coasteering, where you can jump off coastal rocks. Just make sure that you have a guide with you at all times.
Which hotel to choose in Gurensey
The Duke of Richmond
Located in the heart of the capital, St Peters Port, this hotel is just a short walk from the harbour front. The hotel has magnificent sea-views and the interior of the hotel is comfortable and stylish.
St Pierre Park
Located on the outskirts of the capital, St Peters Port, This hotel is set within 35 acres of lush greenery. There is a pool and a spa available for you to enjoy, this 4-star hotel is the perfect place to relax and forget the hustle and bustle of everyday life.
The White House - Herm
Herm is an island just off of the coast of Guernsey that is known for its outstanding beauty. There are no cars on the island and the hotel is free from clocks, television, and telephones, it is truly an escape from the real world. The White House is the only hotel on the island and once there, you only have a short walk to the beach and stunning views of the sea.
Practical Information about Guernsey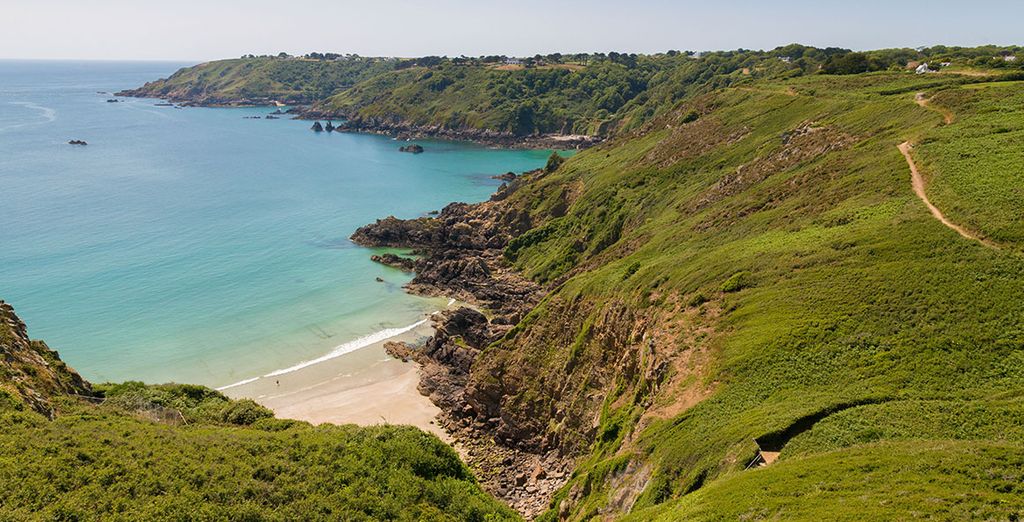 It is worth noting that if you are travelling into Guernsey from the UK or Ireland, you will not be requested to produce your passport on arrival onto the island. You can use your currency from the UK during your visit to Guernsey, and goods cost around the same amount on the island as they would in the UK. Budget wise, therefore, it would be prudent to think about how much you would spend on a typical UK holiday. Guernsey does also have its own notes and coins, should you wish to exchange some of your money before your holiday to ensure your cash is accepted everywhere. Weather wise, Guernsey has a very moderate climate and follows the same seasonal patterns as the UK. This means that July and August, as the warm summer months, are the best time to visit, at least if you want sunny weather. Discover more offers to Guernsey : Weekend
Do you need a passport to go to Guernsey?
EU citizens arriving in Jersey (adults and minors) must have either a passport or a valid identity card. For others, a passport is required; check with the British consulate to find out if a visa is also required. Passports are not required for UK nationals.

How long is the ferry to Guernsey?
With up to 32 crossings per week, the Port of Guernsey links Guernsey with France, Jersey & England. Crossing times range from 1 hour for the Jersey (St Helier) service to 7 hours 50 minutes for the Portsmouth service.

Is Jersey or Guernsey better?
If you have the time the combined visit is a good idea. If you only have a few days we recommend Guernsey which is more varied with the inevitable shark and herm. You can easily do a tour of Guernsey in 3 days. Don't miss the west coast with Cobo Bay. To the south there is a superb coastal path, in some places it feels like the West Indies...

How do you get from London to Guernsey?
It all depends on the time you have and your budget. The quickest way to get from London to Guernsey is to take a plane and the journey takes about 2.5 hours. The cheapest way to get from London to the Channel Islands is by bus or car with the ferry crossing and it can take up to 8 hours.