Discover natural beauty with holidays to Azores
The Azores are an archipelago of nine volcanic islands in the mid-Atlantic. Regular flights from the UK mean that it is now easier than ever before to visit these remote Portuguese islands. Time is slow and relaxed on these islands with a wealth of special scenery and leisurely activities such as whale watching, swimming with manta rays and dolphins or exploring the volcanoes.
The top 5 things to see and do in the Azores?
??
1. Whale watching in Sao Miguel
?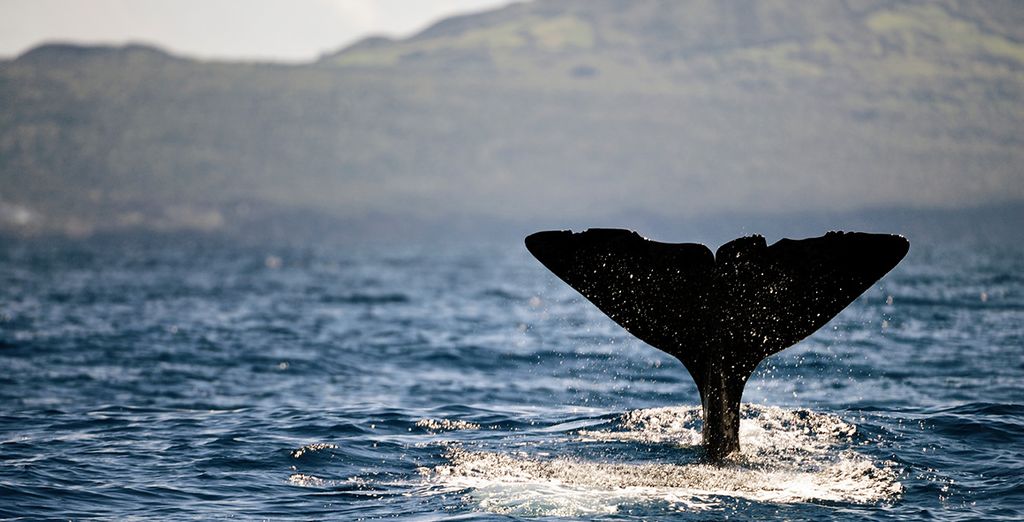 Perhaps the most unforgettable experiences for all the family has to be sailing the ocean in search of these majestic marine mammals. Most of the islands offer guided tours, but São Miguel - the largest island - may be the easiest logistically as it has companies offering tours in Ponta Delgada and Vila Franca do Campo. Look out for dolphins too.
2. Swimming in geothermal pools
?
?Before tasting cozido in Furnas, travel to Terra Nostra Park or Poça da Dona Beija and treat yourself to soak in the hot geothermal pools. There are numerous hot springs on the Azores, which promote myriad health benefits from reducing stress to improving circulation to and soothing skin conditions.
3. Eating lapas
?
?Eating seafood especially freshly caught lapas or limpet clams is a must in the Azores. They are served raw or freshly grilled and are superb served with garlic, butter and a squeeze of lemon. Lapas are one of the most popular seafood delicacies on the Azores and must be tried on holidays to the Azores, particularly if staying on Corvo or Flores. On these islands, the largest and most succulent lapas are found.
4. Have a go at standup paddleboarding
?
Why not book a standup paddleboard (SUP) activity, for a different way to have fun in the water and a great full-body workout. The lakes offer tranquil yet beautiful settings for beginners to try this relaxing sport, while it is also possible to book organized trips on the coast.
5. Go on a horse-drawn carriage ride
The charming towns and villages of the Azores will make you feel as if you've stepped back in time. Embrace the vibe and take a tour of a town by carriage. These tours are offered in most tourist destinations such as Ponta Delgada without any need to book in advance.
Our best hotels in the Azores
??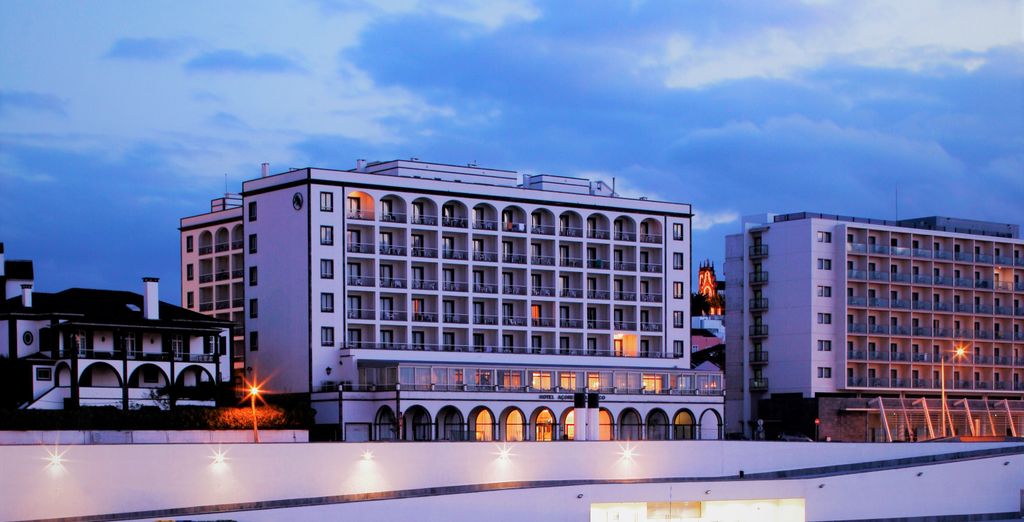 With views of Ponta Delgada's Marina, the recently renovated Grand Hotel Açores Atlântico is a prestigious luxury hotel with an enviable location.
Choose between either a City or Ocean View room, and look forward to a complimentary dinner!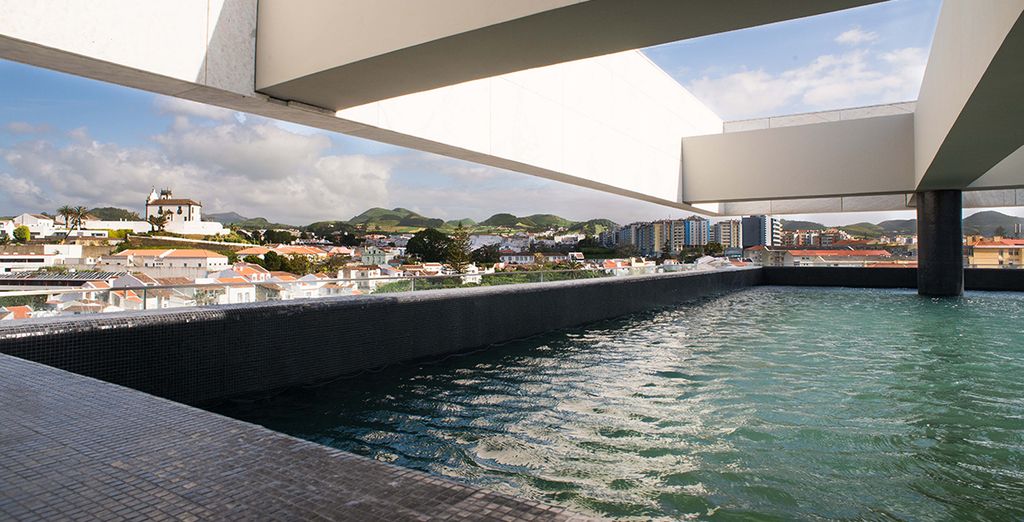 ?The new Azor Hotel is situated in "Portas do Mar", next to the Marina of Ponta Delgada. It is only one km from Ponta Delgada city centre and a short drive from the airport and many of the main beaches and attractions of the island.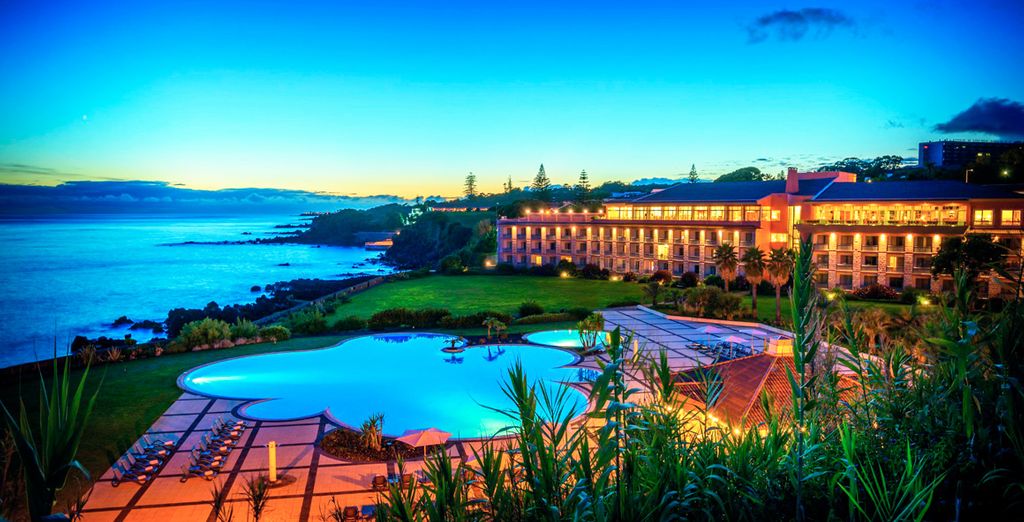 ?The four-star Terceira Mar Hotel is located on the historic island of Terceira in a quiet resort. The hotel boasts wonderful views of the ocean as it is perched on the edge of a cliff, a stone's throw from the beach. Guests can enjoy an outdoor saltwater swimming pool, an indoor pool, Turkish bath, hot tub, bar and restaurant.
When is the best time to go on holiday in the Azores?
The Azores has an oceanic subtropical climate with very little difference between the seasons. This translates as mild winters and pleasantly warm summer months, as would otherwise be expected in subtropical areas. The air humidity is relatively high because the winds are carried across the open Atlantic and therefore transport a lot of moisture.
The Azores are significantly further north than the Canary Islands and so have a different climate. From the end of September, you can feel slumps of low-pressure areas and the tail-end of tropical storms in the Azores. However, direct contact with tropical storms is rare and only occurs every 10 to 12 years. Winter in the Azores occurs from December to early April and is more similar in climate to early autumn in the UK. The weather at this time is difficult to predict, sunny calm days and stormy, rainy days are equally possible.
The inhabitants of the Azores often jokingly say that their days sometimes have four seasons. It's not that changeable, but you should be prepared for everything, especially in winter. Similar to the island of Madeira, the Azores also enjoy mild daytime temperatures during Christmas, in December 17 degrees Celsius is the average during the day.
The best time to book holidays in the Azores is during July, August and September. Warm weather of 25 to 27 degrees a day and around 19 degrees at night can be expected here. The low rainfall ensures a pleasant summer feeling, the water temperatures also climb up to 23 degrees.
The mild values also enable excellent hiking tours through the beautiful landscape, and it rarely gets unbearably hot. The peripheral months of June and October are also very popular due to low off-season prices, especially for active holidaymakers.
Going on holidays to the Azores
Flying is realistically the way the majority of visitors from the UK travel to the Azores. You can fly to the Azores from one of five airports in the UK offering regular flights; London, Bristol, Manchester, Edinburgh and Birmingham. Flights typically take just over 3 hours for a directs flight and over 6 hours for a connecting flight.
There are three international airports in the Azores. Flights to the Azores originate in continental Europe, the United States, and Canada. The main airport is João Paulo II Airport named after Pope John Paul II, is an international airport located on the largest island of São Miguel.
Enjoy your holidays in the Azores
We recommend the island of Sao Miguel as the best island for a first trip to the Azores. You'll find plenty of things to see and do during a week-long stay, although a long weekend would also a good length for a trip. Take a drive to see the famous volcanic crater lake. You could also visit a pineapple factory for a guided tour or a tea plantation. Other activities that might appeal are bathing in a thermal hot pool in Furnas' botanical park, swimming with dolphins or playing a round of golf – the list is lengthy. If you wish to take in several islands on your holiday, the islands of Sao Miguel, Terceira and Faial are popular combinations for visitors.
Island-hopping between the islands by boat is certainly possible but not something we always recommend as the distance between most of the islands is more significant than you might think. Island-hopping would mean that most of your day is spent travelling. One exception to this rule would be the central cluster of Faial, Pico and Sao Jorge islands which, due to their closeness, are only a short ferry crossing from one to the other (between 30 to 90 minutes). Inter-island flights are recommended for connections between different islands.
It is essential to be flexible on holidays to the Azores as the weather can change quickly on these mid-Atlantic islands. You should be prepared to reschedule excursions and whale trips if weather conditions demand it. The Atlantic seas around the islands are also on the chilly side. If you're planning to spend a lot of time in the water snorkelling or diving, you might wish to bring your own wetsuit, although you can always hire one.
Take a comfortable pair of waterproof hiking boots as the steps inside Algar do Carvao are often wet, and even the island's higher hills can be boggy. The green islands are usually warm and sunny most of the time, but, similarly to Cornwall or Ireland, rain can come in quickly – so pack a good-quality waterproof jacket and trousers, especially if you plan to hike or cycle.
The opinion of?the?Voyage?Prive?travel expert on the Azores
?
The Azores are a unique and charming destination for lovers of natural beauty and wildlife. Sea activities such as whale and dolphin watching excursions, swimming with dolphins or trips on a glass-bottomed boat will leave you with memories to treasure.
There are also vibrant festivals such as the Festas de Santo Cristo – the second largest religious festival in Portugal, which takes place in Ponta Delgada between in early May. You could walk through the botanical gardens of Furnas or visit the UNESCO World Heritage Site of Angra do Heroismo (Terceira). Food and drink are generally inexpensive on the islands. Order a gin and tonic at Peter's Cafe on the island of Faial, and there are numerous restaurants offering seafood and Portuguese cuisine. Discovering the Azores is a feast for all the senses!
Put your hiking shoes on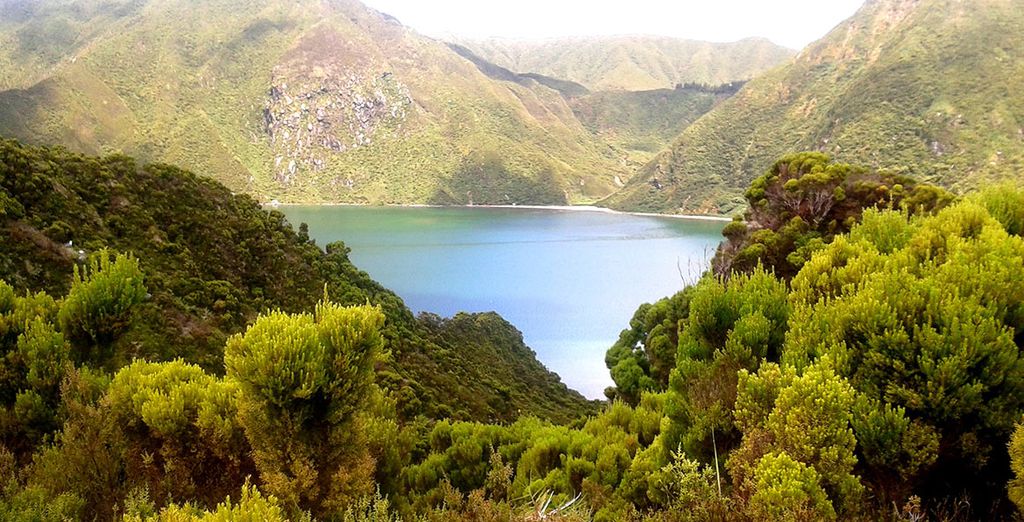 Azores is filled with wonderful mountains and volcanoes for you to hike. You could climb the highest mountain and volcano in Portugal, Mount Pico. It's a challenge, but the views are worth the effort. Another recommended mountain is Monte Brasil; this is the remains of a tuff volcano and overlooks the beautiful city of Angra do Heroismo offering stunning views over Angra bay to the beautiful city's Renaissance churches. Grab your hiking boots and embrace the fresh mountain air.
Be at one with nature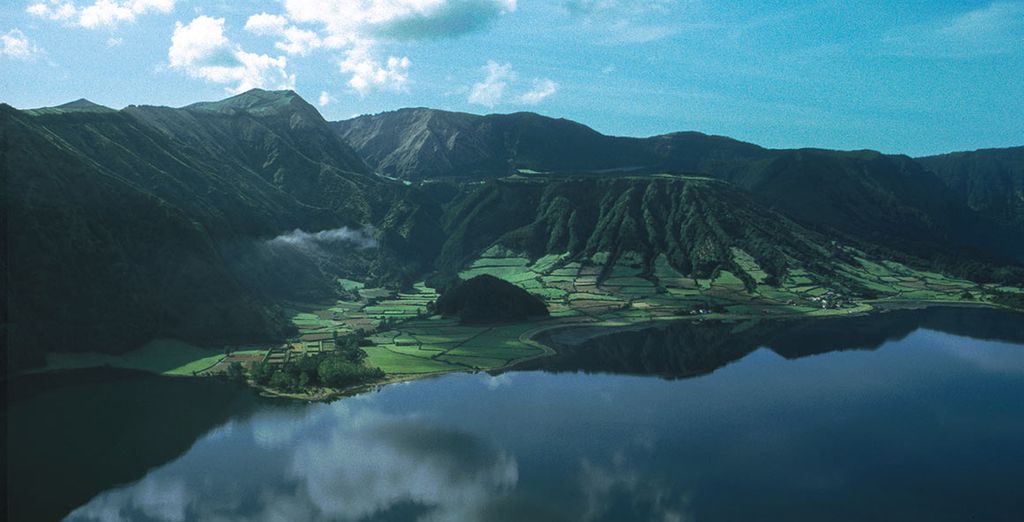 The Azores is filled with unique lakes and lagoons that you can't find anywhere else. The Jardín Botánico Terra Nostra Garden is a tranquil, picturesque park and botanical gardens which date back to 1775. It's also home to some wonderful thermal baths, so a perfect area to explore and relax. Lagoa das Furnas is a lagoon popular with tourists for its scenic yet short walk; it offers you views of volcanos along with blue hydrangeas and orange ginger lilies running riot and some unique species specific to Azores.
Indulge in Azorian cusine
Although the Azores are a region in Portugal, their cuisine is unique to them. The Azorean cuisine is a rich, hearty, wholesome style of cooking. Its flavours are full of seafood, sweet desserts, spicy stews, among many others. The Azorean cuisine is difficult to find elsewhere in the world, so take full advantage of the flavours and dishes on offer to you when visiting. Whether you are eating in a restaurant or at a local's kitchen, the portions will be large and the food filling. But you will definitely want to return for more!
Island hop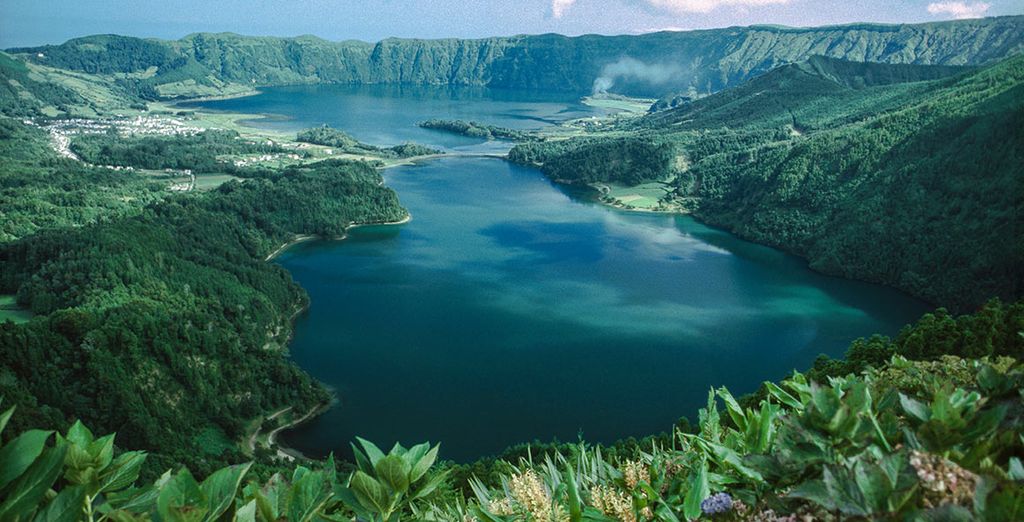 The Azores is often referred to as unspoilt and it truly is standstill beauty, but the great thing about your holidays to Azores is the ability to explore lots of different islands. One recommendation is the island of Faial. Whilst this may be small in size, it's big in heart, boasting one of the Azores' most amazing natural attractions, the Capelinhos volcano. It is a paradox with its bleak yet awe-inspiring nature.
If you want to experience world-class natural beauty, secluded spots and unique cuisine, then there is no better place to start your holidays to Azores than with us. We choose each and every one of our luxury holidays with consideration for you every step of the way. Sign up today for exclusive deals and prices for holidays to the Azores.