Marsa Alam Holidays



Table of contents
Marsa Alam is probably not a place you have heard about, unless you have visited before, in which case you will know exactly why it should be high on your to-visit list! Part of the Red Sea Riviera, but distant enough from the high-end bustle of Sharm, this small fishing village has transformed itself into a fantastic tourist resort, where you can relax, swim, explore, sunbathe and eat and drink wonderful things on your holiday. The Red Sea is edged by resorts, and Marsa Alam is one of the most out of the way ones: this means that it is both relatively untouched, but also leaves the resort managers very keen to ensure that their customers have an absolutely wonderful time and return often! As you will surely do after trying this destination just once!
Top Five Things to See and Do
1. Karnak Temple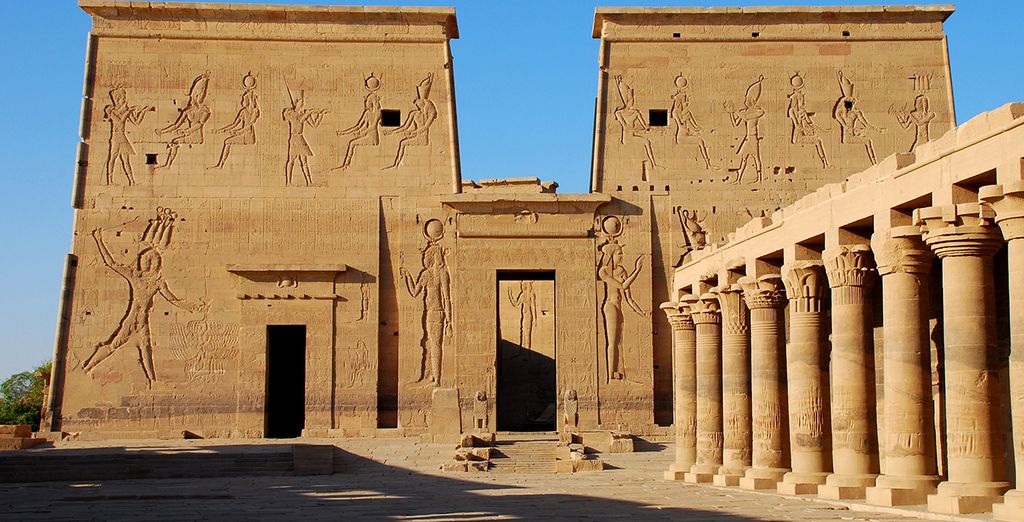 A day trip – or even an overnight excursion – to Karnak should be high on your list. Karnak is actually a complex of many buildings, most having high significance to the priests of the day. However, the most poignant temple is the one that is no longer there: the Temple of Amenhotep. He was Tutankhamen's father and posited that there was only one god: Amun, building a temple to that deity. Immediately upon Amenhotep's death, the priests, still smarting from having their old gods dismissed in such a cavalier fashion, destroyed this temple so very thoroughly that nothing of its remains or even a sketch of its layout, has ever been found.
2. Snorkelling and Diving
The coastal waters of the Red Sea are crystal clear and teeming with marine life, from massive wrasses that are twice the size of a man to shoals of tiny colourful butterfly and clownfish which flit about in large masses to deter predators, creating a mesmeric display that one could watch for hours. Beginners can master snorkelling in a lesson or two while scuba diving requires certification before you are allowed to hire equipment. But you can learn to scuba dive on your holiday, and your guide will ensure that you are prepared for each step before you take it. In this way you can learn a new skill and see the wonderful array – over two thousand species – of fish, coral and other underwater creatures that Marsa Alam has to offer.
3. Wadi El Gamal National Park
If all those fish get you thinking about Egyptian flora and fauna, you do not have far to travel to get to the above national park, which is unusual in that it incorporates both on-land areas and off-shore areas. The latter boast plenty of fish, lively coral reefs and even five islands which host important bird breeding grounds. The land-based animals to look out for include the Nubian Ibex and the Dorcas gazelle, and it is not only animals that you should try to see: the park is also home to ancient Roman ruins, a long-disused emerald mine and even older signs of habitation – rock paintings that go back to prehistoric times.
4. Relax and Unwind!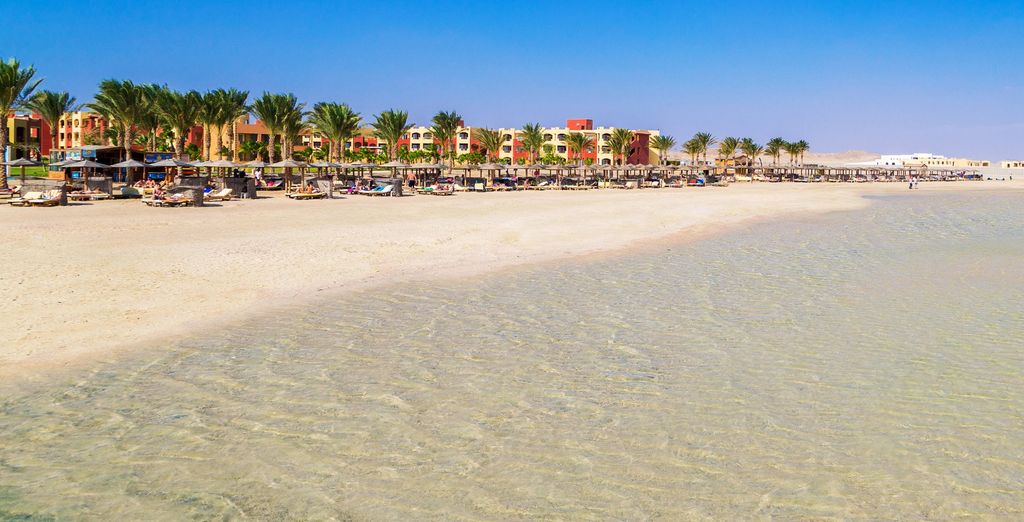 Marsa Alam is perfectly positioned to enjoy great weather all year round so make the most of it! Ranging from a balmy 25°C in winter and a roasting 35°C in summer, you can work on your tan, sip ice cold drinks and generally lead a hedonistic and idle life for a few days! And why not? You are on holiday after all!
5. Visit an Ancient Gold Mine
Summon up your best Indiana Jones impression, having big hat us a must, of course, and head off to explore the ancient gold workings at El Quseir, just a short way out of Marsa Alam. The mines are thought to date back to Cleopatra's times, and produced, as well as gold, emeralds, lead, copper and other precious and semi-precious stones and metals.
Our Best Hotels in Marsa Alam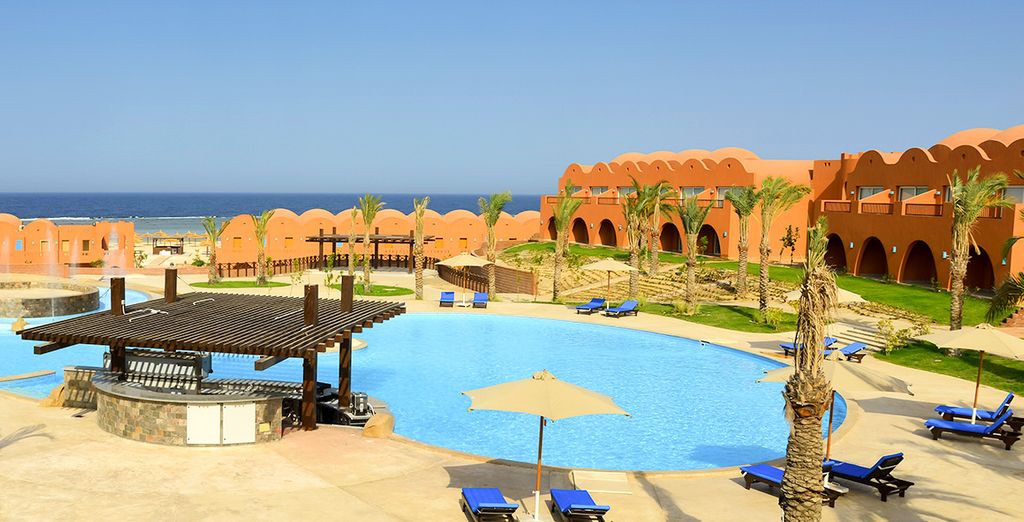 Three swimming pools, a private beach and glorious sunshine encourage visitors to spend as much of their precious holiday time in the outdoors, but it can be hard to force yourself out of doors when your beautifully decorated bright blue and white bedroom is so inviting, the dining areas exude such wonderfully tempting smells and tastes and the indoor social areas are so very comfortable!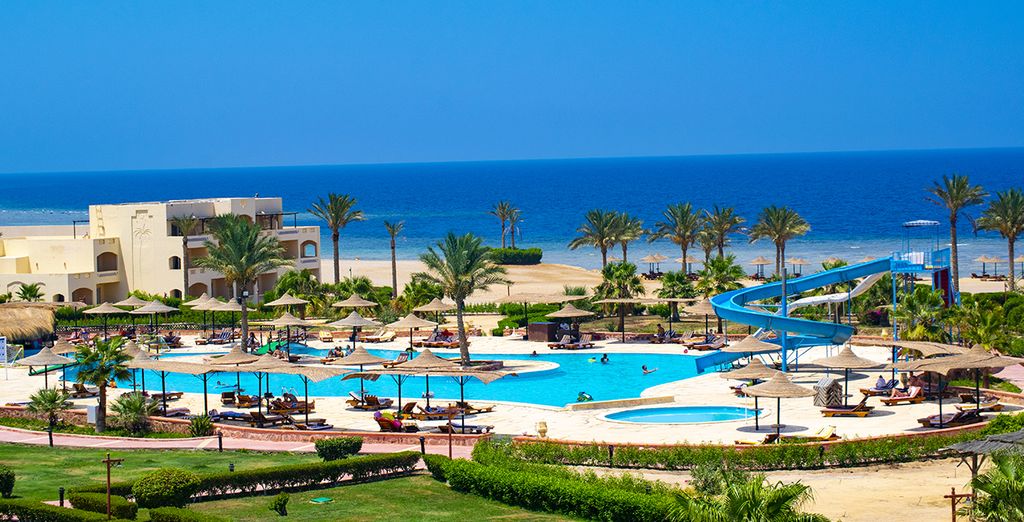 This fabulous building is like a palace from an ancient fairy tale and you might almost expect a genie to pop out of a handy lamp at any moment, so gorgeously sumptuous is the décor. Two outdoor pools, a children's only pool, and a relaxing spa and sauna are just waiting to embrace you in their relaxation and peace, so you are renewed and rejuvenated when you return to work or school after your holiday. The bedrooms are decorated in colour schemes that are simultaneously cool and colourful, welcoming after a day in the hot sun, sunbathing or exploring the wonders of Egypt.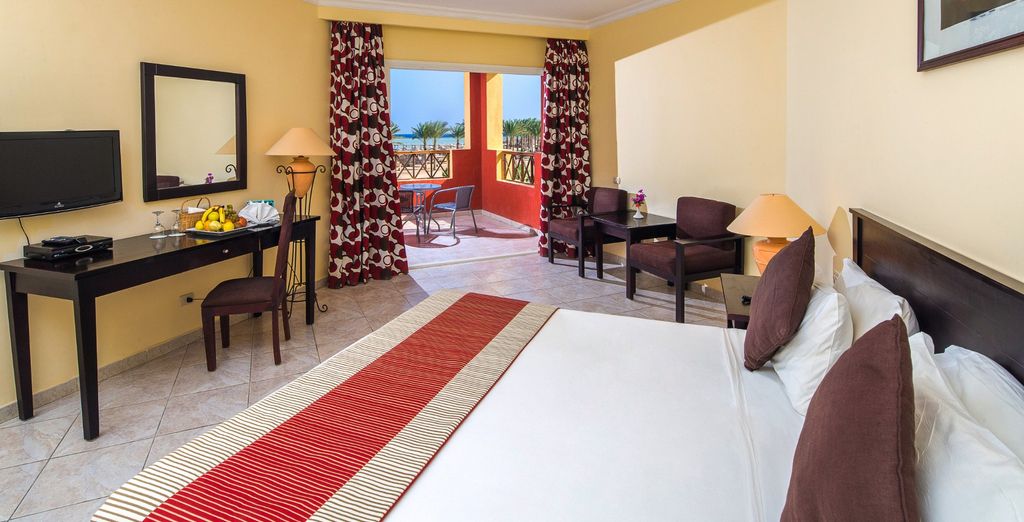 Not for nothing is this part of the world called the Red Sea Riviera: this resort would not be out of place in the most exclusive French beaches – and in fact, might even be said to be superior to St Tropez in some ways. The hotel is filled with fun activities from kite-surfing to a private beach to entertainment centres where there is always something going on. And in between that, there are sumptuous meals that would make a gourmand of even the least discerning eater, and the rooms which are more like private suites being spacious with separate seating areas and satellite television so you can stay up-to-date with news, favourite television shows and more.
When is the best time to take Marsa Alam holidays?
Summer in Marsa Alam can be punishing if you are very active, and you will need to take care to keep hydrated, carrying water with you and reapplying sun cream often as you sweat it off – of wash it off by diving into a pool or the sea for a moment of relief! Winter holidays, such as Christmas at Marsa Alam will offer reduced crowds and slightly cooler, but still pleasant temperatures that will make it easier for you to travel around, and you will still be able to swim or paddle in pools and the sea, if you want to.
Getting To and Around Marsa Alam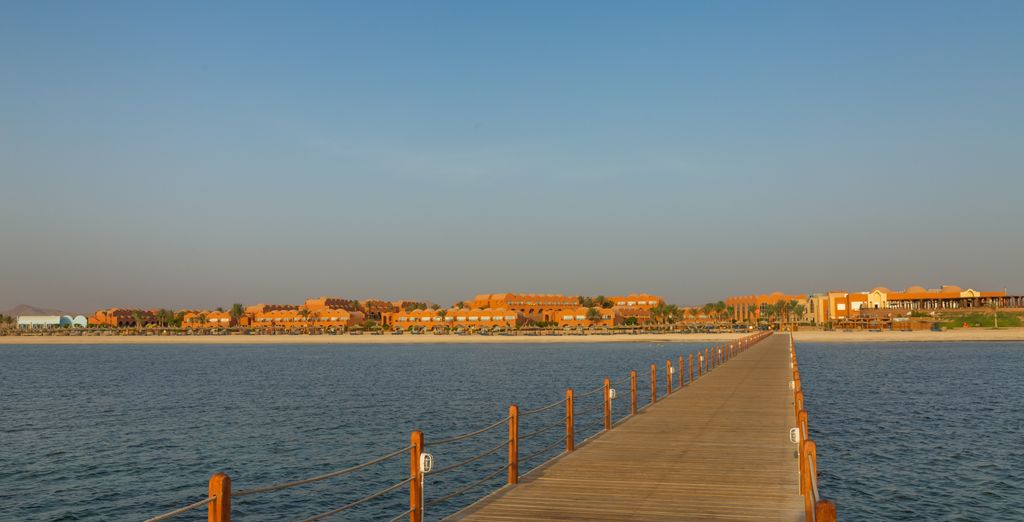 Fly into any one of the many international airports around the Red Sea coast, and then catch a bus or shuttle to your resort. Once in Marsa Alam, you can travel by bus, or you can hire a car. The latter is probably your best bet as you will be able to come and go as you please, rather than being bound by bus timetables. For venturing further afield, you can catch a train, which will get you from town to town without too much hassle. Taxis are a relatively cheap way of getting around the cities, but do establish a price before you go, to avoid any unpleasantness.
Enjoy your Marsa Alam Holidays
Marsa Alam may be a less well-known resort than other places, but it is well-established and has a comprehensive range of facilities with plenty of activities for children – enough to keep them interested and busy all day – and many hotels have excellent access for wheelchair users and other disabled people. Do mention your specific needs at the point of booking, to ensure that the hotel is prepared for you, as this will prevent any potential misunderstandings that could leave you with nowhere to sleep after spending hours on a plane and a bus!
The Opinion of the Voyage Prive Expert on Marsa Alam
Sharm El-Sheikh and the other resorts around the Red Sea Riviera are beautiful – and they are also very popular, fairly westernised and tend to be quite crowded. If you are looking for similar luxury and the same excellent customer service, then you might want to try like wonderful little town. Make sure you explore the immediate environs too, there are not many prehistoric artworks in the world, never mind having them within easy access to ancient Roman ruins: an extensive history lesson all in one day, just waiting for you!
Do bear in mind that much of the population in Egypt is Muslim, with a wide smattering of very devout Christians, so any behaviour that might be classified as unseemly or vulgar can get you into a lot of hot water. This can include drinking alcohol or being drunk outside of the resort areas, wearing inappropriate clothing, overly sexual public displays of affection and petty vandalism of the sort that might not be considered terribly serious in other countries – these are all taken very seriously and are seen as an insult to the very country.
Having said that, the areas inside tourist-dominated resort areas tend to be very safe, and laddish behaviour is more readily tolerated. Enjoy your time in Egypt, and embrace the cultural differences of this wonderfully warm and welcoming resort.
Egypt's Marsa Alam is a well-kept secret gem on the shores of the Red Sea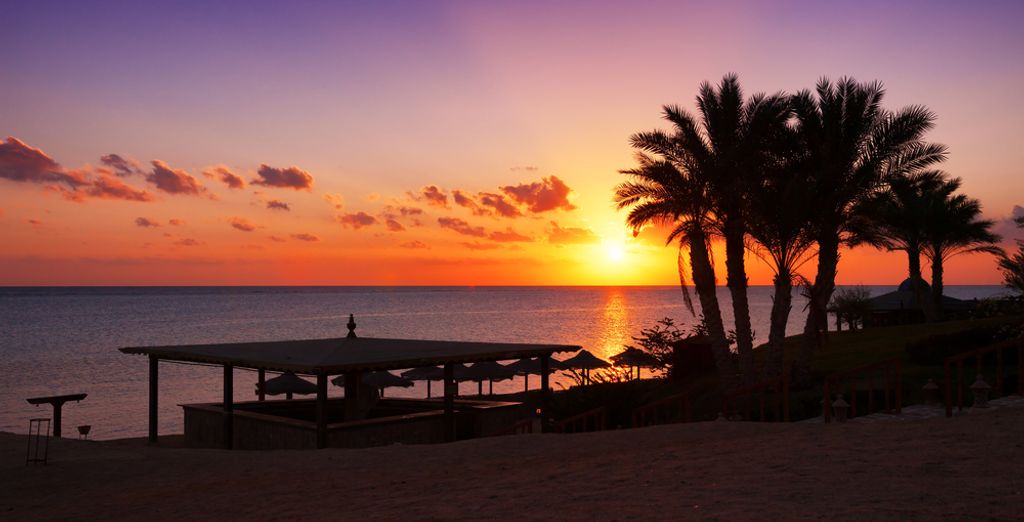 Marsa Alam is located in South-Eastern Egypt, on the Western shore of the Red Sea. Even with rising popularity due to the opening of the Marsa Alam airport in 2003, the resort still enjoys an atmosphere of tranquillity and exclusivity. Moreover, with the Eastern Desert close by, Marsa Alam offers a steady, hot desert climate that is more reliable than the northern Egyptian towns of Hurghada and Sharm-El-Sheikh. With a variety of water sports and day trips available, Marsa Alam strikes the perfect balance between relaxation and adventure.
Beautiful reefs and dolphin-watching opportunities in Marsa Alam
If you love swimming, look no further: The Red Sea is warm enough for an active swim even in December, while summer water temperatures are positively balmy, allowing for extended bathing or snorkelling sessions. In fact, fans of water sports of all kinds will be delighted in Marsa Alam, with the most popular water-based activities on offer including kite surfing and diving. With its stunning coral reefs and marine life, it is no wonder that Marsa Alam attracts divers of all levels from across the world. However, if you do not dive, you can still marvel at the riches of the Red Sea simply by going on a snorkelling trip. The calm and crystal clear water can be like an aquarium, especially if you know the right spots, such as the spectacular white-sand Sharm El Luli beach that quickly dips into a coral reef. The reefs of Marsa Alam are also the perfect place for dolphin-watching – set out on a day excursion to the Samadai reef or the Sataya reef to observe these beautiful animals in their natural habitat, protected by local environmental laws.
Panoramic views and camel rides in the desert sunset
Marsa Alam is not all about the sea, with the nearby Eastern Desert offering plenty of attractions of its own. Desert safari trips by jeep are popular, with opportunities for motorbike hire, camel rides, and panoramic views of the desert sunset. Visits to local Bedouin villages are also an option, with a chance to hear about local traditions and to taste some refreshing Bedouin tea. And, of course, no visit to the desert would be complete without a romantic, aromatic barbecue dinner!
The choice of accommodation can make all the difference to the success of your holiday, and we have handpicked a selection of luxury hotels in the area, with private beaches and luxurious swimming pools guaranteed to make your stay even more special. Browse all of our offers for Marsa Alam to take full advantage of this stunning Red Sea destination.
FAQ Holidays Marsa Alam