From stingrays and shipwrecks to unique wildlife, Cayman Island Holidays offer up the spectacular.



Table of contents
The Cayman Islands are fairly unique in the world in having had no indigenous populations existing on them at the time that the world was being widely explored and colonised. This meant that the islands were a perfect refuge for deserters and pirates and all manner of those who would be considered horrific if they were up to their nefarious deeds today, but who seem, when romanticised through the lens of some four hundred years, impossibly brave, adventurous and exciting. Today's visitors tend to take nothing but photographs and leave nothing but footprints: a much more relaxing way to be!
Top Five Things to See and Do in the Cayman Islands
Florida curves around, helping Central America to form the Gulf of Mexico. The island of Cuba seems to be trying to dip into the Gulf, curving around from the south-east , and cuddled neatly between Cuba and the mainland of Central America, roughly on a line with the tropical beauty of Belize can be found the three islands that comprise the Cayman Islands. Here are some of the best bits that you should look out for
1. Seven-Mile Beach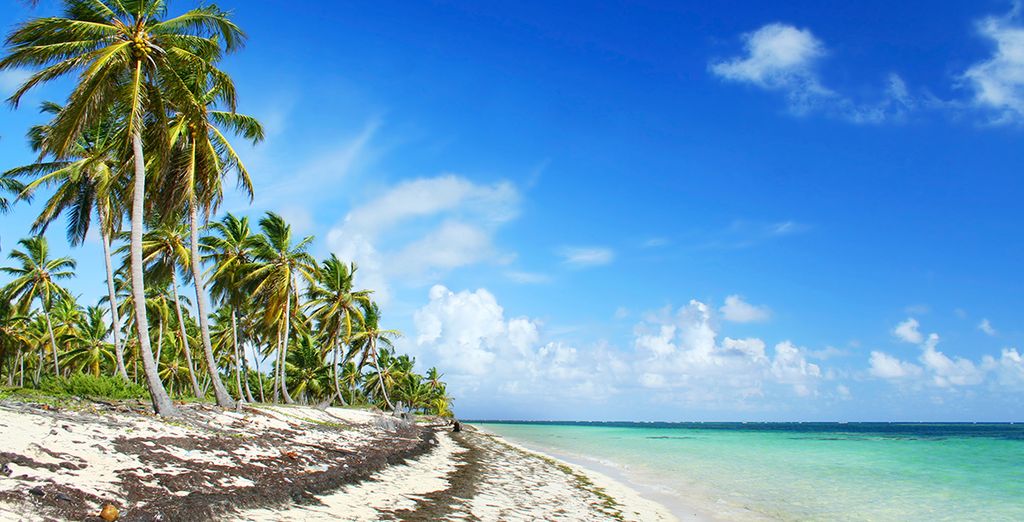 Named the 'Caribbean's Best Beach' this fully public beach is actually only a little over 6 miles long. the reason it is public is because of the 'high tide' rule which deems that any part of a beach covered by the high tide is counted as public access. This means that it is possible to walk along the full length of the beach no matter which resort you are staying in. The frontage of the Seven-Mile Beach is fairly well developed, but the beach is deep and wide enough to offer plenty of space for sun-seekers and strollers. The beach gets its soft white sand from the eroded coral from which it is made, and any trip to the Caymans should mean that visiting this iconic beach is a must-do.
2. Stingray City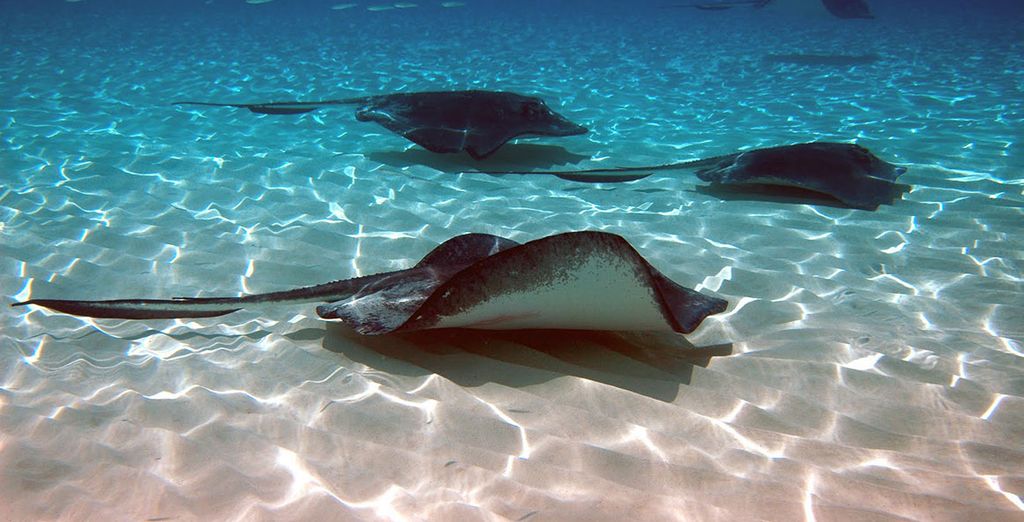 Some 25 miles off the coast, there are a series of shallow sandbars, where a huge number of stingrays congregate. The rays are accustomed to human presence and you can enjoy a three- or five-hour tour, swimming with, feeding and taking photographs with the friendly – and surprisingly large – animals.
3. Cayman Turtle Centre
If you need a break from the sea and water-based activities, pop into this thriving and lively attraction. While, of course, there is much to do with marine life and undersea features such as fish, seaweed, corals and the turtles for which the attraction is named, this is the Caymans' largest land based tourist spot. The site started as an attempt to commercially farm Green Turtles in 1968, and has changed its mission statement from those days into a conservationist stance, looking to maintain healthy populations and grow those that might be in decline. As well as Green Turtles, the centre is home to saltwater predators, a huge array of marine life, and a number of land-based birds and animals too. There is a free access aviary and a butterfly enclosure, so you can enjoy the full range of the animal kingdom that is native to the Cayman Islands and its surrounds.
4. Pedro St James
The oldest existing building in the Caymans, this magnificent structure is a reconstruction of the original 1780s house that was owned by plantation owner William Eden. Having been the heart and centre of the government of the islands, the house was allowed to fall into a state of terrible disrepair. In the 1990s it was restored and now functions as one of the must-see tourist attractions on the islands. Interestingly, one of William Eden's 7th great-grandsons could very well be your tour guide, showing you around the family's old home!
5. National Maritime Treasure Museum
If you want to hear tales of blood-thirsty desperate deeds, mounds of treasure and fighting spirit to put Captain Jack Sparrow to shame, this museum is the place for you! The best known pirate in his day, Blackbeard (a Welshman named Edward Teach in his law abiding days), will talk you through some of the best known and loved legends of the islands as you admire artefacts and exhibits from every point in history and dioramas showing how the island would have looked in those days.
Our Best Hotels in the Cayman Islands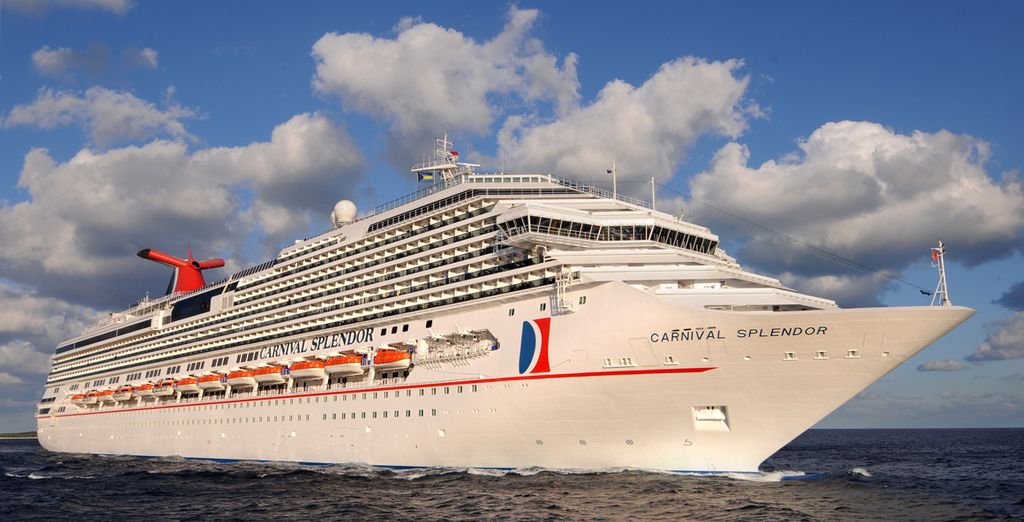 Join this floating palace for the Americas Tour, in which you will be whisked from the tropical busyness of Miami to the tranquillity of the island-studded Caribbean seas. Calling in at Grand Cayman, along with other beautiful and welcoming destinations, your stay onboard will be your choice between all-hands-on-deck fun and games or the soothing peace of an adult's only Serenity Retreat. Voyage Prive deals apply to cruises as well as to land-based holidays, so do not panic that you will have to pay full price in order to enjoy a luxury cruise.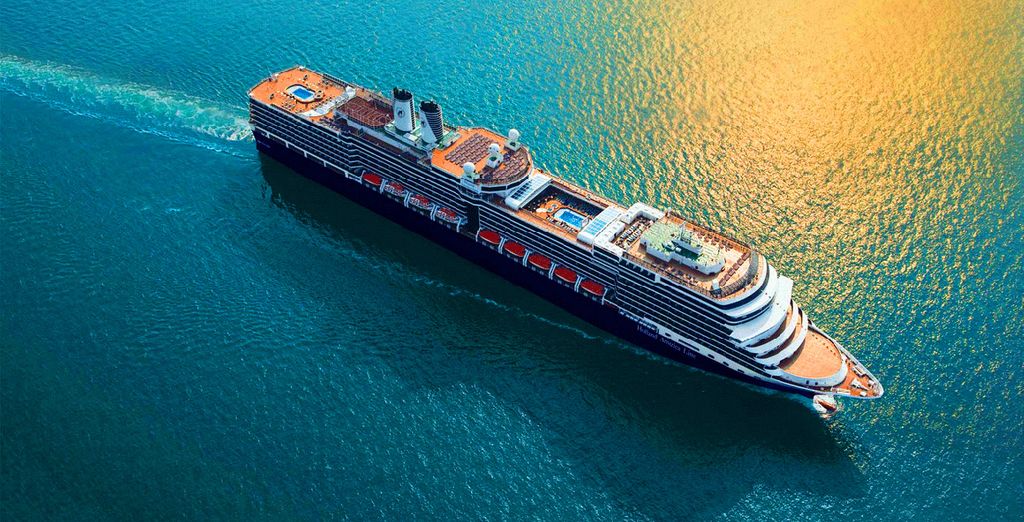 Ten days, many different itineraries: the choice of where you go on your ten-day cruise is entirely yours. Your home, no matter which itinerary you choose, will be on board a luxury liner, with attentive and focused staff whose sole task is to please you during this ten-day break from real life with all its attendant worries and stresses. One stop that is unique to itinerary 2 is the full day spent at George Town on Grand Cayman, making this your must-try choice for this cruise.
When is the best time for Cayman Islands holidays?
The Cayman islands are pleasant all year round, with the coldest months falling in January and February – with cold being very much a relative term. The best times to go are between April and June, while June to November are the hurricane months and thus best to be avoided unless you are an extreme adrenaline junkie!
Getting To and Around the Cayman Islands
Getting around the Caymans is best done by car when on land, either taxi or rental car, and by boat between the islands themselves. Arriving in the Caymans can be achieved by boat, either a ferry or a cruise liner, or by plane, with the islands being a mere hour's flight from Miami, a straightforward hop that is commonly used by visitors to the Caymans whether they are arriving from the continental USA or from further afield.
Enjoy your Cayman Islands holidays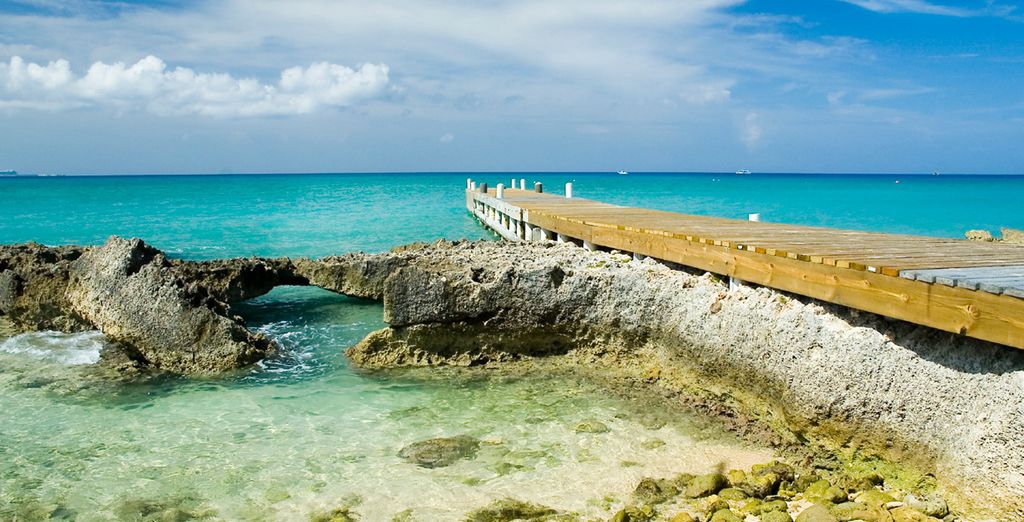 Much of the layout and infrastructure of the islands will be familiar to someone travelling from the UK: the Cayman Islands were a British protectorate for many years and British systems of government were installed that have been largely adopted intact, with some changes introduced as needed. Having said that, the islands do use American style power points, so a travel adaptor or two are a must-have to keep your gadgets operational while you are on holiday. Broadly, two currencies are used in the island, the US dollar and the Cayman Island dollar which works out at around 1.25 to the US dollar. ATMs dispense both currencies and both are widely accepted throughout. Another habit that has made the short trip from the USA is the tipping culture which is widely expected, and often already added to a bill before you pay: do check and make sure that you are a) not tipping twice and doubling your expenses, and that b) you are leaving a cash tip if one is not included on the bill already.
The Opinion of the Voyage Prive Expert on the Cayman Islands
The Caymans were named for the small crocodilian reptiles that swarmed the shores in earlier days. Today the most cold-blooded mammals that throng to the islands are of the human variety, mostly bankers, businessmen and those who would very much the taxman not to know quite how much money they are making. There are estimated to be over one hundred thousand (that is 100,000!) businesses registered on the island. Compared with a population of less than 70,000 people, it is easy to understand that the generously lacking tax laws encourage many wealthy people to invest in the islands, which has had the net result of ensuring that the islands' economy is strong and well-developed. Tax haven aside, the islands are a literal haven for tourists looking to enjoy golden sand, crystal clear blue waters teeming with marine life and plenty of leisure and relaxation. There are plenty of bars and pubs for visitors who want to get away from the water for a little while, and there are frequent carnivals and festivals, including Little Cayman Mardi Gras and Carnival Batabano. Both are tremendous fun and if at all possible, you should try to tailor your holiday times to coincide with one of these fantastic celebrations: the islands truly come to life and you will thoroughly enjoy experiencing life from the point of view of an islander.
Hike through the Mastic Trail
Located on Grand Cayman, the biggest of the Cayman Islands, this two-hundred year old trail is a must for any nature lover. With plants and animals that you can only find on the Cayman Islands, it offers a fascinating insight into tropical wildlife. It also boasts a huge population of trees, most of which have been impossible to find in more accessible places since way back in the eighteenth century. So, if you're after a beautiful combination of nature and history, the Mastic Trail is hard to beat.
Enjoy the beautifully fresh seafood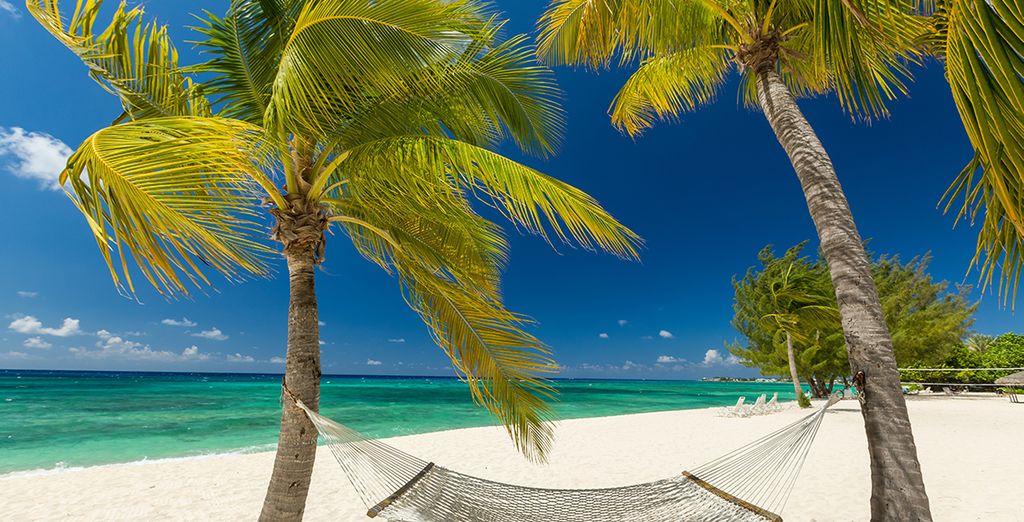 No trip to the Caribbean is complete without sampling some of the wonderful seafood that's on offer and the Cayman Islands are no different. For a true sampling of the local cuisine, it's worth heading to Grand Cayman, where there are plenty of restaurants all waiting for you to try their delightfully fresh selection of seafood. If it's true luxury you're after, there are a few hidden places that will even deliver your food poolside. You can enjoy all of that during your Cayman Island holidays
Venture beneath the surface
For many, diving is the number one reason to book Cayman Islands holidays. Although they consist of just three islands, visitors to the Caymans can expect to find over three-hundred marked diving sites. No-matter what type of diver you are, the Caymans will have something to suit. For novices there are impeccable shallow reefs and for more those who are more experienced the waters surrounding the Caymans have everything from shipwrecks to precipitous walls.
Thanks to the minimal currents, along with the clearness of the waters, the Caymans have become the perfect diving location. With plenty of diving schools waiting to show you what lies beneath, diving in the Caymans has become one of the island's premier attractions. You can even enjoy some of the marine life at the world famous Stingray City, all you have to do is stand on a sandbar and you'll soon be surrounded by plenty of spectacular stingrays.
Combining luxury with raw beauty, the Cayman Islands give holidaymakers a truly unforgettable experience. To make your stay as wonderful as possible, we've hand-picked a selection of beautiful, luxury hotels that have been selected specifically to give you the perfect getaway.
Holidays to Cayman Island