Cuba Free Vacation Guide and Practical Advice
Discover Cuba and explore the Island with our Travel Guide 📚. Advices, Tipes, Best location, itineraries and more ✅.
Travel to Cuba
Step into one of the most elegantly rustic, magical places on Earth - ladies and gentleman, this is Cuba.
Possibly one of the few places on the planet which could be described as a real-life time warp, Cuba's geography is focussed on historic cities, lush landscapes, and some of the most incredible beaches you've ever laid eyes on.
Cuba's built-up areas are like no other - the Colonial cities haven't changed too much since the pirates ruled the Caribbean, so it's retained its charm. Havana and Trinidad sport some of the most intriguing architecture, including the infamous pastel houses, and although some of its grand buildings may look as though they're in need of a facelift, the country is working to breathe new life into many of them.
The beaches and tropical vegetation of the island boast colour palettes with no need for any type of filter. Powder sands and mirror-like waters rule the roost over here. The cuisine and culture marry Spanish and Latin American influences; think Salsa, rum, and spices.
It's a striking country in more ways than one, and if you're seeking an authentic, tropical Caribbean experience without the OTT bells and whistles, there's never been a better time to visit.
The top 10 things to see/do on site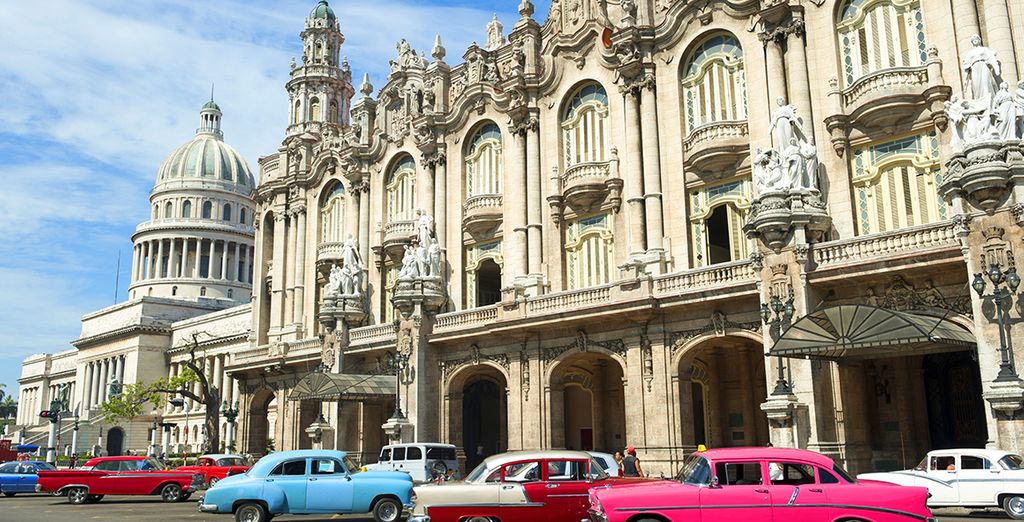 1. Beautiful beaches

First and foremost, the beaches are some of the best you'll ever see, so it only seems right to start at the top. Undoubtedly the most popular stretch of paradise is Varadero. 20km long, it's the largest resort on the island, and home to over 60 hotels, which contribute enormously to the country's tourism each year. However, if you want to go off the beaten track, Playa Pilar and Cayo Santa Maria are mostly untouched shorelines.
2. Havana

As eclectic as it gets, Havana is a must-see on anyone's bucket list. Bright coloured buildings, traditional cars, and palm-lined shores, with Colonial architecture that despite obvious neglect is quite literally breathtaking. Soak up the rich history and culture visiting the Castillo de la Real Fuerza and the National Capitol Building, sample best-in-class cuisine, all whilst basking under the Caribbean sun.
3. Habana Vieja

Havana's old town, where the city was first built, is like a world of its very own. Built in 1519, it's adorned with plazas, a grand cathedral and a palace, yet still offers that exciting urban community. Plus, the infamous Calle Mercaderes (Merchant's Street) is almost an exact replica of how it was in the 18th-century, right down to the no-cars rule and cobbled stones.
4. Underwater exploration

Experiencing Cuba's beaches as a sun worshiper is one thing, but when in the Caribbean, not trying out the exceptional diving and snorkelling options is almost a crime. Book a trip to the National Maritime Park and explore the coral reefs with some of the best in the business.
5. Trinidad

A rain
bow of colour, Trinidad is deemed Cuba's oldest outdoor museum. It's kept pretty much the same surroundings as it had in the 1800s, such as the stunning houses and interior. This pretty decor is a sight to behold, but it also draws in thousands of tourists, so if it's a more tranquil vibe you're after, make a visit to here short and snappy.
6. Escambray mountains

This mountain range just outside of Trinidad is peppered with lush landscapes, tumbling waterfalls, and fantastic hiking treks. Perfect for the outdoorsy-type, pack comfortable shoes, a camera, and organise a hiking trip through the mountains for a once-in-a-lifetime experience.
7. Valle de Viñales

Cemented into a mountain range, the limestone cliffs and pine trees of this valley are spectacular. Travel out here, hire bikes for the day or, if you're feeling brave, go for a hike, and spend a few hours enjoying the great outdoors in this natural (and mostly tourist-free) gem.
8. Santa Clara

Known for some of the most revolutionary landmarks, Santa Clara is notably an up-and-coming town. Creativity is rife, and it's thanks to the influx of trendy youngsters from the city's university, which is helping to bring it into the limelight in a modern way. That said, it still retains its traditional reputation.
9. Baraco

Lying next to the Cuchillos del Toa Mountains, this is Cuba's oldest (and wettest) town. Unkept, yet showcasing some natural, green surroundings, the people are well known by anyone who visits. There's an eclectic mix of personalities here to say the least, so find out from the local bars and cafes about what you should keep an eye out for.
10. Península de Zapata

A protected zone, the wildlife here is something the nature lovers amongst us will thrive on. An offshore reef, exotic birds, and plenty more, make sure you plan a trip here if you prefer to visit the virtually untouched areas of beauty.
When to travel to Cuba
During December to May is the best time to travel to Cuba - the weather is dry, sunny, and blue skies are prominent. The wet season begins in June - however, as with many tropical climates, the wet season can sometimes just mean a large, fast storm in the day, which rapidly dries under the beaming sun. Most visitors don't let this bother them.
Situated in the heart of the Caribbean, it's hard to get away from the potential of hurricanes. August-October is the notorious hurricane season in Cuba, and because of this the tourism seems to falter, but prices will also dip.
How to get there?
The best way to get to Cuba from outside the Caribbean is to fly. Flight times from the UK come in at around 10 hours non-stop, or 13 hours with one stop.
When travelling from other European countries, such as Paris or Madrid, 10 hours is standard for a non-stop option, whereas coming from Italy will take around 12 hours.
Which hotel to choose?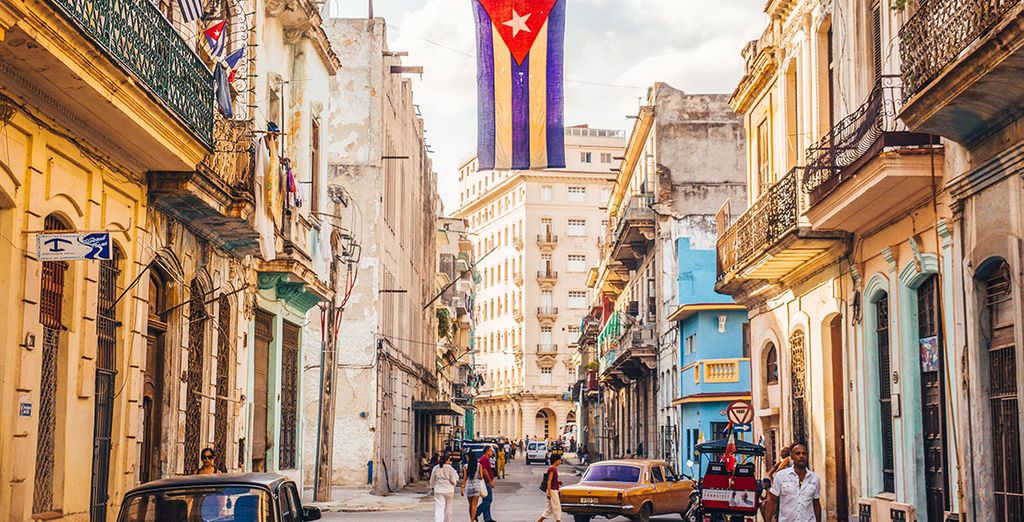 Cuba City Tour & Melia Cayo Santa Maria 5*

A getaway with a difference, on this unique tour you'll get a glimpse of local life by spending some time in a private home, whilst soaking up what four of Cuba's best-loved cities have to offer. Choose from a 10-14 night stay and enjoy the sights and sounds of Havana, Trinidad, and Santa Clara amongst others, including some of the best hotels, gastronomy, and culture the island has to offer.
Hotel Nacional de Cuba & Sanctuary at Grand Memories Varadero 4*

This two hotel deal features the Hotel Nacional de Cuba, which was once visited by the likes of Winston Churchill and Frank Sinatra. This all-inclusive getaway is a taste of luxury in the heart of Cuba. Lap up the scenic views of the Havana harbour, incredible gardens, and an all-inclusive stay at the Grand Memories Varadero. Venture out into the city for some education in the local history, and devour sumptuous local dishes and the enticing coastline of Varadero.
Cuba Twin Centre 4*

An 11-night trip, starting in Havana and ending in Cayo Santa Maria, here you get the perfect mix of beach, city, and nightlife. Stay at the bright and vibrant Memories Miramar Havana and the tropical-inspired Memories Paraiso Azul Beach Resort. Cobbled, winding streets laden with local cafes and shops, the most incredible local restaurants offering up traditional Cuban tastes, and some of the best sun, sea, sand; experience it all with this magical offer.
Culture and festivals in Cuba
Havana International Jazz Festival

Every year, jazz takes over the city for a few days. Expect top bands to share the limelight with famous jazz musicians, where you'll also sample the famous Afro-Cuban jazz, which is guaranteed to make you want to get up and move.
The Santiago De Cuba Carnival

Vibrant colour, conga parades, and a whole lot of live music descends on the country every July. One of the oldest Latin-American festivals, and the country's biggest, it's not to be missed.
Las Parrandas De Remedio

Fireworks, and lots of them. This carnival/party has been held every year since the early 1900s, and takes place in the week running up to Christmas. Huge floats and exciting parades reach their peak on Christmas Eve - if you're here for Christmas, make sure to check it out.
Local practices and customs
A mainly Christian country, Cuba doesn't have a large number of local practices and customs. One thing it is extremely strict on is unauthorised professional photography, as well as taking unauthorised photos of women, children, or young people.
The key here is happiness - the people are vibrant and full of life, and music, dance, family and friends take priority.
The Cuba map
Our practical advice for Cuba
What to bring back from Cuba

One of the most popular souvenirs to bring back is rum. The drink tastes immensely better than what can be purchased in supermarkets back home, and just a sip can take you rocketing back to the blonde beaches and scorching sun.
Cuban coffee, jewellery and other trinkets are also popular choices.
What currency to use?

The Cuban Peso is the official currency. However, there are two variants. The Cuban Convertible Peso is what visitors use, and the Cuban Peso is what locals use.
What is the time difference?

The timezone in Cuba is GMT-5, 5 hours behind London.
What language is spoken in Cuba?

Cuban Spanish is the mother tongue, but English is spoken very well across most of the country, especially in the resort and tourist-heavy areas.
How to get to Cuba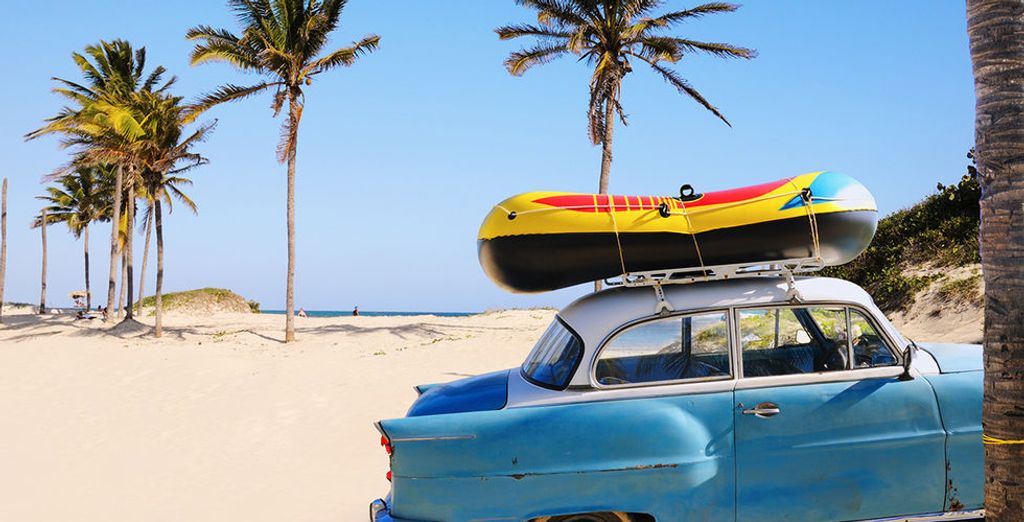 The best way to get to Cuba is to travel by air. Flight times are shown under the How To Get There section above.
What to pack for your holiday in Cuba

Due to the weather in Cuba, pack loose, cool clothing all year-round, but if you're venturing on a hike or similar, ensure you pack correct footwear and plenty of practical clothing.
Mosquito repellent is essential, as it is for many Caribbean countries, and if you're a fan of your home luxuries when it comes to toiletries, they can be difficult to source once there, so pack plenty to last you.
How long to stay

Due to the flight time, the best amount of time to spend in Cuba is anywhere from a week to three weeks, if you want to see all the island has to offer.
Ten days to two weeks is the optimal time for exploring, lounging on the beach, and generally absorbing the culture.
Restaurants on site

Cuban food takes inspiration from different Latin American, Afro-Caribbean and Spanish flavours, and combines into tempting combinations. Surprisingly, considering its location, the cuisine is mainly centred around meat and rice, as opposed to fresh seafood.
Specialities include Congris, a dish consisting of black beans and rice, and there's also the Frita, a Cuban version of the neighbouring American hamburger which is made with beef and chorizo.
And who could forget that Caribbean rum? Taste served over ice, with cola, or as part of a delicious daiquiri or mojito. There's no better place to sip on an ice-cold drink than in Cuba.
Family activities, for teenagers, children, babies

Taking the family to Cuba is a fantastic way to educate your children in history and culture, plus there are always plenty of outdoor activities to ensure they don't get bored. Bike rides, hiking, and exploring old towns and cities are just some of the ways to get them out enjoying the area and keep their minds and bodies active.
From the stunning resort beaches to the nature-laden national parks and thriving cities, there's something for all ages in this wonderful country.
How to travel to Cuba with your pet

Pets can enter the country as long as they have proof of rabies vaccination. This must have been administered at least 30 days before travelling. A valid health certificate is also needed for pets to enter.
Cuba: What budget to plan?

When it comes to prices in Cuba, expect to pay on average what you would at any other Caribbean destination. In the bigger cities, such as Havana, expect to pay more, especially when milling around the tourist areas.
Expect to spend the equivalent of £2 on a pizza, £6.50 on a beef stew served with rice, and up to £2.50 on tapas dishes. Though all food in Cuba is generally reasonably priced, there are options known as 'Peso food' - including ice creams, pizza slices, fresh juices and sandwiches - which are served by street vendors and only cost a few Pesos (anything from 30p in GBP).
Environment

Cuba has a varied but utterly beautiful environment. From sandy beaches and green vegetation to colonial architecture, it has a real mix of landscapes, and something to suit every taste.
Additional practical information

It's advised to only drink bottled water when travelling in Cuba, and to avoid too much ice, much as you would in other foreign countries if you're prone to illness.
Plug sockets are mainly 110 volts, but the majority in the best hotels and resorts are dual voltage.
When it comes to tipping in bars and restaurants, 10% is widely accepted as the norm.
Discover our offers to Cuba : Holidays, great deals, sun holidays, last minute, holiday pirates.
Discover our offers to Havana : Holidays to Havana
Visit all our travel guide