Holidays to Cape Verde 2021/2022



Table of contents
Cape Verde is an excellent winter destination, but it can also be enjoyed during the summer, especially if you want to do more than relax on the beach. Located at the Western end of the African continent, Cape Verde has ten islands, boasting huge volcanoes, dramatic landscape, and picture-perfect seaports. It's also filled with towering mountains, deep ravines, and an invigorating local culture.
The top 5 things to see/do in Cape Verde
1. Marvel at the coastal landscape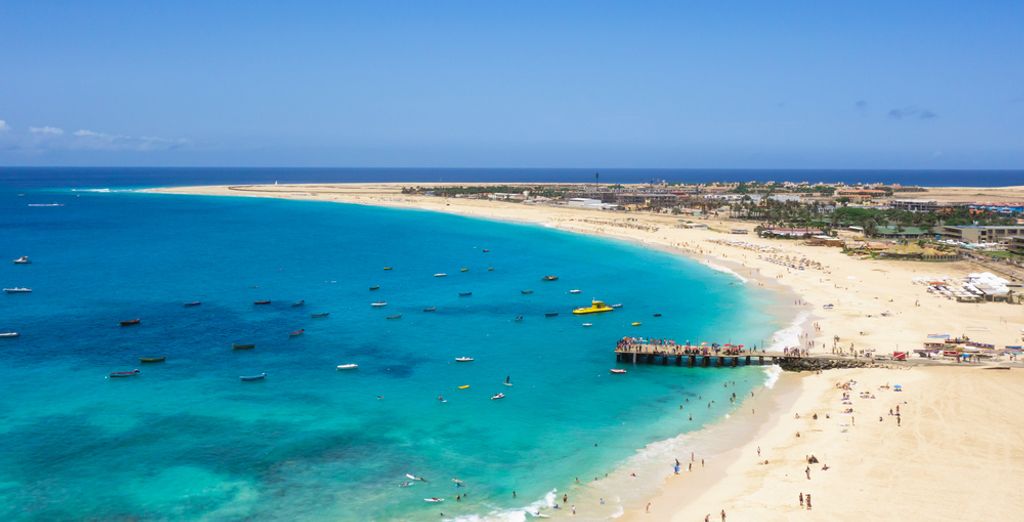 Located on the northwest side of the island of Sao Nicolau, the magnificent natural Carbeirinho rock formation simply shouldn't be missed. Widely regarded as one of Cape Verde's seven wonders, it frames a beautiful, black sandy beach. Popular with turtles and locals alike, this is also a good place to spot dolphins.
2. Sample the local culture
A blend of European and African heritage, with strong cultural ties to Portugal, music heavily influences the archipelago. From the melancholy morna to the foot-tapping batuko, live performances are the best way to absorb the local culture. But don't forget the food! Cachupa Rica, Cape Verde's national dish, is a stew made with fish, meat and vegetables. Each island has its own speciality, so try them all if you can.
3. Relax on the beach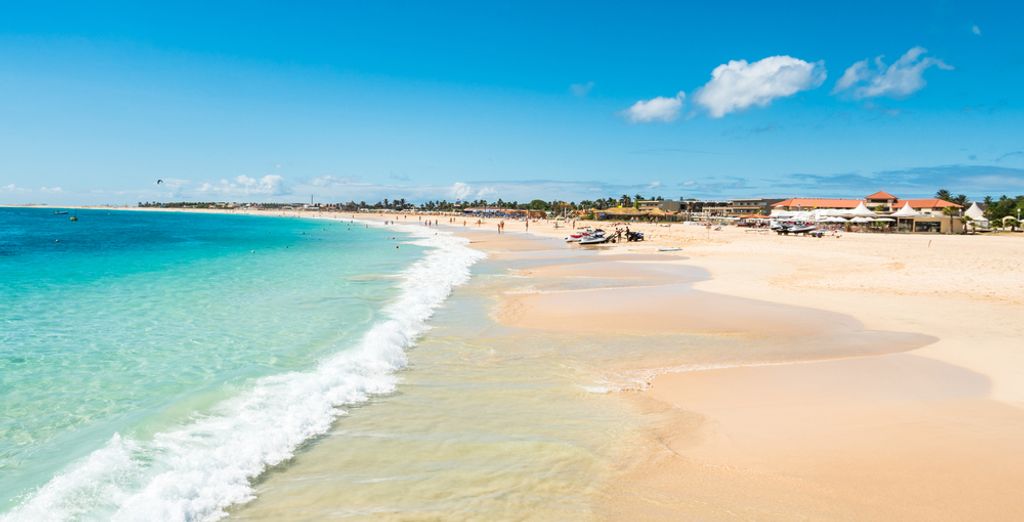 For some visitors, going on holiday is all about chilling on the beach and topping up their tan. If this is you, be sure to check out the popular beaches of Santa Maria, Santa Monica and Sao Pedro. If you prefer a feeling of solitude, the vast dunes of Praia de Chaves will give you the peaceful space you crave.
4. Visit Fogo Island
Fogo means fire, and it happens to be the most famous island in Cape Verde. It has a total altitude of 2,900 metres above sea level, and the main attraction on this island is the volcano, Pico de Fogo. Amateur climbers can use Cha de Caldeiras, a nearby town, as the starting point.
5. Go for surfing lessons at Kite Beach
Kite Beach, located on Sal Island, is the ideal place to visit if you want to learn to surf, windsurf or kitesurf. There are both beginner and intermediate lessons available, and local experts will be on hand to offer advice on the best spots to catch a perfect wind. If you'd rather explore the water sitting down, sailing and kayaking equipment can also be rented.
Our best hotels in Cape Verde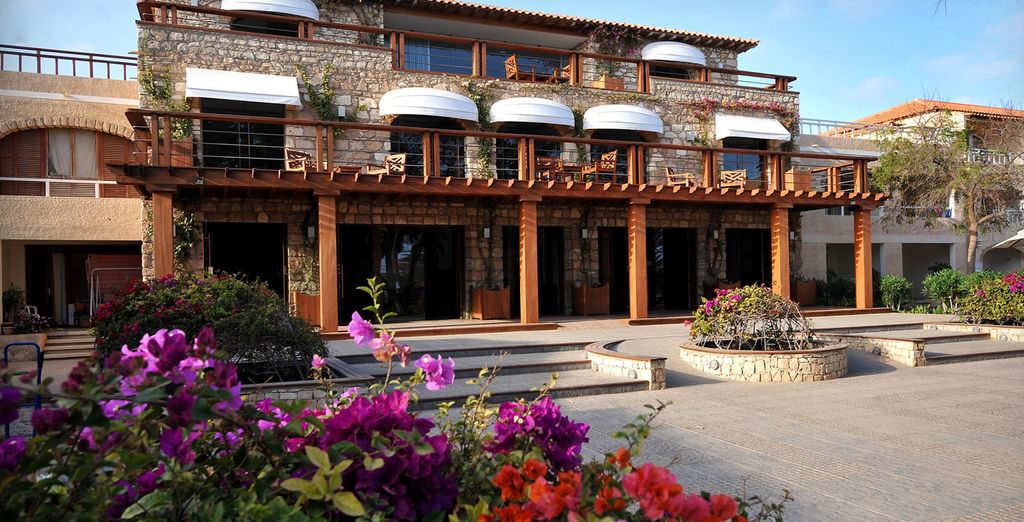 Located in Santa Maria, Hotel Morabeza is ideal for visitors at any time of the year. It's located right at the shores of Santa Maria Beach and offers rooms with both sea and garden views. It has two tennis courts and three swimming pools on-site.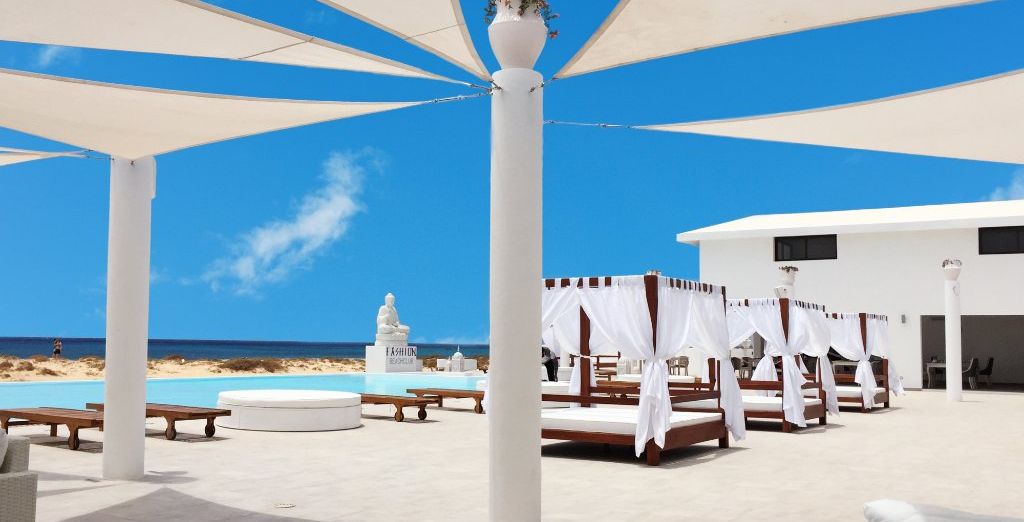 This stylish hotel is located on a private beach and offers amazing views of the picturesque Cape Verde volcanic backgrounds. During your stay, you'll have access to an infinity pool and a choice of a Suite or a Superior Sea View Room. Options include full-board or half-board.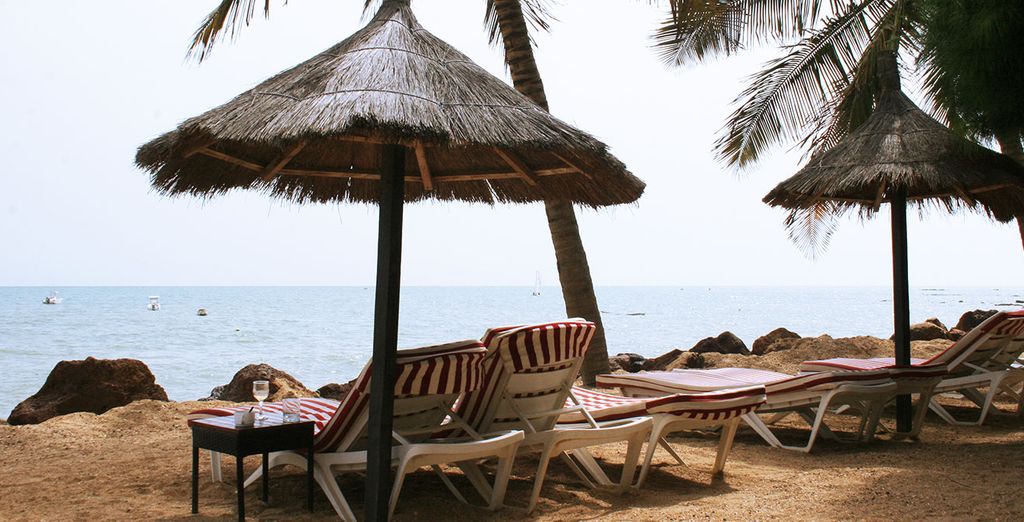 Just over an hour's flight away from Cape Verde is Senegal. A private tour of this beautiful West African country includes Boababs, Djoudj National Park, Pink Lake and Lompoul Desert. You can also choose a number of optional excursions during your holiday, ending with a stay at the 4* Le Saly Hotel.
When is the best time to go on holiday in Cape Verde?
To get the best experience from your Cape Verde holidays, plan your visit between November and June. This is when temperatures range around the mid to high twenties, and rainfall is light. Alternatively, travel between June and August when fares dip slightly, giving you a bigger budget to enjoy island hopping.
Going on holiday in Cape Verde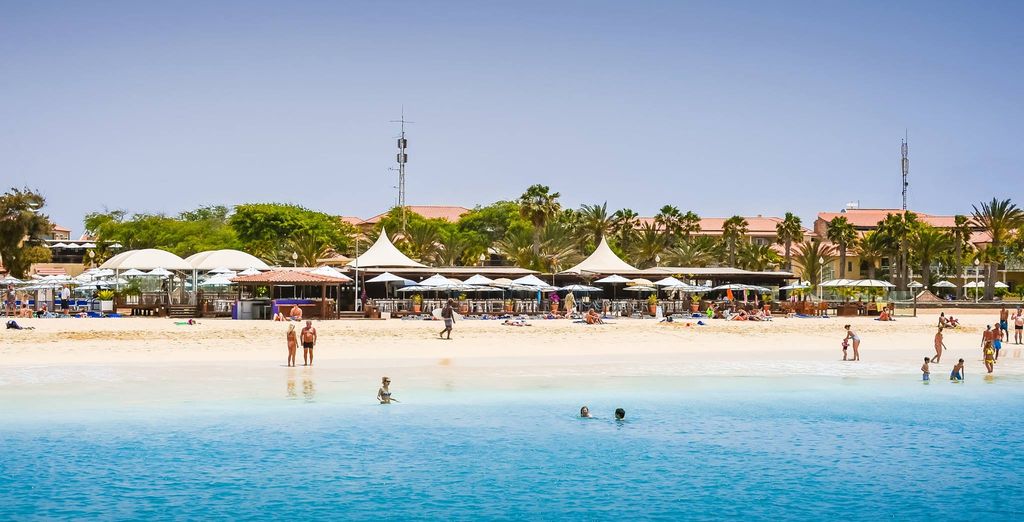 The best way to get to Cape Verde from the UK is by direct flight. There are weekly direct flights serving Amilcar Cabral International Airport in Sal and Aristides Pereira Airport in Boa Vista. It takes an average of six hours to land at your chosen destination when using a direct flight and up to nine hours when using indirect/connecting flights. If you don't want to fly, you can travel to Cape Verde by boat. Almost all the major cruise lines operating out of UK ports have routes, and they take between forty-eight to seventy-two hours. You can travel from island to island using local flights, though this is an expensive option. Ferries are easier to access and more affordable.
Enjoy your holiday in Cape Verde
Cape Verde is perfect for all types of travellers. Family groups will find plenty to engage the kids, while couples can enjoy the romantic and luxurious accommodations. Whether you're visiting solo or with friends, plan your itinerary carefully. Regular travel between the ten islands is limited, with few daily ferry or flight options. Moreover, the pace in the islands is slow, so don't expect to jump spontaneously from one island to the next. Ideally, a 10-day trip will let you visit all the islands at a comfortable speed, in line with the transport available.
The Voyage Privé travel expert's opinion on Cape Verde
Cape Verde is full of contrast, with each island offering a unique experience. The weather is pleasantly tropical, offering sun-filled Cape Verde holidays at any time of the year. Given the musical influences on the archipelago, it's not surprising that the festival calendar revolves around carnivals. Visit Mindelo island in February to enjoy the Creole Festival, a riot of colour and sound influenced by the carnivals of Brazil, or travel to Baia das Gatas at the end of August to enjoy the Full Moon Festival.
Discover a place like nowhere on Earth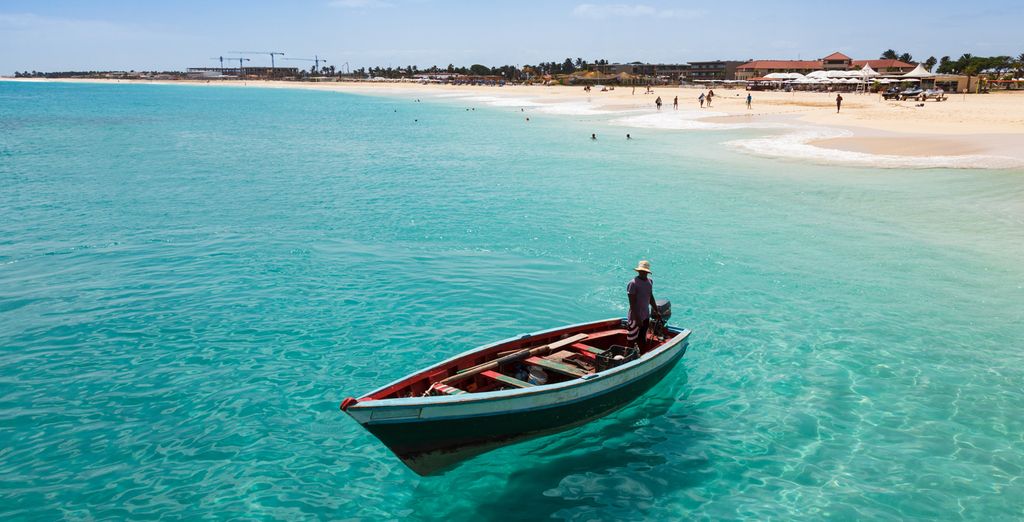 Cape Verde is a group of ten volcanic islands located just off the north-west coast of Africa. The stunning other-worldly beaches, picturesque cobbled towns and melting pot of different cultures make it an ideal holiday destination. The archipelago is still relatively unknown among western tourists, so there's never been a better time to plan your trip. Originally discovered by the Portuguese, you'll find a rich heritage of African and Brazilian characteristics, with a vibe all of its own.
Island hopping
The largest island within the archipelago is Santiago, where you'll find the current capital of Cape Verde: Santiago is also home to the old capital, Cidade Velha, with historic sights like the clifftop fortress of Forte Real de São Felipe. The most popular islands to visit are Sal and Boa Vista, both of which lay claim to Cape Verde's most beautiful beach. Sal's beach stretches for eight kilometres and undulates in breath-taking moon-like dunes. The sugary sands of Boa Vista extend for a phenomenal 55 kilometres. You can simply walk along these beautiful and strange landscapes, or opt for something a little more active, such as wind or kite surfing. Diving courses are also available, and there are a number of wreck sites for you to explore.
Cape Verde isn't just about beautiful beaches: there's so much more to uncover
With such a lively mix of cultures and traditions, there are plenty of unique reasons to visit Cape Verde. The islands are the birthplace of morna music, a type of traditional dance music, as well as a distinctive fashion and cuisine. As with many island nations, the local speciality is fish, alongside lobster, squid and shrimp. The national dish is cachupa rica – a delicious slow-cooked stew of vegetables, beans and fish. This can be washed down with grogue – a local rum made which is made from sugar cane.
Whether you spend your time walking the lunar beaches or the cobbled streets of the colourful town of Santa Maria, our exclusive and handpicked hotels and villas will ensure that you get a great deal on any visit to Cape Verde. Let us offer you a deal as exceptional as the islands themselves.