Discover our Iceland Travel Guide
Iceland is one of the most picturesque countries in the world and is known worldwide for its breathtaking landscapes, stunning nature and beautiful cuisine. Situated on the Northern tip of Europe, like its Scandinavian neighbours, Iceland is home to a vast collection of wildlife, despite its expansive array of vast land. From domestic animals such as dogs, sheep, and cows to wild animals including whales, reindeer, and puffins, Iceland offers a unique environment to see these creatures up close. Iceland is fast becoming one of the most popular destinations worldwide, and once you step foot in this beautiful country, you may never want to leave. From glaciers to geysers and volcanos to spring pools, there's a beautiful mixture of natural wonders. Few countries can match the outstanding natural beauty Iceland has to offer.
Iceland offers a magical array of picturesque locations which transform as the seasons change. Low crime rates, friendly locals and romantic settings make Iceland the perfect destination for lovers of the great outdoors. Iceland is full of wonderful history, charm, and culture, helping millions of people fall in love with the country each year. Whether you are a winter enthusiast looking to its beautiful locations, a photographer searching for beautiful sites to take perfect photos or simply a family looking to experience a Nordic country for the first time, Iceland is bound to take your breath away. There is so much to see and do within the country's vast landscapes, making Iceland a majestic destination for travellers to visit. Our Iceland travel guide will offer you a range of exciting ways to enjoy your time in this brilliant country.
The top 10 things to see/do in Iceland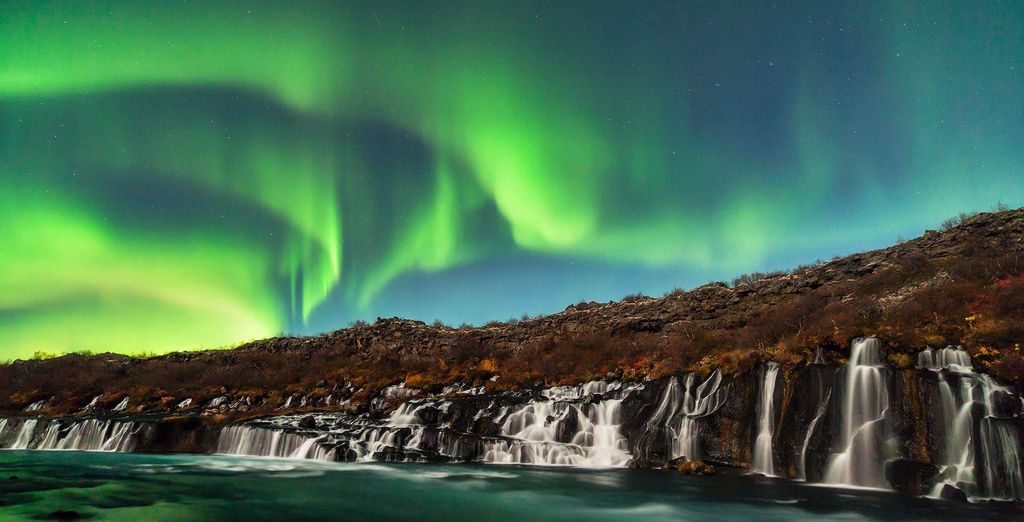 Iceland's wide variety of options make it an exciting place to visit, so we've compiled an Iceland travel guide to help you choose the ideal activities to enjoy.
1. Marvel at the Northern Lights
Iceland is one of the best countries in the world for you to get a glimpse of the Northern Lights, and this is one of the biggest draws for visitors. In order to see one of the wonders of the world, full darkness is required, so you'll need to ensure you come between September and April. There are several places in and around Reykjavik and further afield which offer you a chance to see the Aurora Borealis.
2. Walk along the black beaches of Reynisfjara
Iceland is home to a fantastic selection of magnificent black sand beaches, and Reynisfjara's may be one of the most famous in the country. The beach is found in the south and is a beautiful example of the natural wonders on display throughout Iceland. A large set of magnificent rock formations add to the atmosphere of the beach. The majestic landscape has even been used in popular TV series, such as Game of Thrones.
3. Relax in the Blue Lagoon
A geothermal spa located in the south, a visit will offer you a chance to experience one of the country's most popular locations. Contrasting with the surrounding area, the spa offers warm light blue waters with natural minerals, perfect for relaxation in a beautiful environment. Entry is free for children under 14.
4. Experience the waterfalls of Skogafoss
One of Iceland's largest waterfalls, Skogafoss offers you a unique way to get up close and personal with nature. Located in the south of the country, this is a photographer's paradise with many fantastic opportunities and angles to get your perfect shot. On sunnier days, you may be lucky enough to see the waterfalls produce rainbows, enhancing its magical feel. If you are feeling brave you can walk through the waters - but be warned, you will get soaked, so bring spare clothes.
5. Visit the Herring Era Museum
A museum which highlights Iceland's maritime history, this is a perfect way to spend some time taking in a small part of Iceland's history. The Herring Era museum offers you a fantastic insight into Siglufjörður's past and helps bring a key period for this town to life. Each of the museum's three buildings is set against a beautiful harbour and focuses on a different aspect from the town's past.
6. Explore the nation's capital
Reykjavik is the world's Northernmost capital, and it has plenty on offer for you to enjoy. Reykjavik is home to a contrasting array of colourful homes and comprises of many cultural, natural and historic monuments. Food lovers can enjoy a selection of beautiful local cuisine, including rye bread, seafood and if you are feeling very brave, there is the option to try reindeer. Reykjavik is full of beautiful museums which provide an insight into the city.
7. Drive the Golden Circle
The Golden Circle offers a fantastic way to explore much of Iceland's most beautiful scenery. The main locations on the route include Thingvellir National Park, Gullfoss Waterfall, and the Geysir Geothermal Field.
There are many tours that offer you a chance to explore the Golden Circle, but many places are available where you can hire a car. By driving you'll be able to go at your own pace and stop at each of the places for as long as you wish.
8. Tour Eimvrek Distillery
The only whisky distillery within Iceland, a trip to Eimvrek offers the perfect way to learn about the production of Icelandic whisky. This is a great option for whisky lovers, with tours taking around an hour to complete. At the end of your tour, you'll get a chance to try a selection of Eimvrek's drinks. Only a short distance away from Reykjavik, this is a great afternoon activity.
9. Go on a Puffin Tour
Iceland is home to thousands of these beautiful animals. There are multiple tours available, many departing from Reykjavik. A puffin tour will allow you to see these colourful creatures in their natural habitats and you'll often see them hunting fish. As well as puffins, you may also see a wide variety of seabirds. Many tours provide binoculars, which offer you an excellent way to see the close-up details of these magnificent animals.
10. Ride a snowmobile
Iceland is a vast and expansive country, so what better way to explore the country's beautiful surroundings than to take a ride on a snowmobile? Given its name, it shouldn't come as a surprise to many that Iceland is often covered in snow and ice. Snowmobiling will offer you a fantastic opportunity to drive over many of the country's glaciers, and even drive over active volcanos, the majority of which are covered in glacial ice.
When to visit Iceland?
The best time to visit Iceland can vary depending on your desired type of trip, as well as the budget you have planned. Iceland is at its majestic best in the winter months, offering fantastic scenery and unrivalled experiences such as the Northern Lights. During the summer months, due to Iceland's location, there can be non-stop daylight, and beautiful, lush scenery perfect for walking. The extended daylight can make June and July the most crowded months to visit. To experience the wonders of this country, visiting in May, September or October will save you money and there are fewer crowds.
How to get in Iceland?
Given its northerly location, unless you fancy a two-day boat ride from Denmark, the best and cheapest way to get to Iceland is by plane. Most airlines offer good deals, but if you book during high season or around Christmas, prices will increase.
Iceland map
Which hotel to choose in Iceland?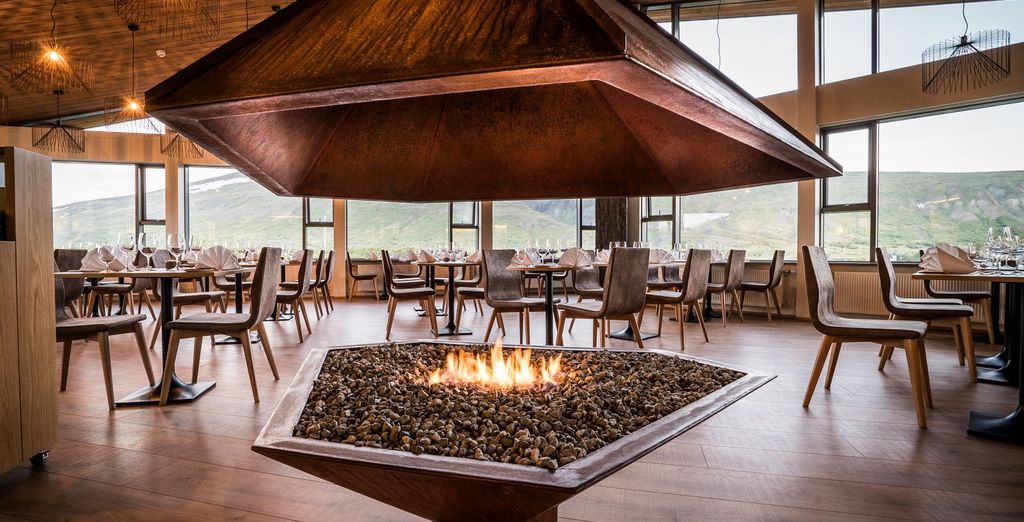 Our Iceland travel guide includes many beautiful destinations to visit, so we've selected a few chosen offers to help make your stay even better.
Hotel Husafell 4* is a luxury hotel, perfectly located near many of the country's jaw-dropping natural wonders, complete with its own geothermal baths and waterslide.
The Alda Hotel Reykjavik 4* is an ecological hotel surrounded by nature. It provides the perfect base for guests looking to explore Snaefellsjokull National Park.
Culture in Iceland
Iceland is known for its unique culture and throughout the year there are many cultural events which celebrate the country. Below is a list of some well-known events:
Iceland's National Day - Culture

The Art Festival in Reykjavik - Arts

Bright Days Festival - Music
Local practices and customs
Iceland is famous for stunning scenery, and it is well known for its eco-friendly credentials. When visiting, don't litter and try to use natural water, rather than buying the bottled alternatives. Icelanders are generally very relaxed, so the main concern for tourists when considering the dress code is to ensure you pack for the weather.
Our practical advice for Iceland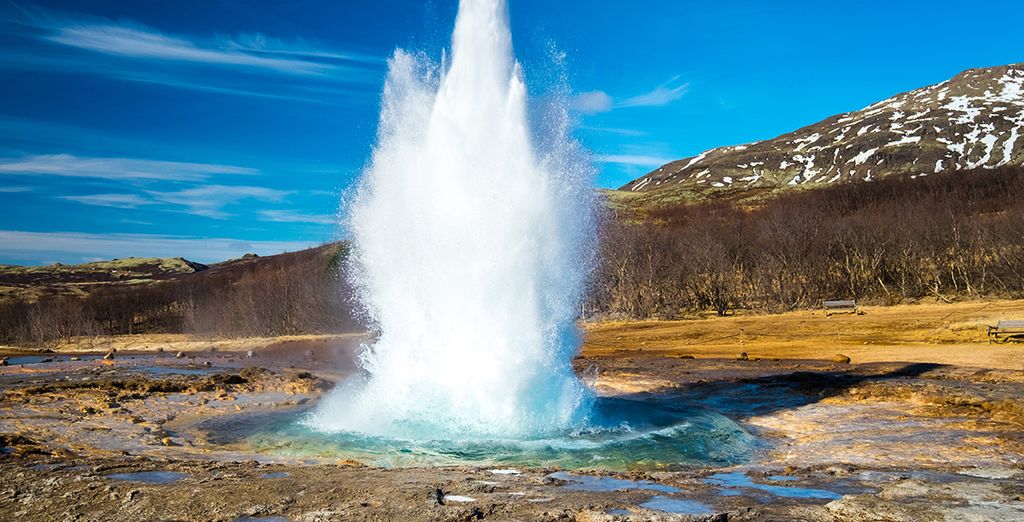 The main attractions, including the museums, tours, and the Blue Lagoon spa can often get very busy, so book a few days in advance.
Iceland is a huge country with a variety of natural wonders, so try hiring a car to give you the freedom to explore as much as you can.
What to bring back from Iceland?
Iceland is known for its rich culture, so there are many fantastic souvenirs available. Iceland has a variety of beautiful woollen jumpers and scarfs made from local sheep or perhaps you could buy some traditional music for a friend. Alternatively, you could bring back a beautiful selection of Icelandic alcohol including Reyka vodka or Floki's single malt whisky.
What currency to use?
Most restaurants, bars, and shops accept major credit cards. The currency in Iceland is the Icelandic Krona. Icelanders mostly use their credit cards, and cash is only really used for transport. Most major towns possess cash machines should you wish to withdraw Krona.
What's the time difference?
Iceland is one hour ahead of GMT.
What language is spoken in Iceland?
Icelandic is the main language, however, most locals can speak very good English. They always appreciate it when tourists have learned a few key Icelandic phrases.
What to pack for your holiday in Iceland?
Iceland's weather can often change very quickly, so you'll want to ensure you're prepared. You'll want to pack multiple layers, including thick jumpers, scarves, hats, gloves, and good walking shoes. Even in the summer months, despite it being warmer, it can still get chilly. Ensure you bring your waterproofs, but don't forget your sunglasses too!
How long to stay in Iceland?
Iceland is a great location for a city break, but to fully experience its extraordinary wonders, around a week is needed to see all it has to offer.
Restaurants in Iceland
Iceland has a wide variety of cuisine on offer, so whether you want to try reindeer, fish or a hot dog, there are numerous restaurants offering a taste of Icelandic food.
Prir Frakkar (Seafood)

Dill (Icelandic food)

Sandholt (Confectionary)

Nostra (Vegetarian)

Kore (Asian)
Family activities in Iceland
Iceland is an extremely family-friendly location, so there is plenty to do for children. Watch the whales in Husavik or try horseback riding in Langhus. Visit the Sagamuseum to allow your kids to get in touch with their inner Viking.
Iceland: What budget to plan?
Iceland can be notoriously expensive, but don't let that put you off. Our Iceland travel guide will help you get the best value for your money.
Around £165 a day should allow you to experience multiple activities, and cover the cost of your food, souvenirs, and transport. If you want to save money, there are numerous supermarkets that are ideal for preparing packed lunches.
Environment
The weather in Iceland notoriously changes, but that often enhances the magnificence of the country. Iceland is full of beautiful architecture, from Hallgrímskirkja to the Harpa concert hall ideal for those who appreciate amazing buildings.
Visit our exclusive offers for Iceland: weekend in Iceland, last minute deals in Iceland, Iceland tours, Iceland spa, Iceland holidays, great deals to Iceland.
Discover more free travel guide.