Kenya Free Travel Guide and Practical Information
Discover Kenya and its wildlife 🐘 Get inspired with our Travel Guide 📚. Advices, Tipes, Best location, itineraries and more ✅.
Travel to Kenya
Kenya's dramatic Great Rift Valley, stunning savannah sunsets, and varied wildlife create a package which attracts tens of thousands of visitors each year. The country is set on Africa's east coast, and has a southern shoreline which hugs the Indian Ocean. It's known for its rich flora and fauna, including lions, elephants, rhinoceros, and migratory wildebeest. Most visitors fly into the capital, Nairobi, where there is a well-respected national park. From here, safari trips head out into the Maasai Mara Reserve and other places in the country's interior. As well as being a starting point for safari tours, Nairobi is packed full of vibrant arts and crafts, delicious street food, and is a thriving modern city with a population of over three million.
The top 10 things to see/do on site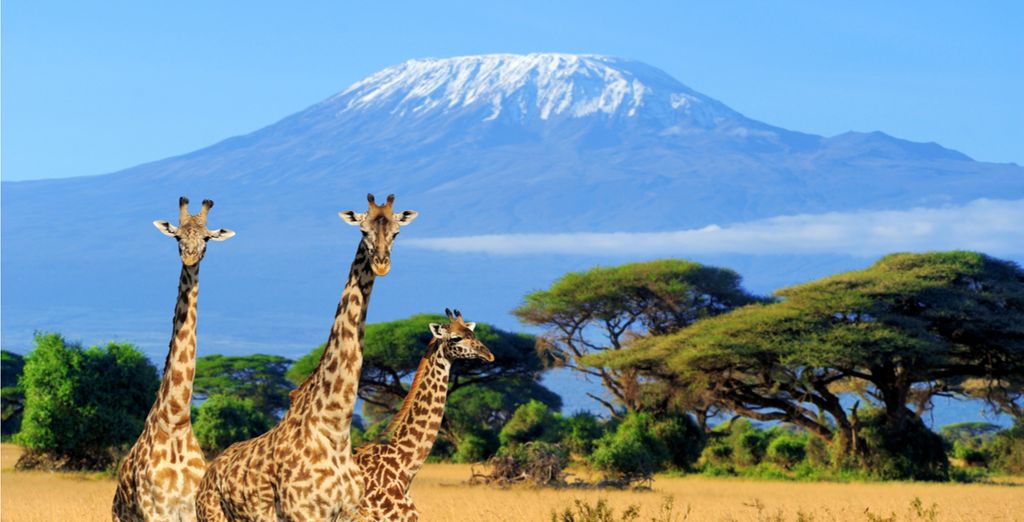 1. Maasai Mara Reserve

One of Kenya's most famous destinations, this savannah reserve is home to lions, cheetahs, wildebeest, elephants, zebras and hippos. Maasai villages are dotted throughout the reserve, which borders Tanzania.
2. Nairobi

Kenya's bustling capital is a hub for business and culture. Colonial buildings rub shoulders with modern high-rise offices, busy markets and the stunning Jamia Mosque. Head to Nairobi National Park to spot wild animals roaming free.
3. Amboseli National Park

A vast national park in southern Kenya, known for its elephant herds, Lake Amboseli (which dries up outside of the country's rainy seasons, from November to March and May to October), and stunning views of Mount Kilimanjaro, which is located just over the border in neighbouring Tanzania.
4. Mombasa

Set on Kenya's Indian Ocean coastline, Mombasa is the country's oldest city. It's known for its white beaches, coral reef diving, and its picturesque old town, which is a melting pot of cultures from the 16th century onwards. India, Arabia and Africa – with a dash of European influence – merge to create a cosmopolitan, charming port town.
5. Lake Nakuru

The high ground of Lake Nakuru (1,754 metres above sea level) is home to this Rift Valley soda lake, famous for spectacular scenery, waterfalls and rhinos. Up until 2014, the lake was famous for attracting vast quantities of flamingoes to its shore, but rising water levels have forced most (but not all) of the birds to other locations. Leopards, hippos and giraffes also wander the park's grounds.
6. Lake Naivasha

This freshwater lake is home to hippos, fish, and over 400 species of birds. It's situated just outside the market town of Naivasha. Several other tourist destinations are close by, including Hell's Gate National Park, which was the inspirations for a number of Lion King locations, including Pride Rock and the Gorge.
7. Tsavo East National Park

Tsavo East has been a national park since 1948, making it one of the oldest parks in the country. It's located in a dry area which was previously known as the Taru Desert. It's known for its rich biodiversity and is home to animals including lions, elephants, leopards, black rhinos and buffalo. You can also spot birds such as the sacred ibis and lovebirds here.
8. Watamu

Just north of Mombasa is Watamu, a small coastal town whose main draw is the Watamu National Marine Park and Reserve. This park is known for coral gardens and pristine sandy beaches. Mangrove forest and sandy flats are inhabited by a host of seabirds, and the ocean is populated with many varieties of fish and turtles.
9. Lake Natron

Lake Natron is a photographer's dream. Its deep red waters are coloured by bacteria in the lake to create a striking natural feature. The lake is a breeding ground for hundreds of thousands of flamingoes, who brave the highly alkaline waters to lay their eggs. The alkaline content of the water is so high that it is dangerous to swim in - around the lake, you can see the calcified bodies of birds and animals who perished in the water.
10. Mount Kenya

The highest mountain in Kenya, and the second highest in Africa (the highest is Kilimanjaro, in Tanzania), Mount Kenya offers plenty of opportunities for trekking, rock climbing, and exploring the surrounding national park. It's an ancient extinct volcano, tipped with glaciers at the summit and thickly forested on its lower slopes. Here, you can see a number of interesting animals and plants, including the hyrax, a small, furry cousin of the elephant.
When to go to Kenya

Kenya has two seasons; dry and rainy. There are two rainy seasons per year, the first is from March to June, and the second, shorter rainy season is from November to December. The best time to see wildlife is during the second dry season (June to late October), when temperatures are cooler. To see the wildebeest, you'll want to head to the Maasai Mara between July and October – at other times of the year, they move back to Tanzania. The two rainy seasons are considered "off-peak", and so you can generally find cheaper rates at these times of year.
How to get there?
Most tourists fly into Nairobi. It's a nine-hour flight from London, eight hours from Paris, nine hours plus from Rome, 11 hours from Madrid, and 15 hours from New York. There are also a number of flights into Mombasa airport. Alternatively, tourists may arrive into Mombasa as part of a cruise. Currently, there are no international ferries into Mombasa. You can also take the bus, or drive, from Tanzania or Uganda.
All visitors to Kenya require a visa. Single-entry visas on arrival can be obtained at the airport (current cost $51), or applied for online, but multiple-entry visas need to be arranged in advance. All visitors are also required to hold a valid certificate of vaccination for yellow fever.
Which hotel to choose?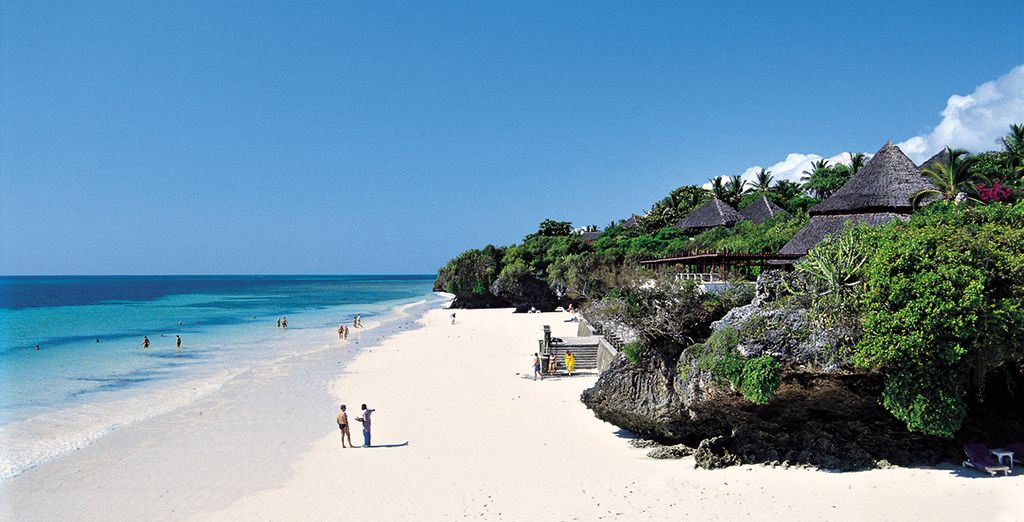 The Sarova Stanley Hotel

Located in Nairobi's central business district, the Sarova Stanley is the oldest hotel in the city. It has welcomed guests as distinguished as Ernest Hemingway and continues to provide five-star, luxury service to all its guests. If you'd like to find out about the hotel's interesting history, you can avail of a free guided tour of the building. Otherwise, just relax in its elegant, retro rooms, poolside, or in the spa.
Sarova Lion Hill Game Lodge

Set in Lake Nakuru National Park, Sarova Lion Hill Game Lodge has panoramic views right down on to the lake itself. It's located on the slopes of Lion Hill and is surrounded by lush woodland. In the surrounding national park, you can catch sight of a wide variety of wild animals, including leopards, rhinos, and one of the largest bird populations in the country (over 400 species call the park home).
Keekorok Game Lodge

Keekorok Game Lodge is perfectly located for wildlife-spotting. In the Maasai Mara National Reserve, it's surrounded by wildebeest at the height of migration season. All through the year, you can see hippos, monkeys, and birds right in the grounds of the lodge. It's built using a number of traditional materials, which give the hotel a unique, quirky charm.
Kilaguni Serena Safari Lodge

Nestled at the foot of the Chyulu Hills, close to Mount Kilimanjaro, Kilaguni was one of the very first lodges to be built in a national park. Its stone walls meld harmoniously with the volcanic peaks of the Chyulu Hills. The lodge has its very own watering hole, where you can see elephants, buffalos and other plains game assemble every day. It's set in Tsavo West National Park, and well-placed for day trips to other interesting locations in the area.
Saltlick Lodge

Saltlick Lodge is perfectly primed for wildlife watching. The entire lodge is elevated on stilts and overlooks a small watering hole and a salt slick where animals gather. It's set in a private wildlife sanctuary right next to Tsavo National Park. As well as views from the elevated lodge there's also an underground hide to spot wildlife from. Rooms are furnished in an elegant, traditional-meets-contemporary style.
The Baobab Beach Resort & Spa

This resort is set on Diani Beach, looking out over the Indian Ocean. Blue water laps at pristine white sand and The Baobab provides luxurious accommodation, complete with swimming pools, inventive traditional and international cuisine, and a tropical spa providing a full range of innovative treatments. Beautiful surroundings and spacious rooms help to provide an even more relaxing stay.
Culture and festivals in Kenya
Kenya has a number of festivals, which celebrate everything from traditional culture to cutting-edge cinema. Here are some of the most popular:
Lamu Festival

Lamu Festival is the longest-running cultural festival in the country, having started in 2001. Expect artisan craft making, dhow boat sailing races, and Bao, a game which has been played in the region for thousands of years. It's a celebration of Swahili culture, and you can expect to learn about Swahili life, foods and customs. The festival is held over three days, every November.
Maralal Camel Derby

Held in the middle of the year (dates vary), these annual races are open to both professional and amateur camel jockeys. A cultural festival (and a cycling race) run alongside the camel races. It's popular with locals and visitors – and if you've ever dreamed of racing a camel, this might just be your chance.
Rusinga Festival

This cultural festival is held on the last Thursday and Friday before Christmas, on Rusinga Island. It celebrates the culture of the Suba people: expect music, sports, food, art and traditional performances.
Kenya Kite Festival

This celebration of all things kite-y is held over one day in March. It aims to bring together kite lovers, kite makers and kite flyers from all over the world.
Nairobi Film Festival

Launched in 2017, this up-and-coming film festival aims to celebrate the region's best cinema, and grow Nairobi's cinephile population. It's held in March or April.
Shela Hat Contest

One of the weirder festivals in Kenya, this event is a chance for locals to stretch their creative muscles and show off handmade sunhats – which you can expect to be made from a bewildering array of materials, and have a wide variety of themes. A rocket hat? A penguin hat? A metre-tall cone hat with a giant pom-pom on the top? The only limit is your imagination. The festival is held in February.
Local practices and customs
Dress modestly, in lightweight clothing (it can be very hot!) Kenyan society is conservative, so refrain from behaviours that could be construed as offensive.
The Kenya map
Our practical advice for Kenya
What to bring back from Kenya
The best things to bring back from Kenya are traditional crafts. Ornately decorated Maasai blankets, colourful Kazuri beads, or soapstone carvings make for souvenirs full of memories.
What currency to use?
Kenya uses the Kenyan shilling (1000 shillings = £8). For upmarket resorts, hotels, and safari trips, however, prices will normally be quoted in US dollars. Sometimes (although not always) you will also be able to pay in euros or pounds sterling. It's best to have a mix of US dollars and Kenyan shillings with you, as paying in the wrong currency will generally leave you out of pocket; businesses tend to use the exchange rate which is most favourable to them.
ATMs are readily available throughout Kenya, and are the cheapest and easiest way to access your money. US dollars, euros and pound sterling are the easiest currencies to exchange, but rates are unlikely to be in your favour (and carrying around large sums of money in cash is generally not recommended).
The most commonly accepted cards are Visa and MasterCard. Be aware that credit card may not be accepted for sums below $50 (or sometimes higher, depending on the establishment).
What time zone?
Kenya has a time zone of GMT+3, 3 hours ahead of London (2 hours ahead during British Summer Time)
What language is spoken in Kenya?
Kenya has two official languages, Swahili and English. Both are widely spoken.
How long to stay?

Most visitors are issued with a 90-day visa. In order to see some of the country, it's best to stay at least a week; Kenya is a diverse country, with much to see. Travel times may also be long.
Restaurants on site
Most hotels offer a range of international dishes. Cities such as Nairobi have a vibrant dining culture, and some excellent restaurants. Traditional food is also common, and varies greatly from region to region. The staple dish of the country is cornmeal (as in Ugali), and richly flavoured rice (as in Kenyan Pilau) is also popular. Meat dishes include Kenyan Stew and Nyama Choma.
Family activities
The top family activity in Kenya is to go on safari. Other activities include snorkelling and attending cultural festivals.
How to travel to Kenya with your pet
It's not recommended to travel to Kenya with a pet – there are many ferocious wild animals, including lions, rhinos and leopards, which pose a threat to any pet running free.
Kenya: what budget to plan?
The average cost of travelling in Kenya is $100 (approximately £80) per person per day. However, if you're planning to go on safari, or to stay in luxury hotels, expect prices to be significantly more. The average cost of a safari is $800-$1,000 (£640-£800) per person per night.
Environment
Most of Kenya is still fairly natural. Savannah grassland predominates, and there are forests, mountains and lakes.
Additional practical information
Kenya uses a Type G plug, the same as in the UK. Kenyan society is conservative, so wear modest clothes and refrain from public displays of affection. Wear neutrally coloured clothing if you plan to go on safari.
Discover our offers to Kenya : holidays
Visit all our travel guides
FAQ Travel Guide Kenya
Depending on the season and activities there, travel prices may vary. With Voyage Privé, you can get travel deals to Kenya up to 70% ! Register for free to access all the details.
With an equatorial climate, Kenya's weather is subject to significant variations. The dry seasons are between December and March and then between July and October. For safaris, leaves in June, September or October to avoid the tourist crowd.