Thailand Travel Guide
Featuring stunning beaches, beautifully scenic landscapes and an incredible nightlife, Thailand is one of the most popular locations in Asia for holiday-makers by far - and it's easy to see why. With a rich history and culture and a welcoming atmosphere, Thailand is equally as suited to the adventurous as it is for those who prefer to stay on the beaten path.
From high rise buildings to fishings huts, Thailand is a country of extremes, providing a thrilling nightlife just miles away from a calming rustic setting, Thailand has something for everyone, whatever your holiday of choice. Rubber plantations, Buddhist temples and unique buildings make Thailand as beautiful to visit as it is to see on-screen or in photographs.
The top 10 things to see/do in Thailand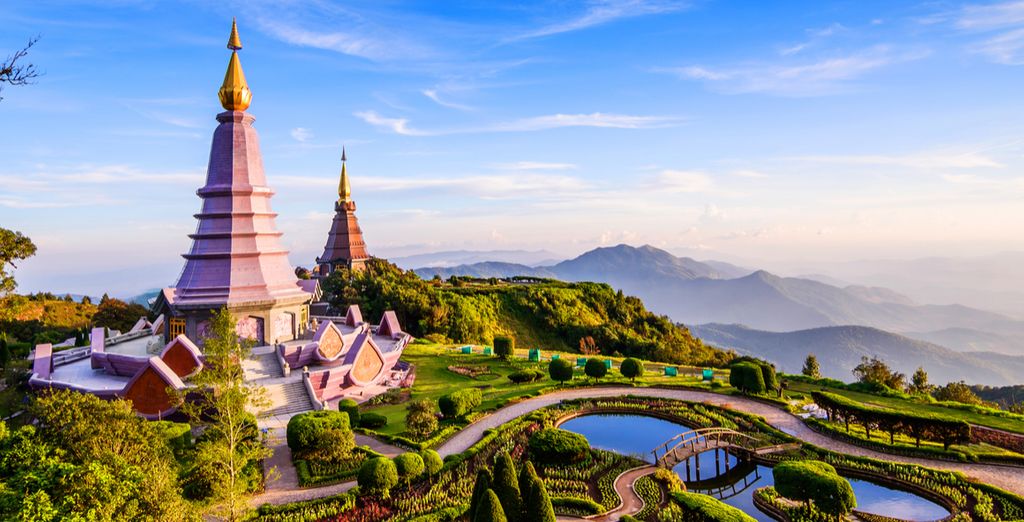 1. Bangkok
A clash of modern design and classic Thai culture, Bangkok is the perfect mixture of old and new, and the ideal place to explore everything that Thailand has to offer in an urban environment. From street vendors to shopping, restaurants to luxurious hotels, Bangkok isn't a city to miss when you visit this Asian country.
Discover our travel plans to Bangkok: booking, holidays, travel guide.
2. The Grand Palace
A beautiful structure of eighteenth-century design, the Grand Palace is one of the many fantastic attractions within the boundaries of Bangkok, complete with stunning architecture and rich history just waiting to be explored. Opulently indulgent and a feast for the eyes, there's much to enjoy about this attraction.
3. Hat Rin
The party capital of Thailand, if you're looking to enjoy all that Thai nightlife has to offer and you're less into sightseeing, then Hat Rin is the ideal destination for you, playing host to countless clubs, bars and parties around the clock that's sure to satisfy even the most hardcore partygoer.
4. Ko Samet Island
Featuring exclusive seafront bungalows and clean white sands, Ko Samet island, along with Ko Chang archipelago, makes up the perfect spot for a little rest and relaxation, offering the chance to enjoy the comfortable climate and humidity of the county from the comfort of a deckchair or poolside.
5. The Andaman Coast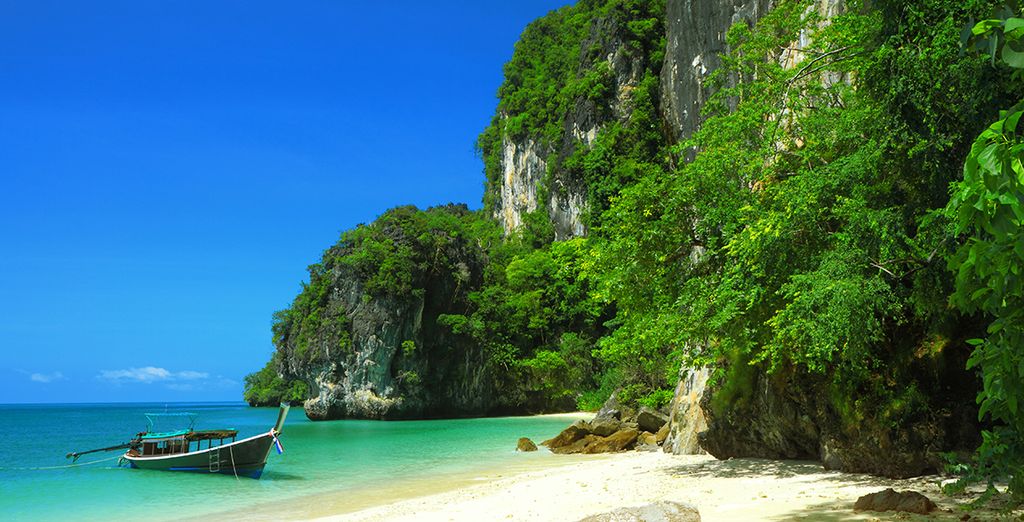 Set on the far side of the peninsula, the Andaman coast is some of the most exhilarating scenery the country has to offer, complete with the perfect conditions for diving and many coral reefs to explore, enjoy and swim amongst. For those who love to get back to nature, this coastline is the perfect place to visit.
6. Mekong River
Taking in everything from the stretches of agricultural land to a variety of religious sites and locations, a tour along the Mekong River provides countless sights to see and parts of Thai history to discover, all within one contained space, ideal for those looking to learn more about the country they're visiting.
7. Phimai
Alongside the less well-known Phanom Rung and Khao Phra Viharn, Phimai features intriguing and ancient stone temples and architecture left over from the Khmers of Cambodia, more than ten centuries ago. For history fans, these locations provide an intricate history of the country that you won't experience elsewhere.
8. Khao Yai National Park
With stunning biodiversity with a wealth of flora and fauna to view, the Khao Yar National Park is one of the most beautiful sites to visit in Thailand. From elephants to unique bird species, wild orchids to fig trees, every part of Asia's abundant and diverse wildlife is catered for.
9. Chiang Mai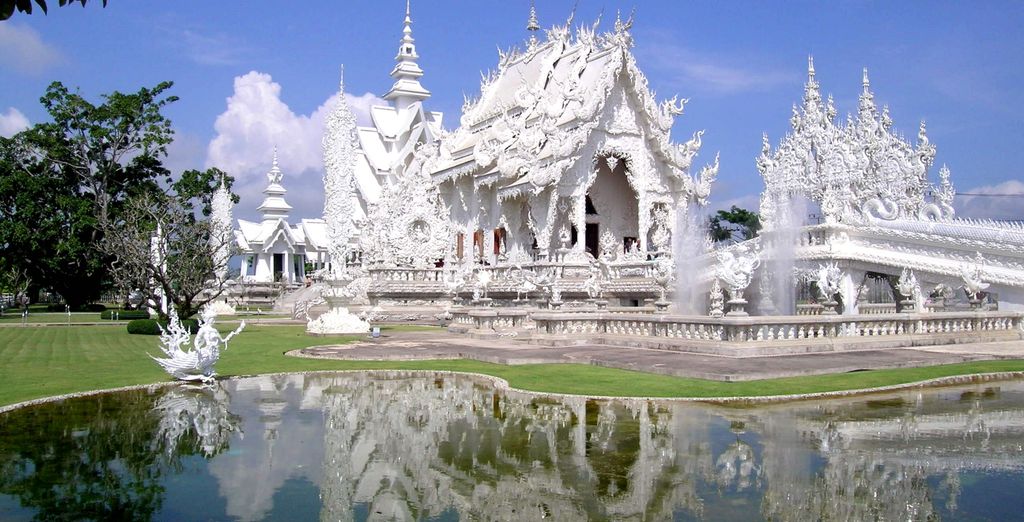 A historic, world-renowned city, Chiang Mai is globally known a centre for culture, arts and festivals within Thailand's borders, with thousands of tourists flocking to the location monthly to enjoy all the urban centre, has to offer. From yoga classes to Thai cooking, there's more than enough to entertain anyone who travels to this unique city in search of new skills and Asian-style art.
10. Ko Samui
With some of the world's most beautiful white sand beaches, if you're looking for coastal luxury then Ko Samui is the place to be. With generous accommodation and welcoming locals, this tourist location is mere miles from favourite backpacker hotspots, complete with stunning scenery and excellent local cuisine, making it ideal for people of all backgrounds and walks of life.
When to visit Thailand?
When it comes to taking in the sights, sounds and scenery of Thailand, there's much to do at just about any time of the year. But to avoid the crowds and experience the culture of this Asian country at its best, try to visit outside the peak summer and winter holiday times for a more personal experience. Visiting during festival time may also result in bigger crowds, but more chance to participate and integrate into local culture and celebrations.
Between early November and late April is the cooler, drier season for Thailand, making it a better time to visit for those who aren't fans of heat or humidity. But overall, Thailand is an excellent location to visit just about any time of the year, depending on your personal preference.
How to get to Thailand?
Thailand boasts six international airports, making travel by plane the easiest way to visit this Asian country from abroad, with the majority of airlines offering flights into the country. The cost of airfare varies per season, while it's often cheaper to fly to Bangkok and then fly via domestic lines to other parts of the country.
Travel by boat may also be a possible option, with a variety of cruises available in and around the Thailand area. However you choose to travel, it's essential to ensure you have an up-to-date passport, though a visa is not required for visits of less than 30 days.
Which hotel to choose?
Thailand boats a wide range of accommodation to match your needs, requirements and holiday wishes, but for those looking for something more specific, these hotels might just be the perfect pick:
Maehaad Bay Resort Koh Phangan
Discover the island of Koh Phangan in luxurious surroundings with this four-star hotel locations, including fantastic views and world-quality food choices. With scenery overlooking the iconic Koh Maa and an area desirable for its vibrant nightlife and rich culture, there's nothing not to love about this 4-star resort.
Well Hotel Bangkok
With a serious ethos for lifestyle and wellness, the Well Hotel Bangkok more than lives up to its title, offering an urban experience with a touch of tranquillity and relaxation on the side. Rise above the busy streets with 4-star accommodation, and see everything Bangkok has to offer.
Zazen Boutique Resort & Spa
Designed to fit right in with the beautiful white beaches of Koh Samui, this tranquil and calm resort earns its 4-star rating with luxurious surroundings and an in-house commitment to the 'zen' way of life. Unwind and relax in an intimate, comfortable setting that's the perfect base for your visit to Thailand.
Century Park Bangkok
Located in the Victory Monument area of Bangkok, this urban hotel is right in the centre of the action, with easy transport links to all the sights and sounds of the big city, as well as the usual luxury amenities you'd expect from a 4-star hotel in such a lively and vibrant cityscape.
Culture in Thailand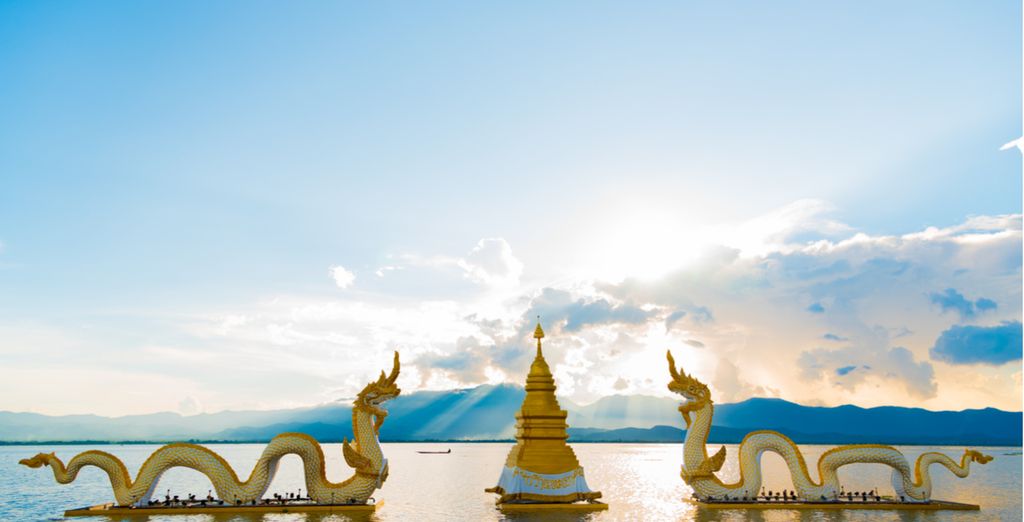 A country steeped in rich culture and celebration, Thailand has much to offer for those who enjoy to immerse themselves in the local environment or those who want to know more about their choice of holiday. Here are just a few of the biggest and most well-known festivals and cultural hotspots in Thailand:
1. Songkran Festival
A festival observed across many Asian countries and cultures, Thailand takes this unique cultural experience to the next level. The equivalent of New Year for the Thai people. From April 13-15, the populace of Thailand takes to the streets, visiting temples with their loved ones and partaking in the local custom of throwing water, in order the cleans misfortunes of the past.
2. Loi Krathong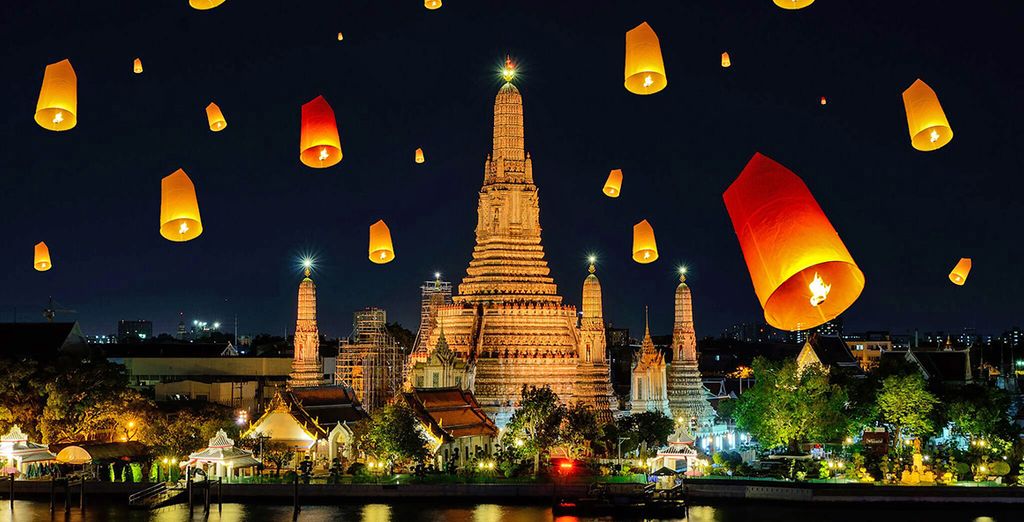 Also known as the Festival of Light, this unique event takes place during November, though the date changes each year. This ceremony involved the placing of floating candles onto calm rivers, creating a beautiful and powerful spectacle for any who join in or view the event.
3. Big Mountain Music Festival
A far more modern event, the Big Mountain Music Festival is the key to Thailand's entertainment scene, hosting some of the country's biggest names and best music in a week-long festival, that is held every December outdoors; not a problem in Thailand's warmer climes. The event draws in at least 70,000 attendees each year, with numbers only rising.
Thailand's map
Our practical advice for Thailand
What to bring back from Thailand?
With such a vast and rich culture, there are a variety of different items you may choose to bring back, whether it's beachfront souvenirs, local delicacies such as spices and dried ingredients or even maps and artwork relating to the many beautiful historical sights in and around the cities and towns of Thailand.
Currency used locally?
The currency used in Thailand is the Baht, and it's recommended that before travel, you convert your cash to ensure you can pay for everything you need to while abroad. In major cities, such as Bangkok, many credit cards will be accepted, but cash may be required for smaller or more rural locations to make purchases or eat in restaurants.
Time difference with Thailand
Thailand is 7 hours ahead of the UK, making it a location that can result in jet lag for those more susceptible to this travel risk. For others, the time difference will be easy to adapt to over time. In cities like Bangkok, many services are available late into the night, making the transition an easier one.
Languages that are spoken in Thailand
The primary language of Thailand is Thai, which is spoken by almost everyone you are likely to encounter throughout your holiday. However, especially in the cities and tourist areas, you are more likely to encounter services or restaurants in which you can communicate in English.
What to pack for your holiday in Thailand?
With a generally hot and humid climate, even in the cooler months, it's recommended to pack lighter, airier clothes for your holiday to Thailand, with cotton and linens best to ensure the heat doesn't stop you from enjoying your holiday. Don't forget to pack sun cream and bug repellent to keep your holiday pest-free and your skin unburnt.
Restaurants on site
The main food of Thailand is, of course, traditional Thai cuisine, featuring an abundance of unique tastes, spices and sensations to enjoy. Within the city limits, however, food is available for just about every palate and preference. For those who want the authentic experience, opting for Thai food will add that extra bit of culture to your trip.
Top Family activities in Thailand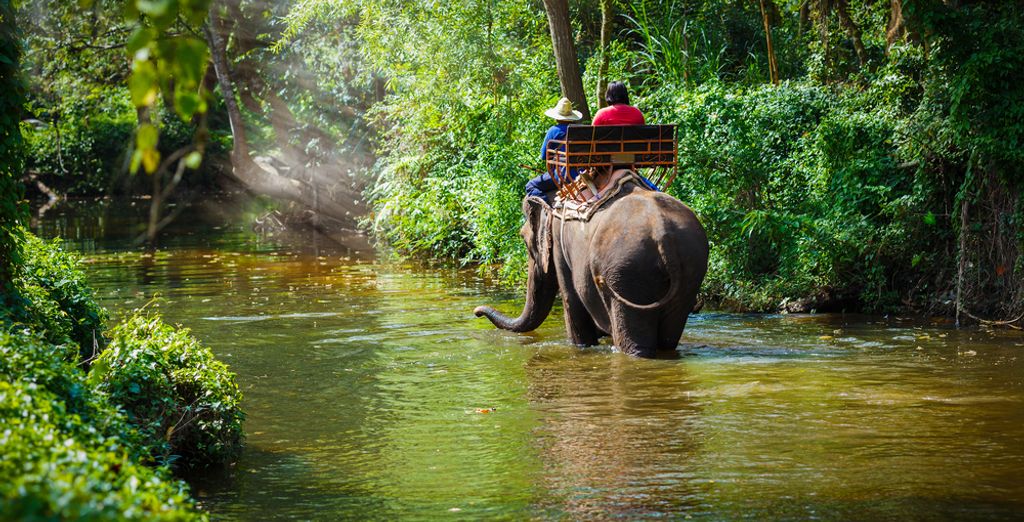 Thailand is the perfect place to visit as a family, whether you choose to stay in-resort or branch out to experience more of what' out there. For those with younger children or babies, the long journey may make it difficult to justify a short stay, but for more extended visits, Thailand can be the perfect first-holiday location, with ample clean beaches and facilities for you to enjoy.
Thailand: What budget to plan?
The cost of living and food in Thailand is incredibly low compared to what we're used to in the UK, especially outside of Bangkok, with beer only costing around £2 or 100 Baht, and food such as vegetable pad thai available for less than £1 at many vendors or locations.
It's possible to travel to Thailand on a very modest budget, depending on what your choice of holiday is - cultural experiences and tourist attractions cost a little more, but transport prices still remain very low.
What is the ideal stay length to fully discover Thailand?
For those looking to uncover everything that Thailand has to offer, a stay length of 3-4 weeks will allow you time to enjoy everything the vibrant, unique country has to offer, from local cuisine to the exciting nightlife, historical architecture to local flora and fauna. For those who have a specific goal in mind, whether it's partying or relaxing, a shorter stay can offer you a feel of what Thailand has, without going in-depth on the details.
Environment
Known for its tropical climates, beautiful beaches and amazing landscapes, Thailand's environment varies greatly from the city to the country. While Bangkok is ultra-modern and the definition of a concrete jungle, the countryside is made up of native plants such as Ratchaphruek, Thailand's national flower, as well as farmland for rubber trees, crops and more. Mangrove forests are also a common sight in the wetter parts of the country.
Visit our offers in Thailand: booking thailand, holidays, last minute deals, tours, great deals, cruises.
Discover more travel guides.