Maldives Travel Guide
If silky white sands, ultimate luxury, and some of the most turquoise waters you've ever laid eyes on sounds appealing to you, then the Maldives is your next holiday destination.
Nestled in the Indian Ocean, the Maldives is made up of nearly 2000 teeny tiny islands. If you've never been before, you should believe the hype; it truly is one of the most stunning locations on planet Earth.
Sporting beautiful coral reefs and hidden lagoons, with endless underwater worlds to explore, it's not hard to see why the Maldives entices over a million people a year to its shores.
There's something for everyone, so whether your idea of the perfect getaway involves snorkelling the cyan waters, absorbing the relaxing vibes with a cocktail in hand, or feasting on freshly-caught seafood, take a look at what this tropical paradise has in store.
The top 10 things to see/do on site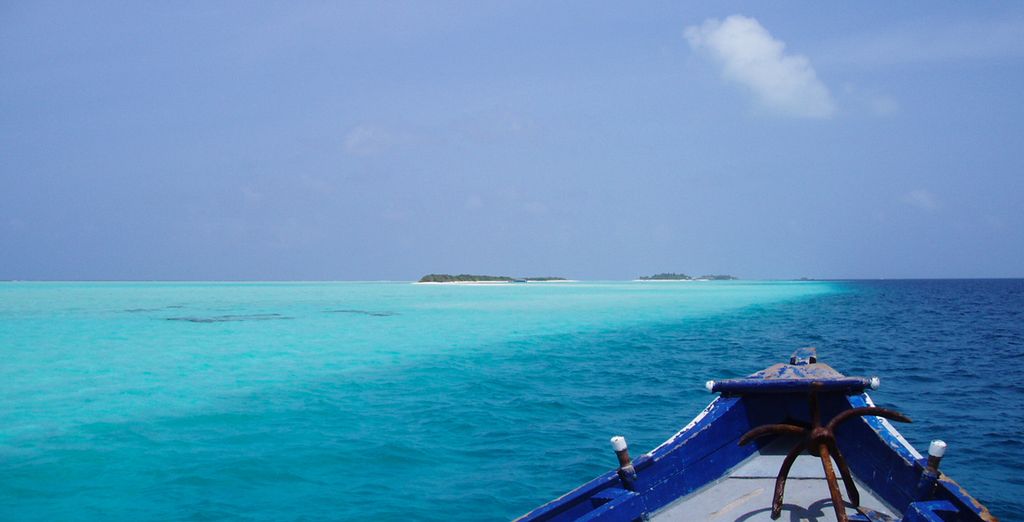 1. Malé
Bright, tall buildings, cafes (mostly alcohol-free), restaurants and bustling markets. Male is a must-visit. Small but mighty, the Maldivian capital is packed with culture, and surrounded by stunning turquoise waters. There's plenty to see and do for such a small island; visit the Old Friday Mosque, soak up the surroundings at the National Museum with unique artefacts, and take a trip to the fish market. There's even the China-Maldives Friendship Bridge, which connects Male to Hulhule.
2. National Museum
Located in Male, the National Museum may not look glamorous from the outside, but inside boasts centuries of culture and beautiful architecture. Gifted by China, it's split into two parts. Downstairs lives galleries devoted to medieval history, including the Maldives's conversion to Islam in 1153. Upstairs is where you'll find more modern history, including the country's first gramophone, telephone, and a pretty large computer.
3. Old Friday Mosque
Situated in Male, the Old Friday Mosque is the oldest mosque in the country, dating back to 1656. Constricted from coral stone, it features Quranic script, which is chiselled in. Like other buildings in Male, it has a beautiful interior, which shouldn't be judged on the exterior.
Non-Muslims who want to venture inside are usually urged to seek permission from an official of the Ministry of Islamic Affairs. However, the majority of the staff are officials, so if you're appropriately dressed you're sure to gain entry.
4. Male Fish Market
At the heart of Male lives the infamous fish market. Although it doesn't sound like the most appealing of tourism spots, it's a great experience whilst you're on the island. Watch as the daily catch arrives, get caught up in the hustle and bustle of the workers, and see if you can spot some of the mega tuna and octopus which regularly come in (they're giant!). It's sure to leave you with a desire to seek out some delicious seafood.
5. Hanifaru Bay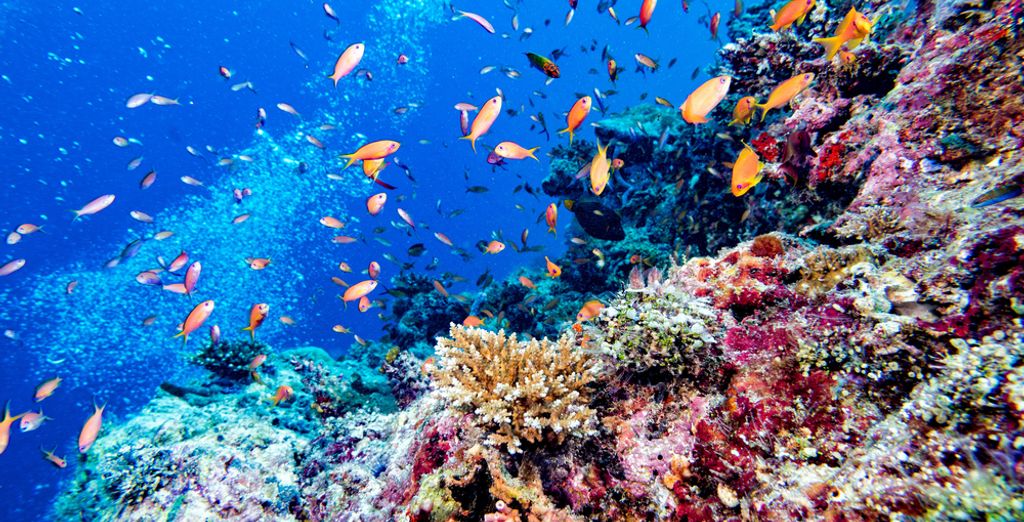 if there's one thing the Maldives is famous for aside from its spellbinding beaches, it's exploring the underwater world. Diving with sharks is one of these, and if you want to go down this route, Hanifaru Bay is the place to do it. It's the largest feeding station in the world, and Unesco protected, so it attracts plenty of sharks and other marine wildlife daily. Submerge yourself into the water and meet the local Hammerheads for a once in a lifetime experience.
6. Maafushi
The most cosmopolitan and progressive inhabited island of the Maldives, Maafushi is all about colourful, Instagram-worthy beach huts and incredible beaches.
It comes as no surprise that many tourists flock here each year, as aside from your resort, it's one of the most beautiful islands to kick back and indulge in a cold drink whilst lounging under a palm tree. Close your eyes and you can almost imagine the sounds of the waves lapping against the sand - pure bliss.
7. Sunset boat cruise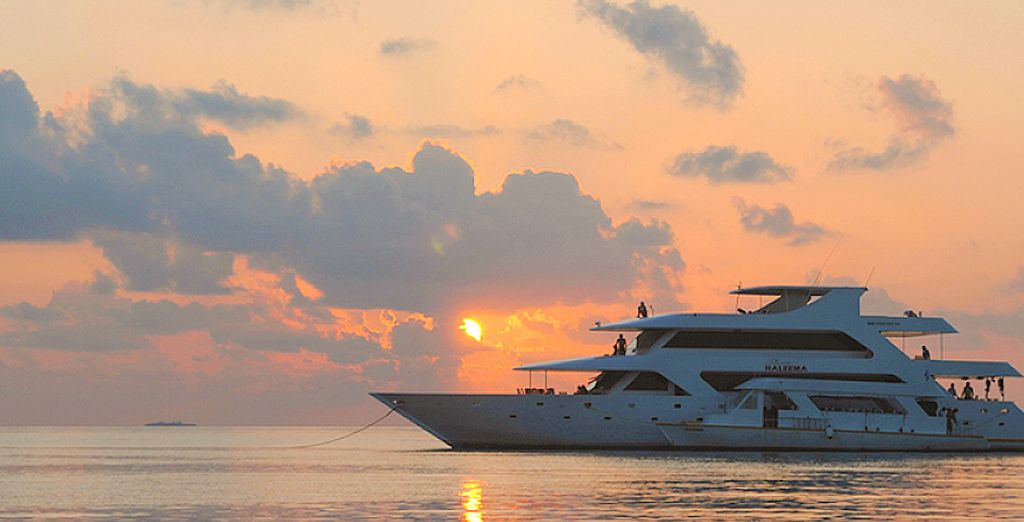 One of the most enticing activities on any of the 2,000 islands is a sunset boat cruise. You'll find many of the resorts and hotels offer boat excursions, but if you're looking for something with that little bit of an extra touch, this is it. Pack a bottle of wine (or indulge in the drinks on offer on board), enjoy some tasty canapés and sit back as you watch the sun dip below the horizon in your own private paradise. If you're planning on popping that all-important question, we can't think go a better time to do it.
8. Private beach picnic
The Maldives is all about romance, after all, it's one of the most luxurious honeymoon destinations the world over. A private beach picnic is one way to truly immerse yourself in the romantic aspect of this holiday.
Depending on your resort, you can enquire about some of the best places to explore, they'll then arrange for an extra special picnic to be made up just for you. Take it to your favourite spot and enjoy a sunset backdrop.
9. Villingili
The island of Villingili gives off more of a Caribbean vibe, with its shops, restaurants and laid back beaches. It's a great spot to get a taste of everyday Maldivian life, where you can take a seat in one of the non-alcoholic bars and watch the world go by.
Make sure you leave enough time to take a swim in the bath-like warm sea, and take a book so you can recline under one of the swaying palm trees after exploring the rest of the island.
Relax and take it all in - It might sound simple, but truly one of the best things to do when visiting this beautiful country is to just relax and make time to take it all in.
We have little opportunity to really take time out for ourselves in day to day life, and the Maldives is a once in a lifetime holiday location. As much fun as it is to explore, ensure you leave enough time to just enjoy yourself and really unwind with your loved one or family. You won't regret it.
When to travel to the Maldives?
The beauty of the Maldives is it's hot all year-round, so you can travel when you please. However, like other tropical climates it has a monsoon season.
The best time to visit is November-April, when it's drier and hotter. Just keep in mind this also makes it high season, and therefore quite busy.
The monsoon season runs from May-October, peaking in June, so if you're travelling during this time it's best to keep in mind you may not be reclining on a sun lounger all day. However, any rain is as warm as the surrounding seas, and unlikely to spoil your holiday.
How to get there?
The best way to get to the Maldives is to fly. From London, flight times are around 12.5 hours, including a stopover.
Flight time from Paris is just over 12 hours, whereas from Italy, you're looking at around 11 hours 50 minutes.
When travelling from the UK, a tourist visa for up to 30 days stay is required for entry. Any longer is considered an offence, so make sure you collate all the correct paperwork prior to travelling.
You'll also need at least 6 months on your passport to travel.
Which hotel to choose?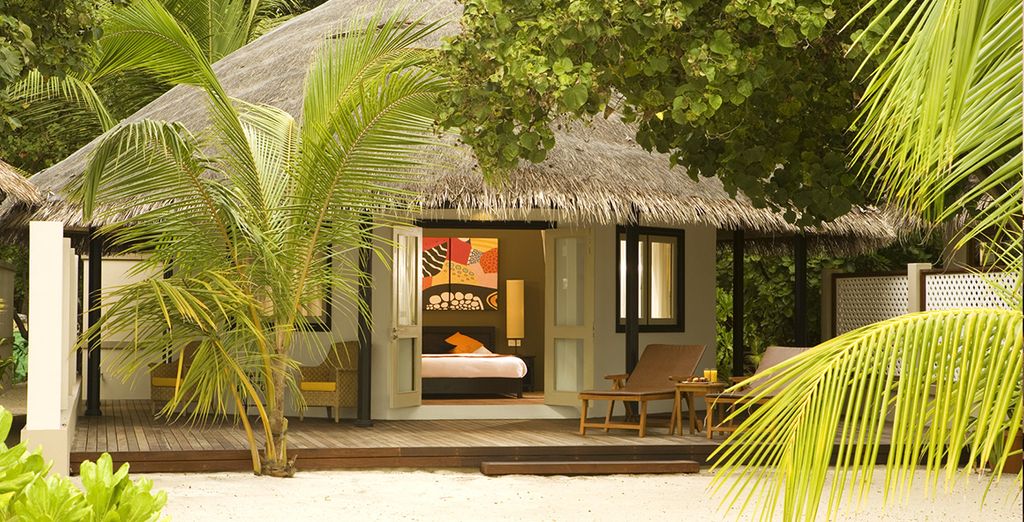 There's an abundance of gorgeous hotels and resorts to make your stay the best it can be when travelling to the Maldives, but here's a selection of our most exquisite favourites.
1. Kihaa Maldives 5*
Situated on its own 600 metre long private island in a Marine Protected Area, the Kihaa Maldives is a 5* luxurious getaway in Baa Atoll, perfect for both families and couples.
Take up one of the watersports, or wander down to the beach to enjoy the powder sands. And with a spa included, indulgence is truly at your fingertips.
2. Essential Sri Lanka & Maldives 4/5*
One of our most prestigious offers, this private tour spans 11-15 nights, and includes a stay at a selection of best in class hotels. Starting in culturally rich Sri Lanka, you'll explore Anuradhapura, one of the oldest civilisations in the world, go wild on a safari, and explore Buddhist temples.
At the end leg of the trip, you'll venture on to the Maldives, where your own private paradise awaits.
3. Paradise Islands Maldives 5*
Located in North Male Atoll, this stunning hotel is surrounded by shallow waters and beautiful beaches.
With 6 restaurants, 5 bars, an open air spa with 17 treatment rooms, and luxury beach bungalows, it's the perfect romantic getaway for sheer indulgence. If reclining on the beach all day isn't your thing, you can explore the watersports on offer, including Catamaran sailing, jet skiing. Windsurfing and canoeing come at no extra cost.
Culture in the Maldives
The Maldives may be renowned as one of the best places on Earth to relax, it's rich history and culture means there's also a few festivals you can experience during your stay.
1. Independence Day
Taking place every 26th July, the Maldivian Independence Day celebrates being freed from Britain. Soak up the culture whilst watching the walk past, and be wowed by the colourful clothing on show.
2. Kuda Eid
A 3 day celebration, and public holiday, this marks the end of Ramadan. Colourful parties and festivals usually take place, so no matter where you're staying you'll be sure to experience some of the celebrations.
3. Ramadan
One of the most important dates in the Islamic calendar, Ramadan varies yearly. With Islam as the state religion, this is observed throughout the islands, so it's worth being aware of when it falls, and being respectful of anyone who may be fasting.
4. Eid-Ul-Adha
One of the Major religious festivals, it officially stands for the Festival of Sacrifice. Popular ways to mark this include gathering with family and friends, where women cook special sweets, and everyone wears their best/new clothes. If you're in the country whilst this is taking place, take an interest and enquire with staff at the hotel or locals, you'll be surprised at what you might learn.
Local practices and customs Maldives
Islam is the state religion, so it's useful to always keep this in mind when travelling to public places such as Male, or one of the islands with more of a cosmopolitan feel.
Be respectful and ensure you cover up when asked.
The Maldives map
Our practical advice for Maldives
Prepare for it to be hot, no matter what time of the year. Clothing will need to be suitable, and if exploring one of the religious landmarks, or whilst in Male, ensure you have enough floaty garments to cover up but stay cool. ?As with any tropical country, if you're prone to mosquito bites take supplies to keep them at bay, as well as high factor suncream.
What to bring back from Maldives
Popular trinkets to bring back from the Maldives include handmade jewellery, including necklaces, wicker mats, fridge magnets and wooden animals, usually crafted with coconut palm wood.
You'll find the majority of these in the resorts, or more a more authentic feel, get lost in one of the local markets and see what you find for loved ones back at home.
For the art lovers, enquire about a Maldives Art Painting.
What currency to use?
The currency in the Maldives is the Maldivian Rufiyaa. From an exchange rate perspective, 1 x Rufiyaa is the equivalent of £0.05 GBP. The currency cannot be purchased beforehand, but you can purchase on arrival.
USD is also accepted widely. Many local islands don't have banks or ATMs, but credit and debit cards are accepted at all major resorts and hotels.
What time difference
The Maldives is +5 ahead of GMT.
What language is spoken at Maldives
Dhivehi is the primary language. This is a mix of Arabic, English, Hindi, Sinhalese and Urdu. In the resorts and hotels, English is spoken.
What to pack for your holiday at Maldives
Due to the tropical climate and year-long sunshine, pack suitable, loose and breathable clothing, mosquito repellant and a high factor suncream.
How long to stay
Due to the long flight duration and inevitable stopover, it's best to save this tropical retreat for a longer break.
10 days - 2 weeks is the perfect amount of time, but a week will also suffice if you're short on time, or this isn't your only getaway.
Restaurants on site
Seafood is the most popular dish in the Maldives, and with the surrounding seas, it's no surprise. Fresh and delicious, tuna is served everywhere you go, and is usually prepared with an abundance of herbs and spices, making each dish exciting and different.
The Maldivian people even love seafood for breakfast - Mas Huni is smoked tuna, onion, coconuts and chilli, mashed together in one fragrant dish. It's usually served with flatbread, known as Roshi, to mop up every last morsel.
Coconuts are also used frequently in cooking. You'll often find coconut grated on top of curries, adding a delicious extra touch.
Hedhikaa, aka 'snacks' are served on each island. Bajiya is one of the most popular; pastry filled with fish, coconut and onions.
Overall, the food is a unique mix of Arabic, Indian, and Sri Lankan flavours, so if you love spice, your taste buds will thank you.
No matter what you eat, the surroundings really make it here, so whatever you're feasting on you'll be sure to enjoy it, surrounded by the calming sounds of the ocean, and an obligatory glass of wine.
Family activities, for teenagers, children, babies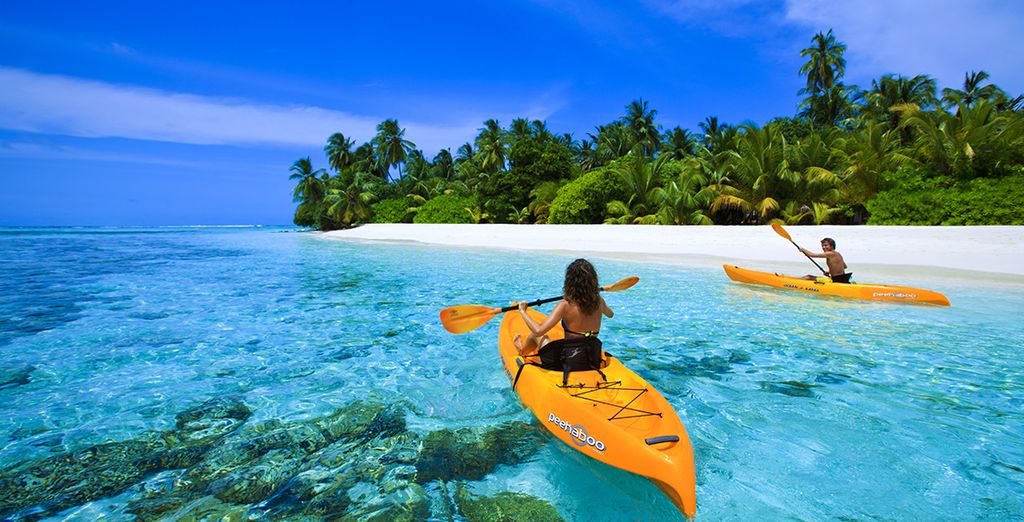 The Maldives is a notoriously romantic destination, but if travelling with the family, take advantage of the watersports.
From snorkelling, jet skiing and plenty more, children and teenagers are sure to never get bored. There's also the option to explore Male, where you can educate your little ones on the religious and cultural movements.
How to travel Maldives with your pet?
A vet must complete a health certificate before any pet enters the country, usually done within 10 days of travel time. Pets must be vaccinated 30 days prior to arrival, and have a form of identification (such as a microchip).
Maldives: What budget to plan?
Budget when travelling to the Maldives varies, many hotels are all inclusive so you often don't have to take much extra. The only exception is fine dining, and if you wish to stay in a water villa.
Outside of all-inclusive resorts, expect to pay around £5 for a glass of beer or wine, with dinners up to £200 per night if you really want to splurge.
It can be done on a budget, but due to its beauty, it's best to enjoy it and treat yourself.
Environment
The Maldives consists mainly of beaches; white soft sands, shallow waters where you can see right to the bottom and world-famous coral reefs, and the most beautiful blue skies you've ever seen.
If you venture inland, you'll often find lush rainforests, but the outskirts of each island is where the real beauty lies.
Additional practical information:
All services in hotels and resorts incur a 10% service charge and 12% Tourism Goods and Service Tax.
Discover more travel to the Maldives: holidays, last minute deals.
Discover more travel guides.