Last Minute Cuba deals



Table of contents
Book last minute deals to Cuba 🏝 with Voyage Prive and discover more about this Caribbean island's ✅ fascinating culture and history.
Last minute holidays to Cuba
Cuba is a county with undeniable magic. Frustrating, yet extremely fun, worn-out but dignified, it's a country that leaves you wanting more. You can't help falling for the Cuban charm. A last-minute holiday to Cuba offers a mix of sputtering Fifties Cadillacs, faded Spanish colonial cities, wonderful live music, an arcane communist system, and world-class cigars. It's a place of romance, charm, fun, and intrigue.
The Voyage Prive travel expert's opinion on travel to Cuba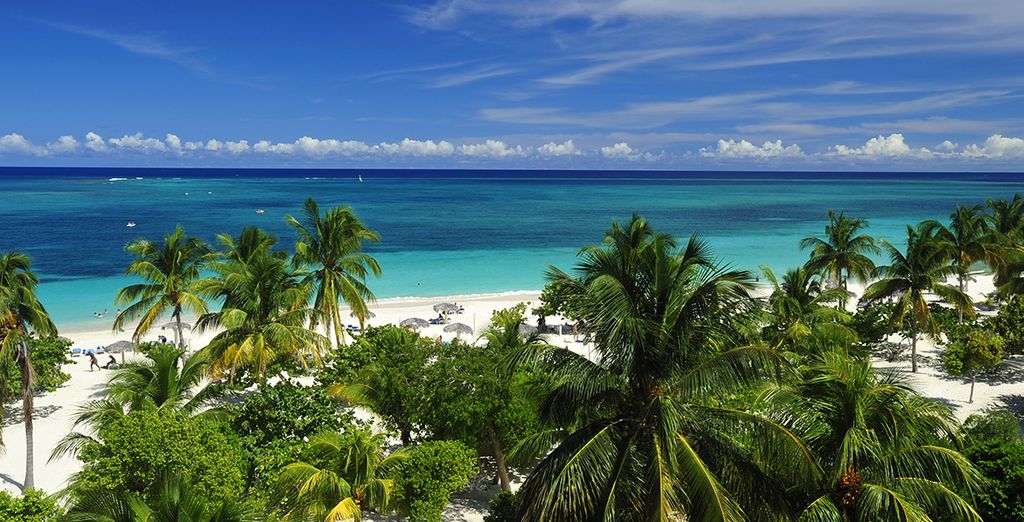 If you're interested in a holiday that offers stunning beaches, beautiful old towns, markets, cafes, bars, and a live music scene, then a last minute trip to Cuba should be top of your list. Highlights include the cultural gem of Havana, the crumbling colonial town of Trinidad, the beautiful tobacco heartlands of Viñales, and the sights related to the revolution and Che Guevara. Wherever in Cuba you choose, you'll have a memorable holiday.
A place unlike any other
From the bustling streets of Havana, to the historic jungles of the Sierra Maestra, you'll find plenty to love in Cuba. Though it's located just 90 miles from Florida, the island nation has a fiercely independent culture and identity which you simply will not find anywhere else in the world. This is not only due to the tense cold war relationship with its neighbour but also to the hardy spirit of the locals.
Despite considerable hardship, Cuba remains an upbeat, wonderfully old-school country (classic 1950s American cars are still popular due to an absence of trade) with a fantastic art and cultural scene. When you visit Cuba, it will be a holiday you'll always remember.
Top 5 things to do in Cuba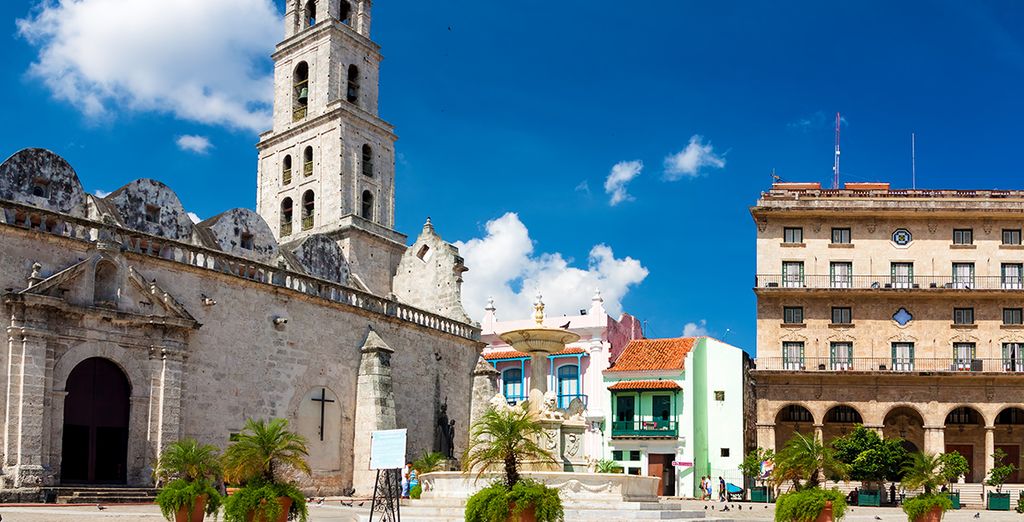 1. Hit the sandy beaches of Varadero Beach
In a perfect position between the Straits of Florida and the Bay of Cardenas, this sun-soaked beach is 13 miles of beautiful white sand surrounded by emerald Atlantic waters. It's the perfect place to relax, catch a tan or enjoy a cocktail. Often referred to as the perfect combination of Cuban charm and Caribbean glamour, it's no surprise this is one of the top things to do in Cuba.
If relaxing on the beach isn't your thing, then participate in one of the many on-site watersports activities on offer from scuba diving, jet skiing, parasailing, windsurfing and much more.
2.Explore the UNESCO World Hertigae site of Trinidad
Founded in 1514, this UNESCO World Heritage site is Cuba's colonial gem. It's a perfectly placed town that combines beautiful pastel coloured architecture, horse-drawn carts, cobblestone streets with a unique history.
Some of Cubas best museums are located here and a trip wouldn't be complete without a visit to Trinidad's most recognisable building, the Antigua Convento de San Franciso: a unique pastel coloured white and yellow domed bell tower.
3.Cycle through the beautiful Vinales Valley
No trip to Cuba would be complete without a cycle through one of Cuba's most recent UNESCO World Hertigate sites. A valley surrounded by lush green mountains, defined with a dramatic landscape of dotted giant round-top limestone karsts and green tobacco fields, this striking area is the home to the ever-famous cigar making in Cuba.
4. Ride a steam train through the Valley of the Sugar Mills
Three interconnected valleys: Valley of the Sugar Mills is known as a "living museum" that takes you through the booming sugar production of Cuba. You can see the sites of 60 former sugarcane mills, slave quarters, colonial plantation houses, and more all aboard a vintage 1907 American steam train.
5. Wander around Old Havana
A melting pop of Europe, Havana is the buzzing capital of Cuba and invites culture, intrigue, and beauty. Havana offers a vibrant mix of history, culture, and experiences. Wander the various cobbled streets that are alive with bars, cafes, and a rumba beat. Architecture around the city is an eclectic mix of Neo-classical, Baroque, and Art Deco styles. Even the beautiful colonial buildings of 'Old Havana' have earned the city a UNESCO World Heritage listing.
Our best last minute hotels in Cuba
Cuba has lots of wonderful hotels, but to help make your holiday to Cuba even more special, we've selected our best Cuba hotels and some special features about them.
This 5-star hotel is an iconic sight in Cuba situated on the seafront. It's so entwined in Cuba's vast history that it's actually been declared a National Monument. Many famous faces have stayed in this property so you'll be in good company.
Enjoy this hotel combined with the fabulous Hotel Lagunas del Este 5* which offers two stunning swimming pools to relax and cool off in. It's an all-inclusive hideaway surrounded by tropical gardens and nestled alongside turquoise waters. It's the perfect spot to escape reality.
This wonderful combination of hotels allows you to explore the delightful and bright Havana and beautiful Varadero. The first hotel is the same iconic structure as above with famous faces and beautiful views.
The second offers an all-inclusive dining experience with food, a stocked mini bar, non-motorised watersports, and complimentary entrance to the nightclub and drinks. This is a magnificent 5* resort in one of the most beautiful resorts that the Caribbean has on offer.
Need the perfect property to base yourself in buzzing Havana? We've found your ideal property. This property is located in the exclusive neighbourhood of Miramar and offers excellent ocean views. It's also within easy reach to all the best Havana attractions including, Club Habana beach, Old Havana, and the PabExpo Exhibition.
Practical information about Cuba
What is the weather in Cuba
Cuba enjoys a wonderful tropical climate and is home to warm waters, white-sand beaches, and plenty of culture. The optimal time to visit Cuba is in the autumn or spring when it's still hot outside but temperatures are slightly more enjoyable for day-to-day activities.
Cuban weather is heavily influenced by the local trade winds, which is due across Cuba between the North Atlantic Ocean and the Gulf of Mexico. This causes temperatures to drop, but the weather usually remains very sunny and warm despite the sea breeze.
What budget to plan for Cuba
Budget travellers can survive on a budget of $50 a day quite comfortably, but we recommend an average of around $80-100 per day to ensure a comfortable stay that allows you to partake in fun activities and see all the wonderful sights Cuba has to offer. Thankfully with Voyage Prive, you can find high-quality accommodation without the expensive price tag with our exclusive deals.
White sand and sun
Cuba isn't just worth visiting for its culture and history, indeed, as a Caribbean island, it is an island of tremendous beauty and one with the potential of great comfort and luxury. The northern coast is lined with expansive beaches of beautiful, white sand. Many of these beaches, such as Playa Paradiso - Paradise Beach, its name is accurate - are the perfect places to unwind after a day of exploring.
Geographically, Cuba is endlessly varied and you'll find huge tobacco plantations, swamps, spectacular jungles, and beautiful mountains. No matter where you go, there is always something fantastic to see.
The perfect time to visit
There hasn't been a better time to visit Cuba. Since Fidel Castro relinquished control to his brother Raul, relations between Cuba and the US have improved. This has boosted Cuba's infrastructure and its ability to support and welcome visitors. All of this will allow you to enjoy this incredible island in ways that would have been unthinkable only a few years ago. It is a time of immense change in Cuban society and by visiting, you'll be able to see and experience this change as it happens around you.
Cuban dining
Cuba's isolation means its cuisine is less internationally known than the food of other Latin nations or Caribbean islands. Therefore dining in Cuba will be an experience in itself. The meals are very meat heavy but are always delicious. Particularly recommended is Pernil Relleno de Moros y Cristianos, a pork shoulder marinated with juice, garlic, oregano and pepper, then mixed with rice and beans. A true taste experience almost worth the journey alone.
You'll be able to enjoy it all in unmatched comfort thanks to our range of expertly chosen hotels, each with a number of exclusive services and discounts that you won't find anywhere else. Book last minute Cuba deals today and soon you'll experience the real Cuba!
Sign up to our newsletter today for exclusive deals and offers. These deals won't be around long, so don't miss out, get involved today!
Discover more travel plans with our holiday pirates and last minute holidays.
FAQ Cuba
Cuba is a marvellous island that has everything to please: absolutely magnificent colonial cities, heavenly beaches and breathtaking natural parks.
The best time to discover Cuba is winter and early spring, from December to April. Note however that temperatures begin to rise seriously from March onwards. The month of February is the perfect compromise between a pleasant climate and cheap airfare.
Cuba has more and more charming hotels, to be su have an establishment of quality, do not hesitate to consult the offers of Voyage Privé.
To go to Cuba, you will have the choice to land in the capital Havana or in the city of Santiago. Several airlines, such as Air France, Cubana or Iberia, offer daily departures from Paris to these two destinations.