Visit Florence with the Best Travel Guide
The capital city of Italy's Tuscany region, Florence is often referred to as the "Athens of the Middle Ages" thanks to its central role in European finance and trade during the medieval period. Starting as a Roman city, Florence went on to become the birthplace of the Italian Renaissance and was home to one of Europe's most notable noble families, the Medici.
Home to UNESCO World Heritage Sites and a hub of historic art, culture and cuisine, the ever-flourishing city of Florence boasts a range of art galleries, Medici villas and gardens and a whole host of exciting activities and things to see and do.
Top 10 things to see and do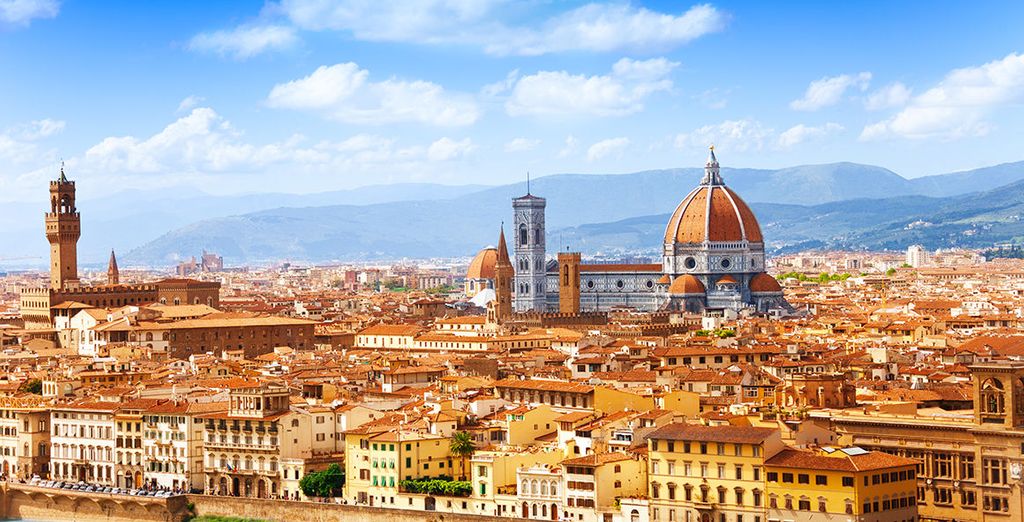 1. Discover the masterpiece sculpture of David
You simply can't visit Florence without a visit to one of the most famous pieces of Renaissance art by one of the most famous Renaissance artists. The world-famous renaissance masterpiece sculpture of David stands tall at Galleria dell'Accademia. Five metres tall, the statue was sculpted from marble by the infamous artist Michelangelo between 1501 and 1503.
2. Boboli Gardens
The Boboli gardens is a beautifully laid out public park and garden in Florence which is home to a stunning and impressive array of ornate 16th, 17th and 18th-century sculptures as well as Roman antiques and lavishly ornate fountains.
3. Bargello
Set in a 13-century palace which was once a prison and a barracks, this brilliant museum is home to a range of authentic and breathtaking Renaissance sculptures, including some crafted by the world-famous Michelangelo himself.
4. Uffizi Gallery
Set in the Historic Centre of Florence, the beautiful 16th-century building houses an array of Primitive paintings and Renaissance masterpieces all year round for you and all the family to enjoy.
5. Florence Cathedral
This Gothic-style 13th-century cathedral is a landmark building in the heart of Florence. Completed in the 1400s, the famous cathedral boasts a range of elegant, striking features such as the magnificent Giotti Tower, intricate marble facades and iconic red-tiled dome.
6. Ponte Vecchio
The Ponte Vecchio is a stunningly vision of historic Florentine architecture. A medieval-era arch bridge over Florence's Arno river, the Ponte Vecchio is a closed-spandrel, segmented bridge constructed out of stone and boasts a variety of jewellery, art and souvenir shops where a string of butcher shops once were in its early days.
7. Santa Maria Novella
The first great basilica in the city of Florence, the Santa Maria Novella is a 15th-century Dominican church complete with gothic and Renaissance frescoes. Located opposite the Florentine train station which shares a name with the stunning church, the Santa Maria Novella is an authentic taste of Florence in the 1400s.
8. Historic Centre of Florence
Named a UNESCO World Heritage Site in 1982, the Historic Centre of Florence is a collection of the city's most notable and important cultural and artistic sites with over 600 years of artistic flair to enjoy. With a range of buildings, all showing a little taste of Renaissance and historic Florence, the authentic and proud cultural centre is a must-see every time.
9. Basilica di San Lorenzo
Located conveniently at the centre of Florence's market district, the Basilica di San Lorenzo church boasts a library designed by the one and only Renaissance star, Michelangelo, is one of the oldest churches in the city and is the resting place of the famous Italian Medici family.
10. Piazza della Repubblica
A city square for pedestrians featuring an array of shop and cafes as well as a traditional merry-go-round. With a selection of traditional and modern shops, cafes to eat authentic Florentine cuisine day or night and that classic look and feel of Florence.
When to go to Florence?
With most of Italy shutting down for the month of August, you should definitely avoid travelling to Florence during this period. The months of June and July are high-season, with July and August experiencing the highest temperatures and humidity but with larger crowds and higher prices.
The best months to visit Florence are May, June or September when the temperatures are warm yet comfortable and the crowds are reduced. For something a little different (and milder) visit in October to see the foliage changes and experience the beginnings of Autumnal beauty with few crowds.
How to get to Florence?
The best way to get to Florence from the UK is by plane. Florence's airport (FLR) is the second busiest in Tuscany and is about a 20-minute shuttle bus from the city centre. Journey times can vary depending on the airline and whether the flight is direct or includes a stop, but the average direct flight from London to Florence is around 2 hours and 15 minutes, with 2 hours and 35 minutes being the average from Manchester.
The Florence map
Where to stay in Florence?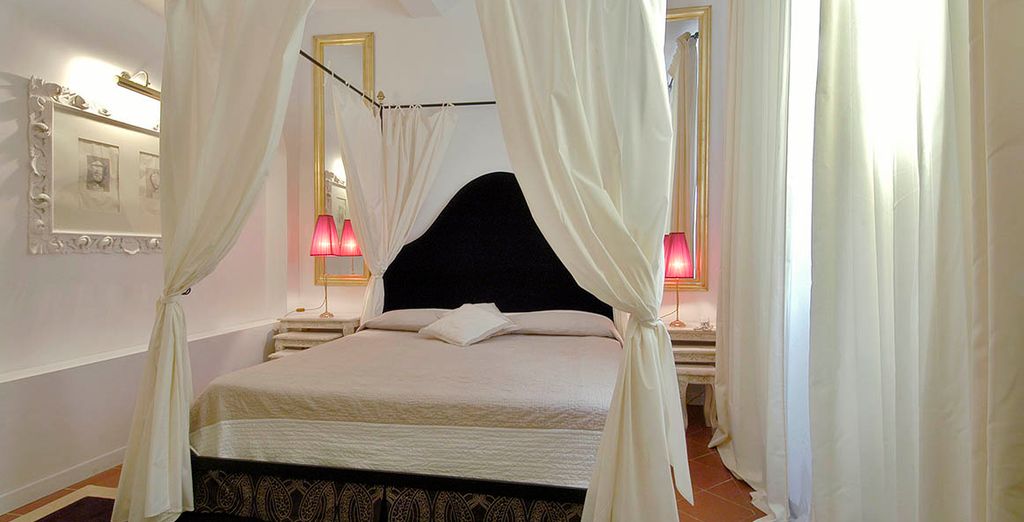 Hotel Executive Florence 4*
The hotel provides examples of the Italian Renaissance and immerse visitors into an elegant and historic atmosphere.
Hotel Cellai 4*
Located in the heart of Florence, the Cellai Hotel is only a five minute walk from Michelangelo's David and a short walk to the train station. Featuring a range of lounges and reading rooms, all with original antiques and paintings, the Romantically beautiful and modern-day twist of Florence combine with soft jazz music, honesty bars and monthly on-site art exhibitions.
The individually-decorated rooms have a classic feel to them, boasting warm colours, tea and coffee making facilities, air conditioning and candlelit buffet breakfasts.
Domux Home Ricasoli Hotel
With seven luxury apartments all incorporating an eclectic mix of classic and contemporary design, the Domux Home Ricasoli is less than a 5 minute walk away from the Duomo Cathedral.
All seven of the interestingly-designed, luxury apartments come with spa baths, chromotherapy, hand-crafted furniture and kitchens fully-equipped with everything you'll need. Free WiFi and DVD players are also provided.
Take a few steps and reach Michelangelo's David in the Accademia Gallery and see the Santa Maria Novella or catch a train after just a 15-minute walk.
What to bring back from Florence?
Florence has been home to several master goldsmiths since the birth of the Renaissance. These master goldsmiths didn't just create pretty trinkets and accessories, they were masters of creating artistic wonders in silver, gold and with precious metals and gemstones for an array of private families, public officials and the Church.
If you really want to capture the heart and soul of Florence in a gift, bring back a Renaissance-style gold ring or another piece of jewellery as a gift or to remind you of your visit.
Perfumes, ceramics and hand-crafted stationery are also wonderful options for gifts or keepsakes from your visit to Florence, all important to the historic and modern-day culture of the city.
Festivals
Epiphany - January 6
A legal, national holiday in Italy, Epiphany is the commemoration of the Three Kings arriving in Bethlehem and is celebrated with a parade in downtown Florence. It also marks the day of a Santa-claus type figure, La Befana. Gifts are given out on this day and shops, banks etc. are usually closed.
Maggio Musicale Fiorentino
A series of acclaimed music concerts held across the city of Florence through the month of May. Concerts, recitals, ballet shows and operas are performed by internationally-acclaimed producers and performers in several venues, get your tickets early as they sell out fast!
Festa di San Lorenzo, August 10
An outdoor celebration to mark the feast day of San Lorenzo. Held in the Piazza San Lorenzo, guests can enjoy live music and free lasagne from around 7pm, after mass inside the church.
Practical advice when travelling to Florence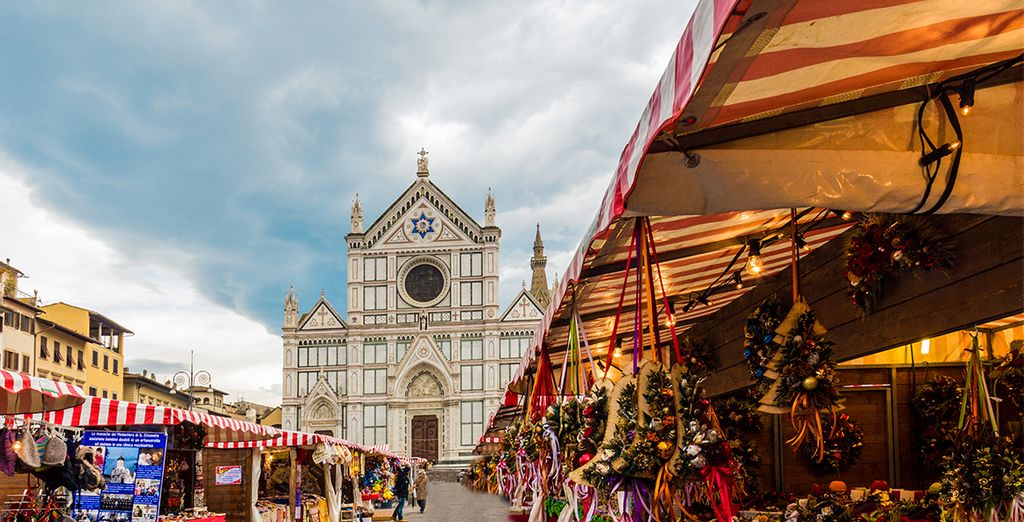 Which currency to use
As an EU country, the Italian currency is the Euro. The majority of shops, restaurants and cafes in Florence have card facilities, so you can pay by Visa or Mastercard in most places - but it's always a good idea to carry some cash on you. Always remember to check with your card supplier for fees and exchange rates, and when given the option always opt to pay in Euros.
You can also withdraw cash at several cash points throughout the city in Euros if you find yourself short.
Time difference
The timezone in Florence is Central European Standard Time (CET), which is one hour ahead of UK time (GMT).
Which languages are spoken
The official language of Florence is Italian. Historically speaking, the dialect spoken within Florence is a variation of the romanticised Tuscan-Italian language. This variation of Italian later became the standardised language throughout the country.
In many of the more tourist-heavy areas, you're likely to find someone who speaks at least a little English, but it's always a good idea to have a few phrases (and a phrasebook) to hand when you go, just in case. Fluency isn't required to get you through the day, but the basics are always good to know.
How long to stay in Florence?
In order to see all of the medieval, cultural and artistic wonders that Florence has to offer, you'll need a minimum of two or three days in the City, making Florence the perfect option for a weekend or long weekend break. However, we'd recommend a longer stay of around five to seven days so you can relax, explore, eat, drink and really enjoy the area without rushing around to fit in all the tourist attractions before you have to come home.
Restaurants in Florence
Full of traditional Tuscan cuisine, Florence is a hub of show-stopping dishes, including pasta, pizza and even seafood dishes. For meat lovers, you'll find Florentine steak on the menu at most restaurants in Florence, as well as a range of locally-sourced ingredients and traditionally-prepared local dishes.
Family activities
Florence is often thought of as a romantic weekend getaway, much like Paris is, but it can be fun for the kids too! There are several activities and kid-friendly places so you'll be able to keep the whole family happy during your trip to the historical Florence.
Get Gelato!
This is an especially good idea if you visit during the peak summer months as it can get quite hot. Traditional, "real" gelato made in the city it was invented in by Bernardo Buontalenti can be a deliciously refreshing break from the heat, crowds and will keep the whole family quietly satisfied for at least a few minutes.
Go somewhere with kid-friendly activities
There is a long, long list of museums and other places you should visit when you go to Florence, and there is also a list of those places which host regular children's activities or exhibitions, including the Galileo Museum and Palazzo Strozzi.
Go to the Zoo
Around an hour's train journey from the train station in Florence is the Pistoia zoo. With an incredible selection of animals within its seven hectares, the ever-expanding zoo has more than 400 animals for you and the kids to enjoy, as well as information on the protection and conservation of animals.
The "Porcellino"
A bronze fountain and sculpture located near the Ponte Vecchio, the unofficial mascot of the Mercato Nuovo market grants good luck to those who put a coin in its jaws (but only if the coin falls through the grating). Also be sure to give its snout a rub, it's said to ensure you'll return again one day.
Go swimming
Again, another great idea for during the peak summer months when Florence is at its hottest. The nearest swimming beach is about 90 minutes outside of Florence, but for those who would rather cool off a little closer to the city, there are a wide variety of swimming pools available that you can take the kids to. Most of the many swimming pools often offer bathing areas and even grassy areas for relaxing as the kids take a dip.
Travelling with pets
Travelling from the UK to Florence with a cat, dog or ferret is relatively easy and usually doesn't require a quarantine period. You simply need to obtain a pet passport from your vet 21 days or more before you plan to travel, this pet passport will contain proof that your pet is microchipped (which is a requirement for travel between EU countries), proof of rabies shot (also a requirement) and an EU health certificate.
Additional info
Remember that Italy uses European two-prong plugs, so you'll need to ensure you have an adequate number of adapters to ensure your electrical appliances can be used and charged. Some hotels may keep spares at reception, but it's always better to take at least two or three, even if you don't think you'll need them.
Discover more deals to Florence: romantic weekends in Florence, Florence holidays.
Discover our holidays in Italy travel guide.
Visit our travel guide.