Free Canarian islands vacation guide



Summary
Travel to Canarian Islands
Also known as the Canary Islands, this beautiful collection of archipelago-based destinations have long been a popular destination for holiday-makers, thanks to the islands' location just off the African coast.
The Canarian Islands include seven main islands, including Tenerife, Gran Canaria, Fuerteventura, Lanzarote and more, as well as several smaller islands that can be visited and enjoyed.
Rich with both local and Spanish culture, and with many resorts, hotels, restaurants and entertainment locations to choose from, it's no wonder that visitors keep on coming back to these tourist-friendly islands for more.
The top 10 things to see/do on site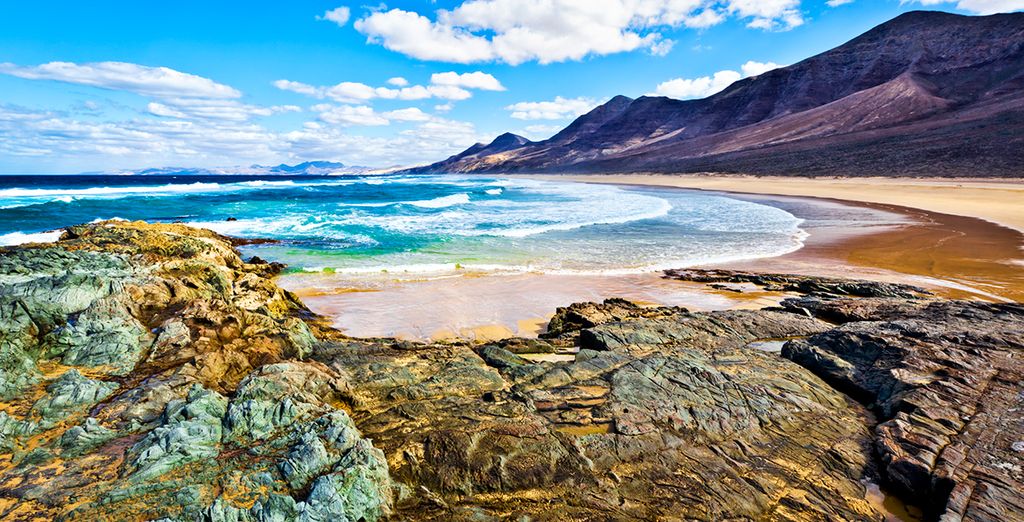 1. Lanzarote Volcano Tours

With both Lanzarote and Tenerife the sites of volcanic activity, complete with beautiful black-sand beaches, a tour of one of the most prominent natural landmarks is the perfect way to kick off your next holiday.
2. Whale and Dolphin Watching

Copious wildlife and marine creatures have made the Canarian Islands their home, making it the perfect destination for a little whale or dolphin watching from one of the islands' many glass-bottom boat tours.
3. Siam Park

A large and sprawling water park on Tenerife, Siam Park is perfect for kids (and big kids) of all ages and is the ideal way to cool off after a day out in the sun.
4. Loro Parque

A large-scale conservation area and zoo, Loro Parque features everything from exotic animals to dolphin and sea lion shows and is the perfect day out for any families visiting Tenerife or the surrounding islands.
5. Timanfaya National Park

The largest national park in the area on the island of Lanzarote, Timanfaya national park is an unusual and beautiful environment to visit moulded by volcanic activity over thousands of years.
6. Cueva del Fiento

If you're a fan of exploration and adventure on holiday, then the world's longest lava tunnel might be an excellent place to start. Educational and fun, Cueva del Fiento is well worth a visit for anyone travelling to Tenerife.
7. Lanzarote Bird Watching Tours

For the animal-lovers amongst you, Lanzarote boasts a diverse and fascinating local wildlife, including countless rare or endangered birds. Guided tours offer the best chance to see some of the most unique fauna in the world in comfort.
8. Costa Adeje Turtle Tours

Explore the ocean as you've never seen it before with Costa Adeje's snorkel and turtle tours, where you can get up-close to some of the most beautiful marine life you've ever seen in a safe and enclosed environment.
9. Oasis Park Fuerteventura

With access to an exciting animal safari as well as camel tours, Oasis Park is the perfect day out with the family with much to do and see within the confines of this large park area. Spot elephants, giraffes and more.
10. Rancho Texas

Adding a distinctly American flair to your visit, Rancho Texas on Lanzarote offers an exciting combination of entertainment, from traditional cowboy-based shows to animals displays and educational segments about Native American culture.
When to visit the Canarian Islands

Thanks to the Canarian Islands' location off the coast of Africa, this holiday destination is a year-round attraction, offering sunny skies and warm weather from the middle of Summer to during the Christmas holidays.
As a family-friendly location, school holidays and summer are the busier times to visit any of the many islands, driving prices up higher but with more attractions and seasonal entertainment available to match the influx of tourists. For those looking for a quieter holiday, choose off-peak seasons such as Spring or Autumn for the best experience.
How to get there?
The ideal way to get the Canarian Islands is by a straightforward flight to one of the destinations' five airports, on Tenerife, Lanzarote, Las Palmas, Fuerteventura or Santa Cruz de la Palma. Often, excellent deals can be found on flights, and the islands are also a favourite destination of cruises and boat tours.
As a Spanish-owned territory, a passport is needed to travel to the islands if you are travelling from outside the area. The average flight time from the UK to the islands is around 3-4 hours, depending on where in the UK you're flying from and which airport you're landing at.
Which hotel to choose?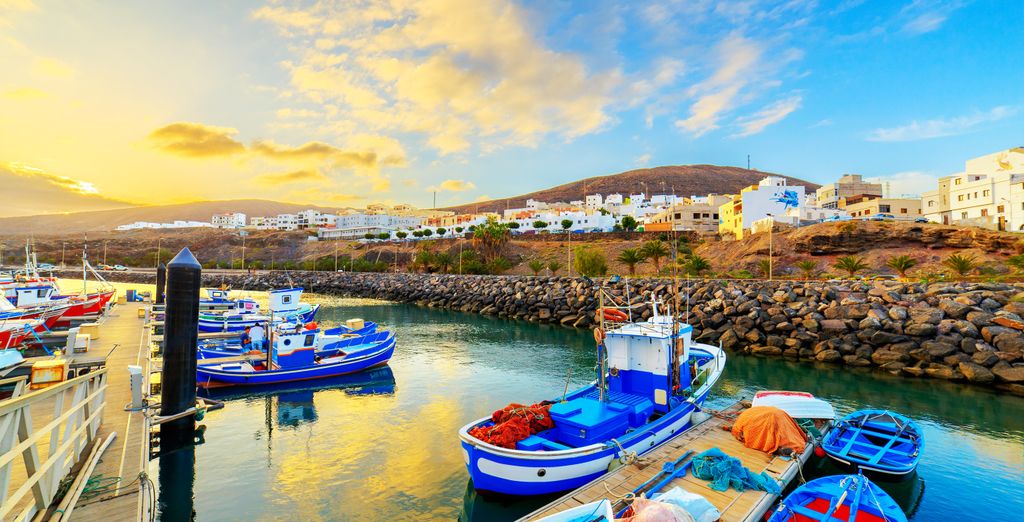 The Zenith

For those who enjoy travel and accommodation with that extra touch of luxury, touring the Canary Islands on this beautiful cruise ship is the perfect way to soak in the local culture and sunny weather. Featuring travel to Gran Canaria, Tenerife and the beautiful Moroccan coast, this luxury liner will get you where you need to go.
HOVIMA Costa Adeje

Set on one of Costa Adeje's most beautiful and quiet stretches of beach, the HOVIMA takes luxurious travel to the next level with heated pools, dedicated entertainment and a beautiful rooftop bar that you'll never want to leave. On-site gym and spa facilities are also available for those wanting to look their best.
Hotel Luz del Mar

A beautiful four-star structure with all the modern amenities you could ever want from your visit to the Canaries, Hotel Luz del Mar gives you a taste of local culture with excellent cuisine, a beautiful tropical garden and stunning seaward views to make your stay on Tenerife that bit more special.
The culture at the Canarian Islands
The Spanish culture is known for its vibrant festivals, fun fiestas and colourful events, and the Canarian Islands are no exception.
For those who enjoy the party lifestyle, the annual La Palma Danza del Diablo festival isn't one to miss, with a massive dance party and copious fireworks to finish the evening off.
Santa Crus, Tenerife, takes Spanish culture one step further with a local carnival that's full of glitz, glamour and amazing costumes that are ideal for the whole family, and not one to miss.
Finally, for those looking for a bit of European tradition, the Canarian Islands go for Christmas in a big way, complete with lights, Christmas meals available across the islands and special festive events ideal for children to enjoy.
The Canarian Islands map
Our practical advice for the Canarian Islands
Thanks to the Canarian Islands' location just off the coast of Africa, the climate is often hotter than expected for those visiting the islands for the first time – while at night, the temperature can drop to minus figures. Ensure you pack appropriately with items both for the daytime heat and evening cool, as well as applying copious sun cream to prevent burning.
For those with small children, ensure you stay out of the heat when the sun is highest – and don't forget an umbrella or something waterproof in case you're met with one of the islands' brief but dramatic rainstorms.
What to bring back from the Canarian Islands
With so much to explore and do in and around the Canarian islands, knowing what souvenirs to choose can be a difficult task. In larger towns, a wide array of different tourism and gift shops exist selling everything from personalised name drawings to shell-based items and traditional Spanish fare.
Visitors have also been known to bring back their own bottle of black volcanic sand to commemorate their visit to the volcanic islands within the Canaries, which is also available from a variety of shops and tourist entertainment locations.
What currency to use?
As a territory belonging to Spain, the currency of the Canarian Islands is the Euro, and the usual rules apply when it comes to the withdrawing of money and use of credit cards throughout Europe, with some charges potentially applying on conversion.
What time difference
The Canary Islands sit within the WET, or Western European Time Zone, and as such, there is no time difference between here in the UK and there, making the islands the perfect location to avoid a case of jet lag that could otherwise dampen the holiday mood.
What language is spoken at the Canarian Islands
The primary language of the Canarian Islands is Spanish, though the majority of locals, especially in tourist towns, speak fluent English which allows for easy communication at entertainment venues and in restaurants across the islands.
How to get to the Canarian Islands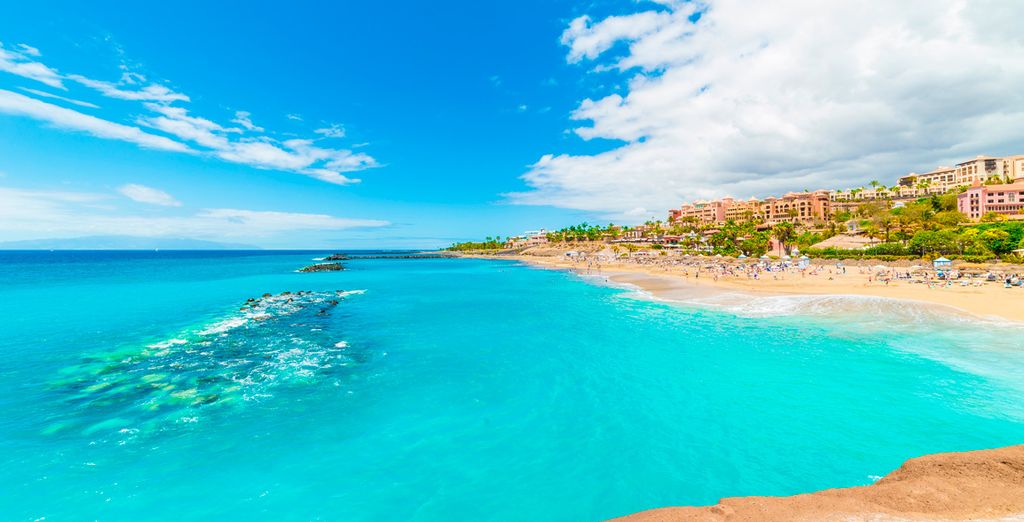 To visit the Canarian Islands from abroad, flights are recommended to one of the islands' five airports – but once you've flown in, there is a range of different ways to travel on and around the various islands.
Boats are generally available for transport between islands as well as around the many coastlines of the Canary Islands, as well as easy access to rental cars and shuttle buses to and from accommodation to some of the most popular venues and entertainment locations.
What to pack for your holiday at the Canarian Islands
As with any stay in a warmer climate, it's important to be prepared for the hotter weather with your wardrobe, as well as ensuring you have plenty of warmer options for the colder night time.
Ensure you've packed plenty of sun cream, too, especially for younger holidaymakers, though the majority of items will be available in the many tourist shops and stands throughout the local towns and villages.
How long to stay
As a relatively compact and easy to access location, for many families of holidaymakers a week in the Canarian Islands is plenty of time to discover a lot of what the islands have to offer. Though in peak season a couple of weeks allows for a more leisurely visit to soak in the local culture and enjoy more of the seasonal activities on offer.
Restaurants on site
The Canary Islands offers a wide variety of different restaurants and cuisine choices to suit just about any palette, from traditional Spanish dining to Italian or English-style menus. Of course, there are plenty of ice cream stands and shops to pick from too during the day, and plenty of locations selling local snacks and treats also.
Family activities, for teenagers, children, babies
The Canarian Islands are the ideal place for a family holiday, with hundreds of child and teenager-friendly entertainment options to enjoy, from safari parks to zoos, water parks to beaches. Many hotels also feature smaller, safer pools and activities for toddlers and smaller children to help them enjoy their holiday too.
With many resorts and hotels relatively well-contained and self-sufficient, offering a little independence to older children is easy too, especially when it comes to enjoying the pool and on-site shops.
The Canarian Islands: What budget to plan?
The Canary Islands can be a relatively low-budget holiday, depending on exactly how much you want to get done in your visit, with some activities potentially adding hefty price tags onto your vacation time, especially for families where entertainment is a must.
But for those on a lower-end budget, the Canaries offer lots of free and cheap options, from beautiful beaches to excellent hiking and walking routes that are ideal for a more laid-back holiday. On the other end of the spectrum, hind-end cruises and luxury restaurants are always available.
No matter what your budget limitations, the Canarian Islands have something for you.
Environment
As a collection of volcanic islands, the native flora and fauna of the Canarian Islands are entirely unique, with a fascinating landscape, black-sand beaches and some interesting wildlife to discover. For those who prefer the great outdoors on their holidays, they're sure to not be disappointed when met with the unique and beautiful landscape of Tenerife, Lanzarote or Gran Canaria.
Safaris and national parks further help to preserve the local landscape and allow visitors to understand the local ecosystem and population of the island by countless native species and plants.
Additional practical information
As a mostly European-run holiday destination, many of the practical information for the Canaries carries over from travelling anywhere throughout Europe and Spain, from the type of adaptors required for plugs through to local currency and culture.
As a popular European and UK destination for holidays, there's little in the way of dress code or required items, and much of what you need, from medical products to sun cream, can be purchased from the many supermarkets and stores available in proximity to hotels and resorts, with some holding the essentials on-site.
Discover our offers to Canarian islands : Holidays, great deals, last minute deals.
Visit all our travel guides.