Free Balearic Islands Travel Guide
An island-by-island guide????? to the Balearic Islands. Best activites, best locations...?. Experience sun holidays in Spain.
Travel guide – Balearic Islands
The Balearic Islands are an archipelago located on the western side of the Mediterranean sea, close to the east coast of the Iberian Peninsula. The main four islands include Ibiza, Formentera, Mallorca and Menorca, with many smaller islands within close proximity, including Es Conills, Dragonera, Foradada and Tagomago.
Some might say the Balearic Islands have it all, with the warm Mediterranean climate, exciting club scene and vibrant nightlife and the option to retreat to blissful beaches, and visit secret coves in the daytime, or to take in the varied local culture and delicious Spanish cuisine.
At Voyage Privé, we have put together a complete travel guide to The Balearic Islands, showcasing some of the best tourist attractions that the islands have to offer, as well as some practical tips for travellers, so that you can make the most of your time away, and take in all that these beautiful islands have to offer.
The top 10 things to do on your trip to the Balearic Islands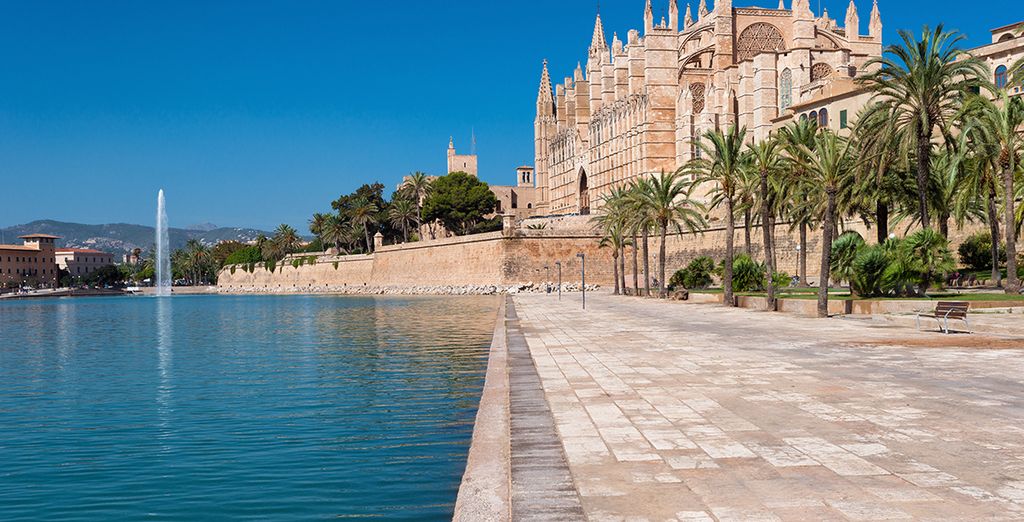 1. Visit the Cabrera National Park

A tiny cluster of Islands off the south-east coast of Mallorca, this maritime terrestrial national park is perfect for hiking trips and includes 19 secluded islands in total, only one of which is populated. Wildlife enthusiasts can enjoy the variety of rare flora and fauna in this beautiful protected area.
2 Go clubbing

Ibiza promises an unforgettable night out and is internationally renowned for its club scene, with numerous beach bars and clubs to choose from. Many of the clubbing and bar areas are concentrated in the villages of Eivissa and San Antonio.
3. Visit the caves of Genova

Discovered in 1906, these caves right near Palma are characterised by their unusual formations of stalagmites and stalactites, as well as the variety of mineral colours, making them a site of outstanding natural beauty. There is also an adjoining restaurant in which visitors can dine and eat traditional Spanish cuisine before or after exploring the caves.
4. Ride the Ferrocarril de Sóller

The Ferrocarril de Sóller is a historic electric train, which runs on a railway line between Sóller and Palma. This train journey is a great way of enjoying the Mallorcan landscape and, in particular, the breathtaking Serra de Tramuntana mountain range, which runs along the north-west coast of Mallorca.
5. Visit the Bellver Castle in Palma

This gothic-style 14th century castle, overlooking Palma, is one of Majorca's biggest historical tourist attractions, and one of the only circular castles remaining in Europe. Bellver Castle also hosts Palma's main history museum and welcomes visitors all year-round. A great cultural day out for anyone who wants a day away from the beach!
6. Go on a boat cruise

Boat cruises are perhaps one of the best ways to see and explore the beautiful hidden coves and caves of the Balearic Islands. Many boats will pause during the trip so that passengers can go for a swim, paddleboard or snorkel. Some even serve a traditional Spanish meal to passengers which is included in the ticket price of the excursion.
7. See a traditional Spanish flamenco show

A traditional Spanish flamenco show offers a unique and unforgettable cultural experience. Flamenco is an impassioned style of dance, combined with song and Spanish guitar music. Palma Flamenco is a good spot for an authentic Flamenco show in Palma's Old Town.
8. Visit Palma Aquarium

Open 365 days a year, Palma Aquarium is a great day out for families and tourists to the Balearic islands. Just 500m from Playa de Palma beach, the aquarium holds 55 tanks, with over 700 species of marine life from the Mediterranean sea and the Atlantic, Pacific, and Indian Oceans for visitors to discover.
9. Go on a bike tour

Bike tours are a great way for those seeking a more active day out to explore the Balearic Islands. Majorca, Menorca, Ibiza and Formentera all have a variety of well-signposted trails which will enable you to explore the rugged coastline and astonishing natural beauty of the islands. Many of the local towns have bike hire shops, which open all year round, making this a great day out if you want a change from the beach.
10. Go on a Gaudi and modernist tour

This Tour gives an overview of the modernist movement, one of the major artistic movements of the late 19th and early 20th century. Discover Spain's rich architectural history by going on a guided tour of modernist architecture in Palma De Mallorca, which culminates at Palma's magnificent Cathedral, with features designed by Antoni Gaudi.
When to visit the Balearic Islands

The Balearic Islands have a Mediterranean climate, and generally experience lots of sunshine and very little rainfall. There are still seasonal changes, however the temperature never drops that low. In December, January and February it is generally between 8 and 10 degrees. Summers are hot and sunny with temperatures starting at around 18 degrees in May and rising to on average 26 degrees in August.
May, June and September are often considered to be the best months to visit the Balearic Islands, being slightly outside of the peak summer period, as warm temperatures can still be enjoyed. However there are fewer tourists, and the islands are less busy.
How to get there
Flights from the UK to the Balearic Islands generally take around two and a half hours. Menorca, Palma de Majorca and Ibiza all have airports, and island hopping is easy, with many ferries running regularly between all of the major and many of the smaller islands. Ferries also run between mainland Spain and the Balearic Islands.
Which hotel to choose?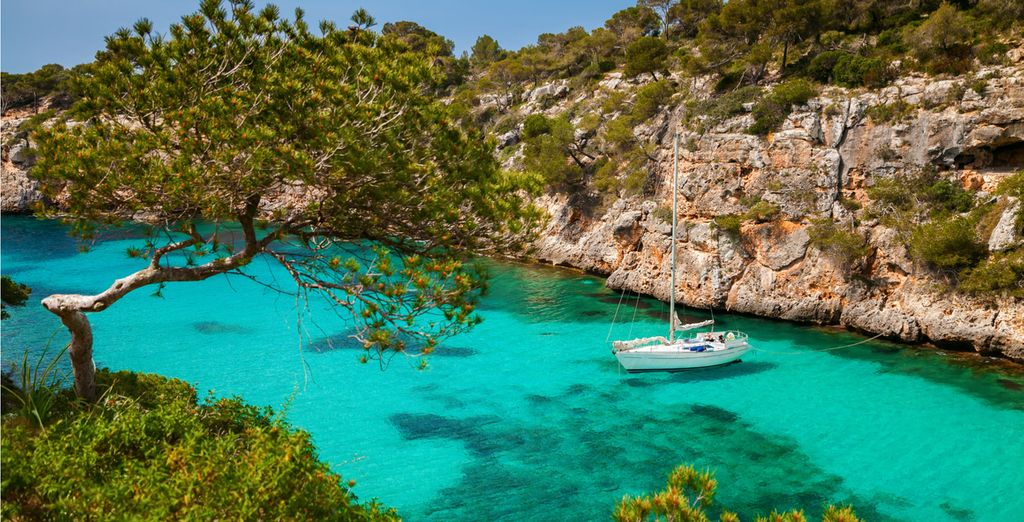 Voyage Privé has a variety of offers on visits to the Balearic Islands, with a range of hotel choices to suit your needs:

Balearic Islands Fly Drive

Stay at Hotel Exagon Park in Mallorca. Car hire is included, so enjoy exploring two of the main Balearic Islands, Mallorca and Menorca, by car, making beach-hopping and exploring the islands easy during your stay. This trip also includes a ferry trip to Menorca on the third day and entry to the Cuevas del Drach caves, and Weston Park water park, or Marineland.
Destino Pacha Ibiza Resort 4*

This adults-only hotel is the perfect tranquil escape. Enjoy the Japanese inspired menu, and take a dip in the pool. A wellbeing centre provides massages and yoga classes for guests. Head to one of Ibiza's iconic nightclubs in the evening. Complimentary entry to the renowned Pacha Ibiza is included in the stay.
Cultural attractions in the Balearic Islands
There are many cultural festivals celebrating Spanish folklore throughout the year, particularly in Mallorca and Menorca, with carnivals and ceremonies to mark the festivities.
In mid-January, there are celebrations for the fiesta of San Antonio Abat. Carousels and traditional dances are held. In the evenings, the locals dress up and dance around bonfires.
In late-January there is also the 'Fiesta on San Sebastia', one of the biggest festivals in Mallorca, which celebrates the patron saint of the capital – San Sebastian. The main fiesta takes place in Palma, but there are also celebrations in several villages in Mallorca. There are cultural and sporting events, parades, as well as live music and dances in the squares in the evenings.
At the end of June, Sant Pere – The Patron Saint of Fisherman - is celebrated in Alcudia and Palma. There is music, dancing, fireworks are seagoing processions in most coastal municipalities.
The Fiesta of des Foguerons is celebrated with fire and regional dances, and at the end of January, celebrations are held for the Fiesta del 'Sol Quan Balla' - The Summer Solstice. Traditionally, people light bonfires near the sea at this time, and celebrations continue until sunrise.
Practical tips for travellers to the Balearic Islands
1. Souvenirs

The Balearic Islands have many traditional and locally crafted Spanish souvenirs that you can take home for your family and friends. Vases and bowls made from blown glass are a popular souvenir choice and are made with the same artisan technique that has been used on the islands since the 14th century.
Mallorca is famous for its pearl industry, which began in 1890 when a man-made alternative to developing cultured oyster pearls was founded on the island. The original pearl factory is still open and tourists can visit the factory shop to purchase original Mallorca pearls - an ideal souvenir to bring back from your trip.
Consumable souvenirs are also popular and include olive oil, which is a staple of the Mediterranean diet. There are several varieties that can be found in the Tramuntana Mountain Range area to the west side of Mallorca. Sobrasada – a kind of Spanish sausage made from pork, meat, fat, paprika and salt - is another popular souvenir. A Spanish delicacy, it can be served on its own or in a variety of recipes and travels well, so is easy to transport home in your luggage.
2. Currency

The Euro is the currency used in the Balearic islands. You can either purchase euros in advance of your trip at your local bureau de change, or you will be able to withdraw cash from most ATMs on the islands. You may wish to take a pre-paid travel card or some travellers' cheques on your trip, to avoid the risk of cash being lost or stolen.
3. What is the time difference?

The Balearic Islands are in the Central European time zone, so the time difference is exactly one hour ahead of the UK, making the disruption to your normal waking and sleeping hours fairly minimal.
4. What language is spoken?

Spanish and Catalan are the main languages spoken in the Balearic islands. Many working in the tourism industry are fluent English-speakers and may speak several other languages as well, such as French, German and Italian.
5. What should you pack for your holiday in the Balearic Islands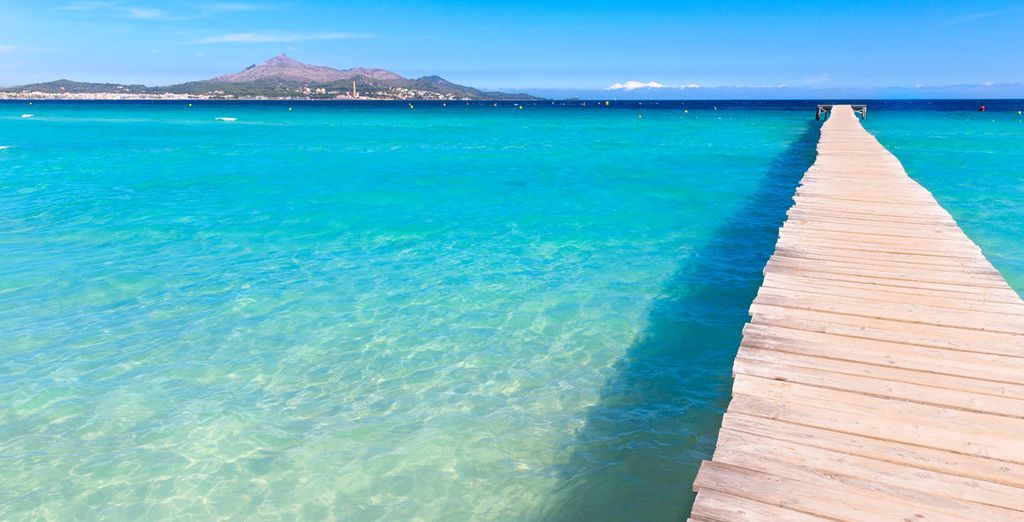 The Mediterranean climate of the Balearic Islands guarantees fairly warm conditions all year round, with temperatures reaching highs of 29 degrees in peak summer season, and lows of 8 degrees in the winter. Beach-wear is essential in the spring, summer and early autumn months. In the spring, autumn and winter months, the evenings can be cooler, so you may need a jacket or jumper. Those planning outdoor excursions should take good hiking boots and clothes suitable for walking or cycling.
Sunglasses are recommended whatever time of year you are travelling, as the Balearic Islands have more than 300 days of sunshine a year. Sun cream is also a holiday essential throughout the year, which you will need whether you are planning to spend every day on the beach sunbathing, or are planning outdoor excursions and sightseeing trips.
6. What is the ideal length of time for your trip?

The Balearic Islands are ideal for longer trips of a fortnight or more if you are looking to go on a relaxing beach break. However, its buzzing nightlife and variety of historical tourist attractions and outdoor hiking and cycling routes are perfect for shorter visits.
Cuisine in the Balearic Islands

Catalan, Mediterranean, and Spanish cuisine are all popular on the Balearic Islands, with seafood, spiced meats, cheese and pastries all being staple components of the Balearic diet.
The ensaimada is a classic Balearic pastry, with its distinctive spiral shape, and dusted with icing sugar. Flaó, which is a kind of cottage cheese tart, is another popular pastry-based dish.
Hearty stews, soups and spiced meats are all popular options, and fish and shellfish are key to Balearic cooking. Caldereta de llagosta - lobster cooked with tomatoes - is a local seafood delicacy, and salted cod, grilled squid and prawns cooked in lots of garlic are all enjoyed here.
What budget to plan?

The day-to-day costs for tourists to the Balearic islands remain fairly low, with a basic lunchtime meal costing around €11. Evening meals at local restaurants with wine cost around €20, and snacks and bottled water can be picked up for around €1-2, and ferry trips between islands are around €20.
Environment

The scenery of The Balearic Islands is indisputably beautiful. The turquoise waters of the Mediterranean sea and the rocky coastlines of the islands, which are dotted with secret beaches with golden sand, hidden coves and fascinating caves, leave plenty to be explored.
Mallorca is the largest of the Balearic Islands. Also known as the 'Isle of Dreams', it has a breathtaking landscape, with mountains, valleys, rugged coastline, golden beaches and pine forests scattered with olive and almond trees. Ibiza is the third biggest Island and has a similarly rugged coastline and many fruit orchards and woodland areas.
With their beautiful scenery, Mediterranean temperatures, great nightlife, and variety of cultural and historical tourist attractions, the Balearic Islands offer so much more than just a beach getaway.
Discover our offers to Balearic Islands : Holidays, great deals, last minute deals
Discover our offers to Ibiza : Weekends, great deals, holidays.
Discover our offers to Mallorca : Great deals, holidays, holidays to Magaluf
Discover our offers to Menorca : Holidays, Weekends.
Visit all our travel guides