Magaluf Holidays 2021/2022



Table of contents
Home to pulsating nightlife and serene, sunny beaches, Magaluf is Mallorca's most famous party spot. Yet stray from the main strip, and you'll discover enchanting coves and a wealth of hikes to enrich the soul. Above all else, Magaluf is a sea- and sand-lover's dream, with plentiful beaches bursting with life. Whether you're seeking a suntan or gearing up for exciting water sports, Magaluf awaits.
The top 5 things to do in Magaluf
1. Enjoy the Beach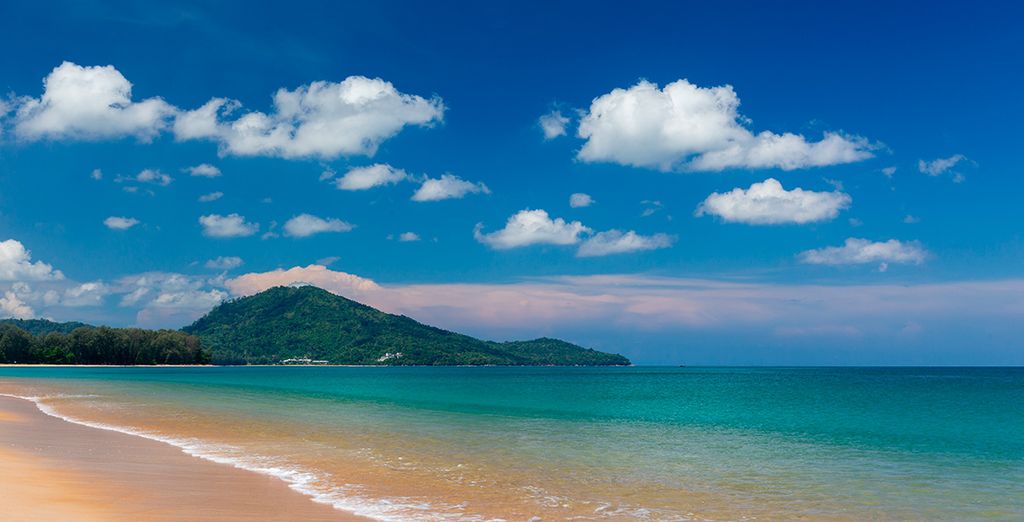 Magaluf's main beach, Playa de Magaluf, offers serene aqua-blue waters and sun-kissed sand. Originally a marshland, it was regenerated into the stunning beach you see today. There are plenty more tranquil and rugged options in the vicinity, too, including Sant Elm and Illetes.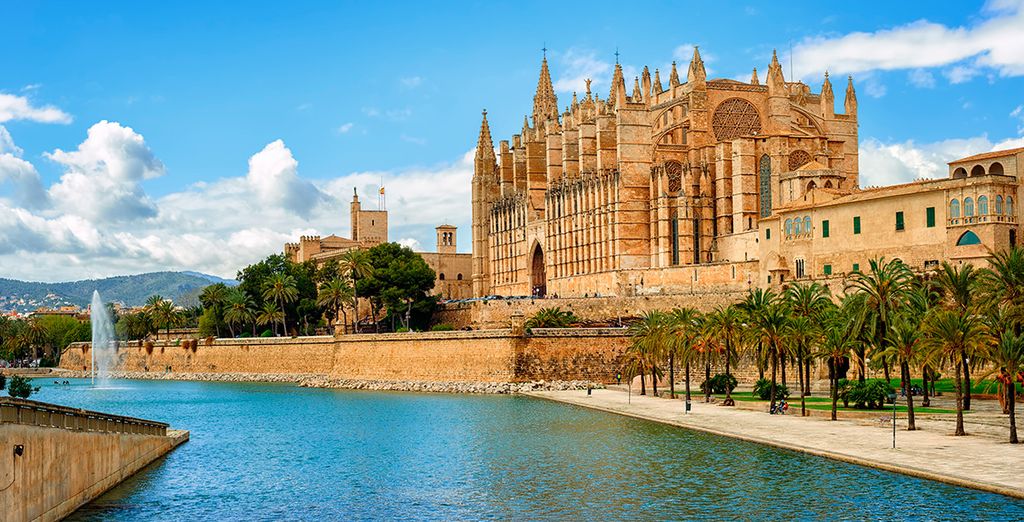 It's just a short trip northeast to the honey-hued city of Palma. The city's long and vibrant history of Moorish and Christian settlement has given it a remarkable architectural feel. Head to the stunning 17th-century Catedral de Mallorca or discover the 13th-century Palau de l'Almudaina.
3. Fundació Pilar i Joan Miró
For a taste of art during your trip, head to sunny Cala Major. This remarkable town was home to the Catalan artist Joan Miró. This incredible museum houses some 2,500 works by Miró in a privileged hilltop compound. See the beauty Mallorca has inspired in these classic artworks.
4. Real Cartuja de Valldemossa
Head north through rugged mountain roads to this incredible 14th-century monastery. Famed for hosting the composer Frédéric Chopin, the site remains as captivating as ever. The interiors feature a treasure trove of centuries-old artefacts accompanied by the audible beauty of piano recitals.
5. Boating and Sailing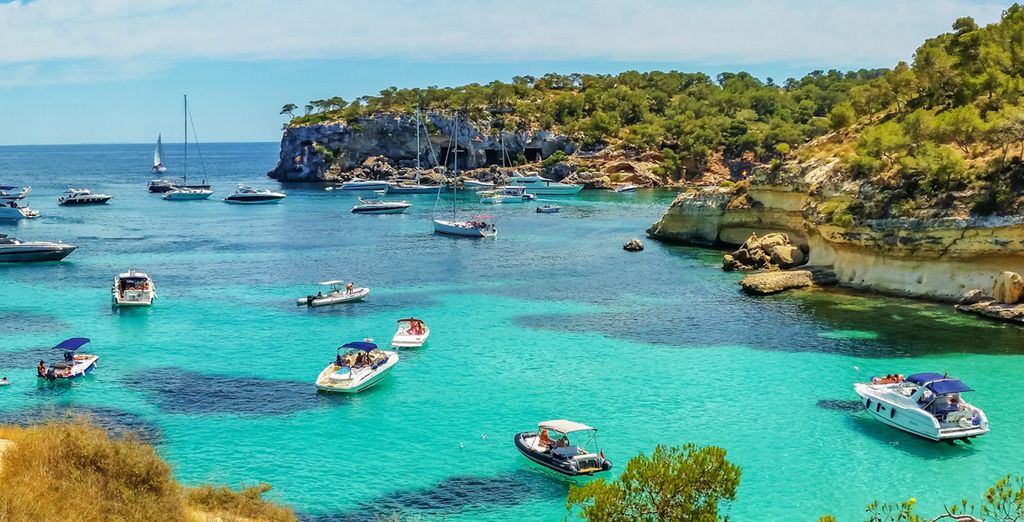 The Magaluf coast is perfect for sailing and boating. Catamaran trips and yacht charters are available from nearby Palmanova. Top locations include Isla de sa Porrassa and serene coves like Cala Vinyes. Kayak rentals are also a great way to get up close to the spectacular sea scenery.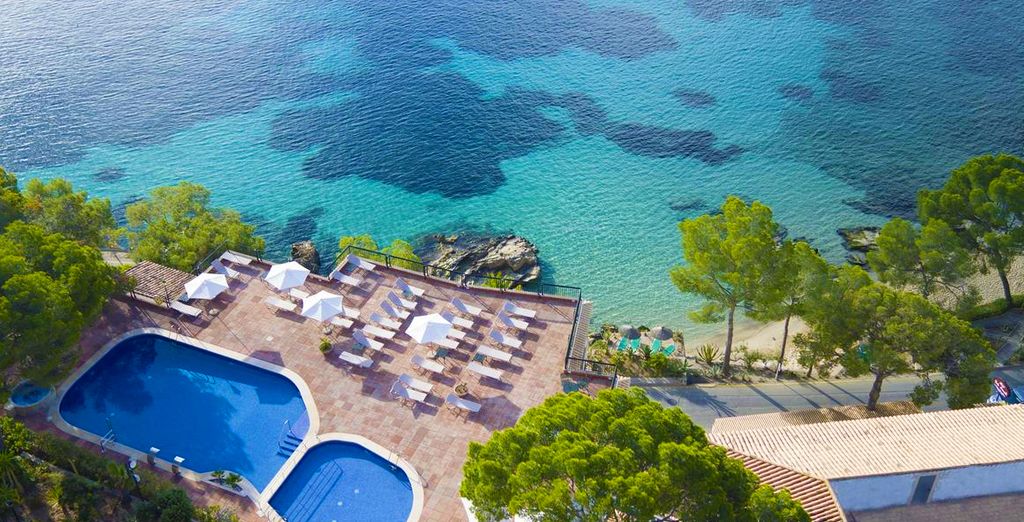 Situated in serene and quiet Calvia, due west of Magaluf, this option's great for romantic escapes. The resort boasts superior rooms with gorgeous sea-view balconies. Guests can make use of a range of delightful services, from first-rate dining to indulgent spa treatments.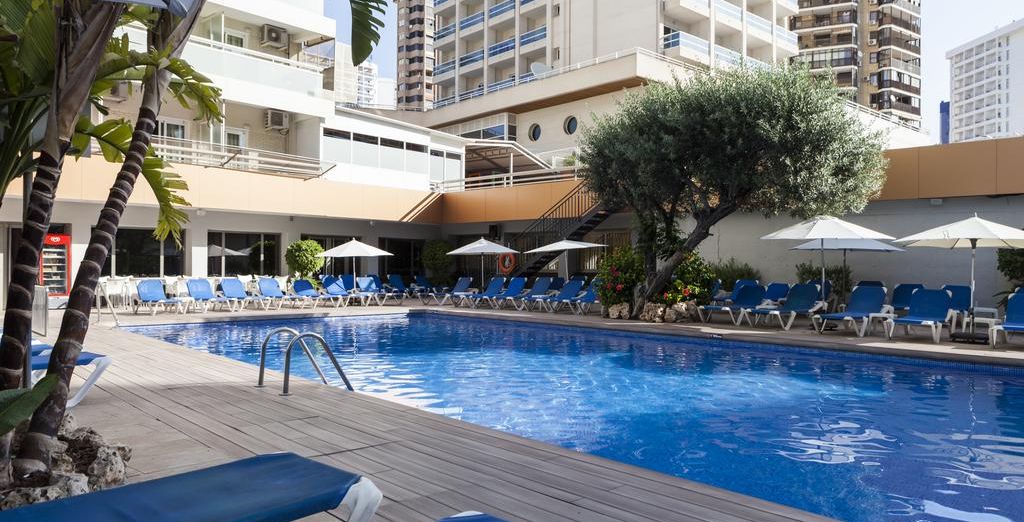 Escape to this luxury adults-only resort overlooking the bay of Cala Viñas. Just 200 metres from a charming beach, prized sea views can be found throughout the hotel's charming grounds. Perks include enjoyable on-site restaurants and sun-soaked terraces with beach-view swimming.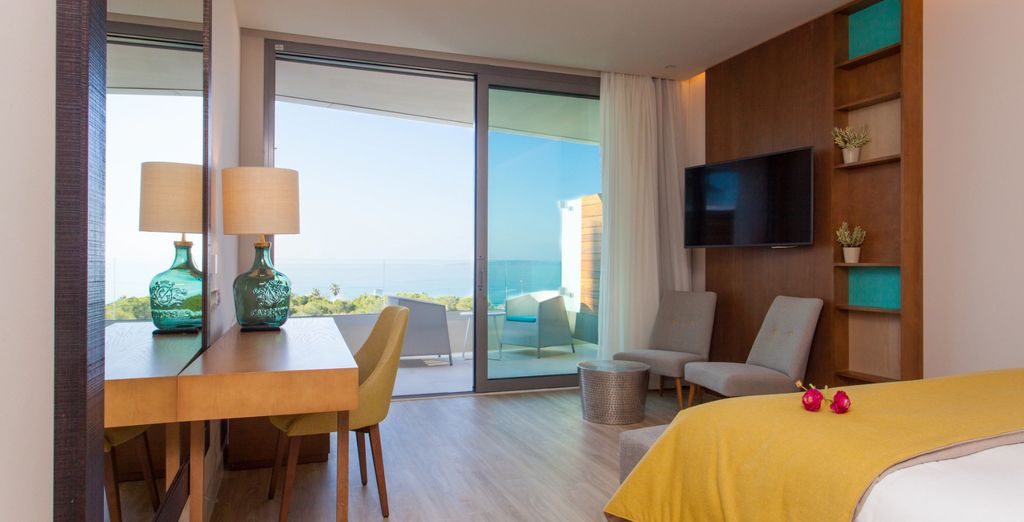 This spectacular coastal retreat is ideal for families and couples. Award-winning rooms and impeccably designed common areas overlook the lapping waves of the ocean. Guests have access to a range of fine dining options, as well as lavish swimming, leisure and entertainment services.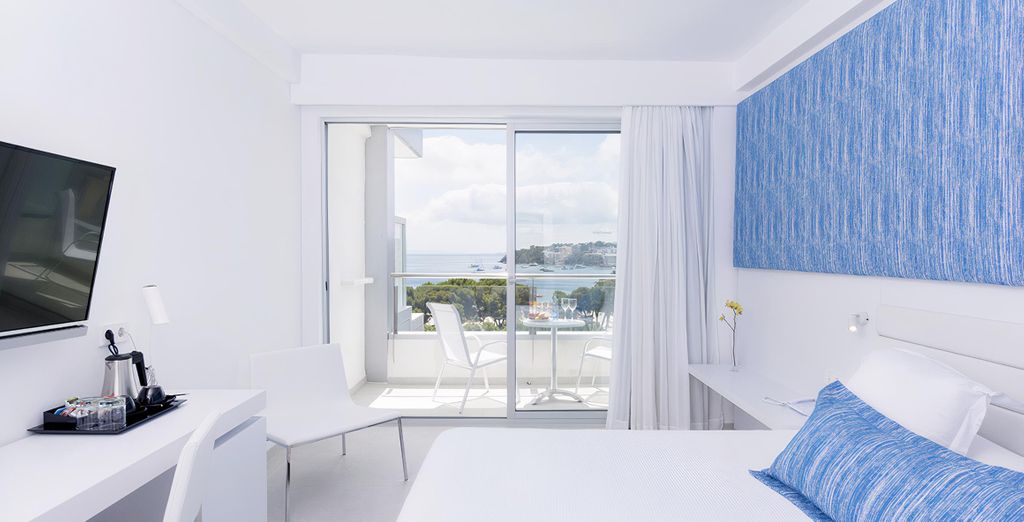 This central Magaluf option offers premium rooms kitted out with cool nautical blues and sea balcony views. Three swimming pools and sun-soaked terraces provide perfect spots for all-day relaxation. Guests have access to a well-kept gym and numerous wining and dining options.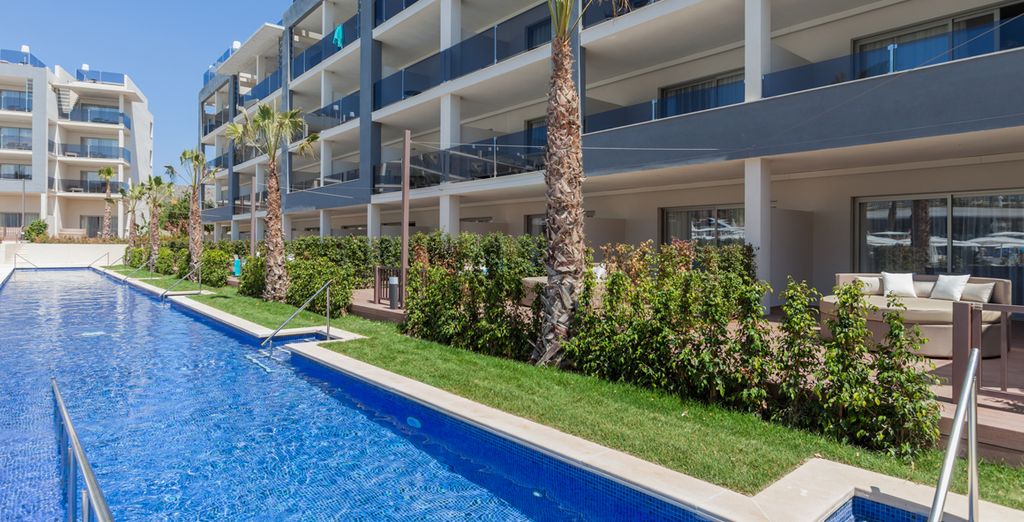 Enjoy a relaxing stay at this delightful family-friendly resort. Each airy, modern room is ornamented with award-winning décor and offers fully furnished balconies from which to admire the sunset. Several swimming options, restaurants, a gym and a pampering spa provide everything you could need throughout your stay.
When is the best time to go on holiday in Magaluf
Magaluf gets into gear for the summer period from July to August, when the town roars with life and features clear blue skies and warm seas. Temperatures rise along with the room rates, so be sure to book your deals in advance. To avoid the crowds and summertime highs, consider the shoulder periods around peak season. Spring to early summer and September to October are fine times to visit. Most resorts and hotels remain open, but you'll have more beaches and scenic spots to yourself. With milder weather, Mallorca's coastlines and mountains are ideal for hikes. The low season runs from November until Easter. Many hotels, resorts and restaurants close for the season. Still, you'll find exceptional deals on winter sun escapes alongside quiet beaches and trails.
Going on holiday in Magaluf
The main port of arrival on Mallorca and to Magaluf is via Palma de Mallorca Airport. Buses run directly from the airport to Magaluf and take roughly 40 minutes. You buy your tickets directly from your driver. Taxis and rental cars are another fine way of travel, getting you to Magaluf in just 20 minutes. Once you're in Magaluf, you'll find cars the most convenient for travel. This will give you the freedom to explore Mallorca's more remote beaches and captivating historical sites. Buses and bicycles are perfectly fine, too, especially if you're sticking to the resorts.
Enjoy your holiday in Magaluf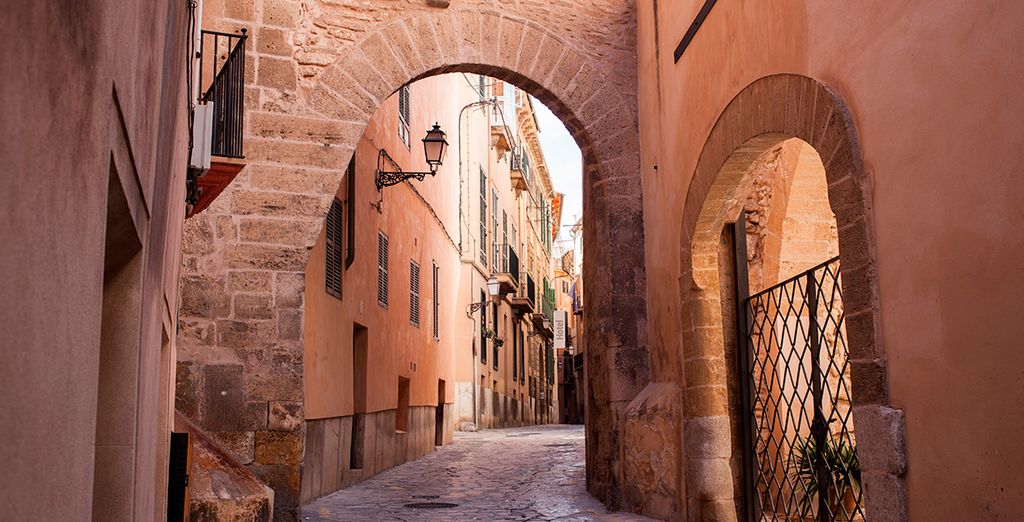 Magaluf has a big reputation for partying hard. As such, it's Mallorca's predominant destination for young groups of friends. Late-night summer events and abundant beachbound activities make it perfect for letting off steam. However, families and quieter couples will find much to discover in the region too. Tranquil resorts overlooking serene bays and world-class dining provide pampered and relaxing stays. What's more, Magaluf has no shortage of fun water parks and shallow beaches to keep the little ones happy. If you're in search of culture, you'll have to take day trips to Palma and Deià.
The Voyage Privé travel expert's opinion on Magaluf
Magaluf is the pulsating party capital of Mallorca. With the main strip that caters toward late-night antics, it's a non-stop town for bar crawls and clubgoers. Yet Magaluf isn't short on natural escapes. Head due south along the coast to discover emerald-hued coasts and tranquil coves. Our hotels provide sanctuaries with spa treatments and luxury swimming in breathtaking settings overlooking the coast.
Soak up the sun while enjoying beautiful views over the Mediterranean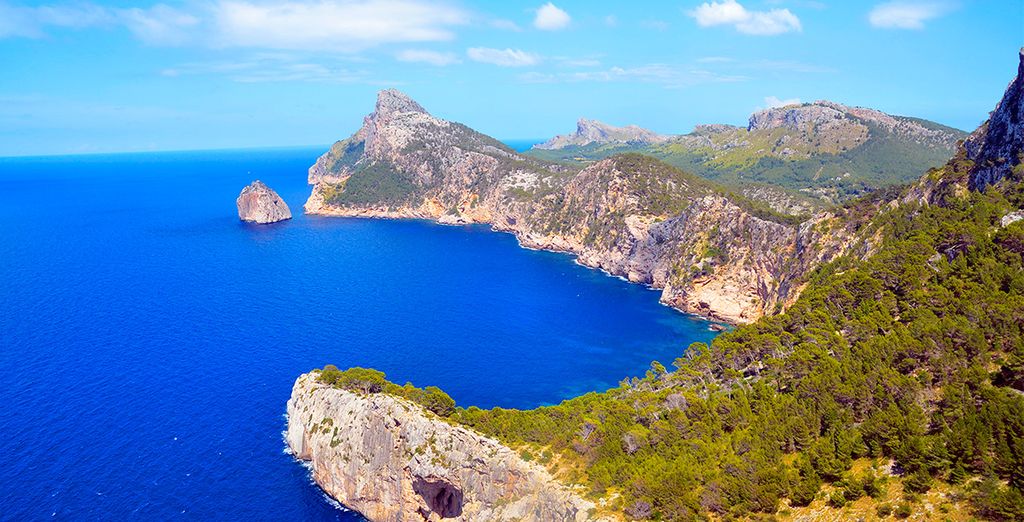 Magaluf, situated on the south-western tip of the Spanish island of Majorca, is a beach resort renowned for its beautiful lily white sandy beaches and excellent range of luxury hotels offering stunning views over the Mediterranean towards Morocco. Magaluf is famous for its vibrant nightlife, but there is so much more to this tiny Balearic town than that. The countryside surrounding the town is full of undiscovered Spanish villages, such as Calvia and Es Capdella, which are perfect for a leisurely stroll or cycling, and for the more adventurous, Santa Ponsa offers some of the best diving and snorkelling in the Mediterranean.
Of course, no one visits Magaluf without sampling the sands of the Platja de Magaluf. This 900m long stretch of beach is lapped by the beautiful crystal blue waters of the Mediterranean, providing welcome respite from the heat of the midday sun.
The beach is busiest during the months of May to June, but you can still get a tan in September and you'll virtually have the beach to yourself.
A vibrant nightlife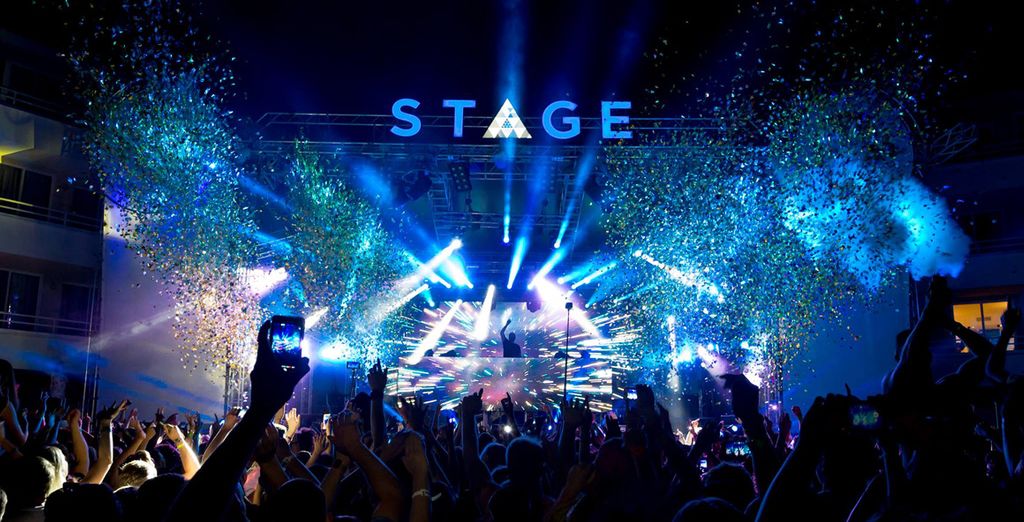 For those seeking a more energetic holiday, Magaluf has a vibrant and eclectic nightlife. The neon-lit strip offers a dizzying array of bars and clubs for holidaymakers to enjoy, there is something here for everyone, from nightclubs to all night barbecues and beach parties galore.
If it's the party life you're after, the best time to visit is May to June. This is when the island is hottest and all the bars and clubs are open. In September the temperature drops a little, but you can often find some great deals at this time as well.
Explore the medieval city of Palma
If it's culture you're after, Magaluf is situated just 15 minutes from the Majorcan capital Palma. With its fine restaurants, bustling nightlife and majestic medieval cathedral, this fine city provides a relaxed setting to sit back and take in the view, while enjoying some of the best seafood the Balearic Islands have to offer.
Magaluf is perfect for holidaymakers seeking a relaxing city break or a more active holiday. We offer great deals on a range of exclusive 4 and 5 star handpicked hotels with stunning views across the Mediterranean and just minutes from the beach.