Visit the best august holidays offers
Experience the best of Italy and enjoy a summer in Rome. As Italy's capital and most popular tourist attraction, Rome certainly isn't short of breathtaking historical sites and artistic treasures.
Alternatively, give your senses a real treat and holiday in Marrakech. After all, for a sample of Moroccan life and culture, Marrakech is the perfect destination.
Or go for something really exotic, and holiday in Cancún: a tale of two cities. Situated on Mexico's Yucatán Peninsula, Cancún is known as the Mexican Caribbean offering visitors an exotic, dream-like stay.
The Voyage Prive travel expert's opinion august holidays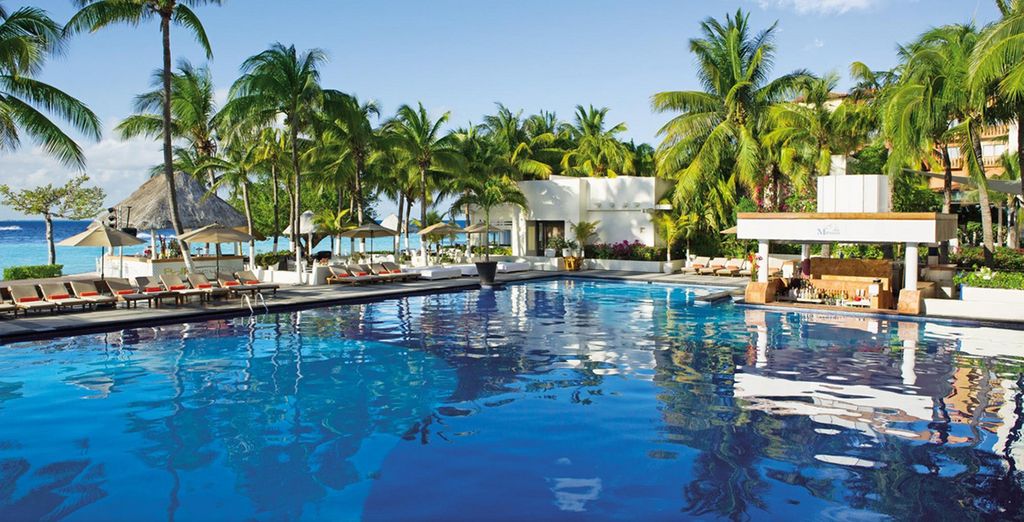 August is arguably the busiest time of year for holiday-goers, with schools broken up for the summer and a shared longing to escape your routine for some sunshine, fun and relaxation. We've picked three of the hottest destinations to visit this August with recommendations on must-see sights, the crème de la crème of restaurants and cafes, and our top picks of luxury hotels to stay in during your stay.
Home to Italy's celebrated Colosseum and Vatican City, Rome is a hotspot for anyone looking to travel to Europe. Whilst being one of the world's prime archaeological hubs, there is so much more to the city of Rome that will have you spellbound with wonder, including its cosmopolitan heritage, shopping and magnificent parks.
In Morocco, prepare for a heady experience that will have your senses overflowing. With incredible bustling cities, awe-inspiring mountains and sweltering deserts, there's adventure aplenty in Marrakech.
Mexico's shores will greet you with soft white sands, crystal-clear Caribbean waters and the mystical ruins of Cancún. Once a sleepy fishing village, Cancún's rich Mayan history, tropical forests and coral coastline make it a popular holiday destination and it's not hard to see why.
But you can't visit Cancún without experiencing its delicious cuisine. The city offers some amazing 5-star dining options including Michelin-star Chef Martin Berasategui's, Tempo, and contemporary Benazuza. But there's nothing quite like the homely environment of Peter's Restaurant, situated in downtown Cancún. Serving a delicious blend of European, international and Mexican cuisine, you certainly won't be forgetting about this restaurant any time soon.
Top 5 things to do/see in (Mexico, Morroco, and Italy in August)
1. Villa Doria Pamphilj
Visit Rome's largest public park, Villa Doria Pamphilj, with its manicured gardens, wild vegetation and expanses of forest. Absorb the city's rural serenity, get lost in its nooks, and explore the many sculptures and statues dotted around its grounds.
2. Testaccio markets
For an authentically Roman experience, explore one of the city's oldest markets, Testaccio. Despite being re-housed to a more contemporary location, Testaccio's lineage has remained intact, with many of its most notable stalls being tended to by the same families for generations. Visit for lunch or to pick up some snacks for a picnic or dinner, and marvel at the quality produce on offer, from seasonal veg and fruit to delicious meat and fish.
3. Saadian Tombs
Although impossible to pick just a few of Marrakech's finest wonders, one of the must-see attractions are the Saadian Tombs, accessible only through a small passage in the Kasbah Mosque. Housing Saadian Sultan Ahmed Al Mansour Ed Dahbi, his family, and close advisors, this mausoleum is striking. The detail of the plaster decorating the marble and gold craftsmanship is simply awe-inspiring and will give you a real sense of the grandeur and importance placed on rulers.
4. Jardin Majorelle
You can't leave Marrakech without stopping by Jardin Majorelle. This beauty was gifted to the city by fashion designer Yves Saint Laurent, who it was home to until 1966. Laurent and his partner kept the vision of the garden's original owner, French painter Jacques Majorelle, intact. Not only does the garden boast an incredible 300 species from five continents, Majorelle's art deco Musée Berbère showcases the history of Morocco's first inhabitants through some spectacular 600 artefacts.
5. Parque Nacional Isla Contoy
Although a short trip outside of Cancún, the unspoilt Parque Nacional Isla Contoy is a must-see. Up to 170 species of bird inhabit this spectacular sanctuary, so you are surrounded by tropical sights, sounds and warm turquoise waters. You can even take a small hike along the island's trails up to a viewpoint overlooking the island, or try out some snorkelling. However you plan to spend the day, Isla Contoy certainly offers an exquisite day out. Whether you'd like to try out the guided sight-seeing or one of many eco-tours on offer, there are plenty of tourist-centred activities and points of interest to satisfy all ages.
Which hotel to choose in (Mexico, Morroco, and Italy in August)
To round off a magical trip, we recommend a stay at this charming and luxurious hotel. Situated in the heart of the city, Leon's Place is just a few minutes walk from the Via Veneto and Trevi Fountain. The hotel is so spectacularly designed with such intricately detailed architecture, you'll be whisked off your feet into a world of glamour and serenity that you won't believe you're just moments from the hustle and bustle. For guests with an eye for indulgent relaxation, the hotel's spa has a sauna, Turkish bath and jacuzzi, and there is even a fitness suite, giving guests the option to work out at their own leisure during their stay.
For an exquisite stay that captures the soul of the bustling city and serenity of the hidden Riads, the Source Hotel cannot come recommended enough. An oasis for relaxation and indulgence, the hotel's design is a wonderful mix of traditional and contemporary. Each room is inspired by a musical figure, with its very own private garden and terrace. Relax in the spa, soak up the sounds and look over the magical city from the rooftop with spectacular panoramic, sunset views. For those with a taste for the party-life, the hotel has its own rooftop-bar come nightclub, with live music and an alluring cocktail hour.
If you're in need of some inspiration on where to stay on your holiday in Cancún, this five-star beauty offers an unparalleled experience of pure indulgence and luxury. Situated on a protected inlet with its very own lagoons, private beaches and exclusive nightclub, this hotel promises an unforgettable stay.
Practical information about august holidays
What is the weather like during holidays in august?
You can expect all these destinations to be heating up in August, so make sure you pack lightweight clothing and plenty of sun cream. Expect temperatures to soar between 28-32 degrees, so it's best to plan your day so that you avoid being outside at midday.
What budget to plan for august holidays?
Regarding your holiday destination the budget will be different. Rome can be on the pricier side of Italy, though that's not to say you can't travel on a budget too. Plan between €50-130 depending on whether you're backpacking and travelling on foot or indulging in more luxurious experiences. As for Marrakech expect to spend between MAD550-700 (£43 - £55) and M$2,000-2,500 (£80 - £100) in Cancún.