We Love —
Set sail across the Seychelles with an incredible 7-night catamaran cruise experience.
From Sainte Anne to Praslin, Cousin, Coco and La Digue, this immersive tour ensures our members experience the very best of the Seychelles, from stunning white-sand beaches to crystal-clear waters and vibrant marine parks.
During their cruise, our members will be accommodated on board a comfortable catamaran, in a double cabin alongside Full Board Dining!
New
Voyage Privé
—
Carefully selected by our experts especially for you
Your Destination —
Welcome to
one of the most beautiful archipelagos in the world
: the Seychelles, 
115 islands scattered in the Indian Ocean.
 Located off the cyclone road, the Seychelles enjoy extraordinary vegetation alongside 
spectacular white sand beaches and a vibrant sea bed. 
What more could you want during a once-in-a-lifetime catamaran cruise?
During this 
week-long cruise, 
you'll have the opportunity to discover 
some of the most beautiful islands
 in the Seychelles, including the most famous: Mahé, Praslin and La Digue to name but a few. In Praslin, visit the Valley of May, a forest of primary palms where the jewel is the coco de mer, a plant that is endemic of the Seychelles. At La Digue, let yourself be amazed by the Anse Source d'Argent beach and its granite rocks. In Cousin, observe the birds and in Curieuse, the giant tortoises - ensuring 
a truly stunning holiday experience.
Our Offer —
Offer 1:
7 nights: 7 nights of catamaran cruise in the Seychelles

Offer 2:
10 nights: 7 nights of catamaran cruise in the Seychelles + 3 nights at The Bliss Boutique Hotel 4 *
12 nights: 7 nights of catamaran cruise in the Seychelles + 5 nights at The Bliss Boutique Hotel 4 *
Your Itinerary In Brief —
Day 1: Mahé - Sainte Anne
Day 2: Ste Anne - Praslin
Day 3: Praslin - La Digue
Day 4: La Digue - Coco - Curieuse
Day 5: Curieuse - Saint Pierre - Praslin
Day 6: Praslin - Cousin - Mahé
Day 7: Mahé - Beau Vallon OR Anse Royale
Day 8: Mahé - Departure
Your Itinerary —
During their tour, our members will follow the itinerary as seen below.

Please Note: The itinerary may be modified at any time by the captain due to security, weather forecasts or any other reason that could impact the cruise.
Day 1: Mahé - Sainte Anne
Welcome aboard your big catamaran. You will board the catamaran at 3pm at the Eden Island Marina before enjoying a welcome cocktail where your Captain and your hostess will introduce you to the ship and give you a few instructions for life on board. Once properly installed, you will leave the marina for a short navigation to the St. Anne Marine Park, whose largest island was also the first to be colonised by the French, in around 170, before they headed to Mahé. More than 150 species of fish populate this fascinating underwater world, a true refuge under high protection. Welcome to paradise at this first stopover: help yourself to flippers, masks and snorkels and enjoy dinner and an overnight anchor near the island.
Negotiated for you: Day 1, for early morning arrivals to Seychelles, it may be possible to use the facilities of the Eden Blu hotel located in Eden Islands facing the Marina. You can leave your luggage and enjoy outdoor areas such as the pool while waiting to board the catamaran. (no room available) Catering is possible and you would need to pay on the spot.
Day 2: Ste Anne - Praslin
After breakfast head off to Praslin. The second largest island in the Seychelles, Praslin is located 45 km northeast of the main island of Mahé, and is only 10 km long and 3.7 km wide! Depending on the season and the weather, you will anchor in Anse Lazio or in the Bay of St Anne, on the other side of the island. The bay of St Anne has the relaxing charm of the villages bordering the rainforest and will offer you a wonderful view of the island of Praslin and a large welcoming beach. 
Anse Lazio is reputed to be one of the most beautiful beaches in the world, like many other beaches in the Seychelles. While its white sandy beaches are sure to amaze, make the most of this stop at Praslin by discovering (not included) another gem of the island: the Valley of May, a Unesco World Heritage Site. If the original Garden of Eden existed, it must have looked like the Valley of May. A vast forest of primary palms, the valley is home to the legendary coco de mer, the largest seed in the world, which rises to more than 30 meters. The forest is also home to six palm species that exist only in the Seychelles. The ambient humidity, the intoxicating scents, the rustling of the palms, and the filtered sunlight will project you into another world, at the dawn of time. Afterwards, enjoy dinner and an overnight stay at the anchorage facing the beach of Anse Lazio or Baie Sainte Anne (not to be confused with the island Sainte Anne, your stopover the day before).
Day 3: Praslin - La Digue
Early this morning, you will sail to your next stop, the legendary island of La Digue. It has one of the most photographed beaches in the world: Anse Source d'Argent. La Digue is also a natural sanctuary sheltering one of the rarest birds in the world, the black flycatcher of paradise, as well as a rich flora of orchids, vanilla, and hibiscus. Windward, the beaches of Grande Anse and Petite Anse, almost deserted, will also seduce you with their big blue waves. Discover this idyllic island by bike or ox cart, and pay a visit to the small traditional shipyard, the old-fashioned copra factory, and the turtles grazing nearby. Also, don't forget to seek out the splendid colonial house called "Emmanuelle", where the famous "Good Bye Emmanuelle" was filmed. After, enjoy dinner and an overnight anchor at La Digue.
Day 4: La Digue - Coco - Curieuse
This morning, you will reach Coco Island, located 7km north of La Digue, close to its neighbours, Félicité and the Sister Islands. Classified as a marine park since 1996, the Island is exceptional for the practice of freediving as well as scuba diving. After this morning incursion into the wonderful world of corals, you will sail to your third island of the day, Curieuse. Formerly, this rough island collected a colony of lepers in Anse Saint Joseph and the dwelling of the doctor dating from 1870, was recently converted into an eco-museum. Today, Curieuse is part of an exciting project to raise giant tortoises, some of which can weigh up to 200kg! You can meet them all over the island. It is also an important breeding site for Hawksbill turtles. Enjoy dinner and overnight anchorage at Curieuse.
Day 5: Curieuse - Saint Pierre - Praslin
Depart in the morning to reach the islet of St Pierre. St. Pierre is part of the islands of the Bay of Gold Coast Praslin. It is a tiny island of granite rocks interspersed with coconut palms, one of the iconic images of the archipelago. This perfect spot for swimming and snorkelling will welcome you for a day of total relaxation, punctuated by a wonderful sunset. Afterwards. enjoy dinner and overnight anchor in front of Praslin beach.
Day 6: Praslin - Cousin - Mahé
After breakfast and morning swimming, departure for Cousin Island, located not far from Praslin, next to its neighbour Cousine. Managed by Birdlife International since 1975, it has been a nature reserve since 1968. A veritable ornithological sanctuary, Cousin is home to 25,000 birds, including some rare species such as the Seychelles warbler, saved from total extinction thanks to this reserve. A colony of Geckoes turtles, imported from Aldabra Atoll, are also enjoying happy days here. Please Note: this guided tour of the Cousin Island is included within the Boardcash payment. If you choose to take this excursion, you will see the 5 species of birds that live only in this region. You will then sail to the island of Mahé, to anchor either facing the beach of Beau Vallon, in the north-west or Anse Royale, which can be found in the south-east of the island, depending on the winds. Afterwards. enjoy dinner and overnight anchorage.
Day 7: Mahé - Beau Vallon OR Anse Royale
On the last day aboard your catamaran, you will discover according to the season either Beau Vallon or Anse Royale. Beau Vallon is a huge bay that closes on a bow of three kilometres of white sand and a blue lagoon, perfect for swimming, strolling and water sports. Very popular among visitors, Beau Vallon is also a privileged meeting place with the Seychellois who particularly appreciate the place: restaurants, small bars and welcoming shops line the promenade along the beach.
Anse Royale is wilder and also offers kilometres of white sand, hemmed with coconut trees. In the middle of the afternoon, you will sail to the islet Sainte Anne Marine Park or Eden Island Marina for your last evening on board. The Marine Park of Sainte Anne is home to an absolutely magical seabed and has the particularity of offering to the eyes of visitors colourful coral gardens in abundance. The Park is a refuge for many species of tropical fish and reef sharks, which are totally harmless. It is also not uncommon to meet sea turtles. Here, you will find restaurants and stalls where you can taste the local cuisine and buy some souvenirs to bring back. Enjoy a farewell dinner and last night on board, by an anchor or at the dock.
Day 8: Mahé - Eden Island - Departure

Enjoy a last early breakfast on board, before an early landing to take your flight back or continue your holidays in this archipelago with the taste of paradise.
Please note: The itinerary may be changed at any time by the captain for safety reasons, weather forecasts or any other reason that may affect the cruise. The stops mentioned 'at the quay' are likely to be at anchor if there is no available berth.
Your Ship —
You will enjoy a 7-night cruise on a comfortable catamaran between 15-24m, in a Double Cabin on a Full Board Dining Basis (Breakfast, lunch and evening meal served on board - with selected alcoholic and non-alcoholic drinks). 

On board your cruise, you'll be immersed in total splendour, allowing you to feel at home straight away. Cruises will take place on a modern fully equipped catamaran between 15-24m. These may include but not limited to the following: Lagoon 50, Catlante 600 or Mojito 78 (Le Gauguin). Each catamaran welcomes between 8 to 24 guests as well as 2 to 3 crew members. You will be able to appreciate either ship's many facilities as well as the quality services that will ensure you a pleasant trip.
For the smooth running of the cruise, you will be informed during a safety briefing of the rules to abide on board. Our catamarans have up to 12 guest cabins with a wardrobe, reading lights, a fan, a window and showers/ WC with a basin. Please note that the size of the cabin does not allow to add extra beds. Please keep in mind that water on board is limited. However, the store is large enough to ensure two showers per day for every guest. In any case your captain will remind you to be diligent with the fresh water on board. 
Enjoy complimentary use of fins, masks and snorkels, and be sure to make the most of the 'sun mattresses' for all of your sunbathing needs, perfect for a unique stay in the Seychelles!
During your stay, you'll enjoy Full Board Dining. While this 
does not include additional compulsory fees of 170EUR in 2019 and 180EUR in 2020 per person, per cruise for a Boardcash,
 it does include delicious meals which are bound to impress. Each day, the main meals (lunch and dinner) will be served at the table or via a buffet. They will typically be 3 courses, (starter, main course, dessert or cheese), but will sometimes only be 2 courses at lunch. Breakfast will usually be self-service. Not included in the price are any meals and drinks not mentioned or personal expenses, gratuities.
Please Note: The cruise attendants will do their best to satisfy customers, but the shipowner cannot be held responsible for satisfying the requests for special diets (kosher, halal, vegetarian, medical prescriptions).

The refuelling is done partially in stopovers: Fresh products, preserved, frozen, not only local products.

For included drinks see list. All other drinks on board are subject to availability. The Captain is duty-bound to refuse alcoholic beverages to a person who is obviously intoxicated.
Double Cabin —
During their stay, our members will be accommodated in a comfortable Double Cabin. In the cruise's doubled cabins, guests can expect facilities such as a private shower, washbasin, cupboard, toilet, reading lights, a mirror, a fan and a window. Enjoy modern decor in the different style rooms that provide all of the facilities needed for a great stay on board!
Sleeps up to


2 Adults
Please note: Views from some staterooms may be obstructed
Optional Extension —
You may choose to extend your trip by adding a 3 or 5-night extension at the The Bliss Boutique Hotel 4*, in a Suite with Sea View or Hillside Duplex, with Bed & Breakfast 

Just for you:
Enter into an exotic paradise on the northern shores of the island of Mahé, 
a secluded hideaway and sheltered haven of untouched beauty. Discover islands of legendary and mystical beauty, 
an archipelago in the heart of the Indian Ocean.
 A seemingly endless expanse of blue crystal waters, smooth sands and lush greenery.
This is an ideal place from which to embark on excursions in the Seychelles Islands. The hotel offers an impressive list of activities including 
zip lining, sailing, kayaking, boating, jet skiing, deep sea fishing, windsurfing, hiking and full island tours. 
Bliss Boutique Hotel Seychelles 4* —
Welcome to the Bliss Boutique Hotel Seychelles 4*! 
Located in a sheltered cove shrouded by lush vegetation and lined with soft white sand, this dream-like spot offers a breathtaking atmosphere. Guests will fall in love with the warm ambience and friendly feel, along with the charming decor and spectacular views.

There are just 
24 rooms and suites
 to choose from, allowing for a high level of dedicated service for each guest. With 
a natural rock pool, beachfront location and a panoramic terrace restaurant,
 this stunning boutique ticks all the boxes. 
Please note: Some facilities may incur an additional fee, payable locally.
Your Room —
For even more luxury, choose the Sea View Suite. These stunning rooms open out onto amazing views of the Indian Ocean, with a private terrace as well as a relax area and a large bathroom which also boasts sea views.


2 Adults
These sprawling duplexes are spread across two levels with a private balcony and terrace to relax on. These elegant spaces feature a living room on the ground floor, with two bedrooms and a bathroom on the first floor - perfect for groups of friends and families!
Sleeps up to


2 Adults
Please note: the bed for the 3rd/4th guest sharing is likely to be a sofa bed or camp style bed.
Your Board Basis —
Enjoy delicious meals at this terrace restaurant, serving a homemade breakfast of fresh and local products, a lunch of local dishes and grill options, and an authentic Creole Cuisine Buffet at dinnertime. Kick back in an elegant and warm ambience and sample the flavours of the island.
Please note: some dining outlets/menu items and premium, branded and international drinks may not be included and may incur a surcharge payable locally.  Meals, snacks and drinks may be available at selected times only
Your Time —
Surrounded by granite boulders, the Rock Pool natural pool is an integral part of the concept of this boutique hotel. Nature, simplicity, a real beauty ritual. If you want to relax don't miss the Pure-Bliss Spa . Lapped by the waves and in harmony with the environmental nature, the hotel Spa offers you a true parenthesis of wellbeing with a range of exclusive treatments based on natural and organic products: here you will satisfy all your wellness desires.
Your Optional Excursions —
Vallée de Mai Nature Reserve Walk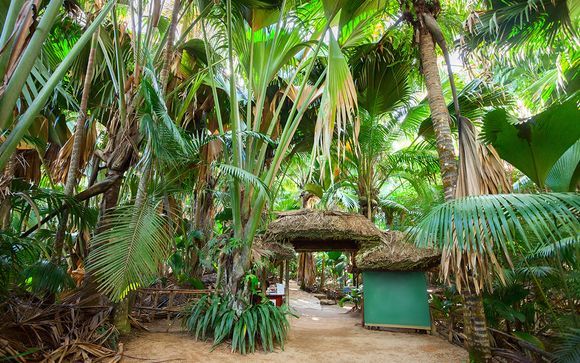 Leave the everyday world behind and enter the mysterious natural beauty of the Vallée de Mai Nature Reserve. This legendary valley was supposedly known as the Garden of Eden by General Gordon of Khartoum. 
Stroll through this UNESCO World Heritage Site and meander through the shadow of ancient palm trees, all while listening to the call of one of the rarest birds in the world, the Seychelles black parrot. You'll also visit one of the most famous beaches on earth!
Excursion to La Digue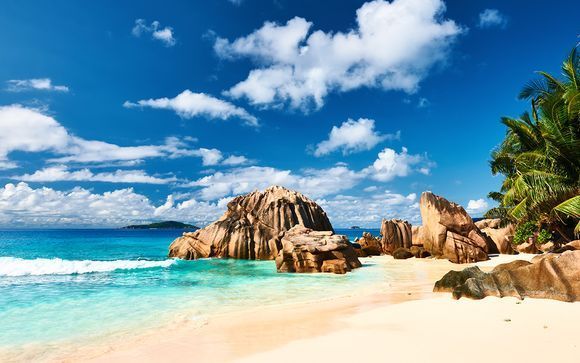 Embark on a 15-minute flight from Baie Sainte-Anne jetty and arrive at La Digue, where you'll be greeted with freshly-picked coconuts. Drive through landscaped gardens and granite boulders and learn how to make 'copra', the succulent flesh of dried coconut. Enjoy lunch at one of the best hotels in La Digue, before a trip to the picturesque beach of Grand Anse Severe, where you can spend your afternoon at leisure.
Your Journey —
Flights: You may choose from Economy, Premium or Business class flights on sectors that they operate, at the next stage of the booking process.

The flights included are with either a scheduled or no-frills airline and are subject to live availability and prices can change. You can choose your preferred departure times during the booking process. Please select your flight options carefully as departure and arrival airports may differ.

Transfers:

Offer 1: There are no transfers included
Offer 2: Included transfers from port to Bliss Mah & included transfer from Bliss Mahe to airport