Discover our Vienna Travel Guide
Vienna is the capital city of Austria and is home to a staggering 1.8 million people, nearly a third of the entire country. Vienna is often referred to as the 'city of music' because it was home to Strauss, Beethoven, Mozart and Haydn. Vienna is also known as the 'city of dreams', as it was home to Sigmund Freud. Today, Vienna welcomes visitors from all around the world, who flock there to take in its historic sites, palaces and art.
Visitors enjoy the abundance of gourmet food while listening to spectacular jazz. When on holiday in Vienna, you'll be able to visit the quaint coffee houses dotted around the city, along with the rustic taverns of old. There are also so many galleries and museums in this city you'll be spoilt for choice, with the city housing the largest collection of paintings by Bruegel in the world. Vienna really does have something for everyone!
The top 10 things to see/do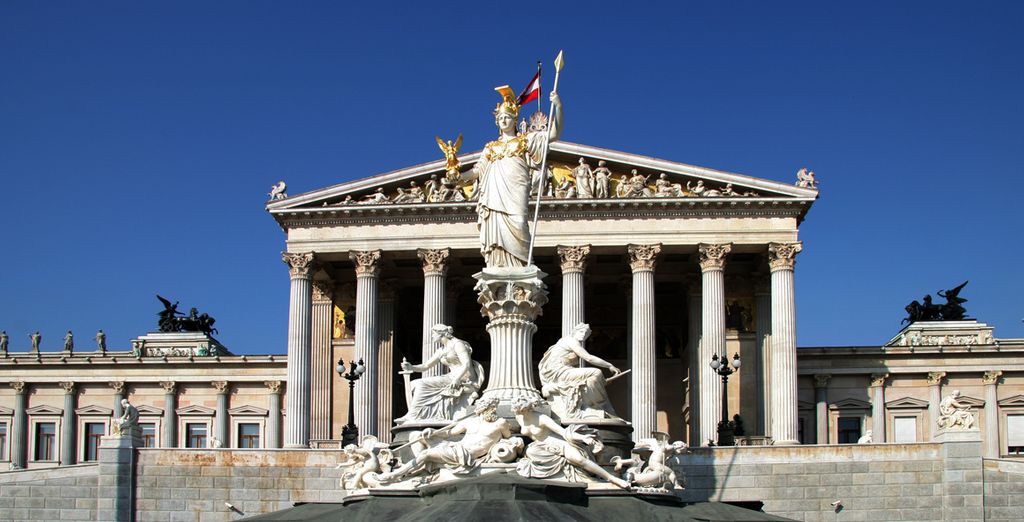 1. Ringstrasse boulevard
You can enjoy a sightseeing tour when travelling in a tram along the Ringstrasse boulevard. The entire round trip from Schwedenplatz only takes around 25 minutes and gives you a great view of the city. It's also a cheap way to travel.
2. St Stephen's Cathedral
When in Vienna you must visit this iconic Cathedral. Visitors flock here to gaze at its mosaic roof, made from over 230,000 colourful tiles. You must also visit its North Tower to see its impressive Imperial Eagle, also made from mosaics.
3. Hofburg's Imperial Palace
The Imperial Palace is home to a library, chapel, ministries and various galleries. Most visitors come here to view the room that was occupied by Empress Sisi, who used it as an exercise room. Today you can still see the wooden wall bars and gym rings.
4. The Spanish Riding School
The Spanish Riding School is where you can go to watch the world famous Lipizzaners horses perform. These fabulous white horses have been performing there for over four centuries. Sit back in decadent surroundings and listen to classical music.
5. The formal dance
During January and February, you will be able to attend a number of balls, as this is Vienna's ball season. The Hofburg is home to a ball hosted by coffee brewers and in total there are more than 400 balls to choose from.
6. Kunsthistorisches Museum
This small museum hosts a wide variety of Baroque and Renaissance art. Here you'll be able to take in the Young Venetian by Durer and the wondrous salt cellar. There are also many statues that line the hallways.
7. Wiener Riesenrad Ferris Wheel
This old-fashioned Ferris Wheel dates back 100 years and is still extremely popular today. Lights have now been added for night time rides, allowing you fabulous scenic views of the city. You may have even spotted the Ferris Wheel in the Bond film The Living Daylights.
8. Pop art
If you're a huge fan of pop art, you must go to the Museums Quarter, home to Vienna's modern art collections. You can view Schiele's self-portraits, as well as pop art by Andy Warhol and Muehl's disturbing body part art.
9. Schönbrunn Palace and zoo
The Schönbrunn Palace is great for a day out. Wander through the red and gold rooms, marvel at the many vistas and enjoy the sprawling gardens. While here, you can also visit the city's zoo, which is supposed to be the oldest in the world.
10. Cruise along the Old Danube
Finally, no trip to Vienna would be complete without a boat trip along the Old Danube. Enjoy an on-board concert, fantastic food and a host of water sports. You can even rent your very own sofa boat!
When to go to Vienna?
So, when's the best time to go to Vienna? This really depends on your personal preferences, including how hot you want the weather to be, and if you want to visit when the city is less crowded. From December to March, you can enjoy the crisp snow covered landscape and mulled wine. The city is less busy, yet cold, as temperatures can reach minus 15 centigrade. But it's also a cheaper time to travel.
Summer months from June through to August are popular, so it can get a little busy. The weather is hot and the streets come alive with culture, music and lots of fun. The city is also a riot of colour, with flowers in full bloom.
Spring and autumn are also great times to visit this city if you like the weather a little cooler. Plus, the streets are less busy. During the off-season, everywhere is also much cheaper.
How to get there?
Vienna is fairly accessible from most European countries, with various transport options. If you are travelling from Paris, you can get to Vienna by plane or train. Flying takes just under two hours before a 15 minute journey from Vienna Airport to the very heart of the city. A cheaper alternative - and an option if you're not in a hurry - is the train, but this takes roughly 12 hours.
It takes slightly longer to fly from Madrid, at three hours, with the train journey being a lengthy 27 hours.
If you wish to travel from Rome to Vienna, then you have the option of taking a bus. It costs 50 euros but it does take 20 hours to get there. The train takes a similar time and is around the same price. Flying is by far the quickest route and takes only 90 minutes.
When travelling from London, flying directly to Vienna International is the best option. Flights take around three hours. If opting to travel by train, you can get the train from St Pancras, but you'll need to change at Paris, and then once again at Zurich. This will take around 20 hours.
When travelling to Vienna you will need a valid passport, and you don't need a visa.
Vienna Map
Which hotel to choose in Vienna?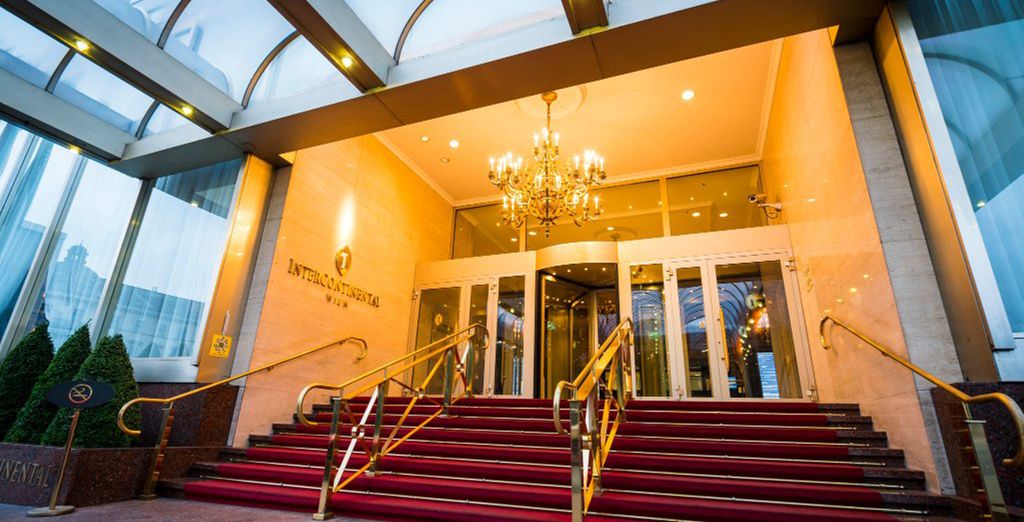 If you are looking for a luxury hotel in Vienna, you really are spoilt for choice. Below we list five of the very best:
Located in the very heart of the city, this hotel offers 24-hour room service and high-speed internet with panoramic views of Vienna's Stadtpark.
This hotel is located by the Opera House in downtown Vienna and provides the highest quality furnishings to make your stay a comfortable one.
This luxury and vibrant hotel has rooms that have been personalised and which offer something truly unique. Rooms range from full suites through to apartments.
This fashionable and chic hotel was designed by Matteo Thun. The look is all about fun and kicking back and relaxing in the open plan communal lounge area.
This hotel is in the shape of a ring and is housed close to the city centre. This 19th-century building has a grand lobby, spacious rooms and a cocktail bar.
Culture in Vienna
There are many festivals and cultural activities to enjoy in Vienna throughout the year.
The Vienna Opera Ball
This occurs at the end of the Vienna Carnival in the Opera House. This is an event that attracts members of the celebrity and political world.
The May Festival
This festival takes place on 1st May at the Prater Park. Here you will be able to watch many colourful parades held by political groups within the city and those from worker's unions.
The Vienna Festival
This festival takes place from May through to June. The festival usually begins with a free open-air concert in the grounds of the City Hall. A program of cultural events takes place over the following five weeks around the city.
The Imperial Ball
The year always ends at the Imperial Palace with a lavish ball. This ball is elegant and combines culture with beauty and splendour. This is the beginning of the ball season in Vienna.
Our practical advice for Vienna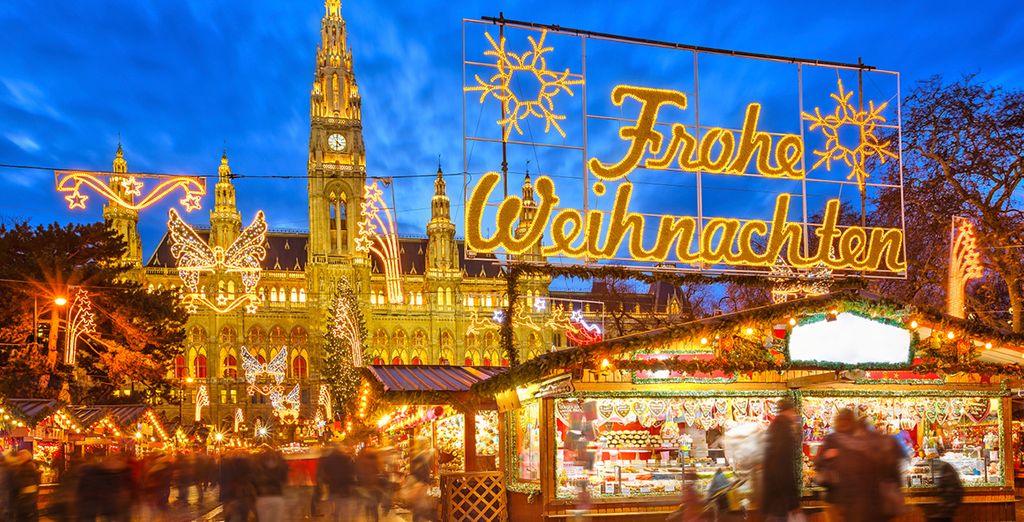 Below we share some practical advice when travelling and holidaying in Vienna.
What to bring back from Vienna?
When you return home from your time in Vienna, it's nice to look back and remember the special time you had there. Why not take a piece of Vienna home with you? Some ideas include the famous Sacher Torte, a Viennese chocolate cake with apricot layers. Austrian clothing that is sold in Vienna, such as the Liden coat or classic Viennese sweaters, are probably more practical. If you love to cook, you need to take tarragon mustard, known to the locals as estragon mustard, back home with you.
What currency to use?
The currency of Vienna is the euro, and no other currency will be accepted. You can use your debit or credit card while shopping at all the major retailers, but smaller shops won't usually accept cards, as they are cash only. ATMs are readily available, but a word of caution when withdrawing money: they may charge you the exchange rate of your home currency, so you end up paying more.
What is the time difference?
Central European Summer Time is from the end of March through to the end of October, meaning you have to set your clocks forward one hour. For the rest of the year, it's Central European Time, so you'll have to set your clocks back an hour.
What language is spoken in Vienna?
Most people who live in Vienna speak German, with a Bavarian dialect. Other languages include Hungarian, Slovenian, Croatian and Turkish. English is spoken within the main tourist areas, but outside of these areas, you will need to be able to speak at least basic German.
What to pack for your holiday in Vienna?
When travelling during the colder months, it's best to pack good walking shoes and lots of clothes that can be layered. A hat and gloves are also essential. During the summer months shorts, T-shirts and dresses are all fine, but make sure that you pack evening wear as the people of Vienna love to dress up for their evenings out. Other suitcase essentials include a day sack, travel adaptor plug and reusable water bottle, as Vienna has many free to use water sources.
How long to stay in Vienna?
The absolute minimum amount of time that you need to see all the tourist attractions is three days. To gain a fuller visitor experience, ideally, you need to be there for at least seven days.
Local food
There is an absolute abundance of local food for you to enjoy when in Vienna. You must try their wiener schnitzel which is a veal burger that is fried in breadcrumbs, Tafelspitz which is a beef and apple dish, plus Gulasch which is a tasty hotpot. If you have a sweet tooth then you're in luck as Vienna is home to the Apfelstrudel (a sweet pastry filled with apples), and the Kaiserschmarrn - delicious pancakes served with fruit. Also, it's well worth going to one of Vienna's Konditorei to enjoy a cake with coffee in the afternoon.
Family activities
If you are planning a trip to Vienna with the kids then there are lots of family-friendly attractions for you all to enjoy. The Haus der Musik is interactive and designed for kids. Spanning five floors, children can play a variety of digital music and even conduct their own orchestra. Kids will also love the Prater Theme Park. Entrance is free, with rides costing as little as €1.50. You can also enjoy good food from the local street vendors that sell langos, which are fried flat breads. Bogi Park is an indoor playground featuring go-karts and trampolines, making it perfect for a wet play day. Finally, the Kaiser Kindy (Children's Museum) is full of fun activities for kids of all ages. The focus is very much upon imperial times, with kids being able to dress up and experience living in these times.
Vienna: What budget to plan?
Vienna is a capital city, so, as you might expect, prices can be a little on the high side. However, with a little forward planning and knowing where to go, you can save money and have a fairly inexpensive holiday. Travelling around Vienna is fairly cheap as most places can be visited on foot. There are also trams that will only cost you a few euros, as well as bicycle rental costing one euro for two hours. Cafes usually charge a couple of euros for a coffee and the same for a simple breakfast. For lunch, it's a good idea to visit the local markets, Naschmarkt, and choose breads, cheeses and open sandwiches. There are also many cheap eateries in the city that will only set you back around 10 euros for a full buffet lunch.
Environment
Although a vibrant capital city, Vienna has over 120 square metres of green space for you to enjoy. The Green Prater is Vienna's large city park and is free for you to sit and relax and escape the hustle and bustle of the city. The Vienna Woodward, located along the western edge of the city, provides wonderful opportunities for hiking and walking. It's also home to the UNESCO Biosphere Reserve. The Lobau, known as Vienna's jungle, is part of the larger Donau-Auen National Park. Covering an impressive 2,300 hectares, this national park is home to vast wetlands. Over 30 mammals and 100 species of birds live here. Hiking and boating excursions are also widely available.
More holiday deals: vienna holidays, romantic weekend in Vienna.
Discover more travel guide.