Sri Lanka Travel Guide - 💡 Advices, itineraries
Sri Lanka travel guide: Explore the cradle of Boudhism 🧘 Free Travel Guide ✅ Top experiences in Sri Lanka: temples, festivals, national park...
Travel to Sri Lanka
Situated in the cool blue waters of the Indian Ocean, the South Asian island nation of Sri Lanka is a vibrant, tropical paradise. With stunning beaches and lush rainforests, this country has a rich cultural and spiritual history to match its stunning surroundings.
Known as Ceylon while under British control, the island has been independent since 1948. Today, it is a multicultural society that celebrates both Buddhist and Hindu festivals, as well as Sinhala and Tamil traditions.
Sri Lanka offers a wealth of opportunities for the adventurous traveller. Stroll along the waterfront of Colombo – a bustling, modern city – and imagine yourself as a naval merchant stopping to trade in ancient times. Visit the ancient Buddhist temple where Buddha's tooth still remains, or take the afternoon to spot rare wildlife in one of the many protected nature reserves.
The top 10 things to do/see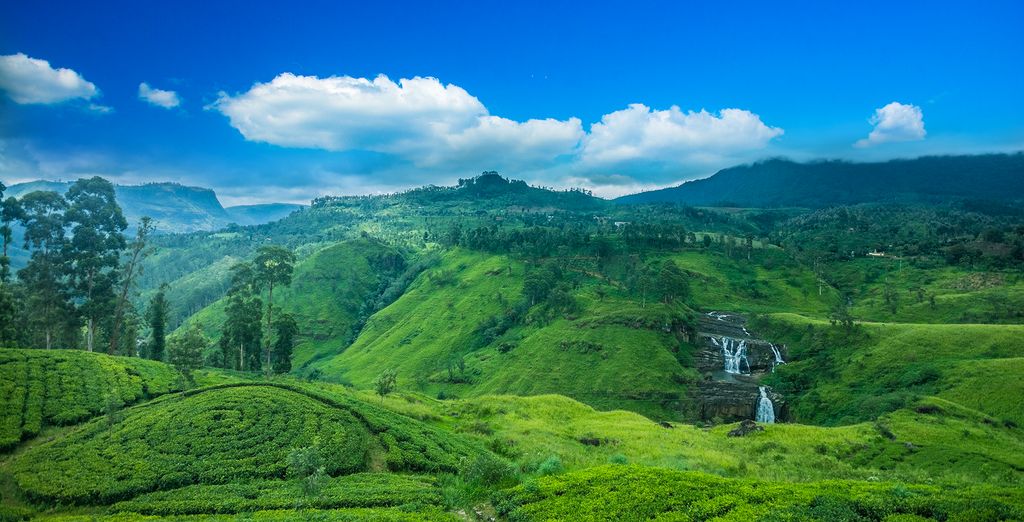 1. Yala National Park
If you're travelling to Sri Lanka, you simply have to visit the country's largest wildlife park and nature reserve. Totalling almost 130,000 hectares of grassland, forests, lagoons, and more, the space is home to some incredible creatures. If you visit in the spring, you're more likely to see the full range of animals. These include elephants, crocodiles, bears, and peacocks, not to mention the largest number of leopards in the world for the size of the park.
2. Temple of the Tooth
No trip to Sri Lanka is complete without paying a visit to this ancient Buddhist temple, known locally as Sri Dalada Maligawa. The translated name – Temple of the Tooth – is an apt description for a location that is famous for holding the tooth of Buddha. A designated World Heritage site, it is still an active place of worship. If you time it carefully, you can see rituals take place at the temple in the morning, afternoon, and night.
3. Royal Botanical Gardens in Peradeniya
Located in the vibrant city of Kandy, these stunning gardens are a must-see for any discerning traveller in Sri Lanka. When the gardens were founded in the 19th century, plants were brought in from places all across the world, ranging from Kew Gardens in London to Colombo and Kalutara. Observe the warm pinks and purples of the famous floral collection in the Orchid House, or wander leisurely down the winding paths that border the perfectly landscaped gardens.
4. Sigiriya
Another stunning World Heritage site, this 200-metre high rock is not just a natural phenomenon, but houses an ancient palace that was built by King Kasyapa in the 5th century CE. The translated name – Lion Rock – comes from the ambitious gate in the shape of a lion. You can spend the afternoon hiking up to the top and back, as this journey usually takes at least a couple of hours each way.
5. Sri Pada
If you're travelling inland, then you should witness another awe-inspiring natural formation. This mountain is not just visually breathtaking, but illustrates the influence of different religions and cultures on the history of Sri Lanka. The name 'Sri Pada' means 'scared footprint', because a foot shape is embedded in the rock of the mountainside. It is believed by some to be the footprint of Buddha, but Judeo-Christian religious followers claim it is Adam's, hence the English name of 'Adam's Peak.'
6. Arugam Bay
Although approximately 200 miles from Colombo, the stunning beaches of Arugam Bay are well worth the trip. You can relax in the sunshine, or get active with a huge choice of water sports. This destination will particularly appeal if you're a surfing fan. The Bay has several popular spots, including Main Point and Whiskey Point, among others. If you're more of a social butterfly, don't worry – there are plenty of bars, yoga classes, and day excursions.
7. Sinharaja Forest Reserve
Sri Lanka truly offers a little bit of everything, and a lush tropical rainforest is no exception. A World Heritage site and a UNESCO Biosphere Reserve, this park offers an array of unique flora and fauna, as well as several waterfalls, and an abundance of animal life. Take your binoculars to do some wildlife spotting as elephants roam beside the purple-faced langur, and tree frogs leap from branch to branch.
8. Mihintale
This breathtaking mountain with its ancient temple ruins holds a rich place in Sri Lankan history. Legend has it that Manhina, a Buddhist monk, met King Devanampiyatissa here just as the king was about to kill a stag. Thanks to this fortuitous meeting, Buddhism was brought to Sri Lanka. Today, you can climb up the steps and take in the rich tapestry of spiritual history... and the stunning views!
9. Bambarakanda Falls
This breathtaking waterfall is the highest one in Sri Lanka at over 240 metres. Accessible by car through the main highway system in Kalupahana, it is surrounded by dense forests and mountainsides. Take a walk up the designated paths to hear the call of nature and let the cool spray cast over you.
10. Viharamahadevi Park
When you arrive in Colombo, you must wander through the only public park in the main city. Gaze up at the grand statue of Buddha and enjoy the serenity of the water fountains. You can then learn about the history of the nation in the National Museum of Sri Lanka before exploring the city itself.
How to get there?
As an island nation, Sri Lanka is easily accessible by plane to its main international airport, known officially as Bandaranaike International Airport, but known colloquially as Colombo International Airport.
Direct flights leave daily from London Heathrow to Colombo via SriLankan Airlines (flight time of 10.5 hours). Connecting flights with a wide range of airlines, such as Oman Air and KLM, are also available.
You can also get one-stop connecting flights from a range of European cities.
For example, you can catch a flight with a connection in Doha or Bahrain from Paris with QATAR. The total flight time depends on the connection chosen, but the flight to the Middle East is approximately 6.5 hours and the flight on to Sri Lanka is under 5 hours. Similar flights with connections in the Middle East are also available from Rome and Madrid.
Within Sir Lanka, you can fly from Colombo to Hambantota, Batticaloa, Katugastota, Koggala, and Kotte with airlines such as Cinnamon Air.
UK nationals require a visa to visit Sri Lanka as a tourist, but this can easily be organised through the ETA online system. Visas are valid for 30 days and it is advisable to get this in place before travelling.
As with travel to all countries, a valid passport is also required. The validity must extend at least six months beyond the date of your entry into Sri Lanka.
Which hotel to choose?
Romantic Stay in Sri Lanka 4*
Immerse yourself in the serene and romantic atmosphere. Located in 13 acres of lush tropical garden, you will be housed in a luxurious suite dotted with rose petals and accompanied by a luxurious bottle of sparkling wine. Relax with a free In-Suite Couple Spa Treatment, free boat ride to see the Cinnamon Plantation, temple... With an endless choice of activities, you can take in the breathtaking Sri Lankan environment in peace.
Shinagawa Beach Resort 5*

Enjoy a once-in-a-lifetime holiday to Sri Lanka, with a stay at the spectacular Shinagawa Beach Resort 5*! Enjoy the peaceful atmosphere in the garden fringed by the soft sand and the ocean. You could admire sweeping views of the Indian Ocean from your private Balcony.
The Villas Wadduwa 5*

There's no point travelling to Sri Lanka without fully experiencing the rejuvenating beach life. With a stay at The Villas Wadduwa on Wadduwa coastline, you can take a quick dip in the lagoon or catch the sunset.
Culture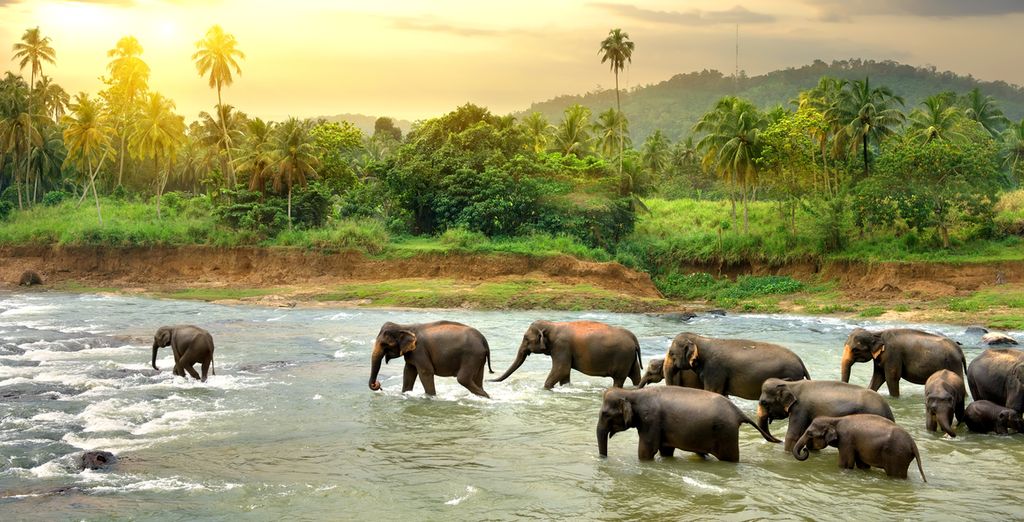 Festival of Lights
Sri Lanka has several notable Buddhist festivals each year, including Vesak Poya or Festival of Lights. This celebration focuses on the life of Buddha and takes place throughout the country on the full moon each May.
Festival of the Tooth
In the vibrant city of Kandy, an important date on the annual calendar is that of Kandy Esala Poya Perahera or The Festival of the Tooth. This involves a colourful and grand procession, which pays respect to the relic of Buddha's tooth, through the streets of the city every July or August.
New Year Celebrations
There are also several traditional new year celebrations that take place in the nation, including the Sinhala and Tamil new years, which originate from the Sinhalese and Tamil people respectively.
The Sinhala new year takes place on the full moon in April, and the Tamil new year usually falls on the same date. Both celebrations involve cleaning the home and preparing for the change in seasons.
If you hear the Tamil greeting "Putt???u v??ttukka?!" on your trip, someone is wishing you a Happy New Year!
Local practices and customs
If you visit one of the many Buddhist shrines and temples, make sure that you dress respectfully. Ideally, cover your body from your shoulders to your legs. It is also customary to remove accessories, such as shoes and hats.
Some western travellers might have a Buddha tattoo, in which case it is best to cover it up. While you are in Sri Lanka, also refrain from posing next to any Buddhist statues.
There are no specific dress code requirements in Sri Lanka, but women may benefit from bringing light layers or more conservative garments in order to avoid unwanted attention.
The Sri Lanka map
Our practical advice for Sri Lanka
What to bring back from Sri Lanka
You'll definitely want to bring back a few souvenirs of your aromatic journey around the island. Pick up some Ceylon tea and some fragrant cinnamon sticks. When you breathe in the smell, it'll take you right back to your trip.
What currency to use?
Sri Lanka uses the Sri Lankan rupee, but it is only available once you arrive in the country. You can purchase rupees at the airport through the exchange bureau, or you can withdraw money at an ATM.
Visa and Mastercard debit and credit cards can be used in most places, but check with your bank about foreign usage fees before leaving. In Sri Lanka, all transactions must be completed in the local currency by law.
What time difference?
Sri Lanka is in Indian Standard Time, which is 5 hours and 30 minutes ahead of London GMT.
What language is spoken in Sri Lanka?
Sri Lanka has three official languages – Sinhala, Tamil, and English.
How to get around Sri Lanka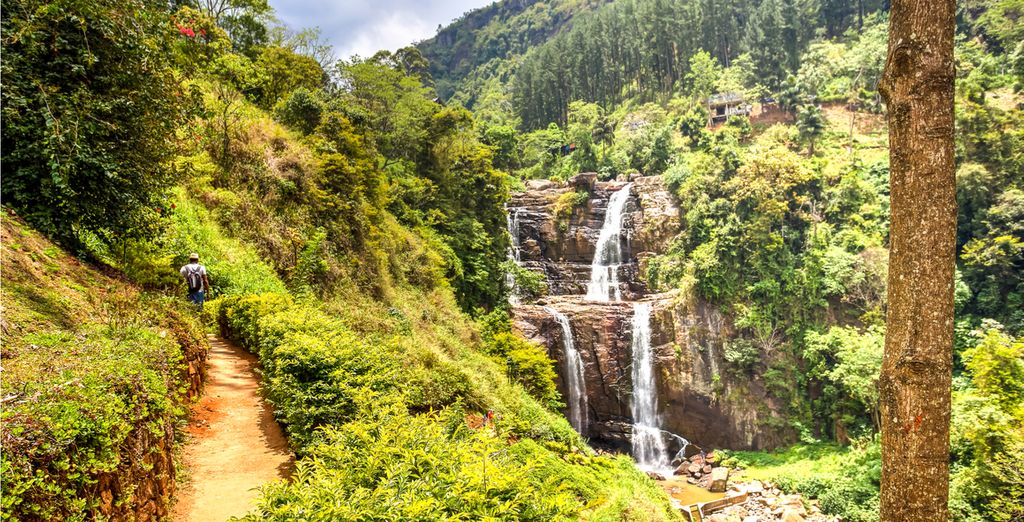 There are two main cheap forms of transport in Sri Lanka – buses and trains. Bus services in Sri Lanka are provided by the public CTB and various private bus companies. There is also a train network that weaves around the country.
Sri Lanka has a number of highways that are ideal for navigating from place to place across the island. While it is technically possible to rent a car with the appropriate permits, it is not necessarily advisable.
If you do wish to rent a car, you will need an International Driving Permit that has been valid for at least one year in order to get a Temporary Sri Lankan Driving License upon arrival.
When visiting the country, it is more common to hire a driver for a day or for the duration of your trip. Companies such as Europcar will offer a chauffeur service for only 30 EUR per diem. Transport of this nature may also be included in your tour package, so check with your provider!
What to pack for your holiday in Sri Lanka
As Sri Lanka offers such a varied array of activities, it's essential to pack a wide range of clothing.
You will need beachwear for the coast, as well as hiking shoes and a water repellent jacket for any trips up into the forests and mountains. It is also important to take mosquito and insect repellent, especially if you are leaving the city and venturing into the countryside where insects are more prevalent.
How long to stay
A trip to Sri Lanka should ideally be at least two weeks in order to fully explore the country. The island is 268 miles across and 139 miles wide with a huge range of locations and activities to explore.
Restaurants on site
While in Sri Lanka, you will have the chance to try a wide range of rich and spicy foods. Their signature aromatic curry dishes include sour fish curry and green jackfruit curry.
Popular Sri Lankan cuisine also includes crispy kottu rotti and hoppers, which are similar to pancakes. The island is home to dozens of zesty fruits, so flavours such as coconut are common in both dishes and drinks.
Family activities, for teenagers, children, babies
Whether in the water or on land, there are countless activities for both individual travellers and families.
Tourist attractions such as the Lion Rock offer the opportunity for hiking, and beaches such as Arugam Bay have unbeatable water sports. Not only do several surf schools operate in the area, but you can also wind surf and kite surf.
Most resorts offer pools where you can keep an eye on your kids in a contained area, and the numerous nature reserves and parks offer the chance for safaris and tours to see the animals up close!
Sri Lanka: What budget to plan?
When budgeting for a trip to Sri Lanka, you should remember that the cost of living in Sri Lanka is considerably lower than in the United Kingdom. So, the good news is your money will stretch further!
In 2018, the Sri Lankan government issued a maximum price on bottled water, so this kind of essential item for a traveller will not break the bank. Even renting a surfboard in Arugam Bay only costs around 1000 LKR a day, or just over 4 GBP.
Whether you're relaxing on the beach or sampling the local cuisine, a holiday to Sri Lanka doesn't have to drain your bank account!
Discover more travel guides.