Bali Travel Guide
If you are thinking about travelling a little, here is a brief Bali travel guide to give you some ideas of what to expect when you go.
Top Ten Things to Do and See in Bali
1. Sekumpul Waterfalls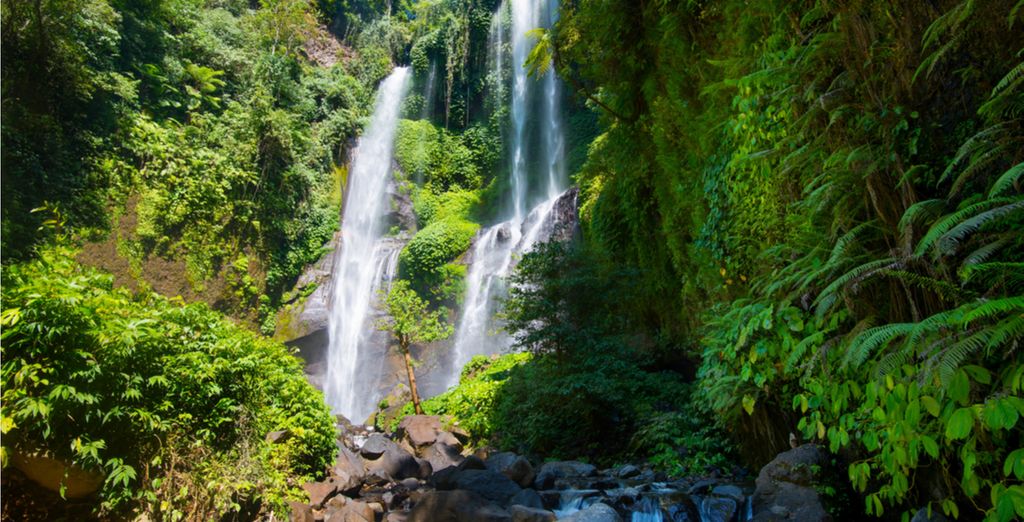 Six or seven ethereal veils tumble from height showcased against lush green bamboo growth. You have to work hard to enjoy the view though, there is a relatively lengthy hike over dirt paths, over a hundred steps and the crossing of a stream or two: but it is beautiful and well worth the walk.
2. Diamond Beach
Nusa Penida is still relatively unspoiled by the influx of tourist offerings and Diamond Beach is one of the best of the beaches in this beach-heavy paradise. White – truly white – sand is created from limestone, and this gives the water a bright clear turquoise shade that is magical and almost otherworldly, perfect for getting away from it all.
3. Experience Sunrise in Munduk
Munduk is a seat of spirituality, with a temple complex snuggled into the mountains, near the beautiful and tranquil lake. Watching the sun come up over Lake Tamblingan is one of the most awe-inspiring experiences that you can have.
4. Ubud Sacred Monkey Forest
Over 700 monkeys live alongside 186 other species in this nature reserve that covers 12.5 hectares of rich luxuriant forest. Visitors are welcome, and entry fees go towards conservation and education efforts.
5. Kecak Fire Dance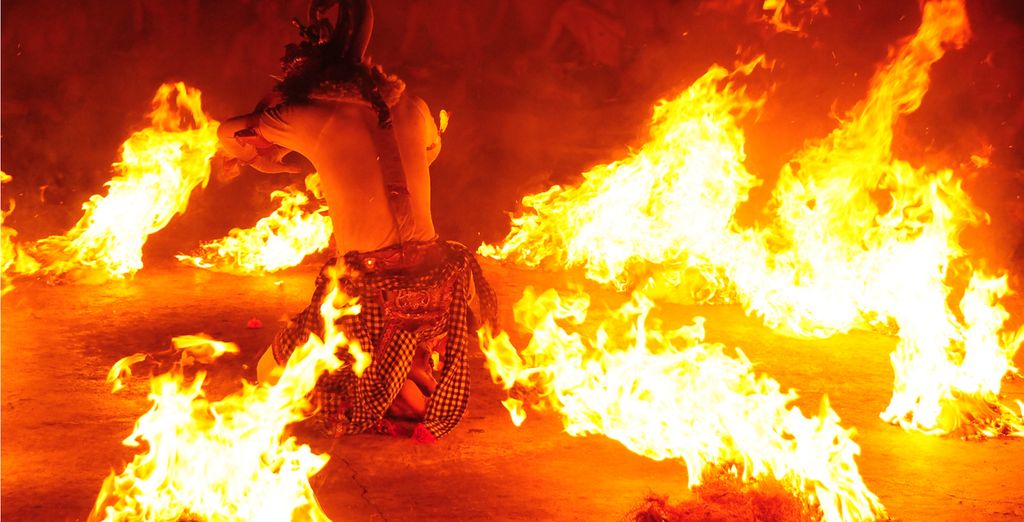 Set against the beauty of Uluwatu, this traditional dance has been performed here for many years, recounting the narrative of Ramayana, starring 10 to 15 main dancers and backed up by around 50 'chorus' dancers. The narrative plays out against a glorious sunset that dips into the night sky, only for the flames to relieve the darkness and add drama to the story's exciting conclusion.
6. Eat Your Way Across Canggu
To experience the full flavour of authentic Balinese cuisince, a visit to Canggu is a must. Restaurants abound in this foodie capital, and the food is exquisite, delicious and probably not as expensive as it should be.
7. Try Surfing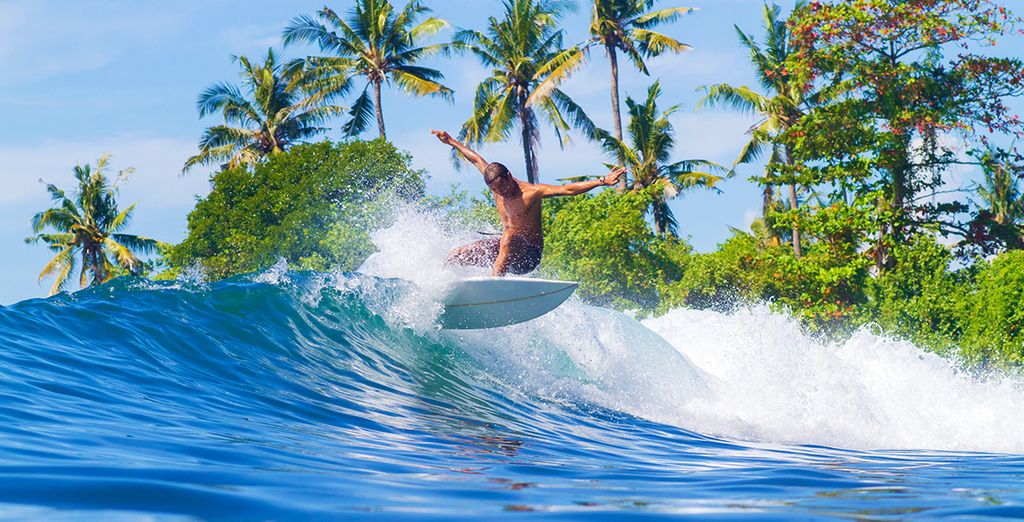 Surfing is one of the most popular pastimes in Bali and it is possible from many areas around the island. If you are a beginner, make sure you find a beginner-friendly area to start off, and even more experienced surfers should be aware that conditions can change and to look out for red flags on surfing beaches: these indicate unsafe conditions even for expert surfers.
8. The View from Uluwatu Cliff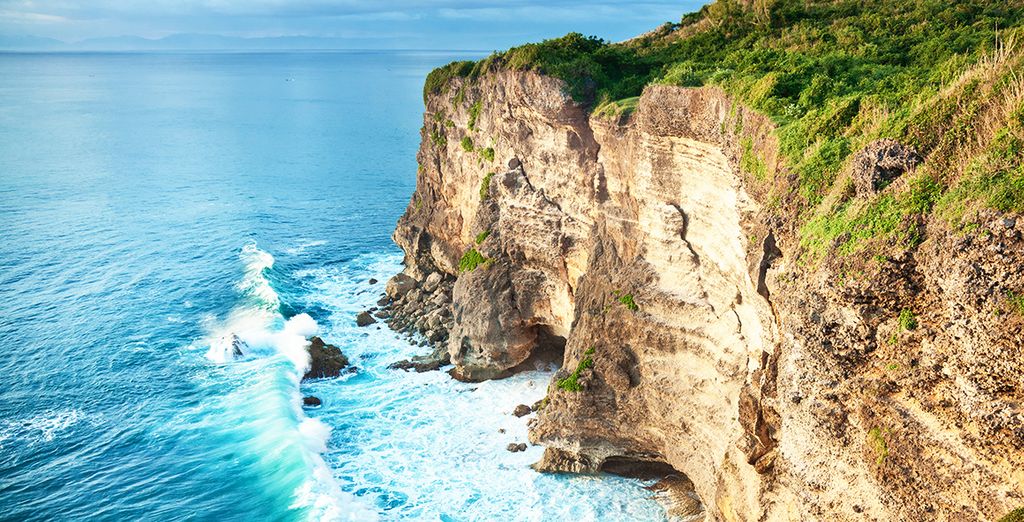 Green foliage, rugged rock formations, a lively and textured sea and the sun sinking, glorious, into the sea. Uluwatu Cliff is a gorgeous place to sit for a moment and unwind, letting the beauty of nature seep into your soul. If you time it right, you can stay for the Fire Dance, or you can come during the day for equal beauty and dramatic views.
9. Tegalalang Rice Fields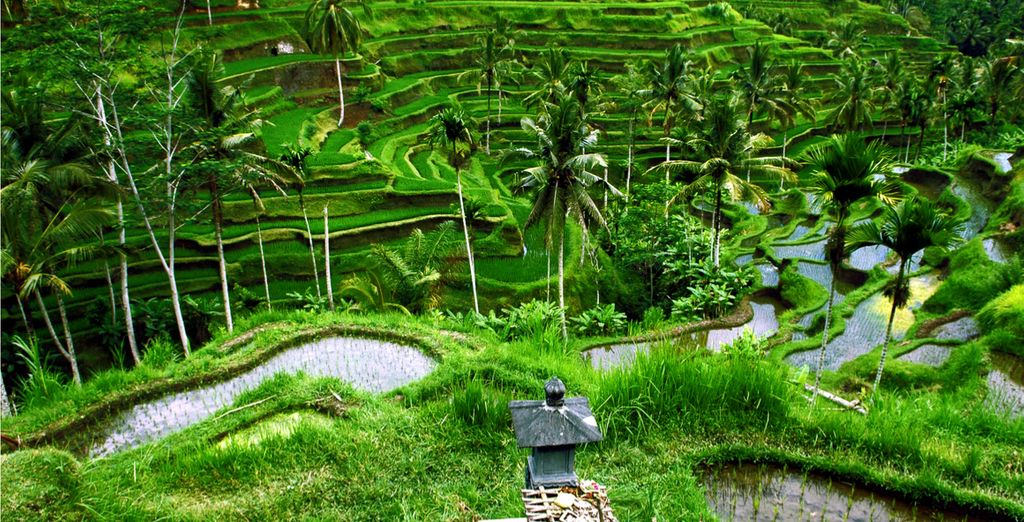 Intricate terracing, lush green rice paddies, this area is known for its unique look which exists thanks to the historic Balinese irrigation system. This unique backdrop is tremendously popular with tourists from all over the world, thanks to the proliferation of photographs of the rice fields that appear on Instagram, Twitter and Facebook.
10. Get Spiritual
Say Bali to anyone, and pretty soon the words 'eat, pray, love' will be mentioned. Some of this is due to the hype created by the Julia Roberts' movie of that name, but Bali has a strong spiritual offering, with plenty of retreats on offer. Find yourself while immersing yourself in meditation, eating well and sleeping better.
When to Go to Bali?
You can visit Bali at any time of the year, but the most popular months – known as 'high season' – are July and August. This means that it may be quite expensive and will also be very crowded with other visitors. The Easter holidays and Christmas to New Year tend to be busy and expensive too. April, May and June and September, October are also good times to visit, as crowds will be less, prices not quite so high and yet the weather will still be good. The rains come in November and can linger right up until March when they begin to dissipate. Temperatures change very little over the course of the year: your only concerns are rain and humidity.
How to Get There?
There is an international airport, that lies close to the capital city. Many tourists do not travel far from this area, but the whole island is readily accessible from the airport.
If you are in Indonesia already, you can access Bali with a long bus ride – up to 23 hours from Jakarta. This journey includes a ferry across to the island from the mainland.
Many visitors arrive by boat, either on long-distance cruises or short-distance ferries.
Which Hotel to Choose?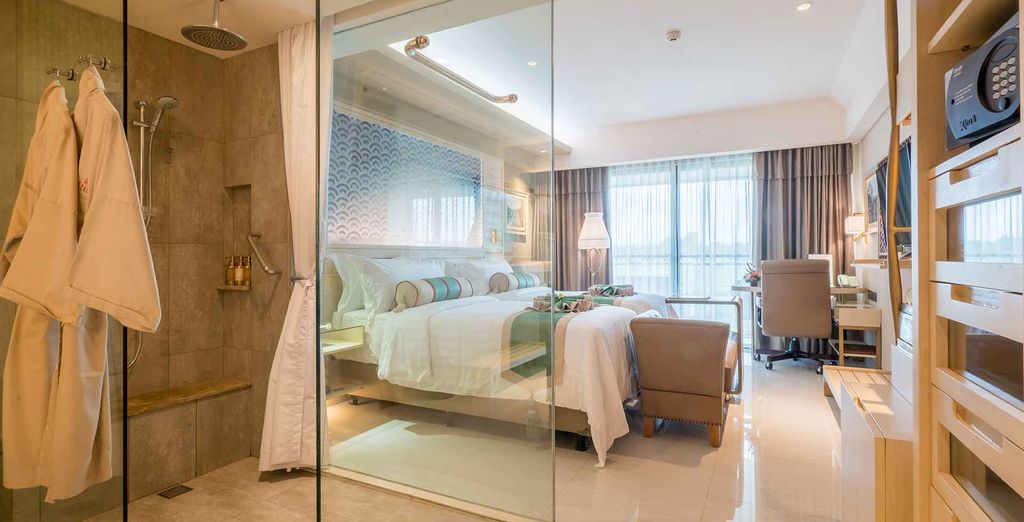 So much thought has gone into your stay that overheated and travel-stained travellers are greeted with a chilled towel on arrival to the hotel. The service remains as attentive with four different eateries to choose from, plenty of activities (both relaxing and strenuous) in the heart of Ubud, surrounded by rice fields, forests and mountains. Lounge by the swimming pool, enjoy a relaxing massage or get out and exploring: Bali is waiting for you!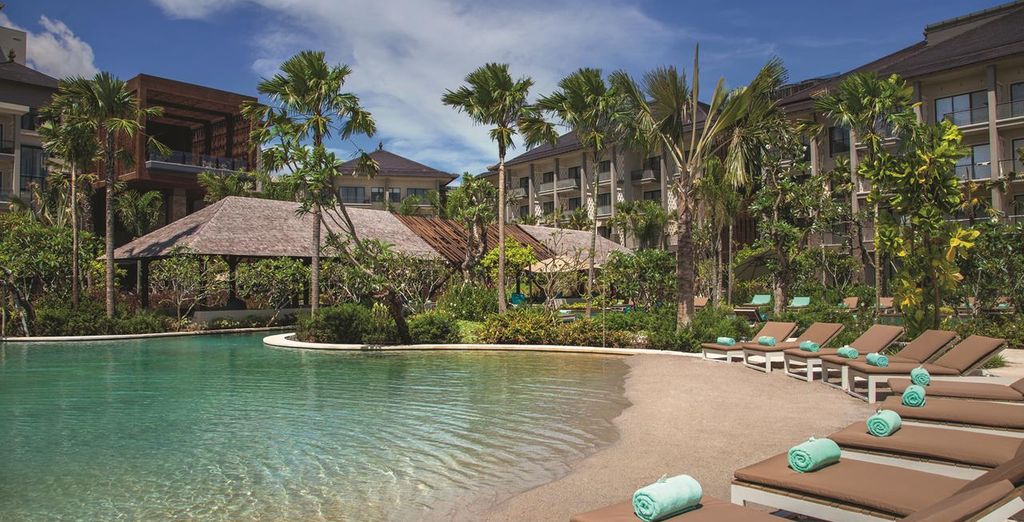 A cold drink and a chilled towel are offered to you on arrival before you even see your sumptuous and air conditioned room. There are five different eateries so you can change up your dining experiences, and the setting is simply beautiful, very handy to Uluwatu Cliffs and many other Balinese must-see experiences.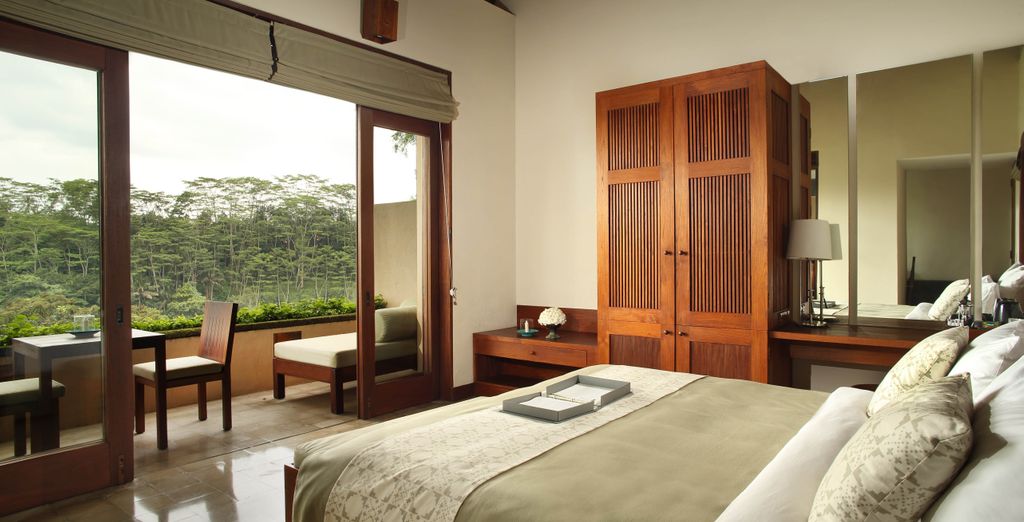 In the verdant heart of unspoiled Eastern Bali, between the sea and Mount Agung. Surfing, snorkelling and swimming is just a couple of miles away, and the hotel offers homely comfort with four-star luxury: perfect for a gorgeous holiday for those uncomfortable with too much ostentation.
Culture in Bali
There is a rich tradition of poetry, dance, painting and song in Bali. The Arts, many of them, are widely practised, so visitors can watch dances, listen to poetry and literature and even purchase original works by Balinese artists. The island has a rich history too, so do try to chat to some of the elders to see what exciting events occurred in the area in which you are staying.
A diverse and innovative performing arts culture, means that there is thousands of paid performances at events all over the country so you should easily be able to find a traditional performance to view.
Local Practises and Customs
There is something of a caste system in Bali, with four castes. These were thought to have been inherited from Indian influences, but research declares this not to be the case, and the system is not as rigidly adhered to as it is in India.
Balinese people tend to be religious, rather than not. The population is mainly Hindu, around 83% of the population, with 13% Muslim, and then Christianity follows, along with other religions and atheism.
Regardless of your own beliefs, do be respectful of Balinese religious belief. It is not uncommon for streets to be closed for religious parades or other celebrations. Try not to moan about these delays, rather accept them with good grace and transform them into learning experiences.
The Bali Map
Our Practical Advice for Bali
What to bring back?
Again the arts come into play here, with plenty of crafts on offer, from silk batiks, wood carvings, and silver jewellery, to coffee and chocolate.
What currency to use?
The Indonesian Rupiah is used in Bali. Must change your money for these, before shopping, dining or travelling. The island used to accept other currencies, especially the US dollar, but since 2015, all goods and services must be paid for using rupiah.
Is there a time difference?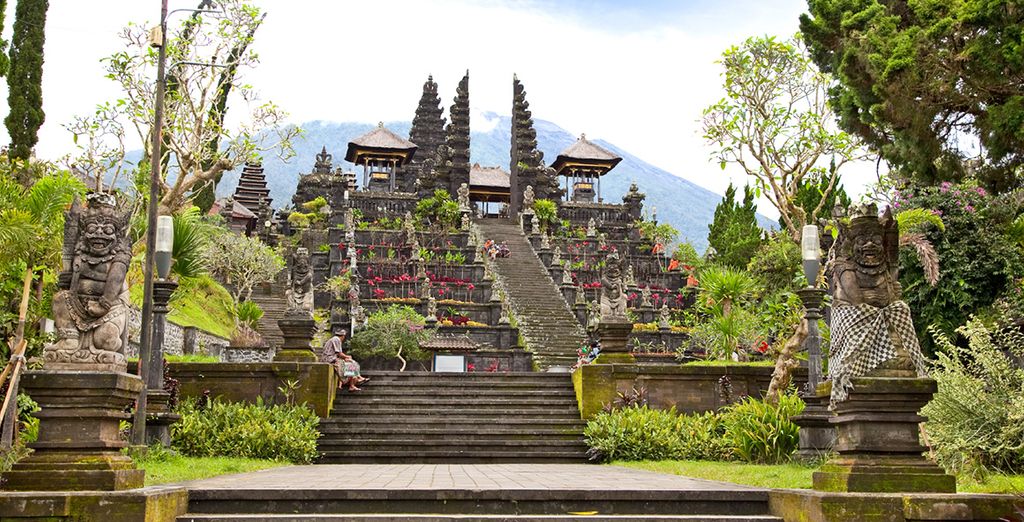 Bali is seven hours ahead of the UK, so most European travellers will get jet lag on at least one leg of the journey.
What language/s do they speak?
Balinese and Indonesian, with most Balinese people being bi- or even trilingual. English and Chinese are also widely spoken.
How to get around?
Rent a scooter or a car – you will need an international driver's licence in order to do this. Remember to drive on the left!
Other options include hiring a private driver, catching a bus or using taxis or Ubers.
Travel tends to be quite bad, with unmannerly driving from pushy road users: drive defensively for safety.
What to pack for your holiday in Bali?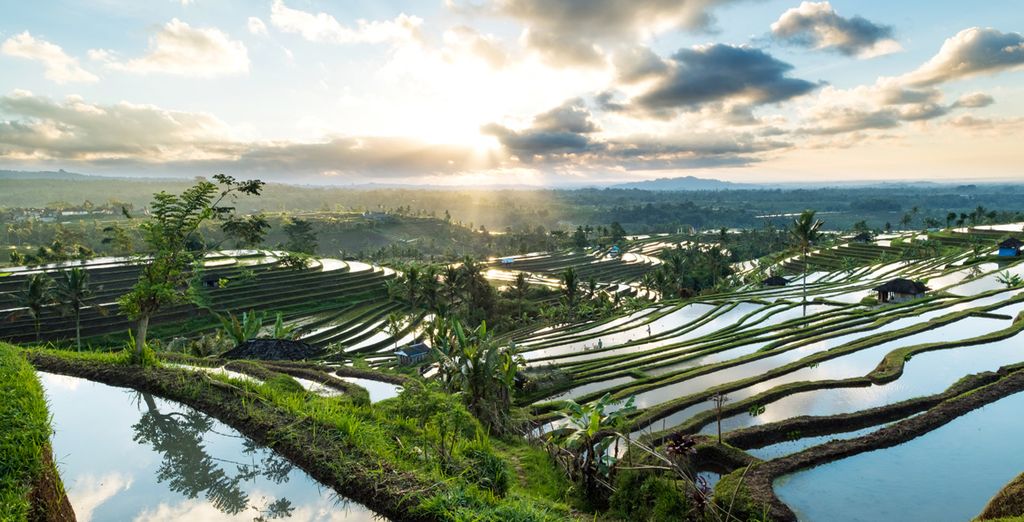 It is warm and usually dry, sun screen, hats, plenty of water, shorts and tee shirts fine on the beach or tourist areas, should cover up (men and women) when outside of these areas and especially when visiting temples and the like.
How long to stay?
There is plenty to see and do in Bali. You probably cannot really do it justice in three days or less, so perhaps aim for about a two week stay.
Restaurants in Bali
One of Bali's main income streams comes from tourism, and there are many restaurants catering to all tastes from Western popular choices to the full authentic Balinese experience bursting with meat or fish, vegetables and plenty of herbs and spices.
Are There Family activities?
The island is packed with nature parks, water sports offerings, and beach holidays which are perfect for families. But there are also adult-only options such as meditation or relaxation retreats for singles and couples looking for complete relaxation.
How to travel to Bali with your pet?
Bali currently does not permit you to travel with your cat or dog – other pets will have similar restrictions.
NB: this applies to service and emotional support animals too.
Bali: What Budget to Plan?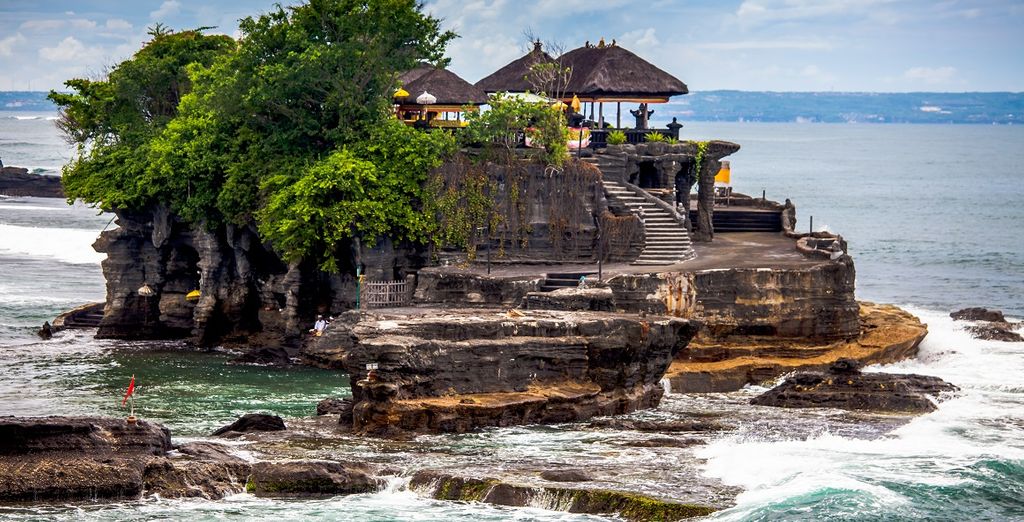 Some resorts and towns in Bali have got wise to the generosity of the tourist dollar (or pound, euro, etc) and it is now the most expensive tourist destination in Indonesia. The good news is that it is still relatively cheap, and if you are prepared to shop around a bit and avoid the high-end tourist-trap-type places, you can still travel, stay and eat for a reasonable budget. Travel with around US$60 per person per day (excluding accommodation) for a relatively comfortable holiday.
Environment
A word of warning: the north of Bali is very crowded: many tourists arrive and stay close to the airport, and unfortunately, some of them can be rude and selfish, only worrying about their own pleasure and ignoring the fact that this is a dream, possibly once-in-a-lifetime holiday for anyone else.
Vendors, too, can be very pushy, seeming desperate for your business, and are not ashamed to try and guilt trip you into buying something.
Be aware of scams too: being short-changed, over-charged or just plain robbed.
However, this is not to put you off visiting the island: Bali is broadly very safe and the people are warm and friendly. If you can get further inland, or travel to the south, you will find the oasis of spirituality, peace and tranquillity that social media loves so much.
Other Practical Information
As above, use common sense when travelling: keep valuables hidden, do not flash a big wad of cash and be a tiny bit suspicious of anyone who seems too interested in you and your doings.
Do not drink the tap water unless you are specifically told it is all right. The ice served in bars and hotels should be fine, though.
There are very strict anti-drug laws in Bali. Even if your homeland is relaxed about the occasional joint or edible, do not be tempted to try anything to do with narcotics in Bali. The punishment for drug crimes is death: that gives you some idea of how seriously they take the problem.
Monkeys look adorable, but they are wild animals, and wild animals that have become very accustomed to people, knowing that they usually have good things to eat on them. Treat them with respect and keep a safe distance away.
Despite all the warnings and horror stories, Bali is basically safe as long as you are sensible and respectful. With around six million visitors every year, there are sure to be one or two visitors who have major issues: however, most visitors will have no problems whatsoever.
Hopefully, this short Bali travel guide has answered your most pressing questions and given you the information you need to book your holiday today.
FAQ Stays Bali
Voyage Privé's experts want to provide you with the best deals. Our travel experts negotiate the best hotels up to 70% off ! Register for free to access all the sales to go to Bali !
Located along a beautiful beach on the south coast of Bali, the Alila Seminyak Bali 5* offers you a luxurious stay with five infinity pool, a spa, a beach bar and so many others activities. On a private area in Bali, the Patra Bali Resort 5* offers a calm beachfront retreat immesed in the tropical landscape.
You just need to register for free online to access all our exclusive offers! Don't wait any longer to explore Bali !