Vietnam Travel Guide - Where to go In Vietnam
The ultimate guide 🗺️ for vietnam holidays. Tips, best itineraries, essentials. Plan your holidays 🏝️ with Voyage Privé.
Travel to Vietnam
Vietnam is a beautiful country located in Southeast Asia. Vietnam has a colourful history which has shaped it into the vibrant and multicultural country it has become today. The mix of Chinese and Vietnamese culture means the fresh food is every foodie's dream. The landscape is wonderful and mixed; booking your holiday in Vietnam means you will get to experience clear waters and blue skies as well as dark green rain forests. It is a country which must be visited at least once in your lifetime and a place you will never forget.
The top 10 things to see/do on site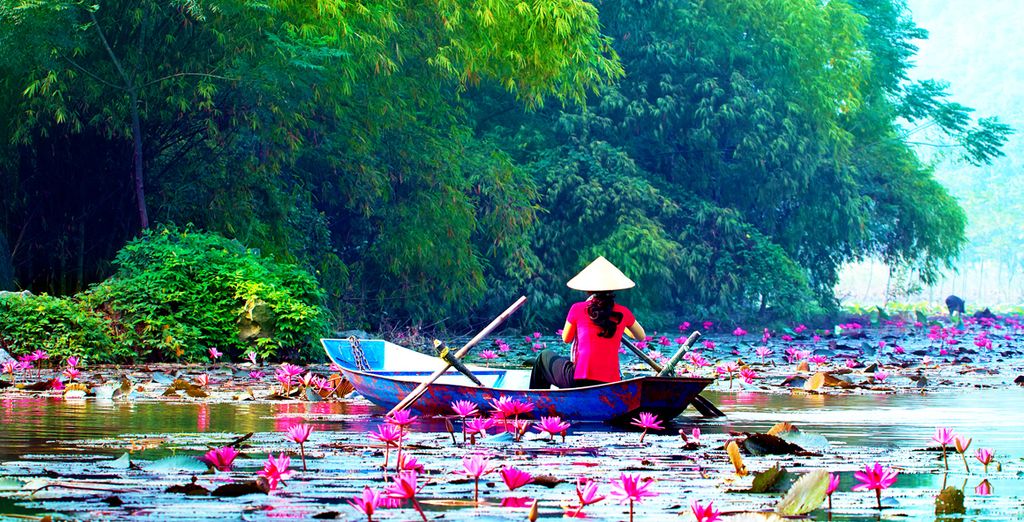 1. Halong Bay

One of Vietnam's most beautiful spots, the skyline is built up with mesmerising limestone towers coming straight out of the water. As this is a popular tourist spot, boats are on hand to take you out so you can get close to these towers.
2. Hang Son Doong

One of the largest deep caves in the world. The journey there takes you through a small town called Phong Nha where you can get your gear and guide and then trek through a tropical jungle with wild monkeys and flying foxes.
3. Food tour in Hanoi

Vietnam is every foodie's dream and Hanoi is a great place to get a taste of everything Vietnam has to offer. You can explore the streets on foot, on a rickshaw or hire a guide to take you to the best places. The old quarter has kept its traditional roots and is the best place to offer you an authentic experience.
4. Cu Chi Tunnels

For history lovers this network of tunnels is a fascinating remnant of the tunnels used by the Viet Cong. There are guides there to show you how they were used and provide you with a full history of these tunnels.
5. Hoi An lantern festival

On the 14th day of each lunar month, Hoi An transforms its traditional UNESCO World Heritage Site into a mesmerising display of handmade paper lanterns. All the shops, restaurants and bars switch off their lights and rely on the hundreds of candles and lanterns to light up the streets.
6. Mekong Delta

Commercial cruises are on hand to take you down the Mekong and experience the beautiful scenery. You will get to see where the locals trade on the river, as well as their houses on stilts.
7. Ho Chi Minh Mausoleum

This is the resting place of the revolutionary leader. It is an important part of Vietnamese history. Lines of locals and foreign dignitaries can be found outside every day, paying their respects.
8. The white sand dunes of Mui Ne

Just outside of Ho Chi Minh City, these are iconic and known to all thrill seekers. Tour guides will be able to take you safely flying through the sand dunes in a jeep.
9. Bai Dinh temple

This complex consists of an original older temple and a newly created bigger temple. It is the largest temple in Vietnam and houses one of the tallest pagodas. You can spend all day here exploring the different temples and seeing all the different golden statues.
10. Vietnamese coffee

An experience that cannot be missed while in Vietnam. Using a drip coffee method, the Vietnamese are able to offer a unique blend of coffee to travellers. They are famous for their cà phê ?á (iced coffee) which is a refreshing treat on their hot days.
When to travel to Vietnam

Between January and August, central Vietnam experiences hot and dry weather, making it the perfect time to visit. The temperature is much more comfortable and the rainfall is lighter during these months. Southern Vietnam experiences dry and hot weather from November to April.
How to get there?
Vietnam has 3 international airports, but the airports in its capital Hanoi and Ho Chi Minh City are the main hubs with connections to all the major international airlines. Direct flights from London or Paris can get you there in 12 hours and flights with connections from other European cities will be around 15 hours.
French and British visitors with a 6-month valid passport can enjoy up to 15 days in Vietnam without a visa.
For visits of up to 30 days, you can get an e-visa online before you travel. For more information and advice about visas, contact the Vietnam Embassy.
Which hotel to choose?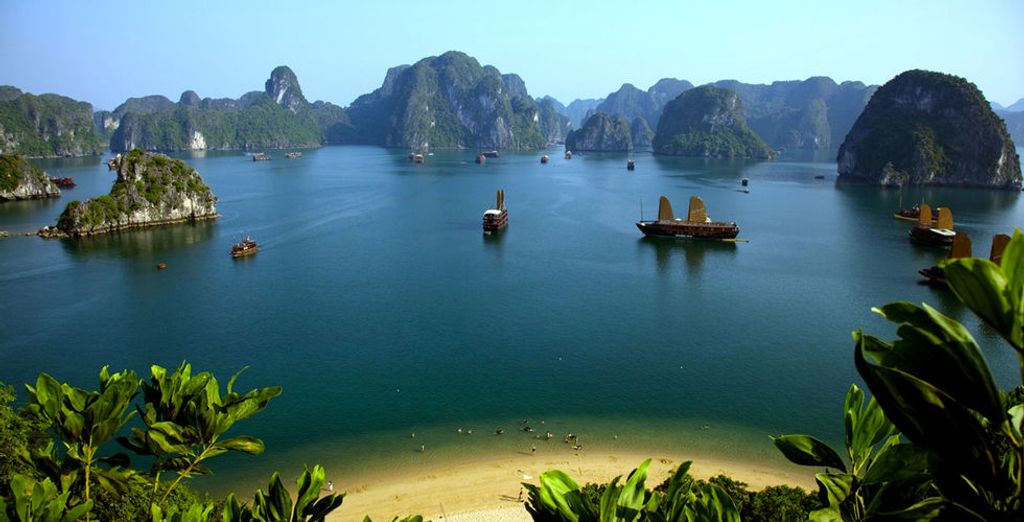 Nikko Saigon Hotel 5* - Ho Chi Minh City

A luxurious and modern 5* hotel in the city centre which offers rooms with a swimming pool on the terrace. This hotel also has a fully equipped spa and a wide range of dining options.
Almanity Hoi An Hotel 4* - Hoi An

Situated minutes from the World Heritage listed Ancient Town, this stunning resort offers guests spacious rooms in a classic heritage design surrounded by tropical gardens as well as inviting terraced pools.
Previous offers include:
1. One hour body massage per person per stay
2. 90 min complimentary Yoga Class - daily from 7 am
3. Complimentary usage of Steam & Sauna at My Chi Spa
4. Complimentary shuttle bus to An Bang Beach
5. Complimentary bicycle to discover Hoi An ancient town
6. Surprise welcome drink and cold towel upon arrival
Melia Danang Hotel 4* - Danang

This hotel is located on Non-Nuoc beach which is amongst the top ten beaches in Asia. The hotel offers modern rooms with several dining spaces as well as 3 outdoor swimming pools and a fully equipped gym.
Previous offers include :
1.A complimentary 45 min body massage or reflexology per guest
A 15% discount on food and drinks
A 10% discount on laundry
Nikko Hotel 5* - Hanoi

Situated inside Thong Nhat Park in central Hanoi, the views from this hotel are unforgettable. Rooms are spacious and air-conditioned as well as being equipped with a satellite TV and fridge. The ensuite bathrooms have a bathtub and shower facility.
Culture (festivals, etc...) in Vietnam
Lunar New Year (Tet) - celebrated during January/February, this festival is the biggest highlight of the year. Locals will be celebrating in the streets with fireworks as well as visiting temples to pay their respects to their ancestors. Enjoy the busy restaurants in the bigger cities and visit a bustling temple. A dress code of covered shoulders must be followed for the temples.
Mid-Autumn festival - celebrated on the 15th day of the lunar month in September. Traditionally, children are given new clothes and colourful mini lanterns to parade in. Hoi An would be the perfect city to visit at this time, as the streets are filled with food, performers and bustling restaurants.
Buddha's Birthday - taking place on the 8th day of the 4th lunar month, temples are filled with lights and locals bringing offerings for Buddha. There are also street parades in celebration and opportunities for prayer sessions.
What to bring back from Vietnam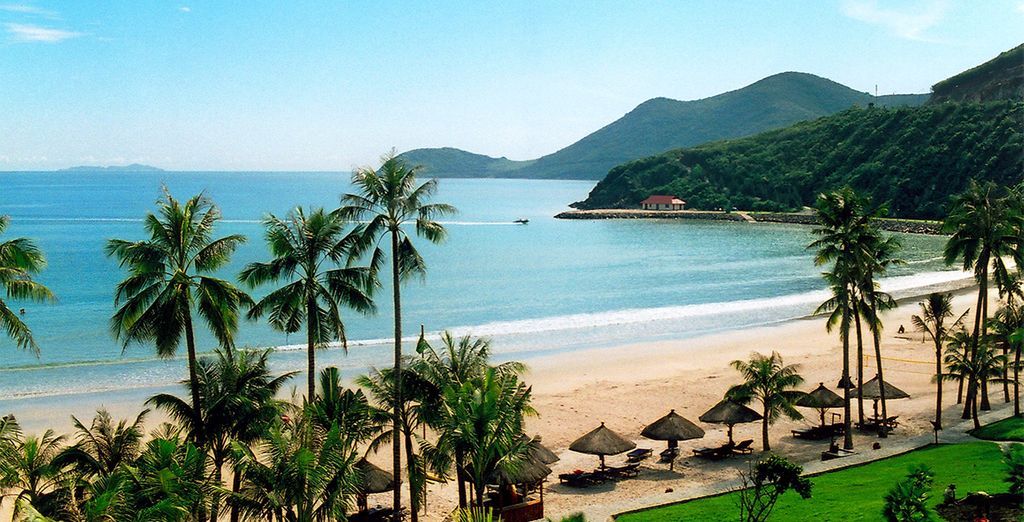 Conical straw hat - worn traditionally by the locals to protect them from the rain, wind and sun or as a basket for produce, this hat (known as Non La) has its roots in traditional folklore of a sky goddess and has become synonymous with Vietnam.
Silk scarves and embroidered gifts - Vietnam is known for its large exports of silk and highly skilled embroiders that spend their lives training to become masters of their skill.
Ao Dai - a traditional long dress worn by the women in Vietnam. This national dress has been part of Vietnam since the 18th century. You can have a handmade dress tailored for you at one of Vietnam's specialised Ao Dai dressmakers.
Hand fans - the perfect gift to pack into your suitcase. They are handcrafted and feature bold and stunning prints. They can be found used in traditional dances as well as by the locals to cool themselves down.
Sand paintings - this meticulous gift is handmade by the careful layering of sand into a frame to form a picture.
Bamboo dragonfly - a handmade gift which is very popular among children. This quirky gift has the ability to balance on your finger and can be found in bright colours.
What currency to use?
Vietnamese Dong is currently the only accepted currency in Vietnam. Credit cards such as Visa and Mastercard are widely accepted throughout Vietnam.
24-hour cash machines can be found at banks and convenience stores as well as the airport where you can safely withdraw cash.
What time difference?
Vietnam is 7 hours ahead of London (GMT+7).
What language is spoken in Vietnam
Vietnamese is the national language of Vietnam, with Chinese and French being second languages.
How to get to Vietnam
Vietnam has many bustling cities with lots of people on scooters. Rental cars are available at all international airports.
Trains are an easy way to travel across Vietnam allowing you to visit lots of different cities and see beautiful scenery along the way.
What to pack for your holiday in Vietnam
With the tropical weather in Vietnam, a good mosquito repellent is a must.
To help make sure your holiday is comfortable it is a good idea to pack light clothing which is breathable and cool. With the temperamental variants, it is also useful to have an umbrella on hand.
Finally, do not forget to pack the sunglasses and sun hat!
How long to stay ?
2 weeks is an ideal time to stay in Vietnam. It provides enough opportunities to visit multiple cities.
Typical dishes of Vietnam
Pho - this soup-based noodle dish is their most famous and is very popular with all the locals, young and old. Bowls are filled with steaming hot chicken, pork or beef soup which have been slow cooked for hours and then topped with vermicelli noodles. To bring the dish together the top is then garnished with fresh bean sprouts and coriander.
Bun Bo Nam Bo - perfectly cooked beef on top of vermicelli. This is served at room temperature, which may be easier to handle when the weather is too hot. Whatever the weather, you will be able to find the right noodles for you.
Banh Mi - Freshly made baguettes filled with smoky barbecued meat and pickled vegetables. They are a staple lunch and can be made with any combination of meat and vegetables you like. The versatility of this means they can be enjoyed by vegetarians and vegans.
Family activities for teenagers, children and babies
Ho Chi Minh City Zoo and botanical gardens - one of the oldest zoos in the world, it houses fascinating animals such as elephants and tigers as well as ponds full of tropical fish.
Ho Chi Minh City Dam Sen water park - located just 30 minutes from the city centre and fun for the whole family, it has a variety of water slides for all ages as well as space for parents to kick back and relax.
Hanoi - Very family friendly where you can find activities for everyone to enjoy. You can go for a rickshaw ride along the back streets and visit one of the numerous food markets on offer.
Beaches - You can take advantage of the good weather in Vietnam and visit one of its numerous beaches, where you and your family can relax in the sun or take on jet skiing or even diving.
Vietnam: What budget to plan?
If you are looking to travel on a tight budget then Vietnam is the country for you. The cost of living can be inexpensive. There are a lot of local street vendors who offer food and drinks at a good value. You can even try the best seafood and delicious meat the country has to offer if you visit all the local vendors.
Environment
The tropical weather in Vietnam means the vegetation and nature is something you may have never seen before. There are thick forests with unique wildlife and birds in all the colours of the rainbow.
Additional practical information
The electricity supply in Vietnam is 220 Volts at 50Hz and sockets have 2 pins. You will need to make sure you purchase an adapter.
Make sure you look both ways before crossing. The roads of Vietnam are very busy, filled with mopeds and cars.
Confirm the price of food before ordering.
Purchase tickets in advance where possible to save queueing time in person.
Discover our offers to Vietnam : Great deals, tours, holidays, holidays to Ho Chi Minh, holidays to Hanoi.
Visit all our travel guides.