The complete travel guide to Tanzania
Practical information, good advice and destinations to visit, find all the tips about Tanzania, to live an unforgettable trip!
Presentation of Tanzania
With a wealth of unspoiled natural beauty, Tanzania's stunning vistas and boundless horizons make it a perfect place for any avid explorer. With some of the most spectacular wildlife in the world, Tanzania is a haven for animal lovers who dream of seeing their favourite exotic beasts up close.
But of course, it's not all safaris and sunsets.
Tanzania has an abundance of pristine beaches and the azure beauty of the Indian Ocean should play a major part in any holidaymaker's schedule. Scuba divers adore the clear waters along the Tanzania coastline, where you can spot elusive creatures such as whale sharks, hammerheads and moray eels.
And with a vibrant culture, welcoming people, and a rapidly developing tourism sector, Tanzania is as perfect for families as it is for backpackers or lone travellers.
So, let's find out what makes this destination so special.
The top 10 things to see and do in Tanzania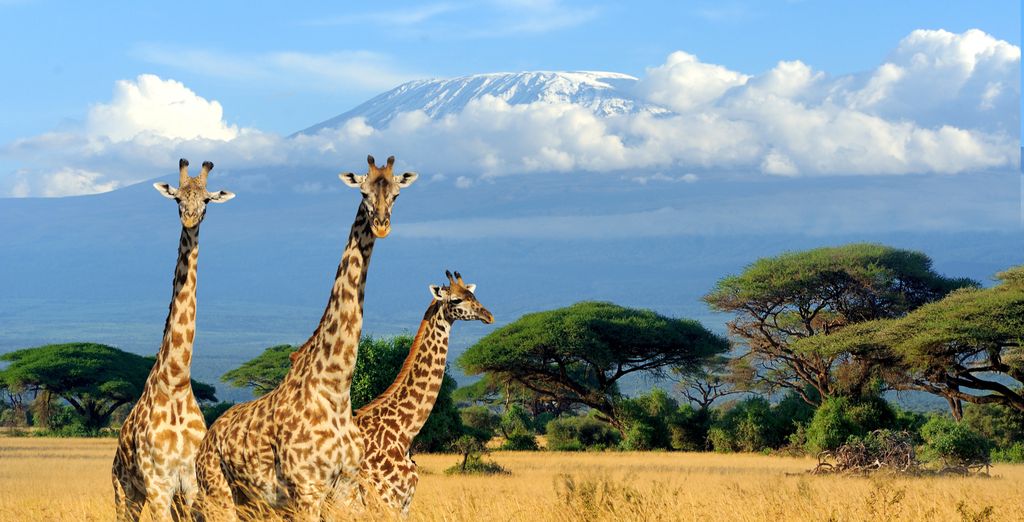 1. The Serengeti
No trip to Tanzania can be considered complete without visiting the natural beauty of the plains of the Serengeti. A trip to the Serengeti National Park includes a guided tour through the grasslands and a chance to watch zebras graze, lions loll under the sun, and elephants bellow to greet the morning sun. Simply unmissable.
2. Mount Kilimanjaro
At 5896m high, Mount Kilimanjaro represents a major challenge for even the most experienced hiker. However, just standing at the base of the snow-tipped mountain is said to be akin to a religious experience for many. Guided tours around the foothills and nearby park mean that anyone can technically trek the mountain, albeit at varying altitudes.
3. Great Mosque of Kilwa
Part of the area's religious heritage, the mosque at Kilwa Masoko is a testament to the past and a walk through its ruins gives an amazing sense of life from a bygone age. A UNESCO World Heritage Site, tours and travel can be easily booked in advance so you can learn all you can about this breath-taking structure.
4. Cheetah's Rock
For those looking to get up-and-personal with a super-predator, this sanctuary should be top of your list. Run by Conservation Rescue Awareness (CRA), this big-cat sanctuary offers the chance to directly interact with animals; with all donations going to support the group's amazing work.
5. Ascend Tanzania
You haven't truly seen Tanzania until you've gazed at it from a height, and this company knows it. Offering personised hiking and biking treks for travellers, Ascend offers equipment hire and guided treks to sightseeing spots like Mt. Meru, Kilimanjaro, and more.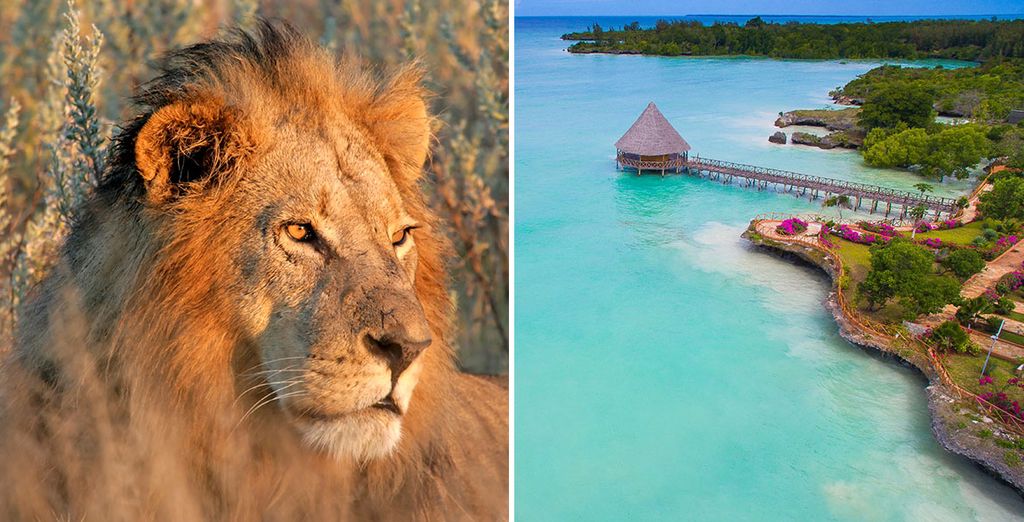 6. Mtoni Ruins
Another stunning relic of Tanzania's past, the Mtoni Palace ruins are essential for the budding archaeologists. With tours led by guides that can lay out the palace intrigues, betrayals, and the events that defined the string of sultans that lived here – this authentic reminder of the area's past gives Game of Thrones a run for its money.
7. Kikuletwa Hot Springs
If you need to alleviate the aches that accompany a Tanzanian trek, the Chemka-based hot springs are perfect to naturally tease the knots out. The azure pools and with their sloping palms are remarkably unspoiled, and utterly Instagrammable.
8. Zanzibar 'Stone Town'
Aptly located in Zanzibar's historic quarter, Stone Town is a living testament to the island's history, with a suitably Tanzanian twist. Home to a number of walking tours that are as informative as they are affordable, travellers will soon find themselves winding through the many alleyways that make the town truly world-famous.
9. Arusha Cultural Heritage Centre
First opened in 1994, this centre celebrates the richness of African culture and tradition – complete with an art gallery, authentic artefacts, and the centre's famous 'Family Tree'; an eighteen-foot-tall piece of art that took more than 20 years to construct.
10. Mbudya Island
For those looking for some water sports during their stay, a trip to the uninhabited Mbudya island is a must. A 20-minute boat ride from nearby Dar es Salaam will take you there, so you can enjoy the island's marine reserve and spotless beaches at your own pace.
When to go to Tanzania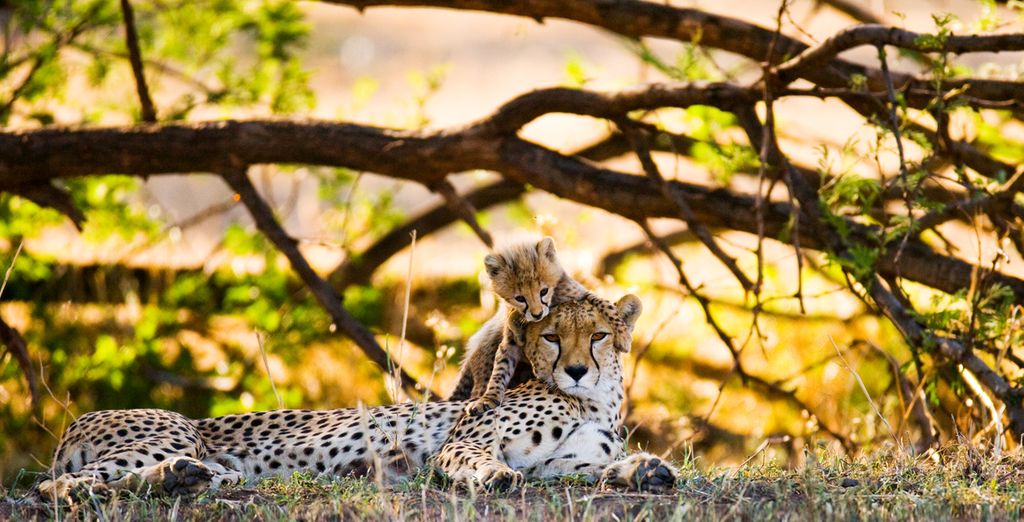 If you are not accustomed or acclimated to it, Tanzania's heat can be difficult to handle, particularly during the height of summer. If you are staying inland, the temperatures tend to plummet at night, leaving many travellers caught short. However, if you visit between January and April, you will experience milder temperatures of around 30C during the day, with only a slight drop-off in temperature at night.
January can be quite rainy, so as a result ticket prices are a lot cheaper around this time. And if you are hoping for an unforgettable safari experience, consider travelling in March. Although it is still technically the 'off' season, it coincides with the migration schedules of most local fauna, so you have a better chance of seeing a wide variety of animals, birds and fish.
How to get there?
Long haul air travel will be necessary for travel in and out of Tanzania, with many airlines offering direct and indirect routes. In general, average flight times are:
London: 12 hours (indirect).
Paris: 11 hours 45 minutes (indirect).
Madrid: 13 hours 25 minutes (indirect).
Rome: 11 hours 20 minutes (indirect).
Berlin: 13 hours 35 minutes (indirect).
The Tanzanian government requires passports, return tickets and visas from all travellers entering from Australian, the UK, the EU, the USA, and Canada. Passports should be valid for at least six months past your original entry point and visas cost between $50-100, depending on your issuer and how quickly you need to get your visa approved.
Which hotel to choose in Tanzania?
Any of our Voyage Prive safari stays will be in a lodge or hotel of your choice. Some of our most popular options include:
Bashay Rift Lodge: Coupling authentic Tanzanian living with resort comfort, this collection of beautifully furnished cottages commands views of the Oledani Mountains and nearby bodies of water – allowing you to sightsee from the deck or enjoy the African sunrise with a cup of fresh coffee.
Serengeti Serena: Tucked high into the forest canopy, this truly elevated lodge offers guests amazing views of the surrounding plains. Recently renovated, the lodge is designed as a homage to the finest African arts and craftsmanship, which brings the history of the Serengeti into each beautifully furnished room.
Karatu Simba: Located with a half hour's drive of the Ngorongoro Conservation Area and Manyara Park, this lodge is perfectly placed to give holidaymakers the best of comfort and convenience. With WiFi, private decking, and Western bathrooms – a stay here brings modern mod-cons to the parklands at an affordable price.
And, depending on your chosen package, you can also expand your stay with a beach extension to your trip, allowing you to stay the Breezes Club on Zanzibar's east coast, enjoying beaches that are amongst the top rated in the world.
The Tanzania map
Our practical advice for Tanzania
What to bring back from Tanzania
Whether you are picking up a gift for yourself or someone special, your first stop should be at the local markets. Tanzania is famous for its handmade leather pieces, which are made by each area's local craftsmen using skills passed down through families for generations.
Alternatively, if you want to bring back a little colour, picking up a local kanga sarong means that you'll have a garment to keep you warm in the winter and beat the heat in the summer.
And, of course, picking up some authentic local art, carvings and paintings for your walls back home is essential – with bulky packaging and transport easily arranged through your lodge or hotel.
What currency to use?
Tanzania uses the Shilling and, sadly, no longer accepts travellers' cheques as valid currency. When it comes to hard currency, US Dollars and Euros are accepted throughout the country from hostels, hotels, to restaurants and tour guides. However, if you're planning on doing some shopping in the bustling markets, Shillings are a necessity.
What time difference is there?
Tanzania is three hours ahead of London GMT, making longer flights easier to bear for the would-be-safari explorer.
What language is spoken at Tanzania?
Tanzania is a massive melting pot of cultures, home to 54 million people and 112 spoken languages. While many citizens are polylingual, only four million speak English with more than 90 per cent of the population speaking Swahili or a local dialect.
Having said this, Tanzania's two 'official' languages are Kiswahili and English – meaning that your English should be enough to get by provided that you're sticking to established spots and tourist areas.
What to pack for your holiday at Tanzania
Packing for Tanzania means packing for literally every eventuality: sun, rain, heat cold, dust and sand.
Due to the climate, all clothes should be lightweight and breathable. As a bonus, choosing light fabrics will allow you to pack more and layer up if it gets colder at night, although a fleece may come in useful for those early-morning treks.
At least one pair of well broken in hiking boots is recommended, along with a bottle or hydration pack to conserve water throughout the day. Given the physicality of the holiday, a first aid kit with blister support would be advisable along with duplicates of important documents in case they are ever needed.
How long should you stay?
For many travellers, the length of their stay will be dependent on their safari booking, with five to six nights being a general rule to get the most out of each park.
While this may be budget or calendar dependent, a one to two-week holiday will give you enough time to carry out your safari without undue time pressure, allow you space to leave your lodge and experience the local culture, and book additional tours or experiences if carried out in advance.
Restaurants on site
When it comes to local cuisine, the area is a foodie's paradise. Due to the tribal nature of Tanzanian society, each tribe has its own spin on classic dishes – with most including mchicha (greens) and makande (seasoned meats) and mtuzi (fish).
Matoke (green bananas) are another delicious staple with maize and ugali dough – dense delicious porridge served with a rich meaty broth. But if you're looking for a local delicacy, mshikaki (long marinated beef) served with rice and ndizi nyama (meat filled plantain) is an absolute must.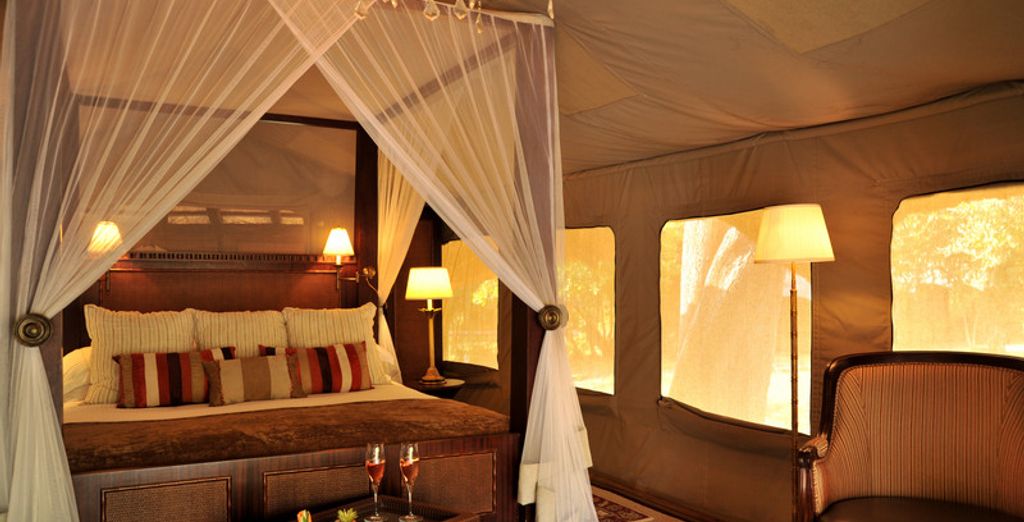 Tanzania: What budget to plan?
When it comes to spending your travel money in Tanzania, you can quickly find that a little goes a long way.
On average, budget travellers can find themselves spending up to $50 per day with meals and dining costing around $5 and travel fares on public transport coming at anywhere between $5 to $25 in price depending on the length of travel.
Mid-range travel often works out at between $50 to $200 per day, with prices increasing according to the nature of your stay.
Most park fees can be paid in advance with a debit or credit card, but this should ideally be validated by the institution first. Tipping is commonplace, so it's worth having a reserve of physical currency for tour guides, staff and porters.
Environment
Known for its varied wildlife and amazing scenery – for many, the area's flora and fauna is what makes Tanzania Tanzania. With more than 28 per cent of the country preserved as national parks or areas of conservation, visitors can effectively 'pay back' into the work carried out by the staff in each of those institutions.
While it may be defined by heat and its aridity, Tanzania does experience a rainy season between March and May, with the plains bursting to life afterwards. While this is glorious to see, it is worth remembering that this lush greenery will help animals hide from tourists – making the dry season between June to October the most potentially rewarding, but expensive, time to visit.
Additional practical information
Tanzania is a peaceful and welcoming country, which is in many ways more liberal than its neighbouring countries. However, there is one major exception to this. Homosexuality is illegal in Tanzania, so LGTBQ visitors are advised to avoid public displays of affection. In recent years, the government has been particularly vocal in its opposition to homosexuality, making examples out of protesters and community figureheads. While tourists appear to be immune to this level of discrimination, the risk remains.