Porto Travel Guide
Porto, sometimes called Oporto, is the second largest city in Portugal, and it is a surprisingly modest city, for such a populous one – few people instinctively know which country the city is in on hearing the name, unless they are football fans, that is! Porto FC is one of Portugal's 'big three' teams, and the city has a keen interest in the game. Porto means 'port' and 'o porto' means 'the port' so it is easy to see how both names are used. The city has existed since 300BCE, and was instrumental in the rise and spread of Christianity to Europe. The city is still on the pilgrimage trail, the Camino de Santiago.
The city still has districts in which ancient buildings stand: these are now Protected and Classified historic zones which are UNESCO World Heritage sites. Tourism is the fastest growing industry in the city, and is not even close to having peaked yet. Porto has several nicknames: City of Bridges, Invincible City, and Capital of the North, amongst other things. Read on, for more exciting Porto travel guide information.
Top Ten Things to Do and See in Porto
1. Cruise the Douro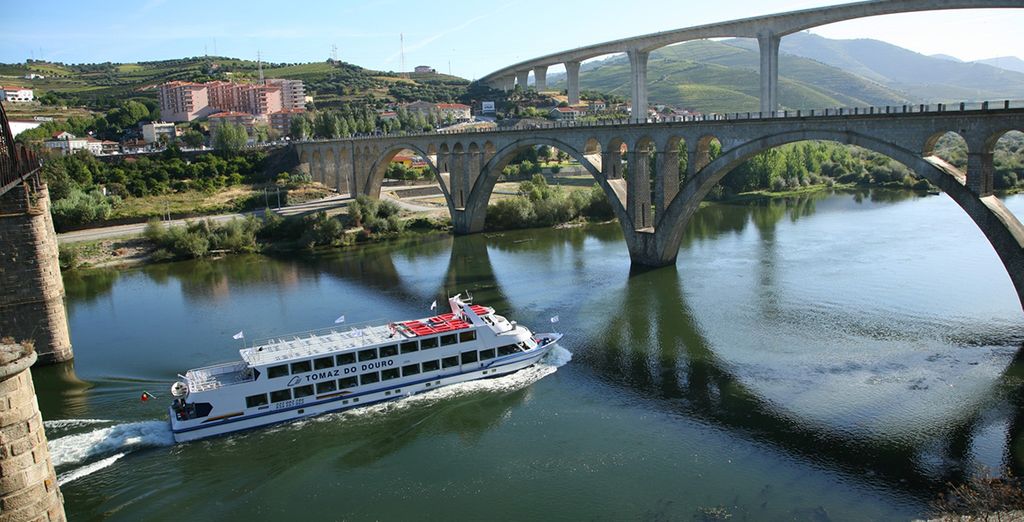 Get the best of Porto in a neat package by choosing a cruise that lasts up to eight days and takes from Porto into the heart of Portugal and back again. The leisurely pace, unique perspective – the countryside looks so different when seen from the deck of a boat! – comfort of your own cabin to return to each night, and all the different attractions, events and performances along the way make this an excellent way to learn more about Porto.
2. Enjoy Football Culture
If you are a footie fan, as mentioned above, FC Porto is one of the big three football teams in the country, while Boavista comes a close second. But the city has a rich sporting heritage and there are many teams. Both of the teams mentioned above have their own stadia in the city: FC Porto's is called Estadio do Dragao (seating capacity over 50,000, making it Portugal's largest) while Boavista's is Estadio do Bessa. Both stadia offer tours where you can catch a glimpse of all the exciting behind-the-scenes areas that fans are normally kept away from.
3. Livraria Lello
The Lello bookshop is a stunning book-shop that would be a must-visit for any bibliophile anyway. Knowing that JK Rowling used to regularly come to the second floor coffee shop while she was living and working (teaching English nearby) in the city, simply adds to the charm. It is clear that Rowling drew some inspiration from the city for her magical world: the bookshop has a look of Flourish and Botts, the magical bookshop from which Harry Potter and co buy their texts, there are Hogwartian staircases leading in all directions, and there is even a lion statue who could have provided the spark of inspiration for the Gryffindor lion. The bookshop is worth visiting to admire the architecture alone as it is beautifully proportioned, airy and quirky enough to please everyone.
4. Porto Cathedral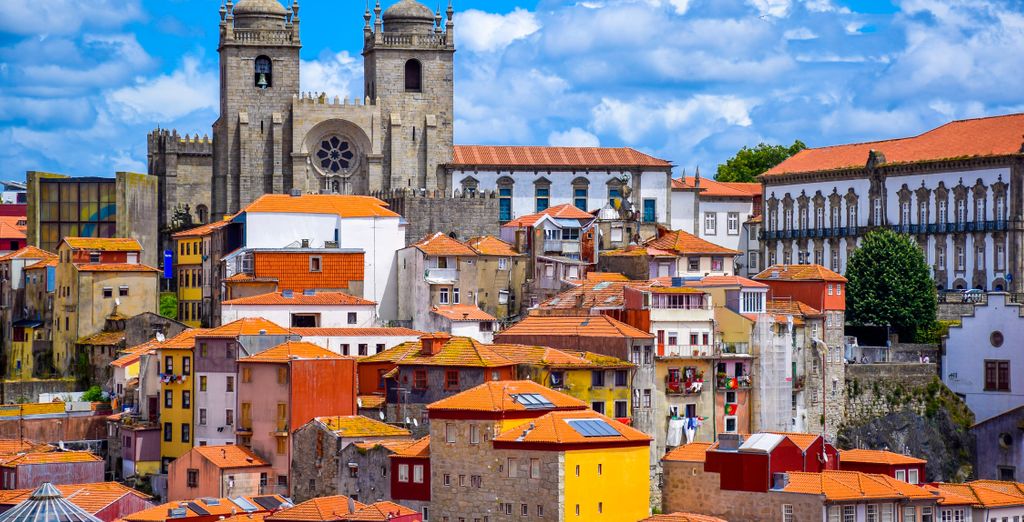 Originally built in the 12th century, the cathedral has been added to, rebuilt and renovated many times overs its lifetime, and is now a National Monument. It is predominantly Baroque, with Romanesque and Gothic touches. The cloister is beautiful and leads through to the Casa de Cabildo, where a wealth of ecclesiastical treasures – crowns, models and more, all rendered in pure silver and gold, along with a fantastic collection of richly embroidered robes and vestments – can be admired.
5. Ponte Dona Maria Pia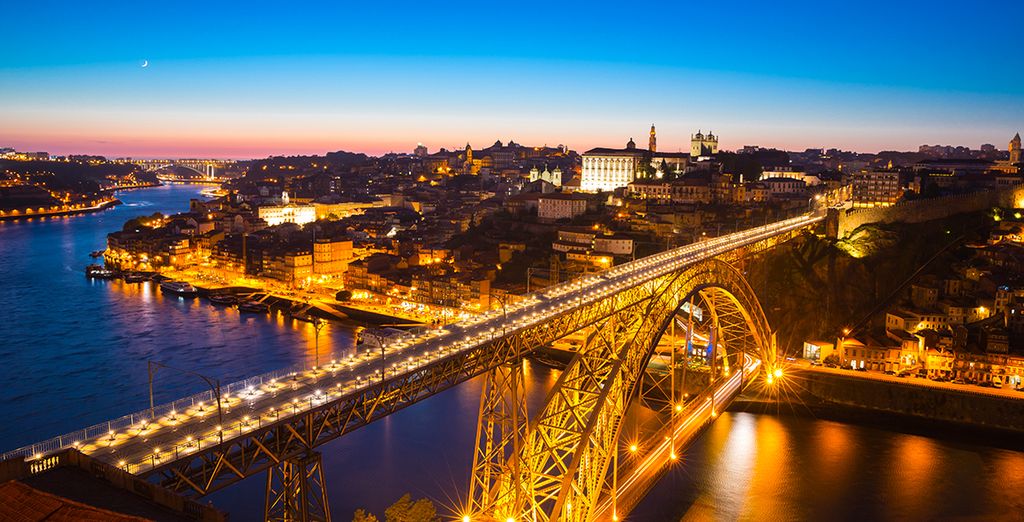 A delicate arch soaring across the Douro this bridge was attributed to Gustav Eiffel, of the Parisian tower fame. Built in two years between 1876 and 1877, the bridge was in use (on and off) until 1991, when modern transport requirements rendered it obsolete. The bridge is beautiful and makes a stunning background for memento snapshots of your Porto holiday.
6. Bolsa Palace
Built in the 1800s on the ruins of the cloisters of the seven-hundred-year old monastery next door, Bolsa Palace was originally the site of the city's stock exchange and is a stunningly beautiful building at odds with the mercenary purposes for which it was originally used. Ultimately, the Lisbon stock exchange absorbed the Porto facility and the Bolsa Palace was declared a National Monument.
7. The Arab Room
In heart of the Bolsa Palace, you will find 'the Arab Room'. This most opulent of the many gorgeous rooms inside the Palace this room is enormous, exquisitely decorated in a Moorish style, and the perfect venue for impressing visitors both local and foreign. Visiting heads of state are often entertained in this room, and it is worth visiting just to admire the magnificent proportions and décor.
8. Kadoorie Synagogue
An active synagogue, the Kadoorie Synagogue is the heart and centre of the Jewish community of Porto. It was built in 1938, an act of defiance when synagogues all over occupied Europe were being burned to the ground, and is a beautiful building from an architectural point of view as well as being a beacon of hope and determination. Tours are available to teach anyone who wishes to learn more about the religion and the building, and they are translated into four or five languages, including English.
9. She Changes
An immense ethereal floating sculpture on the sea shore, She Changes, designed and created by Janet Echelman, is an homage to Porto's rich fishing history. The sculpture is deceptively simple: three support posts, one enormous iron ring and an awful lot of netting make up a huge fishing net that holds serenely in place as the wind flutters and ripples the netting, making it seem as though it is underwater, subject to the whims and vagaries of the tides. It is beautiful, fascinating and curiously compelling: you will stay for long than you think, just watching the wind play over the netting.
10. Sea Life Centre
Turtles, penguins, sharks, anemones, seahorses and more await at this delightful and family friendly aquarium. Affiliated with Sealife Trust to preserve and understand aquatic life, the centre also works with conservation and research projects, so you can be sure you entry fees go towards keeping the animals healthy and in great condition, whether they are in captivity or in the wild
When to Go to Porto?
Summer tends to be long, warm and mainly sunny, with occasional cooler periods when it rains. Winters are cool: 5°C to 15°C and almost never dips below freezing. However, most of the seasonal rain falls in winter, making it both cold and very wet on a bad day. However, even in winter there can be long stretches of sunny days in which a holiday can be enjoyed.
How to get there?
You can fly into Porto International Airport, about a half-hour drive from the city centre, or you can fly into Lisbon, and then travel from there to Porto, by train, bus or car. All the roads are in good condition, and rail links are excellent.
Once in the city, travel by bus, metro or on foot if you want to take the leisurely and scenic route.
Which Hotel to Choose?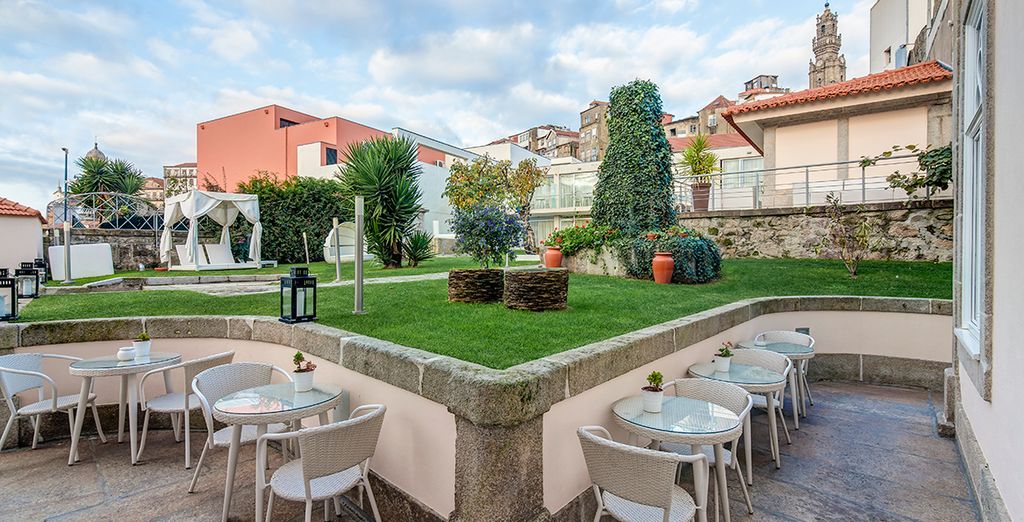 This bijou hotel, in the heart of historic Porto, has just twenty rooms, and this infuses your stay with warmth, comfort and genuine friendliness from the staff. Relax on the rooftop terrace or on the ground floor patio, or work out in the compact but well-equipped gym. There is also a spa to soothe tired muscles or jetlag. The rooms are beautifully decorated and sumptuously comfortable, ensuring you will have a great night's sleep, before a hearty breakfast in the onsite cage sends you off to explore the beauties of Porto.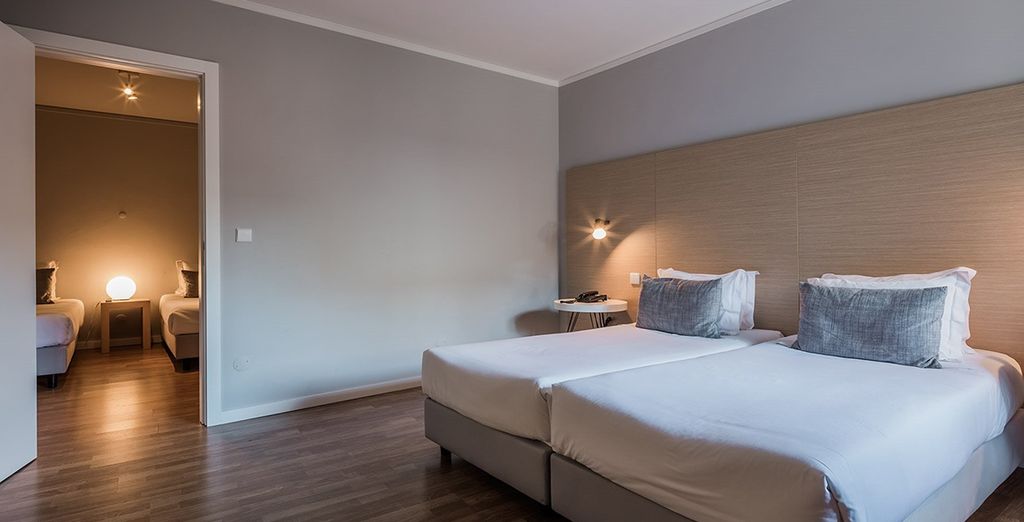 Located just across the river from the main streets of Porto, this hotel offers excellent views of the city, perfect for photos for your social media feeds. Simple but welcoming and attraction décor offer a tranquil respite from the bustle of the city, and boasts a trendy bar when you can enjoy a drink and relaxation before heading into your cool and welcoming room to get a good night's sleep before you go and do it all again.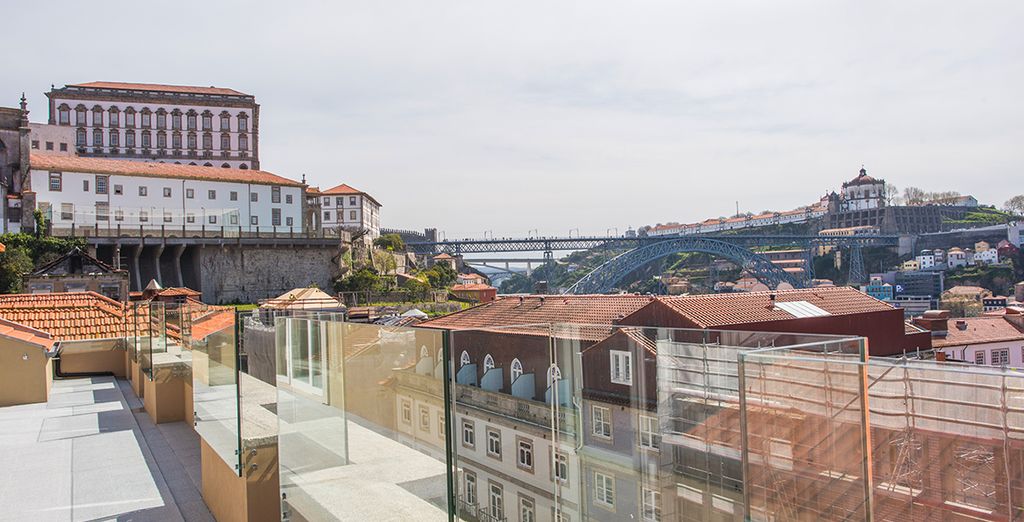 This chic boutique hotel can be found right in the heart of Porto, perfect for being ideally positioned to explore the area. Welcoming and friendly customer service combine well with the inviting room décor and comfortable beds. There is a breakfast service, and a 'grab-and-go' area for sandwiches and snacks at other times of day, if you need a break from the many wonderful foodie offerings of the city.
Culture in Porto
Porto was originally a fishing village and this tradition is still honoured today, with fishermen recognised as being authentic and historic sources of pride. Wine grapes are grown widely on the terraces near the river, and there are many vineyards in the area.
Local Practices and Customs
If you are in the city towards the end of June, do not be surprised if you are hit on the head with a giant inflatable hammer: this means the locals like you! More seriously, the 23rd June is the Sao Joao Festival, a city-wide celebration of the proximity of the solstice (or so it is thought), and it is celebrated with plenty of wine, flowers, garlic and, yes, whacking one another with inflatable hammers!
The Destination Map
Our Practical Advice for Porto
What to bring back from Porto?
Port wine is named for the city, and a great memento is a bottle or two of the authentic stuff, and perhaps souvenir glasses or bottle opener besides as a more permanent keepsake of your holiday. Jewellery and keepsakes made from the beautiful tiles you will see throughout the city or from lightweight durable cork are also excellent mementos, while the Portuguese rooster will make a fun addition to the magnets already on your fridge or as a keyring. Handmade dresses, hankies, cushions and more are also excellent buys: they are painstakingly embroidered with designs that haven't changed in centuries and look absolutely stunning.
What currency to use?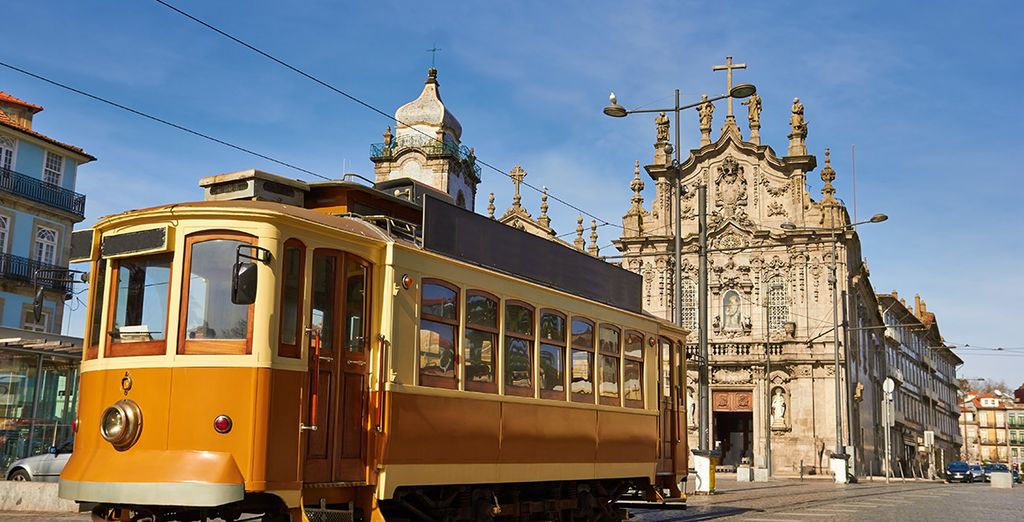 Porto is in the EU and exclusively uses the euro by way of currency. Euros are easily obtainable from banks and bureaux de change before and during your travel.
What time difference is there?
Portugal is on the Greenwich Meridian which means it is on par with UK time. They do use daylight savings too, so this applies in summer and winter.
What language is spoken in Porto?
The official language of Porto is, understandably, Portuguese, but many of the locals speak better English than they think they do – they will often abhor their terrible English using very good English to do so! Almost everyone in the tourist industry speaks English, so you should have no trouble getting around and making yourself understood.
What to pack for your holiday to Porto?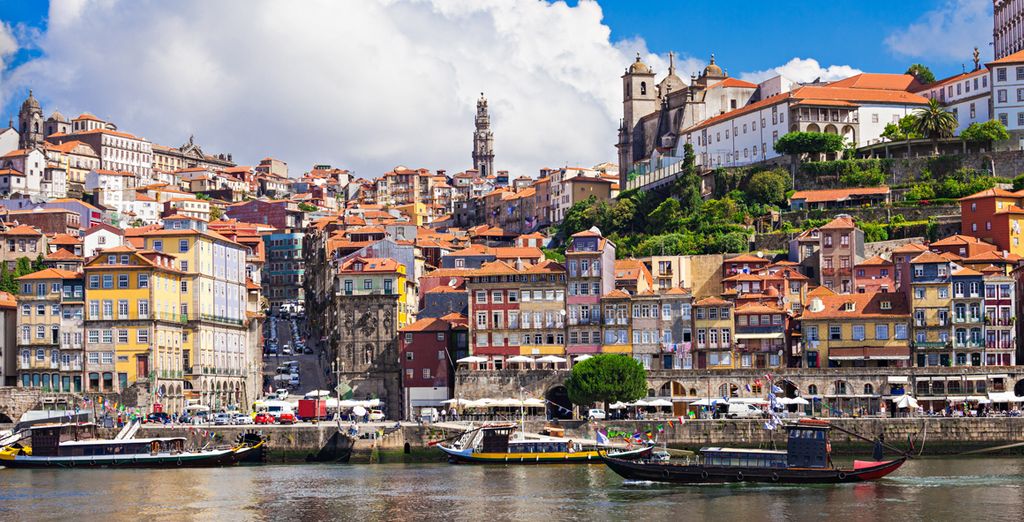 If you plan to visit any of the religious sites, for women having a scarf to hand can help you to show respect for the building you are entering – sometimes as a head covering, but also to hide bare arms or cleavage that might not be quite appropriate for the circumstances. Otherwise, light summery clothes work well in summer, with thicker warmer garments for winter: layering will almost always be your friend on holiday, allowing you to adjust for unexpected changed in temperature. Jeans and casualwear is almost always acceptable, but do check should you make a reservation at a fancy restaurant or book tickets to a top-quality theatre.
How long to stay?
Porto can be explored in as little as two days, but ideally five days or more gives you the time to soak in the atmosphere, explore some of the out of the way places, and get the authentic feel for the place.
Restaurants and foods to try out
Tripes Porto-style (Tripas a la Moda do Porto) and Bacalhau a Gomes de Sa are both popular local dishes. The latter in particular was born in Porto, but rapidly become popular all across Portugal. For a quick bite in which you still want to savour some Porto uniqueness, francesinha are sandwiches with meats, cheese and a beer (and other ingredients) sauce – absolutely delicious and original.
As mentioned above, port is named for the city, and there is an excellent chance that ordering the 'house' wine will get you sampling delicious wines that you would happily pay top prices for at home. 'Green' wine is not green: it is young, meaning that it has not been left to mature, and this comes in white, rose and red. More mature wines have deeper, more complicated flavours, but good green wines are an excellent accompaniment to your meals.
Travelling to Porto with a pet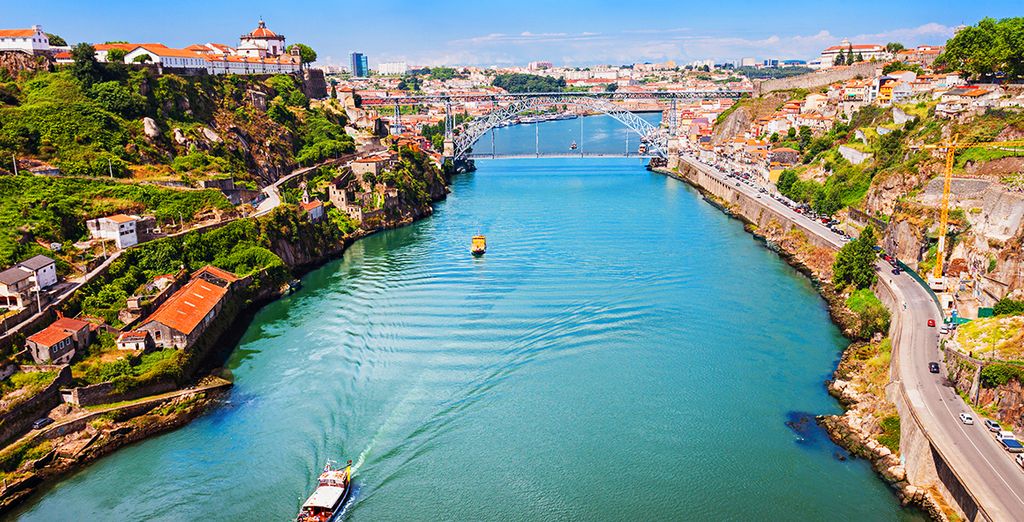 As Portugal is within the EU, pets can travel fairly easily, as long as they have the right paperwork. Coming from a non-EU country will mean more paperwork and potentially lengthy quarantine schemes.
Porto: What Budget to Plan?
Being fairly new to the tourist industry, Porto's prices are still surprisingly modest, but do check before you travel: they may rise in line with other tourist heavy destinations. Aim to use about €60 per person per day after accommodation has been paid for, and this should cover most of your needs.
Environment
Porto, along with Lisbon, has an unexpectedly high rate of TB, which might be a point of concern to someone with an immune system weakness. However, the disease is being tracked carefully and tends to occur in certain local areas speaking to some underlying cause rather than anything for visitors to be alarmed about.
Additional Practical Information
Porto is largely a safe city, but use usual common sense and precautions when it comes to keeping valuables safe and out of sight. The humidity is very low during the hot dry times, and fires can easily get out of control, so be careful near barbecues and when disposing of cigarettes. Finally – and a rather earthy way to end this Porto travel guide! – if you are going to busy touristy places, pop a loo roll in your backpack! It can run out in busy places, so it's always best to be safe rather than sorry!