Panama Travel Guide | Tips, Advices
Discover our Travel Guides to know everything about your next destination: Panama ✅ Ultimate guides written by our experts ✔ Tips, Advices...
Travel to Panama
With its crystal clear turquoise-tinged seas, misty forests and coffee farms, Panama is a destination like no other. With so much on offer, Panama offers everything you could possibly want from a holiday, and then some. From blissful Caribbean sea vibes to cosmopolitan sophistication, the versatility on offer is what attracts visitors from all over the world.
Whether you just want to kick back on the beach or enjoy the thrill of surfing or even scuba diving with whale sharks, Panama's beaches provide a great base to take in the sights of shimmering coastlines and picture-perfect white-golden sands.
Panama is a culturally-diverse country which has witnessed huge investment in recent years. The capital Panama City is now home to Central America's first subway system, and the Casco district has been painstakingly restored. Casco offers a great opportunity to pedal your way through some fantastic green spaces as you explore the ruins of old Spanish forts and witness wildlife up close. While Panama is a relatively small tropical country, it makes for a huge adventure playground with plenty to see and do over the course of an excursion.
The top 10 things to see/do in Panama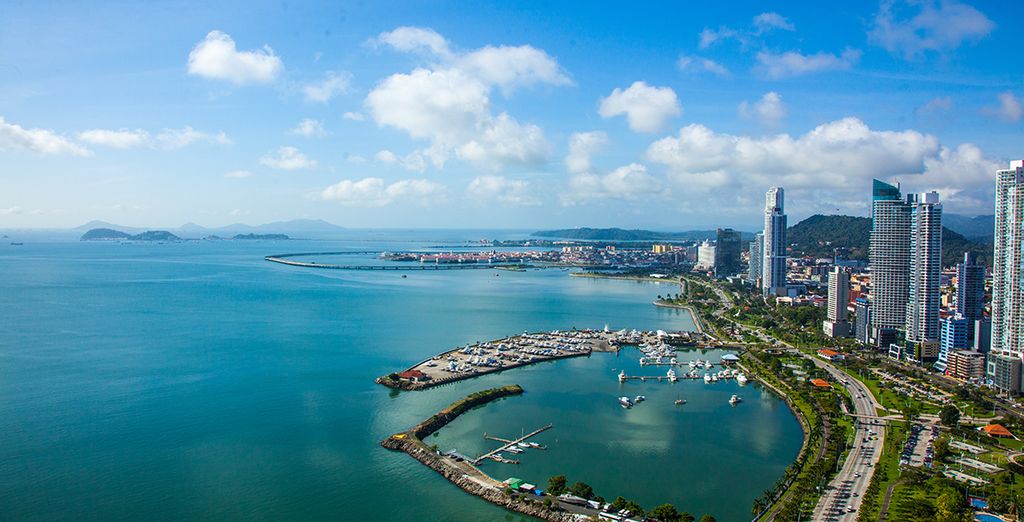 1. Panama City

A melting pot of East meets West, Panama City is a cosmopolitan metropolis which also serves as a gateway to breath-taking tropical escapes. There's a chilled, relaxed vibe to this dynamic city and its "anything goes" attitude makes for a refreshing and unique city experience. Enjoy local cuisine including freshly-caught seafood, indulge in a cocktail or two in one of the city's many authentic yet trendy music bars, or perhaps relax in the afternoon with one of Panama's most famous products: coffee.
2. Veraguas Province National Park

Parque Nacional Coiba is home to the largest Island in Panama, Isla de Coiba. This 503 square kilometre mass is a hotbed of biodiversity. More than two dozen dolphin species make this area home, alongside killer, sperm and humpback whales. Nearly 20 different species of snake slither around the island itself, which is also home to several species of turtle and crocodile. Birdlife is also abundant on Isla de Coiba, and there are plenty of diving and cycling tours to take it all in.
3. Panama Canal

Undoubtedly one of the most famous landmarks in Panama, and arguably one of the greatest marvels of the world, the Panama Canal stretches an astonishing 80 kilometres from Panama City to Colón, essentially bridging the Pacific ocean with the Atlantic. Approximately 15,000 vessels traverse the canal each year, many of which have been traditionally built to match the dimensions of the original canal locks. This marvel of engineering offers an opportunity to enjoy a cruise, witness local wildlife or even stop off and witness the culture of the many villages built upon the trade route.
4. Monkey Island

Panama is home to several native species of Monkey, so it's only fitting that there's a destination where you can see them all in one place. There are plenty of tours which take visitors in and around the rainforests dotted along the canal where Mantled Howler Monkeys, Tamarin Monkeys, Lemurine Owl Monkeys and White-Faced Capuchin Monkeys can all be witnessed in their natural habitat. Monkey Island tours typically last four hours and provide the perfect opportunity to have close contact with all sorts of wildlife – not just monkeys, as the name suggests.
5. Baha'i Temple

When gazing towards Baha'i Temple from a distance, you could be forgiven for thinking a giant egg had been perched atop a hill. Get a little bit closer though, and you'll find a serene experience that contrasts wildly with the hustle and bustle of the nearby Panama City. The temple serves residents of the Baha'i faith – a religion which focuses on universal unity and peace for all mankind. It's a must-see for those who like to take the road less travelled and experience different cultures. There's a real sense of serenity here, and the stunning architecture is enough to make Baha'i temple a must-visit during your trip to Panama.
6. San Blas Islands

There are some 378 small islands located in the north-west of Panama, looking out towards the Caribbean sea. The majority of these islands are uninhabited, but the larger ones are home to gentle indigenous people known as the Kunas. These islands make up one of the most popular destinations in the country, where visitors can stay in eco-friendly accommodation and enjoy traditional food. There's a huge emphasis on sustainability here, with holidaymakers encouraged to leave nothing but footprints, and take away nothing but memories – and you can be certain to create lasting memories in such stunning surroundings.
7. Museo de Arte Contemporáneo

Those who wish to experience Panamanian art are encouraged to visit the Museo de Arte Contemporáneo. This privately-owned museum is home to the finest collection of local artworks in the country, which mostly consist of paintings and drawings on paper. Occasionally, the museum plays host to temporary exhibitions by big-name international artists. Regardless of the current programme of events, it's a great opportunity to witness some beautifully-crafted works.
8. San Lorenzo Fort

History buffs won't want to miss out on experiencing the fort at San Lorenzo – an opportunity to learn first-hand about Panama's volatile and often bloody history. San Lorenzo Fort overlooks Rio Chagres, and was originally constructed by Spanish settlers in 1595 as a means of defence against pirates and protection of trade routes. The fort was ambushed by Sir Francis Drake one year later, and has been destroyed numerous times – such was its importance as a stronghold. Several rebuilds later, the remains of the fort are a stark reminder of more turbulent times.
9. Hop-on/ hop-off sightseeing bus

The beauty of Panama City's sightseeing tour buses lies in their flexibility. These open-topped vehicles allow you to witness the city in all its glory from the top deck as the sun beats down, and you can simply jump off when you reach a destination or point of interest. Most tours take in the must-see attractions in the city, including the Bio-Museum, Casco Antiguo and the Bridge of the Americas. Live tour guides also operate in a variety of languages, which means nothing will be lost in translation.
10. Volcán Barú

The tallest mountain in Panama is an active volcano. From its peak, it is possible to see both the Pacific Ocean and the Caribbean Sea on a clear day. The trail takes approximately six hours to hike, during which you can expect to see water moose, hawk-eagles and Yellow-thighed finches. It's a great excursion for walkers who want to get out of the more urban areas of Panama and enjoy the breathtaking majesty of one of the highest peaks in Central America.
When to visit Panama

The dry season in Panama runs from January to mid-April, and this is generally considered to be the best time to experience everything the country has to offer. Those who aren't put off by a bit of inclement weather might still wish to visit during the rest of year, as temperatures remain consistent (at approximately 30C). During the wet season (May-November) visitors are more likely to see the "real" Panama including various festivals and customs.
How to get there
From Europe, Panama is usually reached by plane. A flight from London to Panama City takes approximately 14 hours, with a stop-off in Amsterdam, Paris, Madrid, Frankfurt or Bogota. A passport is required for entry to Panama.
Panama city is:
• 5230 miles from London
• 5460 miles from Paris
• 5070 miles from Madrid
• 5890 miles from Rome
Which hotel to choose?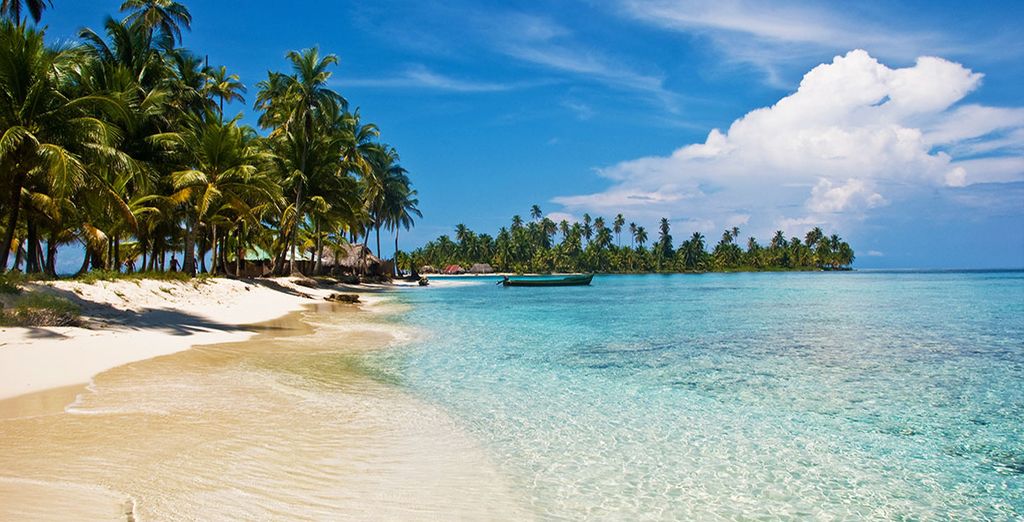 Riande Granada 4*

Situated in the heart of Panama City, this four-star hotel won the certificate of Excellence that consistently demonstrate de commitment to hospitality excellence. The hotel has a high class restaurant serving unique dishes by combining Panamanian and Mediterranean cuisine. Elsewhere, the hotel features a heated pool, gym and a Jacuzzi.
With Voyage Privé's Discover Panama City package, you can experience the best of what Central Panama has to offer. Combining stays in Panama City's centre and front beach stays, you'll get to revel in beautiful beaches, traditionnal colonial buildings, dynamics streets in the heart of Panama and indigenous culture. Upon arrival, you'll be met by a local tour guide, and throughout the duration of this 6-day holiday you'll have to chance to go on optional excursions including:
• Emberá Village
• Panama Canal
• Guna Yala
• Rosario Islands
Culture at Panama
As a vibrant, culturally diverse country, Panama is home to all manner of cultural celebrations, including:
Panama Flower and Coffee Festival

One of the most grandiose celebrations of flowers in the world, taking place over ten days each January.
Panama City Jazz Festival

Music lovers descend on the city each January for a three-day weekend of jazz and Latin-inflected rhythms.
Carnaval

A vibrant, colourful carnival which takes place each February. Smaller towns tend to have the largest Carnaval celebrations.
Semana Santa

Religion plays a huge part in the culture of Panama, and during Easter holy week there are a plethora of special worship events taking place across the country.
Orchid Festival

Taking place in April, the Orchid Festival showcases thousands of varieties of this much-loved plant.
Festival Corpus Christi

This two-week religious festival features men dancing elaborately, dressed in devil masks.
Festival de la Pollera

A June showcase of the country's most beautiful dresses, including nominations for the "Queen of the Pollera" for the year.
Local practices and customs
As a melting pot of cultures, Panama borrows from many Spanish, English and Christian traditions. Many of the festivals reflect these cultures through dance and performance. The dress code in Panama is not dissimilar to other Western and Central American countries, although the warm climate dictates that shorts and t-shirts are best for comfort.
Our practical advice for Panama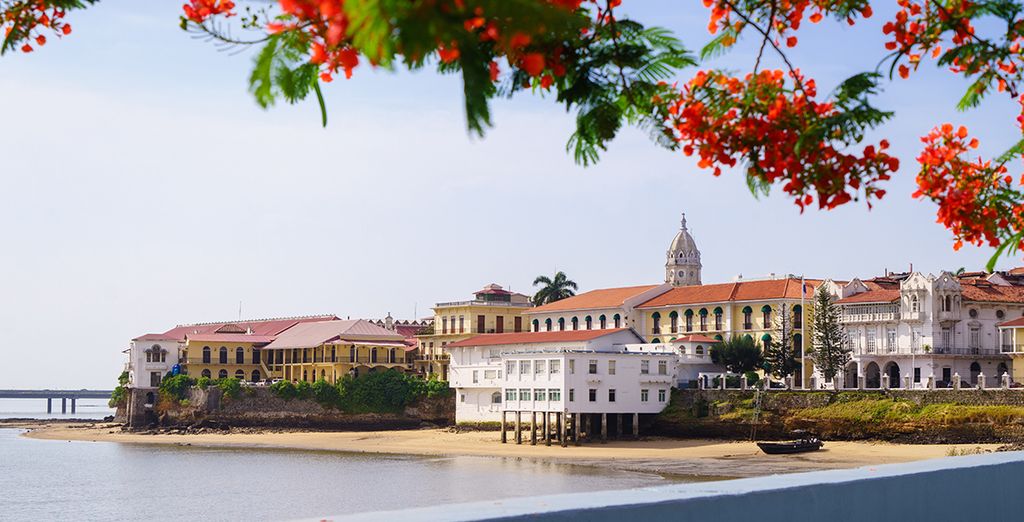 What to bring back from Panama

Panama is famous for its coffee, and bringing back some roasted beans will allow you to enjoy the taste of your holiday for weeks to come.
What currency to use

The official currency of Panama is the Balboa. The exchange rate of the Balboa has always been linked to the US dollar (one dollar is equivalent to one Balboa). Panama does not actually print its own paper currency, and uses the dollar as legal tender instead. It does have its own coins, however, which come in denominations of 1c, 5c, 10c, 25c and 50c. Many businesses accept major credit/debit cards.
What's the time difference like?

London is five hours ahead of Panama. Panama is in the Eastern Standard Time zone. Although travel from London can take up to fifteen hours, arriving in Panama will set you back five hours – if you set off at midnight from London, you could expect to arrive in Panama at approximately 10:00 am.
What language is spoken in Panama?

Spanish is the official language of Panama, however, English is also popular among locals. Approximately 14% of Panamanians are fluent in English.
How to get to Panama?

From Europe, Panama is most easily reached by plane. Upon arrival in Panama City, visitors are free to explore via public transport (bus, taxi, subway network). Some holidaymakers like to rent cars or bicycles to traverse the city and/or the countryside. The Panama Canal also offers an excellent opportunity to enjoy a short cruise.
What to pack for your holiday in Panama

Panama's warm climate means that you'll want to pack as normal for a sunny climate. However, if you're visiting the highlands you may want to bring waterproofs, as the tropical climate means there can be a reasonable amount of rain. Consider bringing the following:
• T-shirt/ vests
• Sunglasses
• Shorts
• Sandals/ flip-flops
• Sunscreen
• Hat
• Jeans
• Waterproof jacket
• Hiking boots
How long to stay

If you're planning on hiking and seeing the wildlife Panama has to offer as well as taking in the metropolitan culture of the country, anywhere between 10-14 days will be ample. For those who just want a short excursion, it's possible to see the best of Panama in about 6 days.
Restaurants on site

The Panamanian diet is rich is chicken and rice. Chicken is typically slow-cooked and served with vegetables. The Spanish and Central American influences are notable too, with tortillas, pastries and soups all readily available.
Family activities

With plenty of beaches, Panama offers jet-skiing, surfing, swimming and more. Inland, families can enjoy hiking, animal spotting and all manner of sports.
How to travel to Panama with your pet

If you want to bring your pet, you'll need to apply for a Pet Passport a minimum of three days before your arrival. Be aware that some of the more mountainous areas are home to snakes and other animals that could pose a threat to dogs.
Panama: what budget to plan?

Panama has a relatively low cost of living, although to enjoy plenty of activities its recommended that you budget in the region of $40 per person per day.
Environment

Panama has a typical Central American climate, and is home to rainforests and volcanoes. Expect to see some incredible fauna including eagles, finches, whales, dolphins, and of course, monkeys.
Additional practical information

Most buildings in Panama use 110 volt sockets – the same as the US.
Discover all our plans to Panama : Holidays
Visit all our travel guides