Indonesia Travel Guide
Plan your holidays with our free ✈ ultimate travel guide, written by our experts ✅. Top 10 Indonesia attractions, tips, advices.
Travel guide: IndonesiaTravel to Indonesia
With over 13,000 islands to choose from, Indonesia offers holidaymakers a varied choice of holiday destination. Located close to Singapore, the Indonesian archipelago provides tourists with a wealth of locations to explore. From the chaotic capital Jakarta to the diving centres of the Coral Triangle, there really is something for everyone in Indonesia. Some of the fantastic Indonesian holiday destinations to choose from include Bali, Komodo, Papua and Lombok. You'll find a sincere welcome from the locals and discover a diverse mix of people and cultures.
Indonesia is home to people from over 200 cultures and various religions and has a history stretching back to the rise of the South East Asia empires of China, Japan and India. The region was colonised by the Portuguese, the Dutch, the Spanish and the British and finally declared independence in 1945 following World War 2.
Top ten Indonesia travel attractions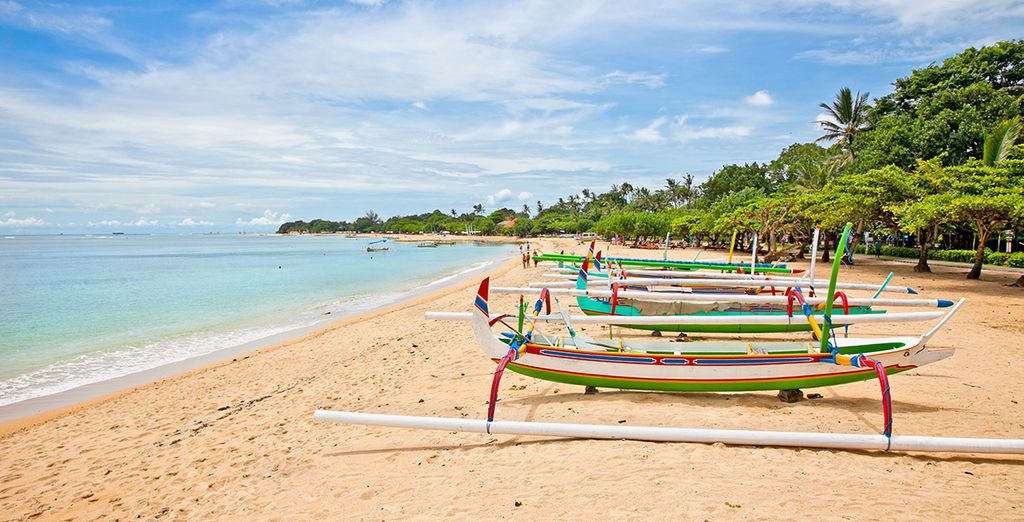 Given its vast selection of island holiday destinations, history and cultural diversity, it's truly difficult to choose just ten top ten travel attractions for Indonesia. Instead, several of the cities and islands are highlighted below:
1. Medan

Medan is the capital of North Sumatra and the largest city in Sumatra Island. The city is a commercial hub that's attracted people from Indonesia and beyond for many years. The cuisine is outstanding and features Bolu Meranti sponge cake and Bika Ambon Zulayka. Visitors should take a tour of Maimoon Palace for a view of the city's royal heritage, and other renowned attractions include Lake Toba and Samosir Island. The hot springs are also unmissable.
2. Raja Ampat

Raja Ampat is an archipelago of 1,500 small islands surrounding the four main islands of Batanta, Waigeo, Misool and Salawati. Visitors will revel in the peace and calm of their surrounds, and divers will find the locality a treasure trove. There are several species of coral, tropical fish and molluscs in the Raja Ampat, making diving a joy at any time of year. The Kabui Passage and Sawandarek are just some of the superb diving locations in the vicinity.
3. Bali

The tropical delights of Bali have attracted visitors for centuries. The volcanic island is famed for its beautiful beaches and is also a great surfer attraction. One of the best known Balinese beaches is Kuta and visitors will find a range of attractions in the area, alongside a thriving nightlife. There are also plenty of quieter destinations to visit on the island, many of them featuring exclusive beach hotels and a variety of sporting and relaxation activities.
4. Bintan Island

Bintan Island is one of the larger island resorts, offering a variety of hotels and entertainment options. Its proximity to Singapore and Malaysia make it a popular destination for getaways. The stilted village of Senggarang is well worth a visit and the island is also home to a number of renowned Buddhist temples. The island's architecture owes much to the Dutch and Java colonisers and the refurbished and restored Sultan's Palace is a popular tourist attraction.
5. Jakarta

The capital city of Indonesia is situated on the island of Java and home to national and provincial governments. Some of the iconic attractions include the Merdeka Palace, Monas, the National Museum and the Istiqlal Mosque. The city never sleeps and visitors can find entertainments 24/7. Some local attractions include the Dufan Theme Park, Atlantis Water Adventure Park, Ancol Dreamland and Ecopark.
6. Lombok

The island of Lombok is situated in the West Nusa Tenggara region and is one of Indonesia's most spectacular tourist destinations. The volcanic island features numerous treks and hikes to captivate energetic visitors and is famed for its water sports. Lombok is close to Bali and Sumbawa Island, so is a great base for exploring these destinations, too. The Mount Rinjani volcano is one of the biggest in Indonesia and visitors will experience some of the most fantastic and memorable views from the summit.
7. Bandung

Bandung is a mountainous city located about 150 minutes drive out from Jakarta and is renowned for its artists. The city is a thriving commercial centre and regularly hosts tourists from Singapore, Malaysia and the city of Jakarta. Bandung has a lively atmosphere and wide range of top class hotels and resorts. Shopaholics will enjoy visiting Bandung and historians will appreciate all the nuances of the city's Dutch colonial past.
8. Yogyakarta

Yogyakarta is one of the ancient cradles of Java's civilisation. The city is home to a number of outstanding Buddhist temples and one of the major cultural hubs in Indonesia. Visitors can watch silversmiths at work producing exotic jewellery in the Kotagede neighbourhood or take time to tour the area surrounding the Sultan's Palace (the Keraton). Craftsmen and women abound throughout the city, so buying souvenirs is never a problem when you visit Yogyakarta and the superb local beaches can't be beaten, either.
9. Makassar

This is the primary city in the eastern Indonesia region and Indonesia's busiest air hub. The city is home to a number of landmarks and historic sites including Fort Rotterdam, which dates right back to the 1600s, and popular Losari Beach, where everyone goes to relax at sunset.
10. Banyuwangi

Banuwangi is the most eastern city on Java and nature lovers will appreciate all the benefits of the Alas Purwo Game Reserve. Hikers will enjoy trekking over to Sukamade Beach and may be lucky enough to spot turtles as they come on land to lay their eggs. Mountaineers will be awestruck by the blue sulphur fires in the Ijen Crater region, a natural phenomenon caused by mining the local sulphurous rocks.
Best time to visit Indonesia

On the whole, the best times to visit Indonesia are between the months of May and September, and the wet season runs from October to April. The average temperature in the region remains at around 25 degrees Celsius throughout the year, so any time of year could be ideal for holidaying. There are some local variations to anticipated dates for rainfall, so it's best to do some research prior to booking your Indonesia holiday.
How to get there
You can travel by local ferries and local air from destinations like Singapore or Malaysia, however, most holidaymakers arrive direct into popular Bali. The main London airports are the most popular European departure airports for Indonesia, but there are other routes from Europe, and the Middle Eastern airlines are popular carriers. UK citizens travelling to Indonesia for holidays of up to 30 days don't need a visa, however, it's wise to check the UK government website for the most recent information about places to avoid and the possibility of local virus outbreaks and inoculations needed prior to travel.
Which hotel to choose for Indonesia holidays?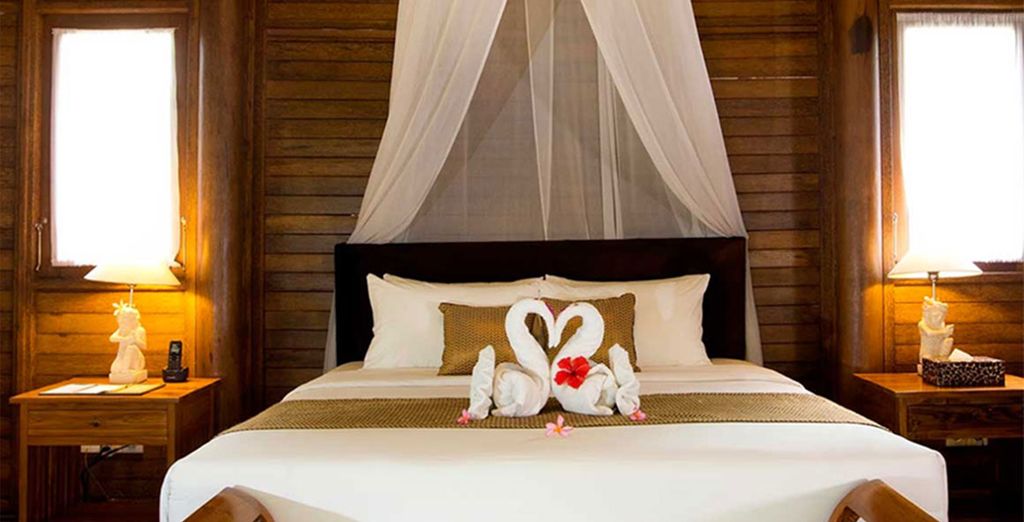 Some of the top hotels recommended by Voyage Prive include:
Three destinations in one
Our superb three destination resorts holiday features stays at three top Bali hotels.
These include The Komaneka, situated in the peaceful Rasa Sayang Ubud jungle and beach resort, the Komaneka at Karamas, featuring private villas with their own pools, and the 5* Fairmont Sanur beach resort. The Rasa Sayang Komaneka is a boutique hotel featuring a DeLuxe room, including entry to a variety of traditional entertainments, in-resort spa and outstanding infinity pool.
The Komaneka at Karamas features a private ocean pool villa with breakfast included. The resort amenities include instant access onto a black sand beach, fitness area, wellness area and pool.
The Fairmont Sanur resort features 24/7 butler service and inclusive breakfast. The resort amenities include four acres of tropical gardens, a terrace or balcony with every room, exquisite local cooking and a variety of optional excursions.
Jungle Retreat Ubud and Kupu Kupu Jimbaran Beach Club and Spa 5* : This luxurious holiday features Bali stays at the Ubud Jungle Retreat and the Kupu Kupu Jimbaran Beach Club and Spa. Guests can enjoy all the cultural delights of busy Ubud then return to relax in the peaceful Jungle Retreat. Half board dining is included and the resort has a sundeck pool and restaurant. Rooms feature luxury spa-inspired bathrooms and a terrace or balcony.
The Kupu Kupu Jimbaran Beach Club and Spa is a luxury resort and features stays in a Uluwatu Suite and half board dining. The hotel is a select location offering just 33 guest suites, and amenities include an outdoor pool and free WiFi.
Both hotels feature a L'Occitane Spa facility and include a complimentary massage for all guests.
Three resort destinations in one holiday
This three-hotel resort holiday includes stays at the Best Western Agung Resort in Ubud, the Rama Candidasa beach resort and the Artotel Sanur beach resort hotel. The Best Western Agung Resort is located in the midst of lush rice paddies and the verdant jungle. Amenities include an outdoor pool, fitness centre, spa and sundeck. Your DeLuxe room sleeps up to three adults or two adults and one child, and breakfast is included.
The Rama Candidasa Hotel features stunning ocean views and standard rooms offer their own balcony or terrace. Accommodation is provided on a bed and breakfast basis, although restaurant facilities are available. The hotel amenities include a large pool, sun deck, wellness spa and Zen garden.
The four-star Artotel Sanur is a charming fusion of Eastern and Western styles offering guests all essential comforts. The hotel features include an outdoor pool, restaurant and spa and rooms sleep up to three adults and have a modern design that's sure to appeal.
Optional excursions are available at all three resorts and guests can enjoy a range of tours and traditional dance entertainments.
Voyage Prive are proud to present a variety of Indonesian hotels in our flash sales, so don't hesitate to programme an alert for the travel destination of your choice.
Map of Indonesia
Culture and festivals of Indonesia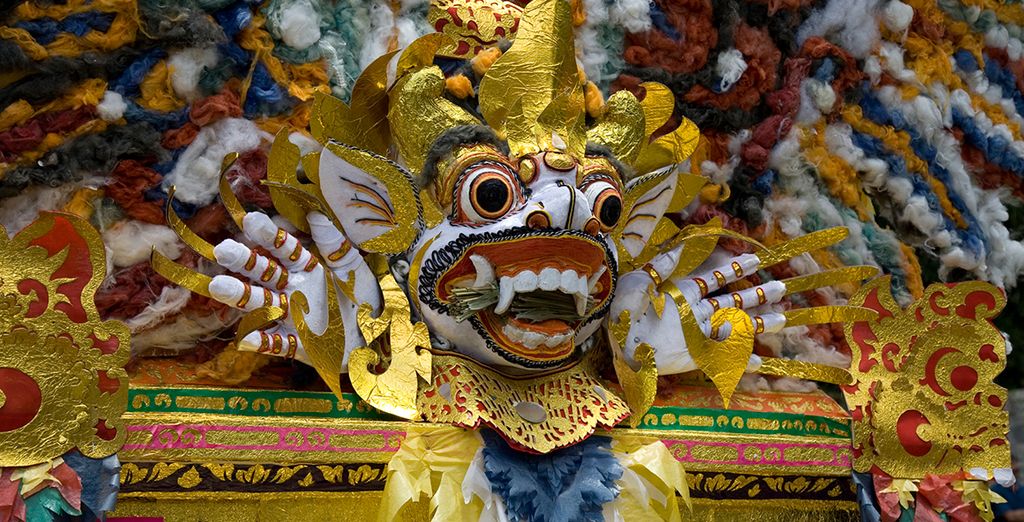 Some of the most popular events and festivals of Indonesia include:
The World Surf League Qualifying Series and the Ya'ahowu Festival

Held in North Sumatra in August and November
Lunar New Year celebrations

Held each year in Java which symbolise the unity between the Chinese and Javanese cultures and features a vast range of delicious sweets and cakes and charming light and lantern displays
Bahari Raja Ampat Festival

Held annually on Papua in the month of August, featuring performances, dance and a variety of delectable traditional dishes and street foods
Pacu Jawi Festival on West Sumatra

Which it celebrates the harvesting of the paddy rice and features cows ridden by jockeys competing in a number of races. A variety of dance and performance activities are also presented throughout the festival
Telok Ambon Festival on Moluku

Held every September and features a traditional boat race competition and swimming races
Dieng Culture Festival

Held on Central Java every August. This traditional festival features symbolic cutting of children's hair and a jazz festival
Bali holds a variety of popular festivals and events throughout the year and these include:
Tumpek Kandang

Held in January, which is dedicated to animals and livestock and features a range of puppet shows and art performances
Chinese New Year

Celebrated in February which by all Balinese with any hint of Chinese ancestry. The New Year is a public holiday and locals spend time visiting sanctuaries and temples in their vicinity
Pengrupukan

It is the New Year's Eve of the Saka calendar and features noisy celebrations throughout the day of 15 March followed by a day of silence. Fireworks and fire torches are common and participants dress in traditional costumes to celebrate the event
Omed Omedan

Celebrated in March and known as the Day of Splashes and Smooches. The traditional celebration takes place in the village of Sesetan and is well worth a visit if you're holidaying in the area
Bali Spirit Festival

It takes place in April and is dedicated to yoga practitioners and instructors. The festival features a wide range of dance and art performances alongside meditation and spiritual practices and is very popular with locals and holidaymakers.
Our practical advice for Indonesia holidays
We're sure you'll have a fantastic time in Indonesia, but you should plan your trip beforehand in order to get the most out of your holiday.
Packing for Indonesia holidays
It's easy to pack for Indonesia holidays, as the temperature is consistent any time of year. Just pack all the clothes and accessories you need for warm weather, although if you are holidaying in the rainy season you should also pack some light rainwear.
Local currency
The local currency in Indonesia is the rupiah, so you'll want to order some cash before you leave on holiday. At November 2018 you could get almost 20,000 Rp to the pound. You can withdraw cash from local ATMs throughout Indonesia, however, it's important to check out all applicable fees and charges that will be levied. These fees will be displayed on screen prior to the issue of any cash.
Cost of living in Indonesia
You can expect to pay around 200,000 Rp for a meal for two at a good restaurant in Indonesia, and about 50,000 Rp for a McDonald's meal. Local beer costs around 30,000Rp per bottle, with imported beers costing around 80,000 Rp. Expect to pay about 42,000 Rp for a coffee in local cafes, and a cab ride of no more than 1km will cost around 5,000 Rp.
Will I need to take an electrical adapter for my hairdryer?
You will need a Type C or Type F electrical adapter for Indonesia, although if you are travelling from the US or Canada you will also need a voltage adapter.
Discover more travel guides.