Hungary Free Travel Guide and Practical Advice
Discover Hungary and don't miss its beauties with our Travel Guide 📚. Advices, Tipes, Best location, itineraries and more ✅.
Travel to Hungary
Hungary has become a bucket list item for every serious traveller as word of the nation's rich history and stunning landscapes has spread. The ancient Danube River weaves its way through the cobbled streets and mesmerizing sights of the capital city, Budapest. The mix of architectural styles is unprecedented – from neo-Gothic to Baroque, the combination of cultural influences is unbeatable.
Once you step off the plane, you can trace the marks of history which are etched onto the country. Stop at one of the many churches and synagogues in Budapest, or pay your respects at the memorials. Feast on warm, spicy Hungarian dishes, and relax in the thermal baths. Then venture outside the city to canoe down a manmade lake, and catch a concert in the carved out rock of Hungary's ancient limestone caves.
The top 10 things to do/see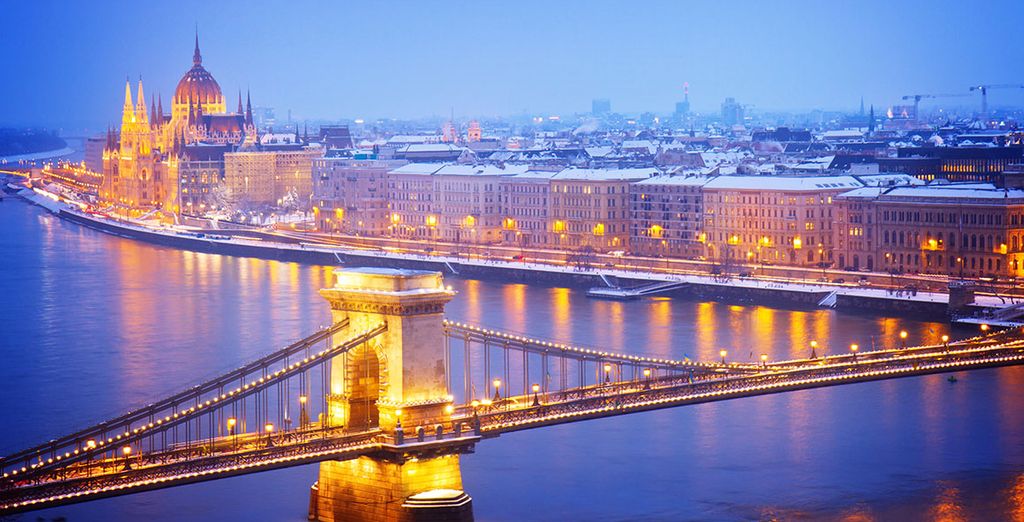 1. Parliament

The Országház, or Hungarian parliament building, is a must-see if you want to fully experience the charming grand designs of Budapest. The early 20th century domed building, which features intricate decorative detail, sprawls out seemingly forever along the riverside. You can purchase a ticket to look inside – with reduced prices for EU nationals – or you can pass by in the evening when it glows with a rich, warm light.
2. Fisherman's Bastion & Buda Castle

Pretend you're walking the streets of King's Landing in an episode of Game of Thrones as you stroll through Fisherman's Bastion. This area is home to a collection of neo-Gothic and neo-Romanesque buildings creeping up towards the skies. Wander ten minutes down the riverside and stop off at the stunning Buda Castle. This massive Baroque building has stood in one form or another since the 13th century. Pause and imagine yourself as one of the Hungarian kings who resided in this designated UNESCO World Heritage site!
3. The Danube River

Take a stroll one afternoon down the ancient Danube River, which runs straight through the city and connects Hungary to nine other countries. There are plenty of places to grab some local goulash, or perhaps branch out for Tex-Mex or Italian food. The Shoes on the Danube Bank exhibition is a sobering, but crucial stop on your way back. Dozens of pairs of shoes scatter the edge of the walkway to remember the Jews who were shot and killed there during World War II.
4. Király Baths

After all of your walking, stop off and unwind at the ancient thermal baths of Király. Known as fürd? in Hungarian, this hotspot has been in the same place since the 1500s. If you fancy a quick workout, the venue has a fitness room, as well as a steam chamber and hot air chamber to relax your tired muscles. The soothing hot spring waters are infused with minerals, such as calcium and magnesium, and are believed to remedy a range of ailments!
5. Budapest's Places of Worship

Budapest is home to a number of different religious traditions, and it's well worth paying the various houses of worship a visit. You can't miss the stunning twin domes of the Dohány Street Synagogue. While there, you can visit the Hungarian Jewish Museum, which is housed in the same building. Then take a look at the awe-inspiring architecture of St. Stephen's Basilica, which even gives Venice's St. Mark's Basilica a run for its money. You can even climb up to the top for a view of the whole city.
6. Budapest Zoo

Just like the zoo in New York's Central Park, the Budapest Zoo is located right in the middle of the city inside the Városliget Park. If you are travelling with children, they will be amazed by the wildlife displays. Give them a thrill in the House of Venomous and Giant Reptiles, or pay a relaxing visit to the calming Butterfly Garden. You can also take in the soothing sounds of an evening concert or wander through the elaborate floral displays in the botanical garden.
7. Lake Hévíz

If the restorative and invigorating waters of the Király Baths have inspired you, then travel out of Budapest for a quick two-hour drive to Lake Hévíz. This is no ordinary lake – in fact, it is the largest thermal lake in the world, so you will always find a calm spot to bathe. The destination also includes an indulgent spa where you can complement your rejuvenating dip with a range of indulgent massages and beauty treatments.
8. Aggtelek National Park

For travellers who like a bit of adventure, a pitstop at the stunning Aggtelek National Park is essential. This World Heritage site is home to almost three hundred limestone caves, as well as hiking routes, and canoe and bicycle tours for the ultra-active tourist. If you're more of a musical and opera fan, however, you can enjoy the resounding acoustics in the stunning Baradla Cave at one of their concerts.
9. Lake Tisza

As well as offering phenomenal natural spots, Hungary also offers some modern beauties, such as the stunning manmade lake at Tisza. A hotspot for canoe lovers, this watery venue offers dozens of paths through tall reeds and wild floral displays. While you're sweeping your oar through the lilies, try and catch a glimpse of some of the wildlife that inhabit the area, such as graceful swans and daring herons. You can take canoe tours ranging from a few hours to several weeks, so there's something for everyone.
10. Hortobágy National Park

If you're keen to see more of Hungary's wild landscapes, then travel over to the open grassy plains of the Hortobágy National Park after your visit to Lake Tisza. Another UNESCO recognised site, this park offers a range of stunning wildlife from Hungarian grey cattle to the traditional Racka sheep. Gaze at the Nine Holed Bridge with its impressive arches before settling down for a bit of bird watching.
How to get there?
Hungary is an easily accessible destination with a range of direct flights available from London.
You can fly from Heathrow, Gatwick, Luton, and Stansted to Budapest Ferenc Liszt International Airport with a range of airlines, such as British Airways, Easyjet, and Wizz Air. The flight time is just a quick 2 hours and 30 minutes.
If you're travelling from Paris, direct flights take just 2 hours and 10 minutes from Charles de Gaulle Airport with an airline like Air France.
Adolfo Suárez Madrid–Barajas Airport in Madrid also offers direct flights with Wizz Airlines, Iberia, and RyanAir, although these have a slightly longer flight time of 3 hours and 10 minutes.
Rome Fiumicino Airport offers the shortest flight time of just 1 hour and 45 minutes with direct flights from several airlines, including Alitalia.
As Hungary is conveniently situated on the European continent, you can also rent or drive your own car to your final destination.
If you're a fan of road trips, then you can go directly from London by taking the Channel Tunnel or ferry to Calais, and then continuing through Belgium, Germany, the Czech Republic, and Austria before arriving in Budapest. This is a 1,000 mile journey, however, so you should plan your stopovers in advance and make the most of the scenic route.
Another option for ground travel is the European rail network, but this also requires several connections. You can begin at St. Pancras station in London with the Eurostar before changing at Paris. You then choose from a range of routes, which include connections in cities such as München and Salzburg.
British citizens do not require a visa to visit Hungary for less than three months, but your passport must be valid throughout your trip.
Which hotel to choose?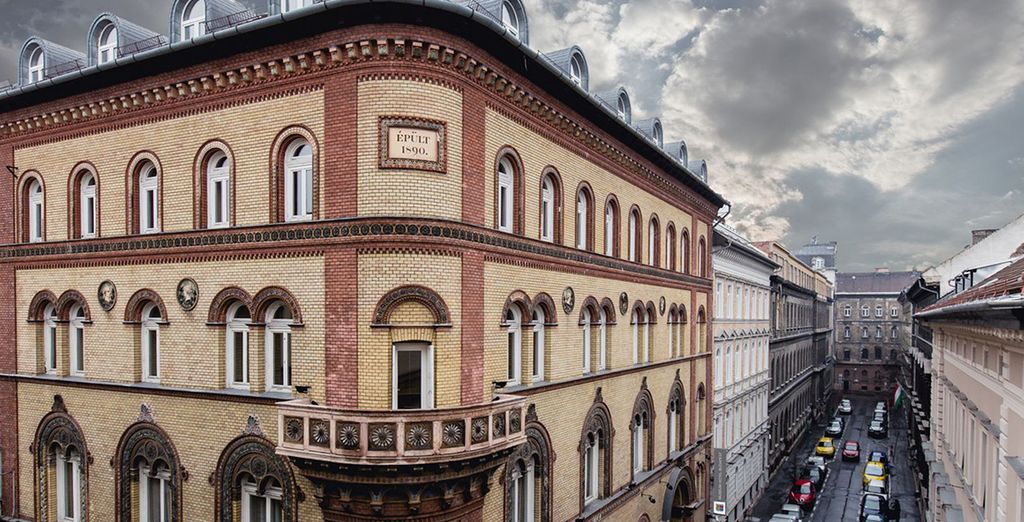 Hotel Belvedere Budapest 4*

Immerse yourself in the rich culture of Budapest at the luxurious and fully-serviced Hotel Belvedere. Within sight of Castle Hill and all of its astounding landmarks, this hotel features stunning art-deco inspired décor and a calm and relaxed vibe. After walking the cobbled stoned streets, ease yourself into the pool, or unwind with a glass of wine while taking in the views on the popular roof garden.
Continental Hotel Budapest 4*

As soon as you set foot in the airy, light-filled lobby and gaze up at the arched ceiling, you'll know that you are at home. With almost three hundred rooms to select from, you are spoiled for choice at the Continental Hotel. After sightseeing, you can indulge yourself at the on-site spa, pick up a warming coffee in the Cafe, or regroup with your travelling partners for a delicious meal with unbeatable service.
Corinthia Hotel Budapest 5*

If you're searching for a touch of historical elegance, look no further than the neo-classical architecture of the Corinthia Hotel Budapest. This late 19th century building will stun you with its arched glass roof and endless array of amenities. Dine on the finest cuisine at the Rickshaw Restaurant, or have a more casual meal at the Brasserie, before paying a visit to the Royal Spa for a soothing treatment.
Culture
Sziget

If you're a fan of contemporary music, you might want to pay Budapest a visit in August when the legendary Sziget festival takes place. A bit like Glastonbury – but without so much rain – this cultural fiesta takes place each year in Budapest. Rather than consuming the centre of the city, however, this dazzling festival takes place on an island in the Danube River for the ultimate musical experience.
National Day

On March 15th each year, the nation also celebrates a holiday known locally as Nemzeti ünnep. Commemorating Hungary's revolutionary war against the Austrian Empire, a visit during National Day offers an unbeatable opportunity to learn about the nation's rich history. However, be aware that it is a national holiday, and so many amenities and services will not run on this day.
St. Stephen's Day

Perhaps even more widely celebrated than National Day, the Hungarian holiday of St. István's Day takes place on August 20th. This festival marks the birth of Hungary as a country and honours its first king, St. Stephen. It is a prime day to visit Budapest as the Danube River lights up in a flurry of colourful fireworks in the evening.
The Hungary map
Our practical advice for Hungary
What to bring back from Hungary

If you're a food lover, you must bring back some local spices to recreate the cuisine that you've tried during your trip. Perhaps add a bottle of Tokaji Wine to round out your authentic meal at home.
Hungary is known for its artistic household goods, such as stunning textiles and colourful china homewares. The intricate designs will remind you of your visit, and make the perfect gift for friends.
What currency to use?

It is important to remember that Hungary is not part of the Euro, and the local currency in Hungary is known as the Hungarian Forint.
You can exchange GBP for Forint at the airport prior to your trip or in Budapest. You can also use your Visa and Mastercard debit and credit cards both at ATMs and in shops and restaurants. Remember that your bank might impose foreign transaction or currency conversion fees, so check before travelling.
What time difference?

Hungary is in Central European Standard Time, which is just 1 hour ahead of London GMT.
What language is spoken in Hungary?

Hungarian is the official language of Hungary, although many people speak English in the cities. Pick up a phrasebook before you go and take the opportunity to practice some new language skills!
How to get around Hungary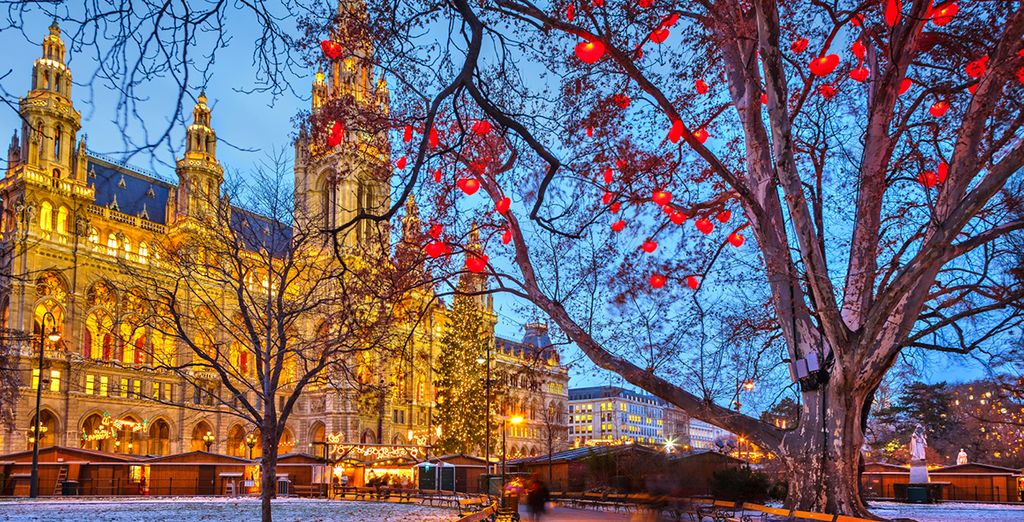 Just like the Tube in London, Budapest has a fast and efficient underground network. There are three colour coded lines of service, which will enable you to get around the city quickly. You can also choose the scenic route of transportation with the tram system, which operates throughout Budapest.
You can catch a train from Budapest through the Magyar Államvasutak train system to a range of destinations around the country. When you're planning your trip, consider booking your tickets beforehand to make the day a little easier. You can also opt to use the bus system for longer distance travel outside of the city.
If you would prefer to drive around the Hungarian countryside yourself, you can rent a car when you arrive at Budapest Ferenc Liszt International Airport.
It's important to remember that you will need an International Driving Licence to rent a car. Hungarians also drive on the right-hand side of the road, so if you think this might be a challenge then it might be better to investigate the public transport options.
What to pack for your holiday in Hungary

The climate in Hungary can vary from season to season, so pack according to the dates of your trip.
If you're heading to Sziget, remember that it could be over 30°C in the summer months, so shorts and t-shirts are definitely essential. Winter temperatures can be an average of 0°C, so bear this in mind if you are planning a Christmas or New Year's trip.
Make sure that you also consider your activities, as well as the weather!
If you're planning to birdwatch at Lake Tisza, you might want to bring waterproof gear that is suitable for canoeing. On the other hand, hiking gear is advisable for the national parks, and a swimming costume is essential for the luxurious thermal baths!
How long to stay

If your main interest is the historical sites of Budapest, you could enjoy a long weekend break in the city with ease.
A week or two, however, would be ideal to fully explore the rural sights and sounds of the parks and lakes, as well as the rich tapestry of life on the Danube.
Restaurants on site

Hungarian food is renowned for its delicious aroma and hearty ingredients. While in Budapest, you must try the world famous Goulash stew to warm your soul.
Hungarian food often contains a paprika base, so if you are a fan of spices, try the Chicken Paprikash. For the non-meat eaters, opt for the Lecsó, which is a vegetarian option with a feisty kick.
Family activities, for teenagers, children, babies

You can't go wrong with a visit to Hungary – whether you have a history fanatic in the family, a nature lover, or enthusiastic little ones, there is something to amuse and inspire each member of the family.
Children and adults alike will enjoy climbing the ancient steps of Budapest's castles and imagining the battles and triumphs of ages past. The relaxing thermal baths will appeal to all age groups with their calming waters, while the wildlife at the central zoo and across the sprawling landscape of Hortobágy National Park will thrill every member of the group.
Hungary: What budget to plan?

The Hungarian Forint is worth only a fraction of a pound, which is something to remember as you come across prices in the thousands on your trip.
At the thermal baths, a morning ticket is 2800 Ft, but this translates to just under 8 GBP. Likewise, a single ticket for the metro is 350 Ft, which is just under 1 GBP.
As you can see, Budapest is extremely affordable for tourists, and this should allow you to easily navigate the capital city and beyond, as well as fully experience all of the attractions on offer.
Discover our offers to Hungary : Holidays
Discover our offers to Budapest : Weekends, holidays, last minute