Flight + Hotels Deals to Lanzarote



Table of contents
Flight+Hotel Deals to Lanzarote
Why Choose a Flight+Hotel Offer for Your Stay in Lanzarote?
Are you planning a holiday trip to Lanzarote? Why not bundle your flight and hotel arrangements with Voyage Privé? Our flight and hotel deals will allow you to keep your travel costs down while saving you time spent in planning. You'll get to enjoy your stay in Lanzarote more knowing that your travel arrangements are taken care of.
Top 5 Hotels in Lanzarote by Voyage Privé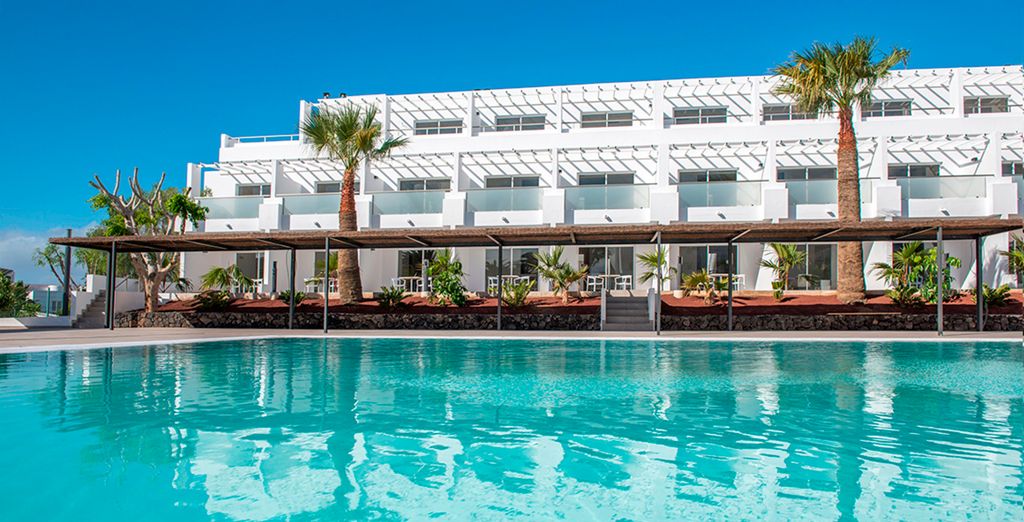 If your holiday plans include soaking in the sun while listening to the waves, then Aequora Lanzarote Suites is the hotel for you. This luxurious hotel offers spacious suites that come with a bathroom, bedroom and terrace. You'll get to lounge by one of the many pools available or relax in the chill-out areas. You'll also enjoy an all-inclusive meal plan in any of the two buffet restaurants in this hotel.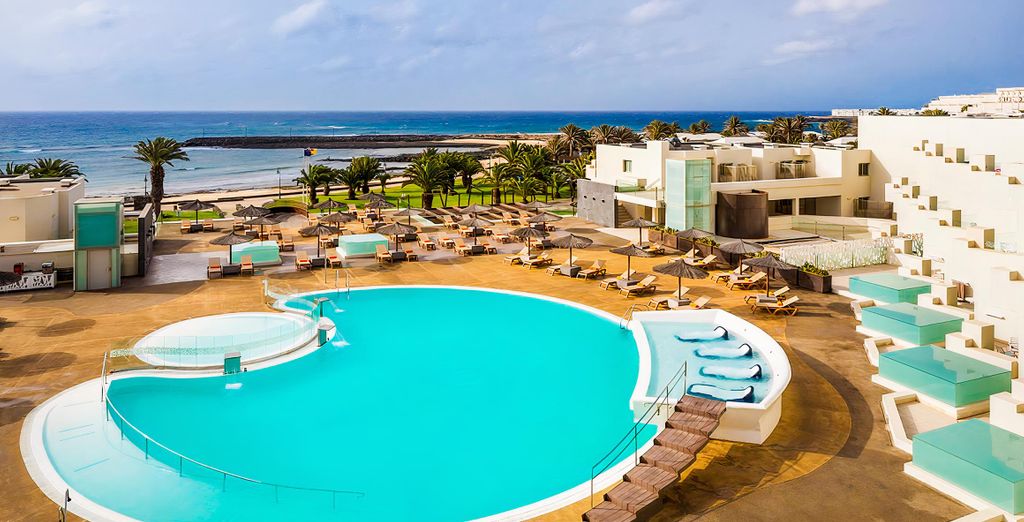 The HD Beach Resort & Spa is perfect for a family holiday. This hotel comes equipped with a restaurant, bar, swimming pool and other leisure facilities. What's amazing about HD Beach Resort & Spa is that it accommodates guests of all ages. You will get to enjoy a wonderful stay in sea view suites that contain all the amenities you need.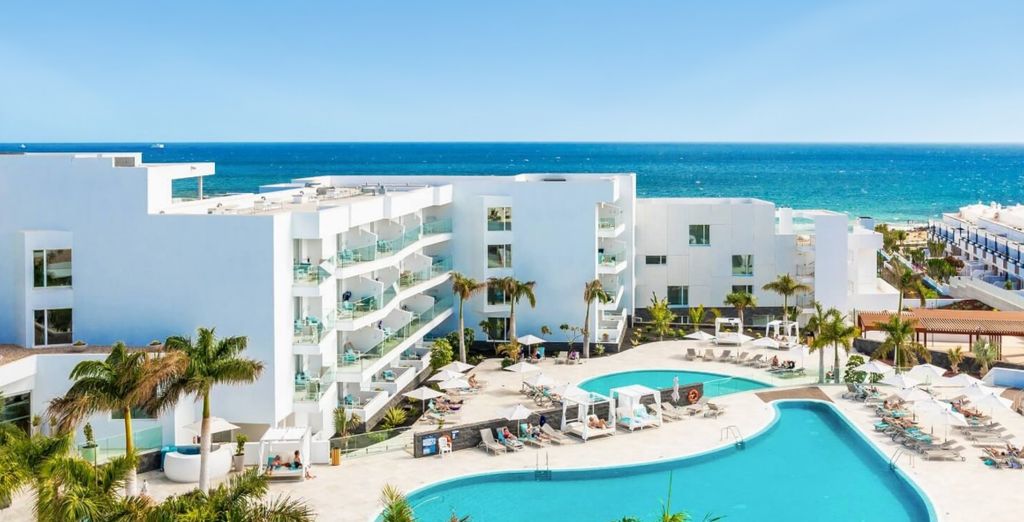 Situated in Puerto del Carmen, Hotel Lava Beach offers you a host of entertainment activities that you can enjoy. Its location near the beach makes it the perfect place for anyone who wants to soak in the seaside sun. You'll get to spend your evenings sipping cocktails while enjoying live music at the bar.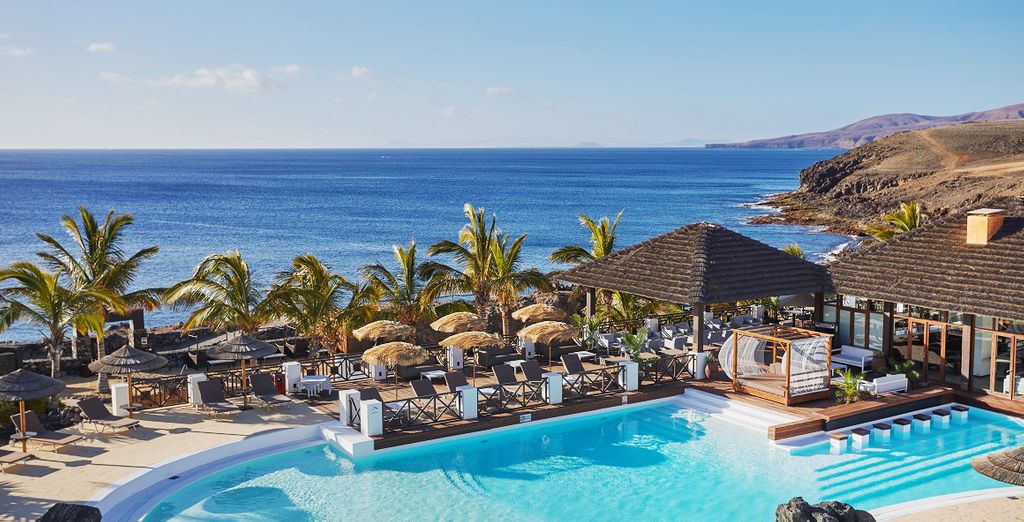 With a sports bar, restaurants and multiple leisure facilities, you'll find Secrets Lanzarote Resort & Spa a delightful place to stay. There are plenty of activities that you can indulge in, including live piano music, bike riding and swimming. You can sunbathe in one of the four majestic pools or cool off with relaxing spa sessions.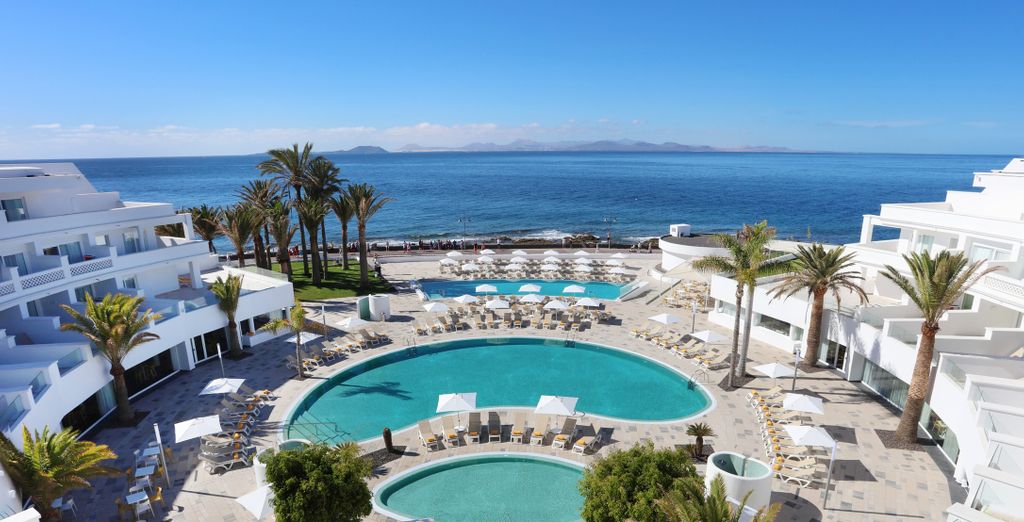 Just 3 minutes away from the beach, Iberostar Selection Lanzarote Park is the go-to spot for people who enjoy an ocean view. This hotel boasts fantastic restaurants, double sea view rooms, five bars and water-based fun for kids.
High-quality services at the best price for your flight and hotel deals in Lanzarote
At Voyage Privé, we strive to ensure your stay is remarkable, which is why we offer you the best flight and hotel deals. We work cooperatively with high-end hotels in Lanzarote to bring you all the fun and merry this destination offers. If your trip involves spas and massages, sea view rooms, posh restaurants and leisure activities, Voyage Privé has got you covered.
Flight+Hotel Lanzarote: which airline for your flight?
Lanzarote receives tourists from almost all parts of Europe, and thus there is a rich selection of airlines. The common ones that serve this destination include British Airways, Vueling, Thomsonfly, Easyjet, Thomas Cook and Ryanair. Voyage Privé negotiates with the airlines to ensure you get the most affordable yet convenient flights to Lanzarote.
Which airports for your flight to Lanzarote?
Wherever you are travelling from in the UK, there are many world-class airports that you can select for your flight to Lanzarote. You can go from Glasgow Airport in Scotland, Bristol Airport or London Heathrow Airport. The flight time from London to Lanzarote is roughly 4 and a half hours. You will then land in Lanzarote Airport, the main airport that serves the Canary Islands. You can get to the islands by bus, town car, shuttle or taxi.
Voyage Privé's hot deal for a flight and hotel stay in Lanzarote at an exclusive price
Lanzarote has so many landmarks for you to see. This destination is like a one-stop spot for all vacation and holiday activities. Whether you want to hike, bike ride, relax by the beach or head to a park, you can do them all in Lanzarote. Lanzarote has been declared a Biosphere Reserve by UNESCO due to its beaches and breathtaking landscapes.
5 places to visit while in Lanzarote
1. Timanfaya National Park
Also known as Montanas del Fuego, the Timanfaya National Park covers almost a quarter of the Canary Islands. More than a hundred volcanoes have erupted on this spot, creating a basalt landscape. The volcanoes are now dormant, so you have nothing to worry about.
2. Jardin de Cactus (Cactus Garden)
Jardin de Cactus is home to 4500 cacti, with more than 450 species. This spot is one of the most popular attraction sites in Lanzarote. You should definitely add this destination to your tour list.
3. Papagayo Beach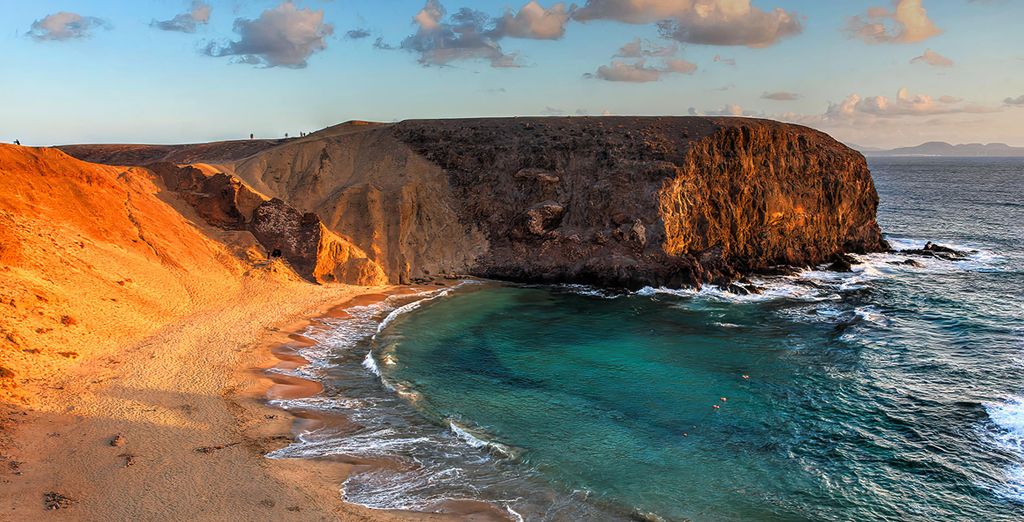 The Canary Islands contain many breathtaking beaches and Papagayo Beach is one of them. The water is crystal clear and the sand is pale yellow and fine. Papagayo Beach is an excellent destination to go snorkelling and sun-soaking.
4. Teguise Market
If you want to get a taste of life in Lanzarote, plan a trip to Teguise's Market. You can interact with the locals there and buy souvenirs and trinkets to carry home. Don't forget to try the local cuisines offered in the market.
5. Mirador del Rio
Mirador del Rio is a must-visit for anyone that wants to see a panoramic view of Lanzarote. This viewpoint was designed by Cesar Manrique, a famous artist in the Canary Islands. You can sip on a refreshing drink at the cafe as you enjoy the view of the islands.