Join for free
Join for free
Save up to 70% on UK countryside stays, European city breaks & exotic beach holidays.
More than

7.3 million

people have already trusted us with their holidays!
Member-only rates & exclusive perks
Save up to 70% on luxury travel
A reliable team, 7 days per week
City Break in Florence
Looking for a City Break Deals to Florence ? ⭐ Enjoy Luxury Accommodation up to 70% off to discover the home of the Renaissance in Italy ✅.
City Break in Florence : Top Five Things to Do and See
1. Uffizi Gallery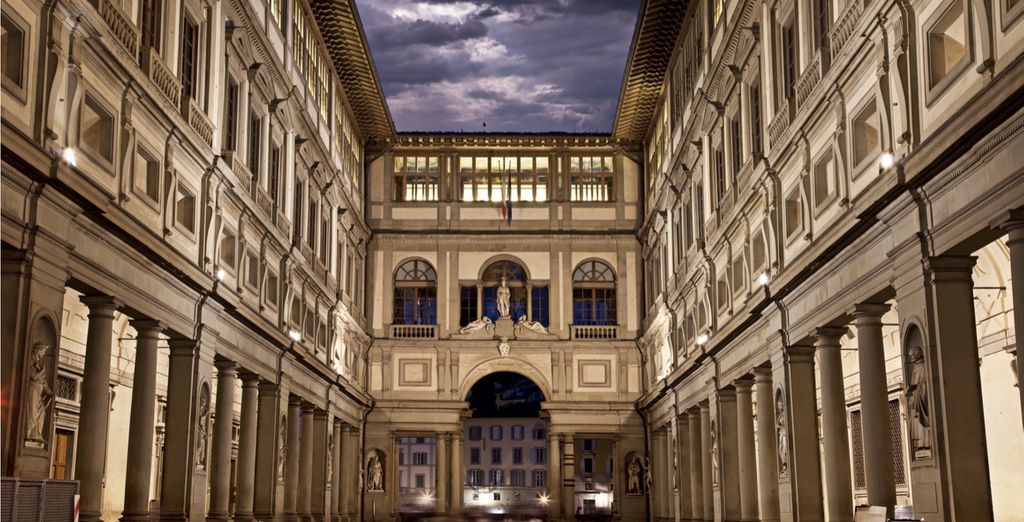 With a collection of the very best works of the very best masters of the Italian Renaissance – arguably a time when the west produced some of their most sublime art in the form of paintings, sculptures, frescos and even jewellery – it is no small surprise that the Uffizi Gallery is one of the most famous museums in the world. Built in 1560 for the Medici family, it was originally intended to house the family business – hence the name (Uffizi translates to 'offices') – but the family's extensive art collection gradually began to push out the bureaucratic side. Waiting times to get can be up to five hours, so pre-booking is strongly advised, and up to two million people visit the collection each year. Despite the throngs, the complex is well worth a visit for the sheer splendour of the works on display.
2. Palazzo Vecchio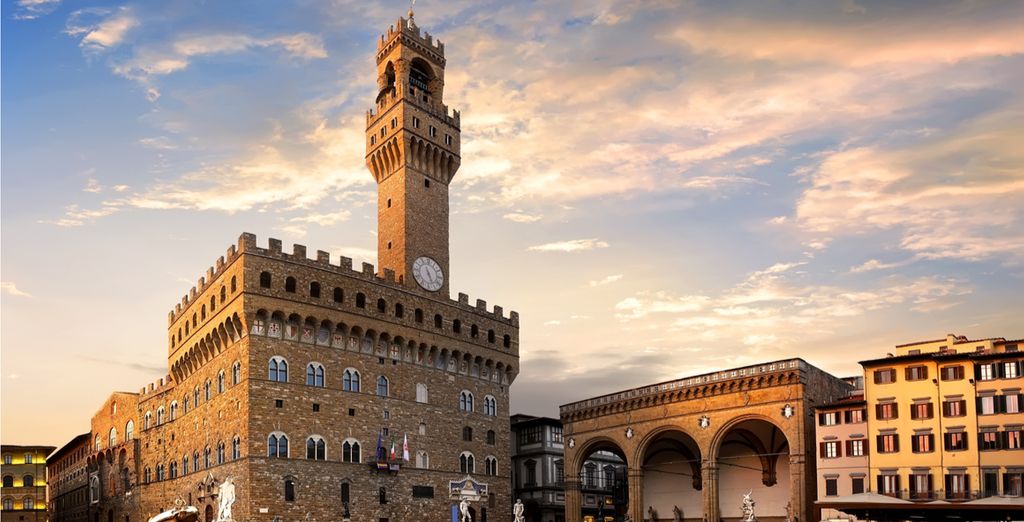 This immense edifice was deliberately built to be both impressive and highly fortified. The people of the city wanted to celebrate the wealth of the city and be able to protect it and the treasures and citizens from hostile threats. While the building is now predominantly a museum, it is also the seat of the office of the mayor of Florence, a throwback from the brief period when Florence was the capital of Italy, and the Palazzo was the centre of government. The exterior of the building is splendid, and the interior perhaps even more so, making this a must-see feature on any trip to Florence.
3. Mercato del Porcellino
Having been established in 1547 (again, by a Medici) this market is a thriving and fascinating place, selling everything from fine leather goods to fashion to tapestries and all sorts of wonderfully crafted souvenirs. The name translates to Market of the Wild Boar, and a statue of the market's namesake can be found in front of the entrance to the building.
4. The Museum of Costume and Fashion
Admire over 6,000 pieces of clothing from the Renaissance until the present, seeing the changing and returns of fashions in these beautifully preserved garments. Opulent royal cloaks from centuries ago drape gracefully next to modern exquisiteness: Armani, Versace and more. If you love clothing, this is the place for you to spend a few very happy hours!
5. Michelangelo's David
This iconic statue is recognised by almost anyone with even a faint interest in art, sculptures or the Renaissance. Carved by Michelangelo between the ages of 26 and 28, the statue was almost not realised at all. The work was begun twice and abandoned, the marble half hewn and resting uselessly in Florence for 26 years before Michelangelo persuaded the powers that be to give him a chance with it. By crafting the design to fit the ravaged marble, Michelangelo carved out the immense figure of a young man, David on his way to his confrontation with the giant, managing to work through the flaws imposed on the marble slab by time and other sculptors. The statue is, of course, a must-see – but it is well worth it.
The Best Hotels for a City Break in Florence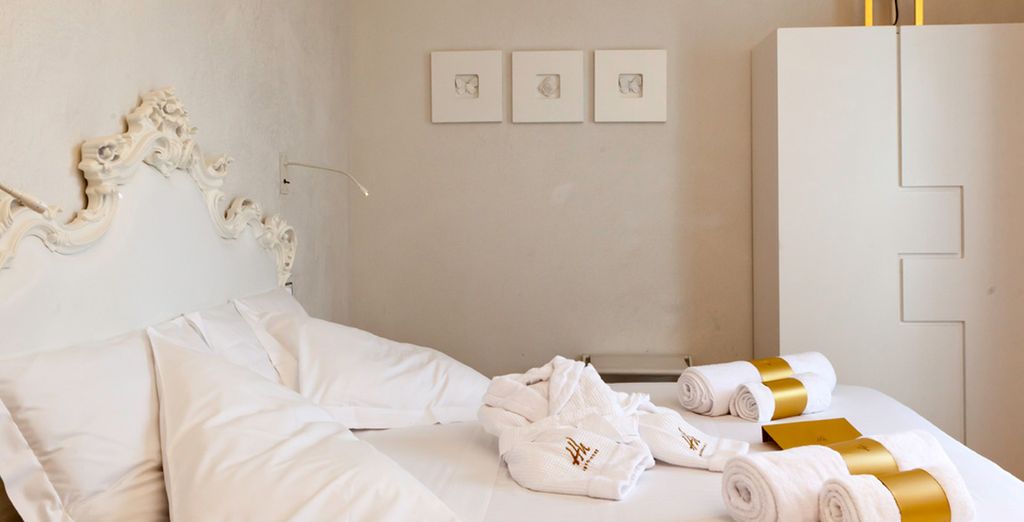 Minimalist and modern, and yet bursting with charm and delightful touches, this hotel is in the centre of Florence, a mere ten-minute walk from many of the attractions of this unique city. The all-white hotel room décor is fresh and inviting, adding an extra layer of distinction to the hotel's 39 rooms. Housed in an ancient palazzo, the interior is thoroughly up-to-date, with Wi-Fi throughout, a fitness suite and a hedonistic hot tub with superb views. A perfect hideaway for your city break getaway.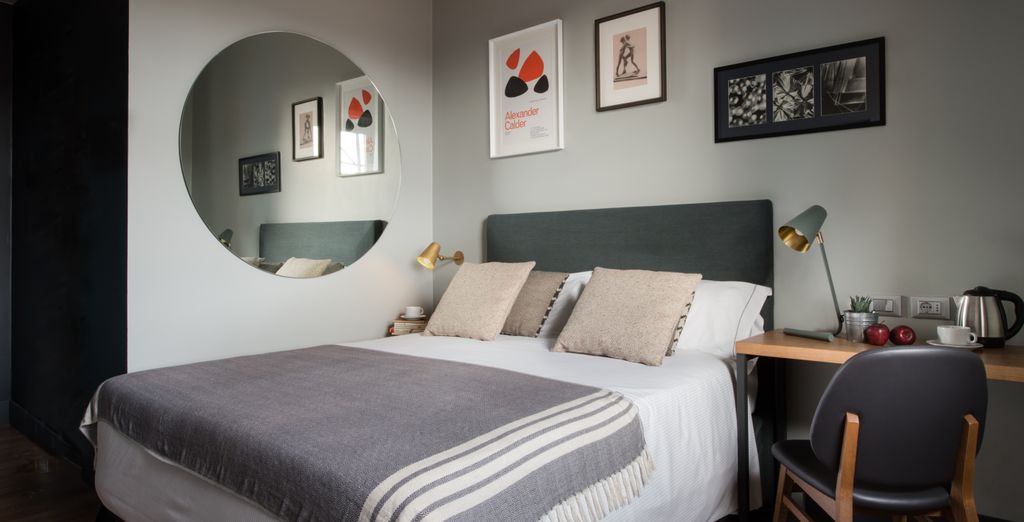 Within relatively easy walking distance from the main attractions of Florence, this boutique hotel is decorated in a comfortable yet superbly elegant style that is unmistakeably Italian. The breakfast buffet will set you up for the day, and in the evenings you can take your pick of the many excellent restaurants and eateries practically within sight of the hotel. Your can meet up with friends in the hotel bar to enjoy a drink or two before or after your meal.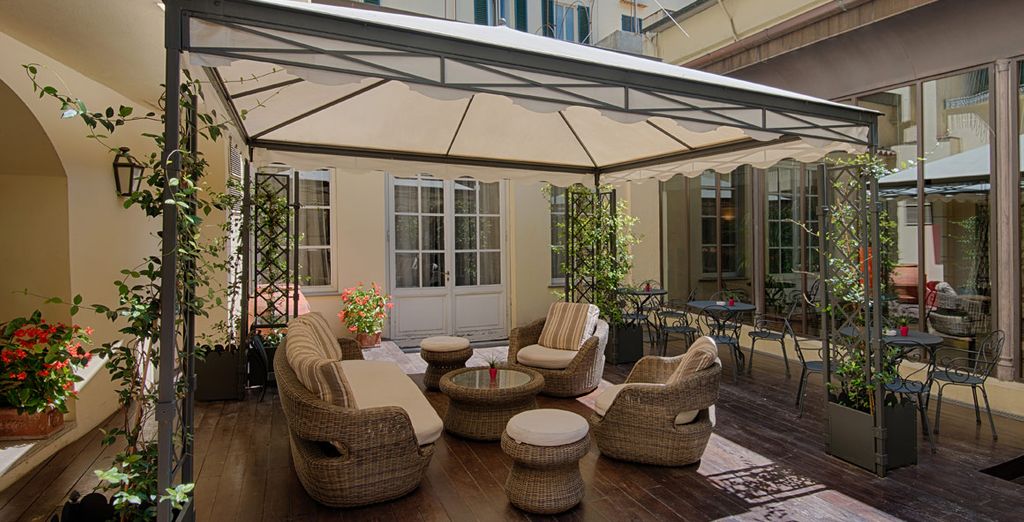 Close to the Arno and seemingly timeless and unchanged for centuries, this hotel offers a calm and tranquil retreats from the incredible historical richness of the city: the art, the architecture, the fabulous fashions – all can be a little overwhelming at first. Retire to the hotel to enjoy simple yet elegant rooms. This classical minimalism is seen throughout the hotel, including the dining room, where Tuscan and Mediterranean cuisine will keep you attention firmly on your plate!
Plan Your City Break in Florence
Florence has long been a popular destination with travellers from all over Europe. Young artists and art lovers would come to the city to admire the sumptuous splendour of the works of art that have been prized and valued by the city for hundreds of years. The fashion industry is also strong in Italy, and an artistic and creative city like Florence is always certain to become involved. There is so much to see and do that travellers can feel overwhelmed trying to fit it all in: this is impossible! Simply do as much as you can enjoy, and plan a return trip as soon as possible!
The best time of year to go to Florence
Florence is worth visiting all year round, but do check that the pieces you particularly want to see will be on display should you travel at off peak times, as sometimes museums have their cleaning, renovations or collection maintenance at this time. In general, April to October are peak times, with the best weather, but the highest prices and most dense crowds.
Getting to and about Florence
Florence is easily accessible with its own international airport, excellent road links and modern train services. Once in Florence, it is easily walkable, if that is feasible, otherwise there are buses that cover the city comprehensively. Cars are discouraged, with the middle of the city being fairly well pedestrianised.
Where to Eat? The Best Districts and Restaurants
Italy is well known for its gorgeous food: delicious pasta, fresh meat and vegetables, strong coffee and piquant gelato. This means that food standards are high throughout the city and most cafés and bistros will offer gourmet quality food. However, for some extra culture with a meal, why not go to Piazzale Michelangelo, which houses a restaurant. Explore the square and see if you can spot a bronze David as you admire this small collection of the master's work, before dining. The restaurant, housed in the building, was originally intended as a museum of Michelangelo's work but this was not to be, and the restaurant took possession instead.
Nightlife in Florence
Surprisingly for such a historic city (although perhaps not so surprising given Florence's embrace of progress and modernity!) there are a good number of clubs to choose between. However, try not to become too intoxicated while raving the night away – public drunkenness is frowned upon at any time of day.
Our Practical Advice for a Florence City Break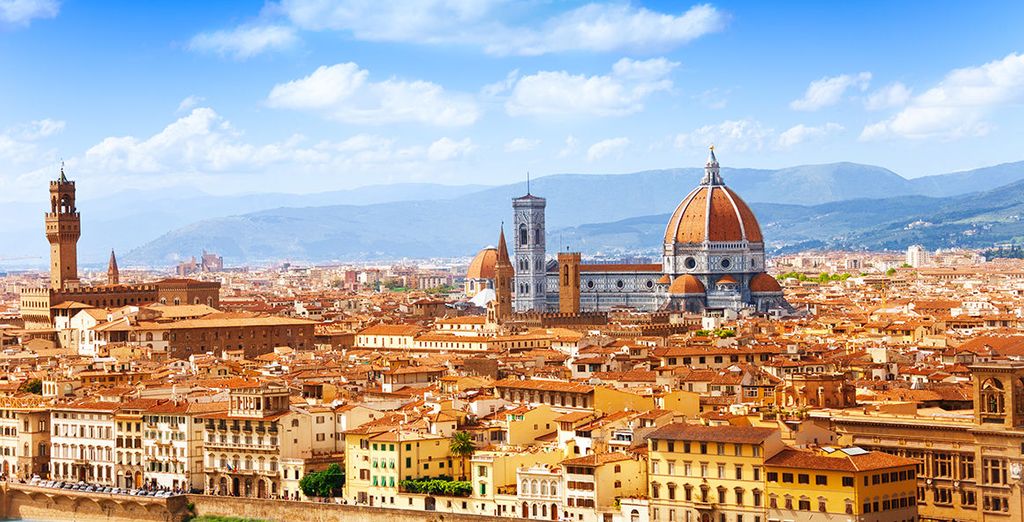 Pickpockets can be attracted to crowds, so exercise your usual caution while admiring the wealth of the city. The city is generally safe, but exercise common sense, avoid offering temptation to thieves and bear in mind that if a sob story seems too good to be true, it probably is!
What to pack for a Florence city break?
Florence in summer can be very hot, so bring appropriately cool clothing, along with a hat, sunscreen and – it can get very rainy – an umbrella. Winters can be cold and unpredictable, so keep an eye on the forecast and travel with layers so you can bundle up when the temperature drops.
What budget to plan?
Florence is a very expensive city and a visit will probably require €100 to €120 per person per day to meet all your needs. If this is not feasible, you will have to plan your visits carefully to ensure you stick to your budget.
Useful information before going to Florence
Florence's main language is Italian, but there will be a lot of English speakers so you should be able to navigate your way around the city without too much stress. The currency is the euro as Italy is in the EU. The people tend to seem loud and aggressive, but this is often just their way, and asking for directions or thanking them for their service reveals the warmth and friendliness possessed by most of the people who live in Florence.
Need more inspiration ? Check all our City Breaks offers !