City Break in Dublin
Looking for a City Break Deals to Dublin ? ⭐ Enjoy Luxury Accommodation up to 70% off to discover a welcoming and popular city ✅.
City Break in Dublin : Five Things to See and Do
1. Ha'penny Bridge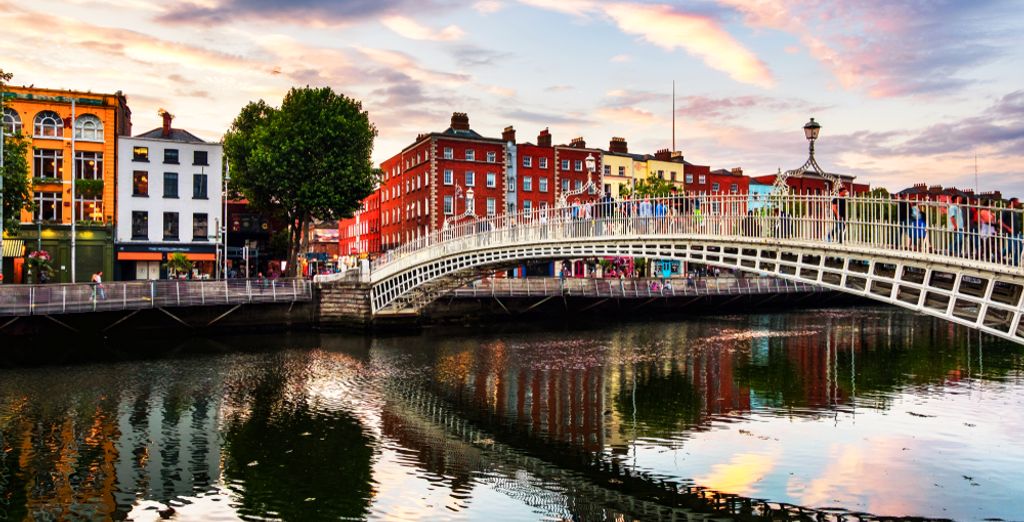 Instantly recognisable as a part of Dublin's heritage, this iron footbridge spans 43 metres over the Liffey, some 3.6 metres wide. This unique and attractive bridge is named for its original toll charge. The bridge was built to replace a fleet of ferries as they aged beyond sensible repair, and pedestrians were charged a half-penny to make the crossing – which was the original price for being ferried across. For many years (184, to be precise!) it was the only was Dubliners had of crossing the river, and even today carries over thirty thousand visitors on its predominantly original ironwork.
2. St Patrick's Cathedral/ Christchurch Cathedral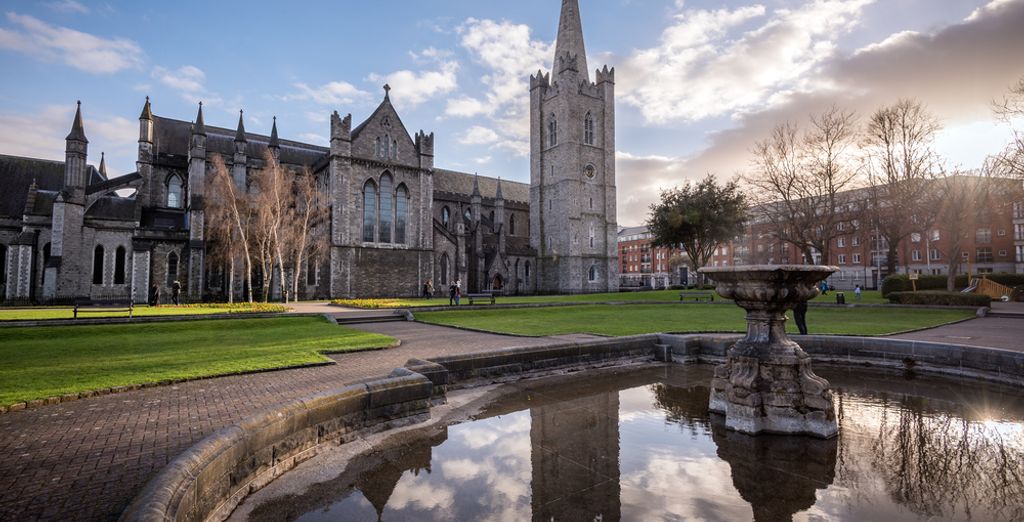 Christ Church – more properly known as the Cathedral of the Holy Trinity, even though few people call it that – is the more senior of the two magnificent edifices, despite St Patrick's not inconsiderable 800 years of standing. Technically speaking, St Patrick's is not a true cathedral, because it does not boast a bishop, but the building and history behind Patrick's story is fascinating. Both cathedrals are simply beautiful: works of art in stone, and are well worth the visit.
3. Guinness and Jameson
Two iconic Irish exports, the smoky and fiery whiskey (with an 'e' for Irish whiskey, no 'e' for Scottish whisky) and the black smooth stout, these beverages both offer a tour of their premises so you can see how they are distilled and brewed respectively. It is said that Guinness tastes best in Ireland, and this seems to be backed up by scientific research, so that leaves only one thing to do – go and try it out for yourself!
4. The Spire of Dublin
An immense up-ended pin-shaped structure, The Spire was built in 2003 to replace a column, bombed in the 60s, that was topped by a statue of Nelson. The design is deceptively simple, with intricate detailing that can only be seen up close or under the right lighting, and at night the spire lights up to work as a beacon for planes.
5. Dublin Castle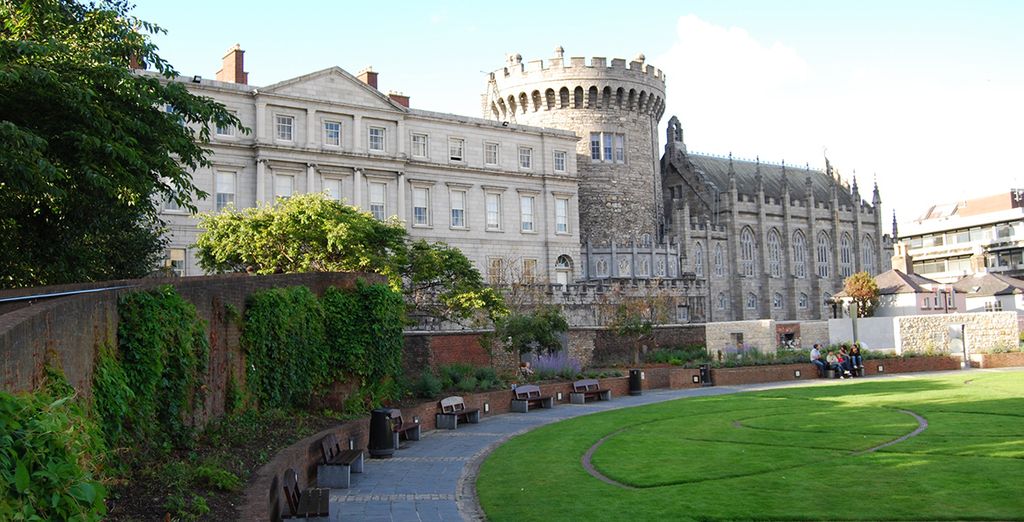 Built next to the town's namesake – the 'dark pool' or Dubh Linn for which Dublin is named – the castle used to be the seat of British government in Ireland. It now hosts the inauguration of the heads of state of Irish government. The castle was built in 1204 and endured exciting times as one party and then another battled to seize control of this important fortification, until 1922 with the formation of the Irish Free State. The castle now, when not in official use, functions as a highly popular tourist attraction, seeing a quarter of a million visitors or more each year.
Best Hotels for a City Break in Dublin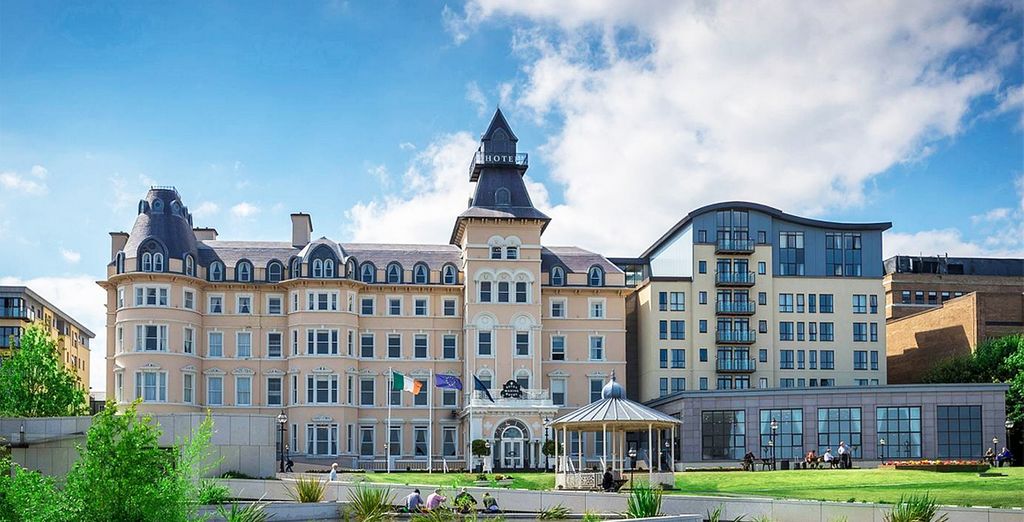 With gorgeous views across Dublin Bay this sumptuous and large hotel boasts 228 magnificent rooms, a lavish sauna boasting nine treatment rooms, formal and informal dining areas (from the Dunn Restaurant to Hardy's Bar and Grill), and even an indoor pool so you can relax and unwind completely.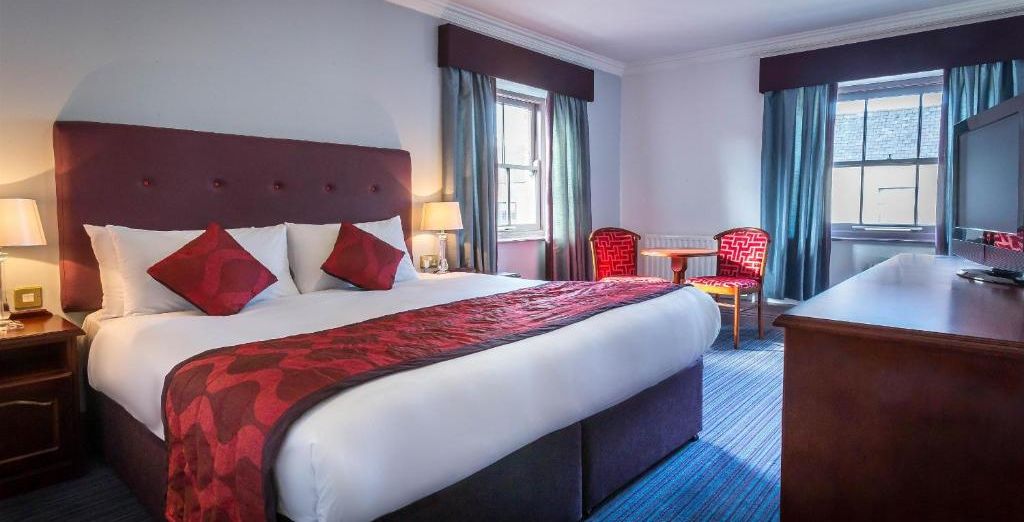 In the historic heart of Dublin, this hotel is a tranquil haven where you can relax and unwind after a full day of exploring the fascinating city. But you do not have to go too far for Irish culture: the hotel often hosts shows and performances that you can enjoy as you tuck into a delicious three-course meal.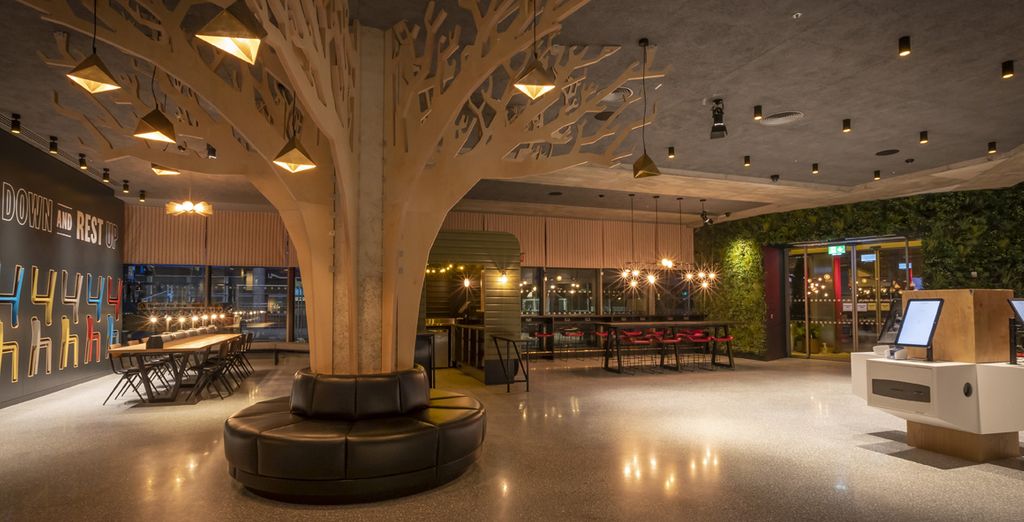 A new and modern hotel in the centre of the city, this Dublin hotel has everything you need to make the most of your Dublin city break: comfortable and relaxing rooms fitted out with blackout blinds, and proximity to all the best features of the city. Dine in the restaurant or on the terrace, explore the charming garden, or simply stay in your room, watching some TV on the large-screen television.
Plan Your City Break in Dublin
Be aware that pickpockets sometimes operate in Dublin, so be careful about flashing your cash in public, and try to keep your wallet or purse under tight guard, either holding it, or tucked inside your clothing where no one can get at it.
The best time of year to go to Dublin
To avoid the worst of the summer crowds, it is best to visit Dublin in April or May, or, if you need to travel later in the year, October. These times have reasonably good weather and little in the way of crowds – although Dublin is a great city to visit at any time of year, with great Christmas markets and many other attractions at other times.
Taking a City Break in Dublin
Flying in to Dublin International Airport is the easiest and quickest way to arrive in the city from abroad, but you can also catch a ferry from the UK mainland or from the continent. Some ferries are car carriers, so you can bring your own transport to get about if you are going to be exploring. But if you do not drive, Ireland is well served by a comprehensive train service, there are trams in cities, Dublin included, and there are good bus routes too.
Where to Eat? The best districts and restaurants
Dublin has Ireland's relaxed way of life down pat, and there are eateries and restaurants in easy distance no matter which way you go within the city. If you are looking for something a bit more memorable, head to the Meerkat Café in Dublin Zoo where you can enjoy the animals, then grab a bite to eat!
Nightlife in Dublin
While Ireland tends more to a pub culture than a nightclub raving scene, there are still plenty of clubs to suit all tastes and types of music. The best bet is to ask your hotel concierge which club is the best for your own preferences and they will point out the best place that is easily accessible from the hotel.
If in doubt, you can always just go to The Church: a renovated church that is now a highly popular and thriving nightclub and bar.
Temple Bar is one of Dublin's iconic pubs, with its distinctive bright red frontage: be sure to pop in for a pint or two while you decide the rest of your city break itinerary.
Our Practical Advice for a Dublin City Break
What to pack for a city break in Dublin?
Dublin can be a little rainy even at the best of times so it is always a good idea to travel with a sturdy fold-up umbrella and a rainproof coat. It can be chilly too, so thick sweaters are a must in winter, and sometimes even in summer too!
What budget to plan?
Dublin is a highly popular destination, and as with most tourist places, it is a fairly expensive place to live. Best recommendation would be to bring along a minimum of €70 per person per day for food, souvenirs and visiting attractions – but be prepared to up this if you want to push the boat out a bit.
Useful information before going to Dublin
Look for unique features like the brightly coloured doors of Dublin. The architecture is very similar, so people painted their doors unusual colours to give themselves a distinguishing feature – so effective has this been, that the doors now have their own popularity!
Need more inspiration ? Check all our City Breaks offers !