Explore Bruges with our Travel Guide
With its vibrant atmosphere night and day and listed as a UNSECO cultural heritage site, Bruges is a city lined with picturesque cobbled lanes, historical churches and dreamy, medieval market squares that leave little to the imagination. Laced with picture-perfect canals, Bruges can be explored both on foot and by boat, making for a fast-paced and dynamic trip for solo travellers, couples and families alike. Tranquil water and arched bridges surround medieval buildings to give the city of Bruges a feeling like no other.
The top 10 things to see/do in Bruges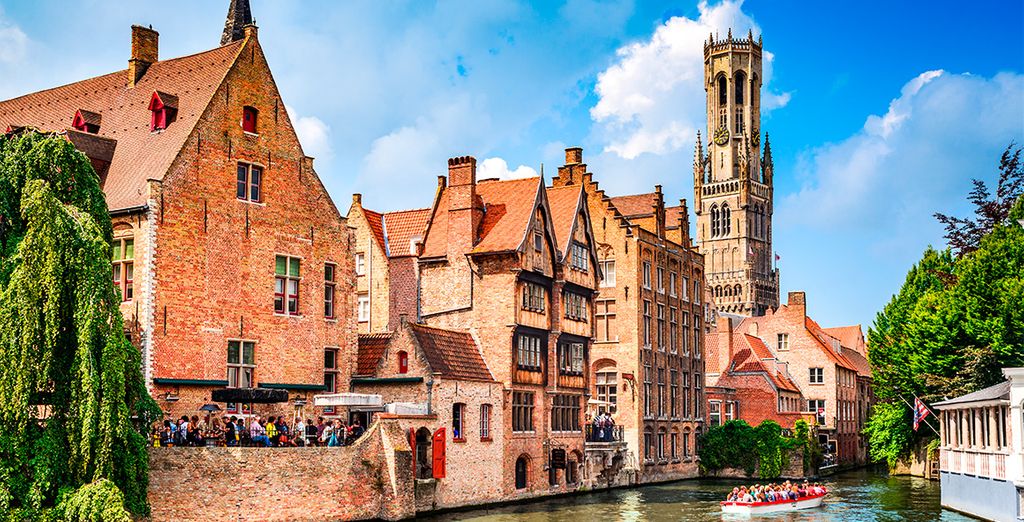 Bruges is a hub for monuments and tourist attractions, with much to see and do within the city. Our top ten recommendations for an enjoyable stay within the city include:
1. Rozenhoedkaai
One of the most photographed sites within Bruges, the Rozenhoedkaii, or the quay of the rosary, makes a stunning impression on its visitors because of its beautiful façade and medieval structure. The postcard image of Bruges.
2. Historical Centre of Bruges
Giving the title of UNESCO World Heritage Site in 2000, the centre of Bruges hosts endearing gothic architecture that wouldn't look out of place in Germany or Eastern France. Wander around the churches and museums to enrich yourself in the culture of this beautiful city.
3. Burg Square
One of the earliest inhabited parts of the city, Burg Square represents gothic and renaissance architecture and hosts the city's beautiful town hall building, being a significant political and religious spot in the city. Situated to the East of the Grote Markt, the Burg Square (Fortress Square) lacks a fortress but still hosts the beautifully gothic Stadhuis.
4. The Markt
The city's market square and home to the striking Belfry. The centre of tourism, the Markt has much to offer for visitors to the city, including horse-drawn carriage rides, restaurants, shops and bars. The Markt's bright and colourful architecture welcomes an atmospheric part of the city.
5. Basilica of the Holy Blood
A Roman Catholic basilica within the city, this church hosts a relic of the holy blood supposedly collected after the crucifixion of Christ. Take the time to visit and witness religious history in its truest form.
6. Belfort
Take the plunge and climb Belfort's two towers to allow yourself a spectacular view of the city. 366 steps later, and it's all worth the leg pain. The tower itself houses 47 melodic bells that play out over the city. The tower remains one of Bruges most famous symbols.
7. Bruges Vrije
The former law court of Bruges, it now houses the written history of the city as well as a spectacular court and renaissance hall, with an infamous fireplace made of marble and alabaster. Known as the Emporor Charles V fireplace, it was designed by Lanceloot Blondeel and is full to the brim with history and knowledge.
8. Jan Van Eyck Square
Renowned Belgian painter Jan Van Eyck is represented within this square through the means of a statue. With a particularly spectacular style the square, situated in the tranquil St Anne quarter of the city, was home to Bruges' old harbour, where ships loaded and unloaded.
9. Ezelpoort
Otherwise known as Donkey's Gate, Ezelpoort is a beautiful gateway to the Old Town that is more than worth a visit. Ezelpoort's old medieval watergate dates back to 1369 and is situated on the canal's embankment. In the 13th Century, the gate was used as a defensive wall built around the city.
10. Minnewater O Lago del Amor
A perfect escape from the hustle and bustle of the city, this charming lake adds serenity to your day and offers a picturesque walking route. Sit back and watch the world go by or cross the 'lover's bridge' with your partner and appreciate the beauty of the city.
When to Visit Bruges?
There's never really a bad time to visit a beautiful and exciting city like Bruges, but in terms of when to avoid the crowds, timing your trip is recommended. The weather during the summer months is usually quite pleasant, but crowds reflect this and generally speaking, it is more expensive to visit during this period of time. Peak travel time lasts from between June and September so travel outside of these months is recommended if you want to avoid the crowds.
How to get to Bruges?
The obvious method of transport for those travelling from the UK is by plane, although there are major links to Bruges from Brussels (visit our Brussels travel guide), which hosts a Eurostar train route. Bruges houses an airport a few miles outside of the city itself although the city's close proximity to Brussels provides alternative, more reasonably priced options. UK and EU citizens should provide a passport to gain access to the country. Visas are unnecessary for European citizens, whilst those coming from further afield should ensure that their access isn't prohibited without a visa.
The Bruges map
Which hotel to choose in Bruges?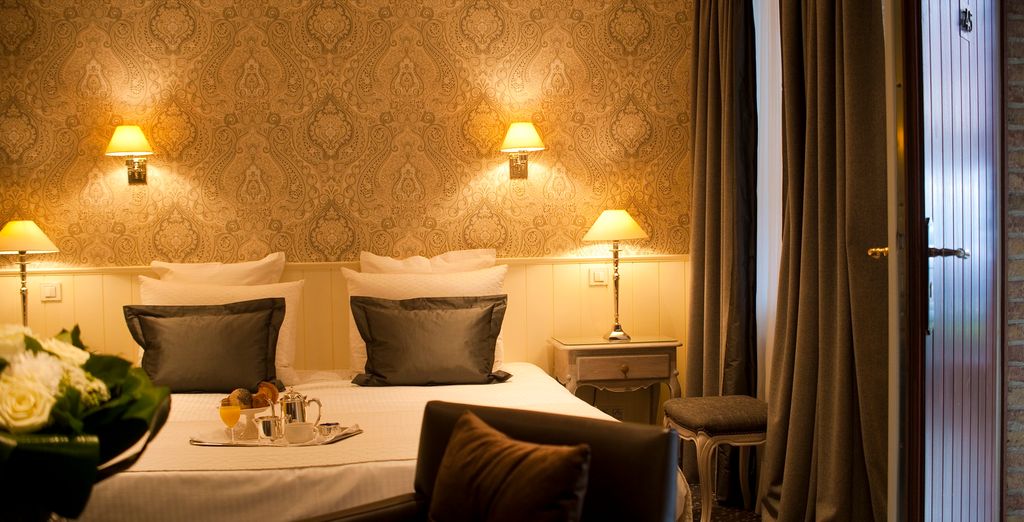 Choosing the right place to stay can be a difficult choice for tourists.
For a stylish hotel in the heart of Bruges, cosy and classy, we recommend the NH Bruges 4*. Modern update to the 17th-century monastery in which it is housed, try the famous Belgium beer in the cosy Bar Jan Breydel or an intimate meal at Ter Boeverie.
For something a bit different, the stylish Hotel Prisenhof may be the one for you, combining authenticity with modern comfort. Each room within the hotel is individually designed, allowing for the best possible stay.
For those wishing to indulge in retail therapy, the Hotel Aragon resides on the doorstep of the city's major shopping scene, ensuring that you won't have far to go after a long day of hitting the shops.
Culture in Bruges.
Bruges is brimming with culture and hosts a number of festivals throughout the year.. A particularly popular choice for tourists is Bruges Festival of World Music, a 4-day event held across multiple venues. The Holy Blood Procession signifies the holy blood – a bloodstained cloth thought to be retrieved from the crucifixion and this famous event is remembered by thousands each year through a mile-long procession. This festival can be seen on the 10th May. Additionally, from the end of November until New Year, Bruges is home to a number of Christmas markets, with its fairy tale Old Town transformed into a grotto of seasonal stalls.
Our practical advice for Bruges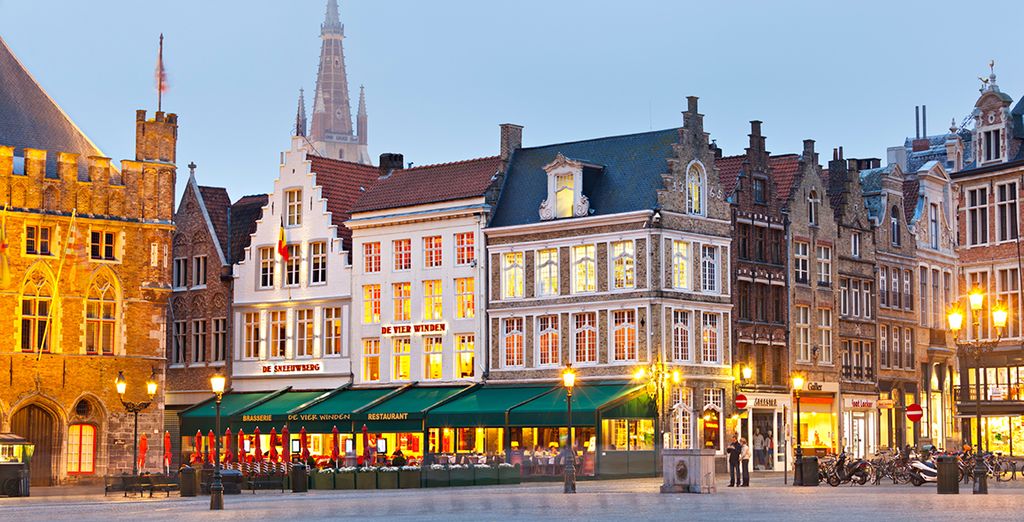 What to bring back from Bruges?
Home of the humble potato fry, Bruges has ample opportunity for souvenirs no matter your taste. If you have a sweet tooth, Belgium's famous chocolate scene is a must and divulging in some sophisticated, handmade chocolates would be a fantastic souvenir to bring home. Comics are particularly popular in Belgium, with Le Chat, the most famous of modern comic books easily replicated across souvenirs for tourists to purchase.
What currency to use in Bruges?
Bruges is situated in West Flanders, Belgium and, like the rest of the country, operates using the euro. Credit and debit cards are widely accepted in the city. ATMs are in high abundance around the city meaning you should have very few difficulties in withdrawing cash.
What time difference is there in Bruges?
Bruges is situated in Western Europe and is situated within the CET time zone – UTC+1 hour.
What language is spoken in Bruges?
As Bruges is located in Flanders, one of the readily spoken languages is Flemish, a Dutch dialect although Belgium has 3 official languages: French, German and Flemish. Belgians have a certain tongue for languages – forgive the pun- so you will find that the vast majority of people will have some, if not perfect, understanding of English.
What to pack for your holiday in Bruges
Weather in Belgium can be similar to the weather in London, so packing for all possibilities is essential to ensuring that you're not caught out. Packing light layers during the cooler months is key – light cloth and linen will ensure that you look as sophisticated as you had hoped, but without feeling stifled. In the winter months, the city can be particularly chilly so layering up is essential. Mosquitos generally are not much of a problem in Belgium but if you are unsure, it's best to play it safe and pack repellent anyway.
How long to stay in Bruges?
Try and stay longer than for a single day – day-trippers miss out on the city's nocturnal floodlighting, which is a sight that everyone should witness. If you want to further avoid the crowds, visiting during the week is also advised. Visiting in Spring invites the appearance of beautiful beds of daffodils, whilst a winter visit – outside of the Christmas period- presents Bruges as a solitary, tranquil city to explore.
Restaurants on site
Belgium is a treat for the taste buds, with a number of national dishes that will blow you away. Stoverij is a Belgian twist on the classic French boeuf bourguignon- cooked with beer as opposed to red wine, it hosts an earthier flavour and is frequently accompanied by French fries for dipping. Summer in Belgium equates to mussels and mussel season and the country is famed for its moules-frites; cooked in a wine (or beer) broth and served with fries, this versatile meal has quickly become the unofficial dish of the country. Take advantage of a Brugse Zot – one of the only beers that is actually brewed in Bruges.
Family activities, for teenagers, children, babies.
Keeping everyone, regardless of age, happy on holiday is a challenge in itself so planning ahead and ensuring there's something for everyone on your trip is a good idea. Bruges hosts a number of beautiful green spaces to explore, with Minnewater Lake a tranquil hotspot with beauty on every corner. If you have a little more time in the city, something for all the family would be a visit to Boudewijn Theme Park and Dolfinarium, where rides and other exciting activities for kids are the main attraction.
How to travel to Bruges with your pet?
If you're looking to take your pet with you to Bruges, then there are a number of things to consider before travelling and a few simple rules to keep you and your pet safe. All pets travelling abroad must be issues with a pet passport and have their vaccinations completely up to date, irrespective of the type of pet. In particular, rabies should be administered to the travelling pet between 21 and 30 days before travel to Belgium, with pets without this important vaccination being refused entry. With the correctly administered paperwork, your pet should not need to be held in quarantine for any amount of time, but it is important that your pet is microchipped in case of loss.
Bruges: What budget to plan?
Belgium can be quite an expensive country, so keeping an eye on your day to day spending whilst in the Bruges is quintessential for sticking to an affordable budget. If your budget is particularly tight then planning ahead and ensuring you are less frugal in your approach is recommended. Do your research before arrival to ensure that you're getting the best value for your money – restaurants situated in tourist hotspots are naturally much more expensive than those outside of the city centre. Taking the time to research restaurants and compare in terms of quality and affordability will ensure that you are not disappointed. Buying a museum pass, such as the Musea Brugge pass can further cut down your costs – this pass allows entry into 14 different museums and can be used over a period of 3 days. Finding supermarkets to buy basic groceries is a simple yet incredibly effective way of stretching your budget as far as possible. Travelling around Bruges is relatively inexpensive but additionally, the city is incredibly walkable so purchasing metro tickets can be d unnecessary. Travel from Bruges to other cities in Belgium is cheap, particularly if you're 26 years old or younger where you can take advantage of 6-euro single intercity tickets.
Environment
Belgium is a country that is affected by populations density because of its small size, but the environment itself is slowly improving because of the combined efforts of the Belgian government. The Flemish region which hosts Bruges has the highest waste-diversion rate in all of Europe. The city itself is quite urban-based, although hosts a number of canals and green spaces that allow for that more rural experience.
Top tips for visiting Bruges:
1. Bruges uses 2-pin plugs, as is the case throughout mainland Europe, so ensure you have packed the correct adaptor for your electricals.
2. Bruges is a busy city during the day but can be particularly calm in the evenings. Avoid tourists by visiting attractions at less busy periods during the day.
Visit more travel plans to Bruges: weekends in Bruges, Bruges holidays.
Visit more travel guides.