Bora Bora Holidays
Need a moment in the sun? Pick from our selection of luxury Bora Bora holidays for your ideal, tropical getaway.
From tropical surroundings to the turquoise waters and white sand beaches, the small island of Bora Bora has a lot to offer for anyone looking to have fun and rewind. Thanks to its beauty, this island has been a source of inspiration for artists, actors and writers, like author James Michener, who called it "the most beautiful island in the world" in his "Tales of the South Pacific". While the ocean and beaches provide the best water-based activities, like scuba diving and swimming, you can still do a lot more when on holiday on this tropical island.
The top 5 things to do in Bora Bora
1. 4WD tours
There is no better way to explore the island's interior than going around in a rugged jeep. The bumpy roads will provide a true 4x4 experience as you climb and descend the hills around the island. Along the way, you can explore the island's rich flora and learn about some of the tropical plants, flowers and trees on the islands and their origins. The guides will also show you the World War II canons left behind by the Americans and tell you how the war affected the island.
2. Spend a day at Matira Beach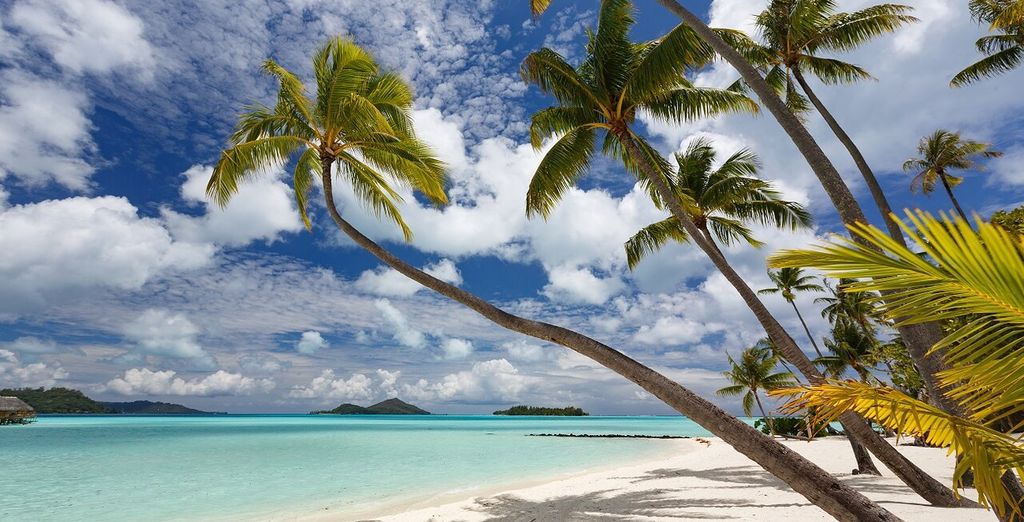 Matira Beach is one of the top tourist attractions in Bora Bora. This mile-long white-sand beach is located at the southernmost tip of the island and is bordered by private beaches. The greenery from the surrounding hills and an abundance of palm trees make this island a one-of-a-kind for nature lovers. There are numerous activities at this beach, including swimming, snorkelling, jet-skiing, and many more, that you can do alone or with friends and family.
3. Explore the mountains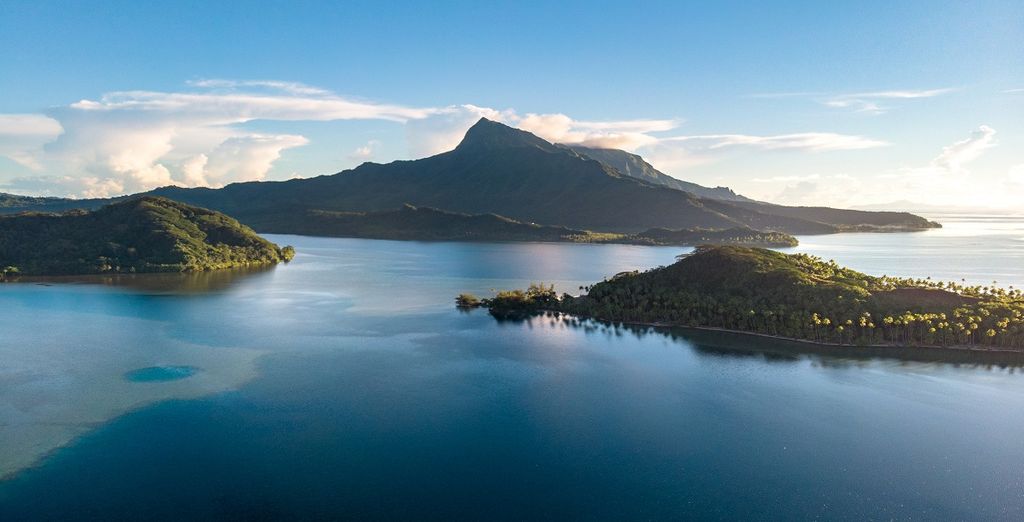 Climbing Mount Otemanu or Mount Pahia is a rewarding experience, even for experienced climbers. Mount Otemanu is 2,385 feet high and Mount Pahia is 2,159 feet high with a summit that is unreachable without climbing equipment because of the fragile volcanic rock. Although you may not reach the summit of Mount Pahia, it is a challenge due to the steep hike. In addition to the joy of conquering these mountains, the incredible views of the ground below and the surrounding lagoons from these mountains provide the perfect photo opportunities.
4. Explore the French Polynesian islands by sea
Experiencing Bora Bora from the sea onboard a traditional outrigger canoe with a local guide is a special experience. The guide will show you the island from the water and share some of its stories and history. If you are in Bora Bora with your love, you can choose to go for a Polynesian feast on a private Motu (a reef islet), where you will enjoy a traditional meal together and swim with stingrays and reef sharks.
5. Visit the Tahiti pearl market
Visiting the Tahiti pearl market should be on your to-do list if you love pearls. Tahitian pearls are among the most beautiful and most coveted worldwide, and their trade offers employment to many native locals. You can choose your favourite pearls from the varieties available in this market and have them mounted in a piece of jewellery to remind you of your Bora Bora holidays.
Our best hotels in Bora Bora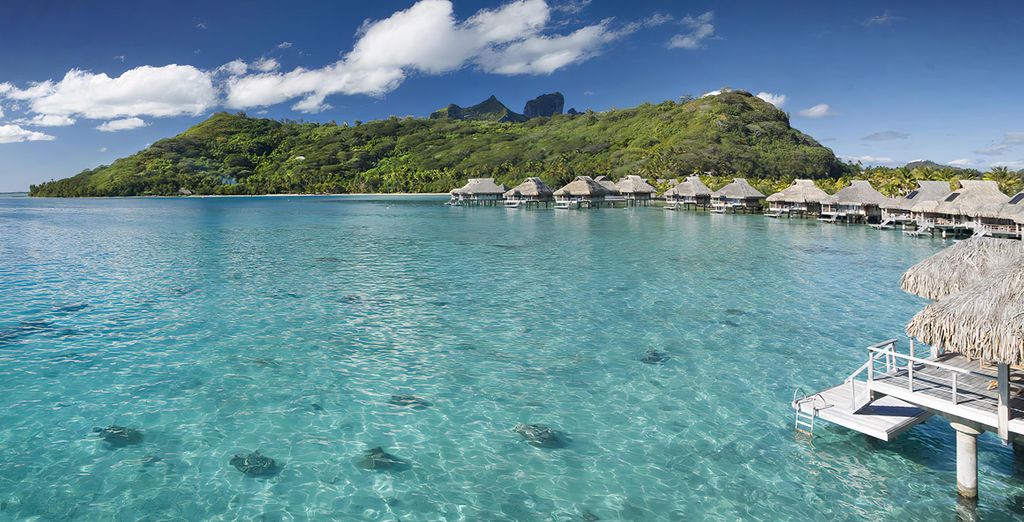 This resort located in a private cove on Motu To'oputa boasts an idyllic location with picturesque views - between the foot of Mount Otemanu and the crystal island's lagoon. Guests here enjoy private white sand beaches, an infinity pool, abundant dining options and spacious rooms.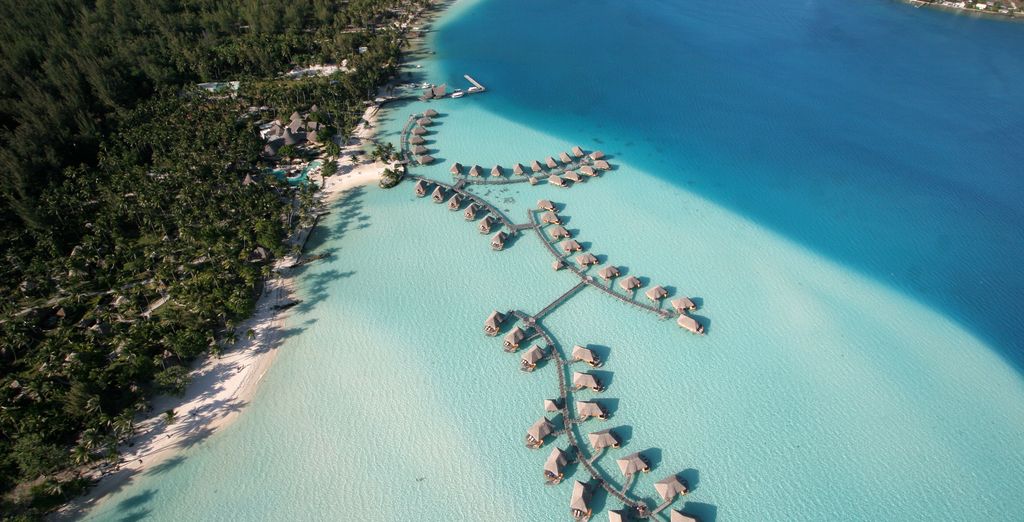 Le Bora Bora by Pearl Resort is located on Motu Teviora, only ten minutes by boat from the airport. Guests can choose from bungalows in three settings: in the tropical garden, along the beachfront or over the lagoon. The resort features two bars and three different restaurants serving a wide range of international cuisines.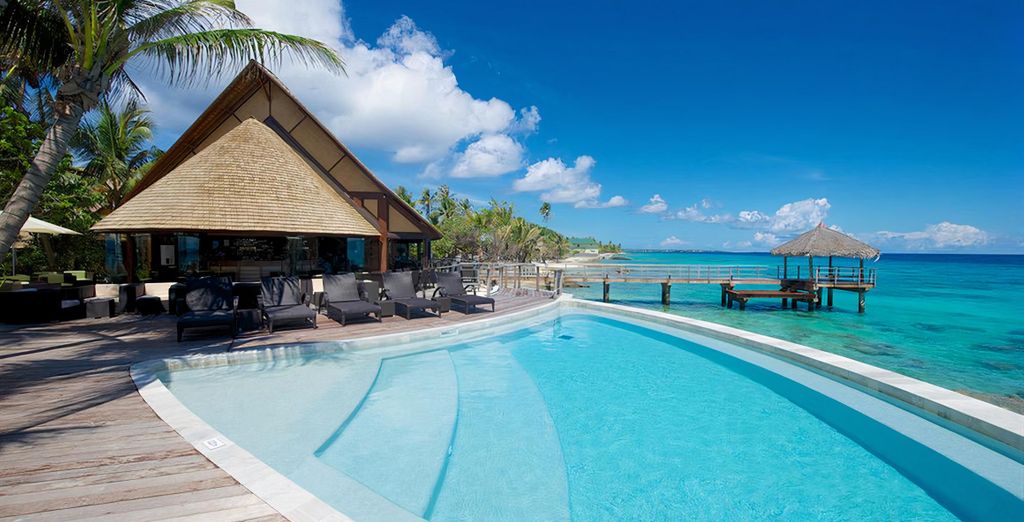 Located close to Matira Beach, this boutique hotel features rooms on land and others over the waterway. Each room offers air conditioning, a flatscreen TV and a minibar. When not exploring the island, guests can enjoy local and international cuisines in any of the two on-site restaurants or try an exotic cocktail at the Manuai Bar, also on site.
When is the best time to go on holiday in Bora Bora?
BORA-BORA WEATHER
Since Bora Bora has warm weather year-round, you can visit at any time you wish. However, if you want to make the most out of your holiday, it is advisable to visit during the dry season between May and October. The sunny weather will be perfect for water sports, hikes and sightseeing.
Going on holiday in Bora Bora
Since there are no direct flights from the UK to Bora Bora, the shortest route is to take a direct flight to the US and pick up another flight to Tahiti's Faa'a International Airport. You can then take another flight to Bora Bora Airport, followed by a quick catamaran ride to your final destination on the island.
Enjoy your holiday in Bora Bora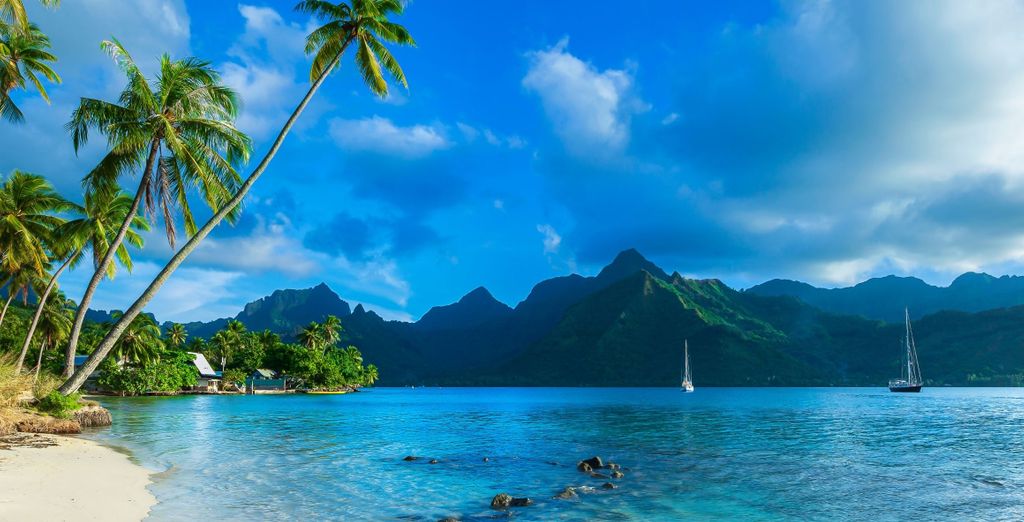 Being a small island, most attractions in Bora Bora are within reach if you choose to stay in one of the island's hotels. From swimming at the beach to snorkelling and jet skiing, you can experience several different activities in a day. Staying on the island for a full week will give you enough time to relax and explore more.
The Voyage Privé travel expert's opinion on Bora Bora
Bora Bora is undoubtedly the most beloved in the South Pacific, thanks to her turquoise lagoons, beautiful beaches, green surroundings and luxurious accommodations. From family holidays to honeymoons, Bora Bora holidays offer all you need to have fun, create memories to last a lifetime and unwind completely in this tropical paradise. You can explore the mountains and the jungle, swim in the lagoons, visit nearby islands or just relax on the deck of your overwater bungalow. This island is truly unforgettable!
Book now to witness majestic scenery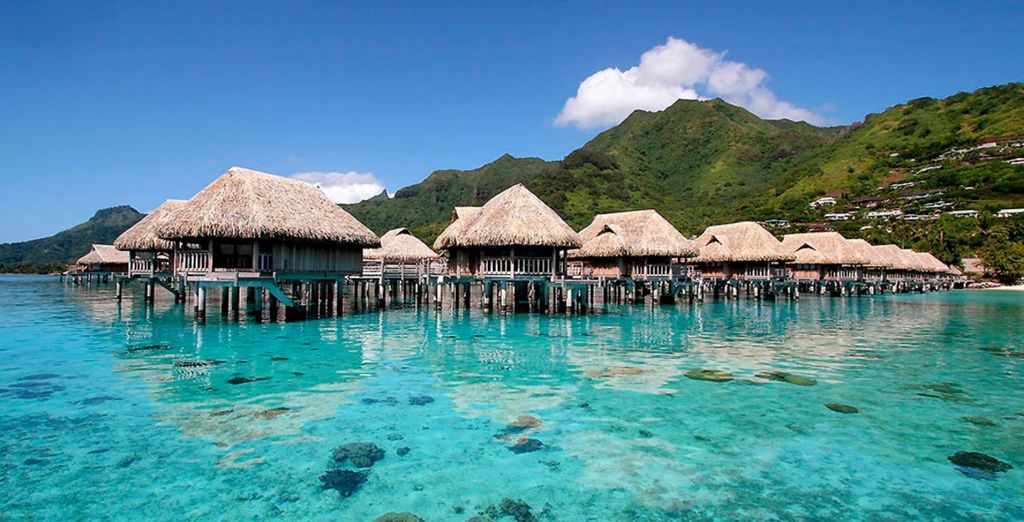 We have an impressive selection of Bora Bora holidays for you to choose from, making your dream holiday a reality, without breaking the bank. Visit French Polynesia's most popular destination, and with our expertise you will diving into the clear ocean, or walking across white sands in no time. Whether it's a romantic honeymoon destination you are after, or a relaxing family escape, we can tailor a trip for you. Visit the volcanic twin peaks of Mount Pahia and Mount Otemanu, for the best view of the island's famous lagoons. Enjoy an endless range of water-based activities and discover a new world underwater. There are endless photo opportunities with scenery as majestic as these mountains and tropical islets, soon to make all of your friends and colleagues green with envy.
Enjoy your stay during your Bora Bora holiday in only the best accommodation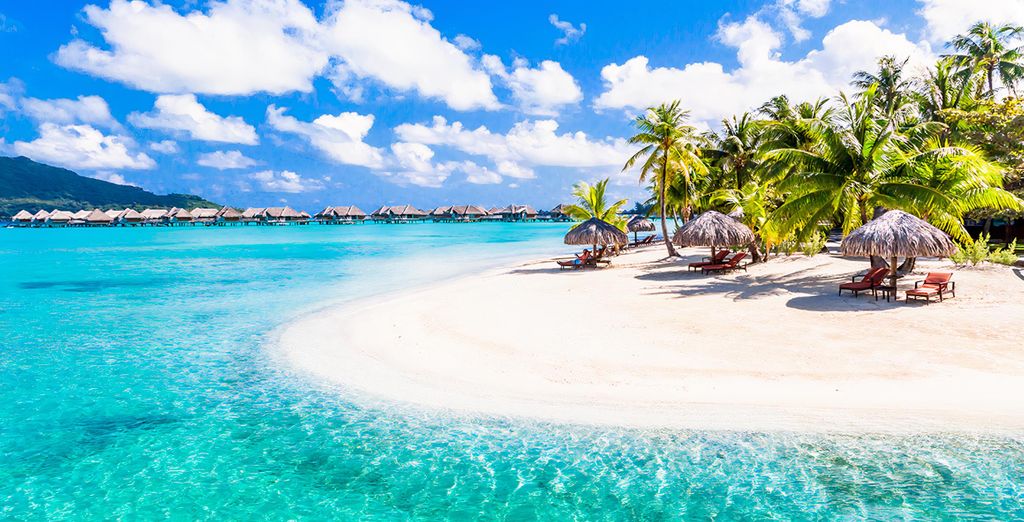 Sign up today and we can offer you a wide range of accommodation, from Bora Bora's famous floating bungalows, to all inclusive hotels. The only difficult decision you will have to make is whether you want to go 4 or 5 star. Revel in the convenience of staying near multiple stunning beaches, with a variety of night time activities, bars and restaurants. Enjoy with a sunset view for an unforgettable stay on your very own slice of paradise.
From towering heights to the depths of the ocean
Our Bora Bora holidays offer an enormous variety of water activities, set among the backdrop of one of the planet's most beautiful locations. Choose from snorkelling with tropical fish, to scuba diving, to jet-skiing. Experience the warmest sea you will ever dip your toes in as you paddle through the lagoons or kiteboard off the southern coast of Matira. Or simply take a stroll across the quiet, palm-lined beaches to soothe your soul. On dry land you can see the island by taking a jeep tour or hiring bikes to delve into the dense, lush surroundings. If you would like a guide, there are both bus and helicopter tours, depending on your mood. At the end of the day you can unwind with the astonishingly good value spa treatments available in the resorts. Our team will find the best deals to craft your ideal itinerary.
Sign up now for exclusive offers on relaxing getaways, or rip-roaring adventures. You can have it all with our brilliant selection of hotels and accommodation, so why delay? A Bora Bora holiday is waiting for you.