The Best Time to Visit Vietnam



Table of contents
If you are contemplating travelling to Vietnam, have no doubts. It is a fascinating place with stunning natural beauty, diverse culture and an unbeatable culinary scene. Its varied geography and terrain means that weather conditions will differ depending on altitude and latitude, as well as season. The country has a tropical monsoon climate, with distinct dry and wet seasons that transform the landscape – sometimes dramatically – and can have an impact on your sightseeing plans. As such, the best time to visit Vietnam is determined by which of the country's many wonderful destinations you are planning to explore, and how you want to make the most of your time while you are there.
Geography and climate
Vietnam spans an impressive 1,000 miles from top to bottom. The north is home to majestic mountain ranges, picturesque rice paddies, and the capital city, Hanoi. Explore this unmissable city on foot to truly experience its vibrancy. There is still French influence in Hanoi, owing to the many years that the country was ruled by France. The blend of Asian and French cultures makes for a city of interesting contrasts. In the central region, a wealth of heritage sites are waiting for you to explore, along with verdant national parks and picture-perfect beaches. Lastly, to the south, you can discover everything from the lively cityscape and superb restaurants of Ho Chi Minh City to pristine beaches, perfect for sunbathing and snorkelling.
In addition to having a rich history, cuisine and culture, each region has a unique weather system. As a result, rainy and dry seasons fall at slightly different times, depending on where you go:
Northern and Southern Vietnam:
Dry season: November-–April
Rainy season: May–October


Central Vietnam
Dry season: January–August
Rainy season: September–November
Visiting Vietnam in Spring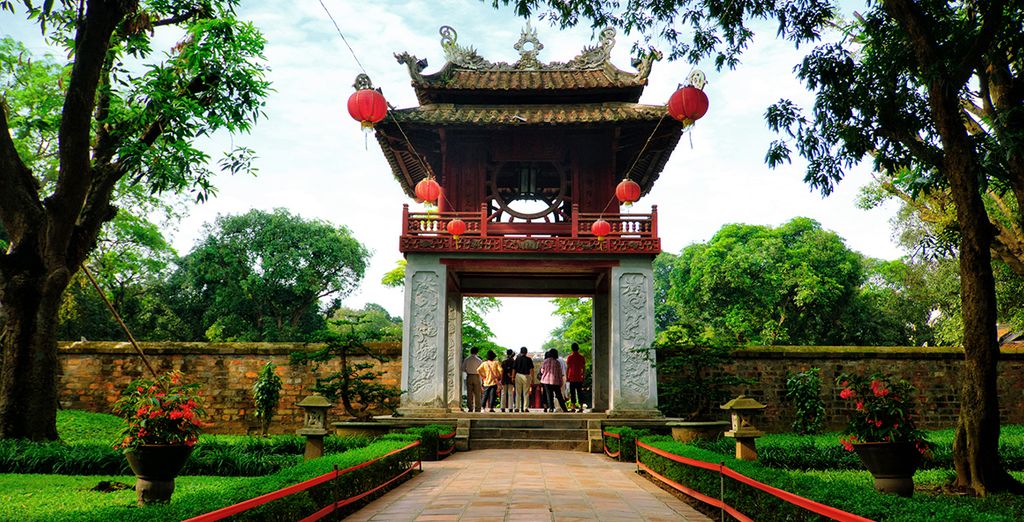 Rainfall is low almost everywhere in spring, so this is one of the best times for touring many of Vietnam's top destinations. The same is true of tourist numbers, meaning sightseeing spots tend not to be overly crowded. March and April are balmy without being humid, which makes these months ideal for epic hiking adventures in the north. And if you are hoping to summit the cloud-wreathed peak of Mount Fan Si Pan (Vietnam's highest), this is the time to make the trek. Spring is also perfect for exploring the rugged terrain and awe-inspiring caves in the Phong Nha-ke Bang National Park. Meanwhile, in southern and central Vietnam, the clear skies and warm weather provide the best conditions for unwinding on the golden sands of Nha Trang and peaceful Cam Ranh. You can also take a romantic cruise on the emerald waters of Halong Bay.
Visiting Vietnam in Summer
Humidity starts rising in June, and peak tourist season comes into full swing during July and August as the heat levels soar. Summer is monsoon season and tropical downpours mean that trekking is largely off the to-do list, as remote locations can be challenging to access. Temperatures reach blissful levels of over 30°C, keeping beach lovers happy. This is the ideal time for a stay in coastal regions of central Vietnam. Discover Hue with its refined palaces and serene monasteries that will transport you back to Vietnam's regal Imperial days. The sweeping shoreline of Da Nang is where you will experience ultimate relaxation, while Hoi An with its colourful flowers and old-world architecture is sure to enchant your senses.
Visiting Vietnam in Autumn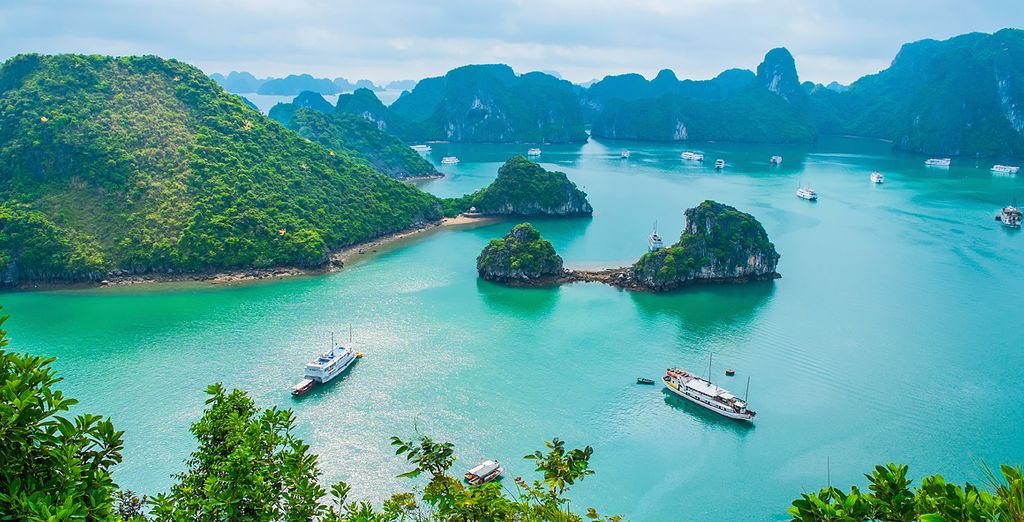 September and October are good months for touring all of Vietnam, as they are quieter than the peak summer period. Humidity levels are lower and temperatures are pleasant. Autumn is a great time to go trekking in the north, such as in the idyllic hills of Mai Chau or the towering mountains of Sa Pa. But October can be very wet in central Vietnam, so if sunny beach days are your thing, head south to catch the dry and balmy weather. Some fantastic options include the secluded Ca Na and the island paradise of Phu Quoc with its magical sunsets and swaying palm trees. Be sure to also check out the lush mangrove forests and iconic floating markets of the Mekong Delta.
Visiting Vietnam in Winter
Outside of the Christmas break and Tet festival, winter is a reasonably quiet time to explore Vietnam. Winters are dry and cool, with the mountainous areas in the far north experiencing a definite chill in the air. However, Hanoi remains pleasantly warm, which will give you the perfect chance to discover the city's bustling Old Quarter and mouth-watering culinary scene. As February arrives, the weather warms up and provides more excellent opportunities for hiking. You could journey north to the cascading waterfalls of Ban Gioc, or lose yourself in the unspoilt wilderness of Ba Be National Park. Alternatively, head south to visit the incense-infused temples, chic boutiques and markets of Ho Chi Minh City. From there, you can also travel to the many gorgeous beaches along the south coast, such as in Mui Ne and Phan Thiet, to relax in style.
Festivals
A wealth of annual festivals and celebrations are on the calendar in Vietnam, the most important of these being Tet. This is the Vietnamese New Year, when the streets burst with colour and fireworks ignite the sky. The holiday falls in late January or February. And during this time, many businesses close and transport becomes busier as people return to their hometowns. Other notable celebrations include the Danang International Fireworks Festival in June and July with its dramatic pyrotechnic displays, and Vietnam National Day in September. This is followed by the Mid-Autumn Festival in October when mooncake stalls pop up everywhere and ethereal lanterns light the streets.
Must-see places and the best time to visit them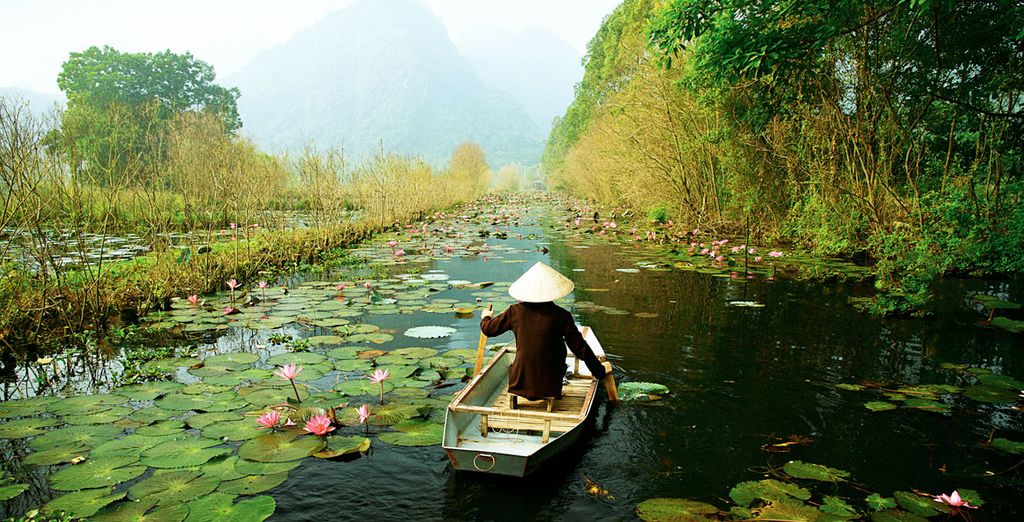 Da Lat and Ho Chi Minh City: December–March
Da Nang: February–May
Ha Giang: March–May
Halong Bay: April–June; September–November
Hanoi: April–June; September–December
Hoi An: March
Hue: March–August
Mui Ne and Phu Quoc: November–March
Nha Trang: February–April
Phong Nha-ke Bang National Park: March–April
Sa Pa: April, October
Planning a holiday to Vietnam?
No matter when you visit Vietnam, you are sure to find plenty of opportunities for adventure. Packing the right clothes for the season will help to ensure that you make the most of your trip.
Here are our top tips for packing for Vietnam:
Hiking in the north: Rucksack, sturdy shoes and socks, warm outer layers, a refillable water bottle, and insect repellant.
Relaxing beach holidays in the south or central Vietnam: Swimsuit, sunhat, sunglasses, flip flops, sunscreen.
Rainy season: lightweight waterproof jacket or poncho, a mini umbrella, and insect repellant.
Whenever you visit, having shoes that are easy to slip on and off will save you time, as many places require you to remove your footwear before entering. Of course, no trip to Vietnam would be complete without visiting some of the country's ancient temples and other sacred sites. Hanoi's picturesque Tran Quoc Pagoda and the kaleidoscopic Cao Dai Temple are two fine examples. So, bring modest clothing to wear while wandering through the spectacular halls and admiring the soaring towers.