We Love —
Set sail on the largest cruise ship in the world, where highlights include a tranquil Central Park, open-air amphitheatre and an elevating bar.
Enjoy a 2 night hotel stay in Miami, before setting sail to discover beautiful Caribbean islands such as St Thomas, St Maarten and The Bahamas.
Choose from 3 staterooms with Full Board dining on board your 7 night cruise.
Harmony of the Seas is essentially a floating city, with nearly 2,750 staterooms over 16 guest decks, 20 dining venues and 23 pools
Here to Help —
Booking 60 days in advance and spending over £500 per person? No need to pay in full today! Just select the 30% deposit option on our payment page (terms & conditions apply)

For any additional information on this offer or assistance in making your reservation please call one of our dedicated team on 01392 683168 or email sales@voyageprive.com

Opening hours are Monday to Friday 08:00 to 20:00 and Saturdays  & Sundays from 09:00  to 17:30.
Your Destinations —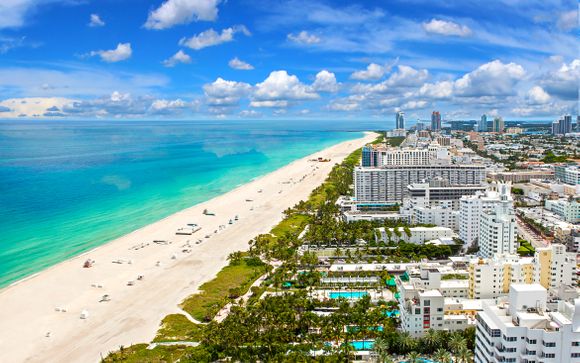 Miami
Famed for its tropical climate, miles of sandy beaches and lively, glamorous atmosphere, this beachside Florida city is a popular holiday spot the year round.
Golden sands are right on your doorstep - head to famous South Beach for celebrity spotting. After dark, the wealth of glamorous restaurants, bars and clubs are sure to keep you entertained and get you in the holiday spirit!
Caribbean
Sun-drenched islands, powder-white beaches, rum punch, riotous colours, carnival atmosphere – experience it all on a Caribbean cruise! With palm tree-fringed islands scattered across the Caribbean Sea, this breathtaking part of the world was made for cruises.
A true melting pot of African, European and Asian influences, these island nations are brimming with flavourful cuisine and colourful culture. Lazing in a hammock, book in hand is the perfect antidote to life's stresses - you can't help but  feel relaxed!
Your Itinerary —
Day 1 - Fly from the UK to Miami. On arrival, enjoy a private transfer to Pestana South Beach Hotel for a 2 night stay
Day 2 - Free to explore Miami
Day 3 - Private transfer to Fort Lauderdale for embarkation  
Day 4 - Nassau, Bahamas  
Day 5 - At Sea   
Day 6 - Charlotte Amalie, St. Thomas   
Day 7 - Philipsburg, St. Maarten   
Day 8 - At Sea
Day 9 - At Sea   
Day 10 - Fort Lauderdale. Disembark, private transfer to Miami airport for your overnight flight home.   
Day 11 - Arrive in UK
Your Ship —
This offer is based on a 7 night cruise with Full Board dining. (Breakfast, lunch and evening meal - excludes drinks)
Harmony of the Seas set sail in 2016 as the newest ship in the Royal Caribbean fleet. She joins the Oasis Class as the largest ships at sea packed with all the popular Royal Caribbean innovative favourites.

The stunning 5,400-passenger ship spans 16 decks full of entertainment, attractions and a range of 2,747 brand new staterooms, encompassing a staggering 227,000 gross tonnes.

Take a leisurely stroll along the lush avenues of Central Park, enjoy all the fun of the seaside at the Boardwalk, or do some window-shopping in the designer boutiques of the Royal Promenade – the choice is yours!

Outdoor recreation choices include a zip line high above the Boardwalk, as well as three multilevel waterslides which twist and turn over Central Park 10 decks below.

Two FlowRiders offer passengers the chance to demonstrate their surfing chops, while others can try their hand at rock climbing. Runners can take advantage of the full ship circuit running track whilst putters will be drawn to the Harmony Dunes mini-golf course.

Cruisers wishing to be outside, but away from the hubbub, can relax in the two-deck adults-only Solarium, or retreat to the calm of the two storey spa.

Home to an excellent variety of specialty restaurants, Harmony of the Seas presents the brand new Dynamic Dining experience, allowing guests to savor a vast and varied dining selection with more choice and flexibility than ever before. Exciting new venues include Izumi Hibaci Sushi and Sabor Modern Mexican Restaurant.

Highlights include
Central Park open air area with real plants, trees and grass
Spa & Fitness Centre
Roman style Aquatheatre
3 multilevel waterslides
Rising Tide elevating bar
Boardwalk
First ever at sea carousel
Zip Line - 82 feet long
Gratuities: Royal Caribbean charges its passengers $13.50 per person, per day ($16.50 for those in suites). Gratuities can be prepaid or are added on a daily basis to passengers' SeaPass accounts during the cruise.
Passengers can modify or remove gratuities by visiting the guest services desk while onboard.

An 18% tip is automatically added to bar tabs and purchases like specialty coffee, cupcakes and ice cream. Gratuity envelopes for those who wish to reward extra service are delivered to staterooms on the last day.
Your Stateroom —
You may choose from an Inside, Ocean View or Balcony stateroom 


2 Adults
Reservations for single guests, children or a third adult are also available to book offline. Please call 01392 683168 or email sales@voyageprive.com

Please note: Views from staterooms may be obstructed
Inside Stateroom
Relax in style, with Royal Caribbean's most spacious and comfortable accommodation yet. Groundbreaking 'virtual balconies' (LCD screens that stream real-time footage of the view from deck directly to your room) mean Interior Stateroom guests can now enjoy stunning ocean views!

Each Interior stateroom includes: Two twin beds or one Royal King size bed, TV and telephone, refrigerator or minibar, private bathroom with shower, vanity area, hair-dryer, room service available 24 hours a day.

Ocean View Stateroom
Wake up to shimmering ocean views from your window in this spacious room.

Amenities include: View of the ocean, two twin beds or one Royal King size bed, TV and telephone, refrigerator or minibar, private bathroom with shower, vanity area, hair-dryer and room service available 24 hours a day.

Balcony Stateroom
Take in the wonder of the world as you drift by in a Balcony Room. With each featuring its own private seating area, a moment spent enjoying the deep blue and beyond is only ever a glance away.
Each balcony room includes: Seaview, Boardwalk or Central Park view, two twin beds or one Royal King size bed, TV and telephone, refrigerator or minibar, private bathroom with shower, vanity area, hair-dryer, room service available 24 hours a day.
Your Hotel —
This offer includes a 2 night stay at the Pestana South Beach hotel (4*) in Miami, prior to your cruise. (Standard room, room only.)

This art deco boutique hotel offers sophisticated style in a fantastic location. Within minutes walk of the beach and the famous Ocean Drive, this fashionable hotel is the perfect place to discover the glamorous city.
The inner courtyard with outdoor swimming pool offers a cool, calm oasis away from the crowds, where you can relax and soak up the sunshine.
Your room offers free wifi, air conditioning, minifridge and bathrobes.
Your Journey —
Flights: Included with 20kg of luggage

From London Heathrow
Outbound: 0900 - 1350
Inbound: 1910-0840 (overnight flight)

OR
Outbound: 0925 - 1440
Inbound: 1800-0730 (overnight flight)

OR
Outbound: 1315-1805
Inbound: 2140-1100 (overnight flight)

From Glasgow (via Newark)
Outbound: Glasgow - Newark 0900-1155 then Newark- Miami 1405-1711
Inbound: Miami - Newark 1543-1852 then Newark-Glasgow 2000-0730 (overnight flight)

From Manchester (via Philadelphia outbound and via JFK inbound)
Outbound: Manchester-Philadelphia 1040 -1345 then Philadelphia - Miami 1610 - 1916
Inbound: Miami - JFK 1407-1700 then JFK-Manchester 1935-0725 (overnight flight)

OR
From Manchester (via London Heathrow outbound and via Philadelphia inbound)
Outbound: Manchester-London Heathrow 0755-0905 then London Heathrow-Miami 1105-1605
Inbound: Miami-Philadelphia 1650-1942 then Philadelphia - Manchester 2100 -0840 (overnight flight)

OR
Outbound: Manchester-London Heathrow 0955-1105 then London Heathrow-Miami 1235
Inbound: Miami - Philadelphia 1700 -1948 then Philadelphia Manchester - 2100-0840 (overnight flight)

OR
Outbound: Manchester-London Heathrow 0955-1105 then London Heathrow-Miami 1340 -1845
Inbound: Miami -London Heathrow 1800-0730 (overnight flight) then London Heathrow - Manchester 0955-1100

All flight times are local

Transfers: Private transfers are included (10 miles)

Please note: flight details are given as a guide only and may change.  We will however notify you in advance if flights are more than 2 hours outside the time range given.  Specific flights cannot be selected and confirmed timings will be shown on your official documentation from the tour operator.  Flights are non-changeable and non-refundable at time of booking.