We Love —
Revel in a thrilling staycation in central London, with an exceptional gastronomic 3-course dinner experience at the delectable The Hyde Restaurant.
Stay in a boutique, Grade II Listed building just minutes from Hyde Park, offering lovely leafy views of Westbourne Terrace. 
Make the most of your privileged location in the heart of London and relish the freedom only a truly central hotel can offer!
Your gourmet escape awaits —
Lose yourself in the historic charm of this beautifully restored Victorian townhouse. The Grade II Listed building, built in 1842, sits perfectly in a privileged location near Hyde Park, and boasts many original architectural features. The journey begins from the moment you step foot into Roseate House, let it whisk you back in time with its elegance and poise. Walls adorned with oil paintings, plush furniture, and opulent design awaits every guest, offering a refined base for a London staycation. Included in your offer, you will have a breakfast each morning and one three-course dinner at The Hyde Restaurant. 

The Hyde Restaurant, situated within the hotel, blends classic European flavours with innovative style, delivering a delectable and exciting culinary experience in a sophisticated ambience. 
Your Room —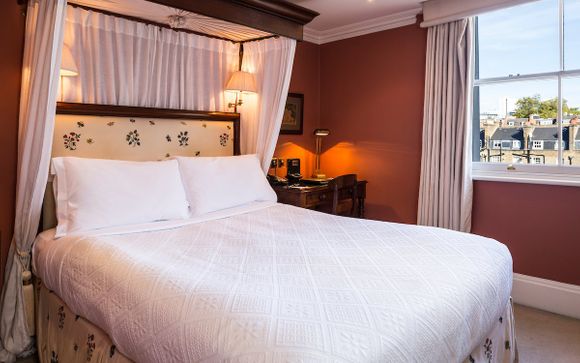 Classic Double Room
Immerse yourself in the refined luxury of the well-appointed and individually designed Classic Double Rooms. Experience a peaceful night's rest in a hand-crafted bed, and make yourself at home amidst the antique furniture and gorgeous period features. 
Junior Suite
Decked with a sitting room and a sofa that either watches over Westbourne Terrace or London's rooftops, this is will be your tranquil haven from the hustle and bustle of this vibrant city. Each suite features a tailor-made, hand-crafted four-poster bed with silk ceiling, an experience you will never forget! 
Your dinner at The Hyde Restaurant —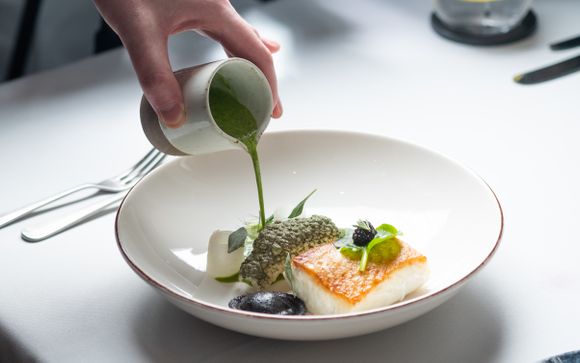 Take a seat at The Hyde Restaurant and let the culinary journey begin with the lovely atmosphere and superior setting for a memorable meal. Savour every bite of your three-course meal, perfectly executed by talented chefs, creatively presented, and prepared with the freshest of ingredients. Each dish has a story to tell, and you are invited to join the journey. 
Start the day with a delicious breakfast —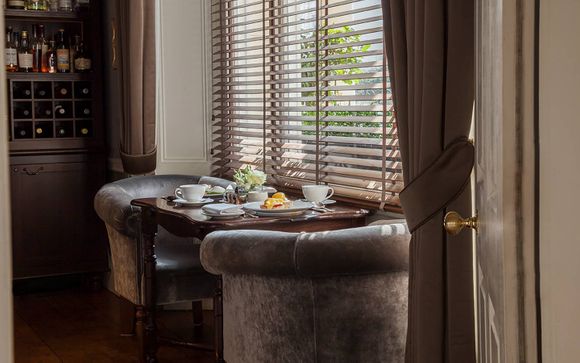 Start your day in the best possible way and enjoy a
breakfast
at The Hyde Restaurant & Bar. In this intimate and stylish setting, you can choose from a tantalising menu of nutritious, well-balanced dishes such as poached eggs & avocado, or indulge in freshly baked pastries, or a quintessential Full English breakfast. 
The must-see places to visit near your hotel —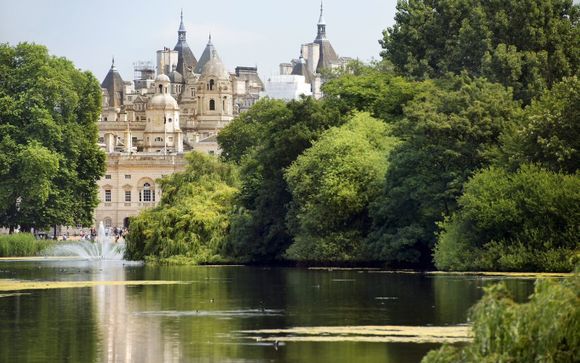 It's difficult to summarise a city as eclectic and immense as London - with so many neighbourhoods, all with their own atmosphere and quirks, and a wealth of world-class galleries, museums, and restaurants, a trip to London is always going to be unique.
The privileged location of this hotel near Hyde Park easily leads visitors to the delights of Kensington, where you'll also find a cluster of fantastic museums: the V&A, Science Museum, and the Natural History Museum. Hyde Park itself practically leads on to St James' and Green Parks, with the incredible shopping experiences of Bond Street and Oxford Circus all within a half hour walk. 
Practical Information —
Your Hotel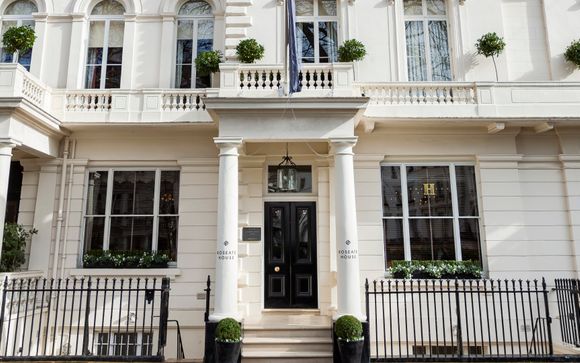 Situated just moments from Hyde Park on historic Westbourne Terrace in central London, Roseate House offers a boutique experience with its 48 exclusively designed rooms. Step back in time and treat yourself to a luxurious staycation and fall under the spell of its charm and style. Located within minutes equally of Paddington station and Lancaster Gate Underground, the city is your oyster! Take a stroll around stunning Hyde Park, pop over to Bond street for some retail therapy, meander through Portobello Road market - your options are limitless in such a  superior location. 
Address
3 Westbourne Terrace, Lancaster Gate, Hyde Park, London W2 3UL, United Kingdom
Check-in time: 15:00
Check-out time: 12:00
Access
Distance from Paddington Station to Roseate House 4*: 0.2 m / 4 minutes
Distance from Lancaster Gate Underground to Roseate House 4*: 0.2 m / 4 minutes