We Love —
Soaking up panoramic views of Dubai's shimmering skyline and the Creek Marina from the viewing deck.
Getting pampered at the spa and taking advantage of the 10% members-only discount.
Discovering the magic and glamour of Dubai on an included Discover Dubai excursion.
Enjoy the infinity pool with a marina view!
Your excursions in Dubai —
So that you don't miss out on anything, we have prepared a range of excursions that will give you different experiences: guided city tours, safari and dinner in the desert, dhow cruises and tickets to the Burj Khalifa, your holiday promises to be full of adventure and discovery! You'll have plenty of great memories.
PLEASE NOTE: Some of these excursions are not suitable for pregnant women or people with a history of spinal problems.
Your tours:

Dubai City Tour
Take a tour of Dubai, a city of contradictions and wonders. On this fascinating city tour you will see the old and the new, the ancient and the modern, the unique and the majestic.
The tour begins with some of the largest buildings in the Middle East. Enjoy a panoramic photo opportunity of the iconic Burj Al Arab, the world's tallest hotel located on its own island. After a short break by the Dubai Creek, you will arrive in the oldest part of the city, Bastakia, where the old houses of wealthy merchants with wind towers can still be seen. Visit the fascinating Dubai Museum in Al Fahidi Fort, which has been there for almost two centuries defending the settlers and gives a real insight into the pre-oil era.
Explore the textile market and take a closer look at the wind towers as you make your way back to the creek, where you will board an 'Abra', a traditional wooden water taxi that will take you across the creek to the spice and gold souk area.
For the final part of the Dubai city tour, you will stroll through the bustling alleys of the souks, being surprised by the aromas of many spices and the breathtaking amount of dazzling jewellery, ranging from traditional to the latest designs at surprisingly affordable prices.
Important information:
I. If a tour cannot start due to bad weather or mechanical failure, an alternative booking date will be offered.
II. It is not recommended to book during the holiday season (e.g. Christmas, New Year and Valentine's Day). Subject to availability. A supplement may apply.
Includes:
- Pick up and drop off
- Guided tour of Old and New Dubai
- Burj Al Arab and Gold and Spice Souks (from outside, no tour)
- Ticket to the Dubai Museum in Al Fahidi Fort
- Ticket to cross Dubai Creek in a local water taxi 'Abra'.
Start and end times:
- Pick up will be between 08:00 and 08:30, depending on the hotel you are staying at. Our partner will confirm the departure time directly with you. The tour ends between approximately 13:00-13:30.
Duration:
Approximately 5 hours.
Half Day Desert Safari and BBQ Dinner
Discover a must-do for anyone visiting Dubai with an exhilarating desert experience. You will be picked up in an air-conditioned 4x4 vehicle and taken by an expert driver on an exciting journey through the dunes of the Arabian desert. Meet at the top of the largest sand dune to enjoy the full glory of a desert sunset and take photos before heading to an exclusive traditional Bedouin campsite nestled in the heart of the desert.
You'll have the chance to ride a camel or try your hand at sandboarding, while a delicious barbecue dinner is prepared over open fires. If you wish, you can get a henna tattoo on your hands or feet. Dinner will be served under the stars and will include shawarma and falafel sandwiches as starters and a barbecue buffet with side dishes, as well as soft drinks, mineral water, coffee and tea. Tanoura dance and belly dancing under the Arabian sky is a magical experience under the stars.
Important information:
I. If a tour cannot start due to bad weather conditions or mechanical failure, an alternative booking date will be offered.
II. Please ensure that no bookings are made for pregnant women or guests with a history of spinal problems. If necessary, please inform us in advance, and we will try to arrange a direct drop-off at the campsite.
III. Bookings during the festive season (e.g. Christmas, New Year's Eve and Valentine's Day) are not recommended. Subject to availability. A supplement may apply.
Includes:
- Pick up and drop off by professional safari drivers in air-conditioned 4WD
- Dune bashing experience
- Sunset photo session
- Short camel rides (in front of the camp)
- Soft drinks and mineral water
- Welcome with coffee, tea and Arabic dates
- Henna painting
- BBQ dinner (vegetarian and non-vegetarian options available)
- Live entertainment: belly dance show, fire show and tanoora dance
Not included:
- Alcoholic beverages Dune buggy
- Quad biking
- Falconry
- Souvenirs
Duration of the tour:
- Approximately 5 hours.
Dinner cruise on a dhow
You haven't experienced Dubai until you've taken a traditional dinner cruise. A touch of heritage meets modern architecture on this two-hour night cruise through Dubai Marina, the world's largest man-made marina.
Discover Dubai's breathtaking skyline as you cruise along the marina for an unforgettable experience, especially when combined with a 5-star gourmet dinner and delightful background music to set the tone. Discover the authentic charm of this majestic city from the deck of a traditional wooden dhow. The perfect way to celebrate Dubai's rich heritage. Enjoy an unforgettable night sailing along the famous 3 km waterway with breathtaking views of several futuristic skyscrapers, as well as some luxurious super yachts moored at the Dubai Marina Yacht Club. The Cayan Tower, the world's tallest twisted tower, is also located in Dubai Marina.
Important information:
All cruises are subject to weather conditions. The supplier reserves the right to cancel any tour if the cancellation or delay is caused by circumstances beyond its control, including but not limited to force majeure, adverse weather conditions, vessel traffic, government intervention, obligation to assist a person in distress during the cruise, civil unrest or labour disputes.
Bookings during the holiday season (Christmas, New York and Valentine's Day) are not recommended. Subject to availability. A surcharge may apply.
Includes:
- Pick up and drop off
- Gourmet dinner prepared by Radisson Blu Hotels & Resorts 5*.
- Dhow cruise on the marina
Start and end times:
- Pick-up will be between 18:30 and 20:00, depending on the hotel you are staying at. Our partner will confirm the pick-up time directly with you. Embarkation takes place between 20:00 and 20:30.
- Time of the cruise: 20:30-22:30.
Duration of the cruise:
About 2 hours.
Burj Khalifa Tickets
Enjoy unforgettable views from the 124th floor of Burj Khalifa, the world's tallest tower at 828 metres. The reception area leads to a 65-metre-long wall of Dubai history, which in turn guides you to the high-speed lift that moves at 10 metres per second. Wander around the perimeter at your leisure and peek through the special telescopes (optional at extra cost) that offer virtual time-travel visions of the impressive 360-degree panoramas that stretch from the city to the Persian Gulf and the desert.
Important information:
I. Children under the age of 16 must be accompanied by an adult at all times while visiting the attraction.
II. No outside food or drink is allowed in the attraction.
III. Large bags and/or prams must be left at the Will Call desk.
IV. No responsibility is accepted for adverse weather conditions affecting visibility.
V. The attraction is closed on New Year's Eve (31 December).
Included:
- Burj Khalifa entrance ticket, leading to floors 124 and 125 exclusively.
Time and duration of the tour:
- The tour will be conducted between 10:00 and 12:00.
- A typical tour of the Burj Khalifa takes approximately 90 minutes
Vida Creek Harbour Hotel 4* —
Relish urban-chic luxury at Vida Creek Harbour Hotel 4*. Featuring breathtaking Dubai skyline views, you'll experience magical sunsets and high-end services in a relaxed and inviting atmosphere. With easy access to the city's main attractions, this waterfront hotel will be the perfect haven in which to retreat after a day of exploring Dubai. Head to the Marina and stroll through its buzzing promenade,  just a few steps away from your superb hotel. Pamper yourself with a dip in the infinity pool which boasts breathtaking views. Vida Creek Harbour Hotel 4* welcomes you in an opulent setting ready for you to explore and wind down!
Geographic location —
Ras Al Khor - Dubai Creek Harbour - Dubai - Émirats arabes unis Dubai, United Arab Emirates
Distance from Dubai International Airport to Vida Creek Harbour Hotel: 14 km / 14 minutes.
Your Room —
This offer is based on an Upgraded Deluxe Partial Marina View Room.
Deluxe Partial Marina View Room (32 m²)
The Deluxe Partial Marina View rooms offer a relaxing and creative space. Each room features partial views of the city harbour showcasing the Creek Marina. Realx in 
Maximum room capacity


2 Adults
Your Dining Choices
Just for you:
10% discount on food and beverage - U By Emaar Program
This offer is based on a Bed and Breakfast stay.
Head to Soulgreen, a unique plant-based dining concept, and delight in nutritionally balanced and delicious dishes carefully curated to increase your physical and mental well-being. Sit back and unwind at Stage2, where a laid-back lounge atmosphere is the perfect place to enjoy a light meal. The Courtyard offers members succulent international cuisine in an urban chic setting with stunning Dubai Skyline views. Sip on your favourite cocktail on its fantastic waterfront terrace as you soak in the sunset scenery!
Half Board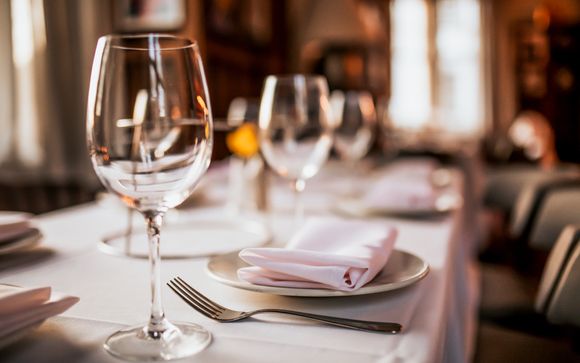 For an indulging stay, choose to upgrade to Half Board (breakfast and evening meal served in the main restaurant - excludes drinks) at the next stage of the booking process for an additional fee. Please note, not all hotel food and beverage outlets may be applicable to your Half Board basis and may be available at selected times only.
Your Time
Just for you:
10% discount on spa services - U By Emaar Program
Plunge into the infinity pool overlooking the Dubai skyline, the most idyllic spot to experience a spectacular sunset. Work out to Burj Khalifa views at the Fitness Centre, featuring the latest equipment, or cycle around the Creek and its surroundings by taking advantage of the free rental bike service Vida Creek Harbour Hotel provides. Stroll through the Marina and explore its lively promenade, multiple restaurants and bars await.
Your Optional Excursions —
Helicopter Flight over Dubai - 12 minutes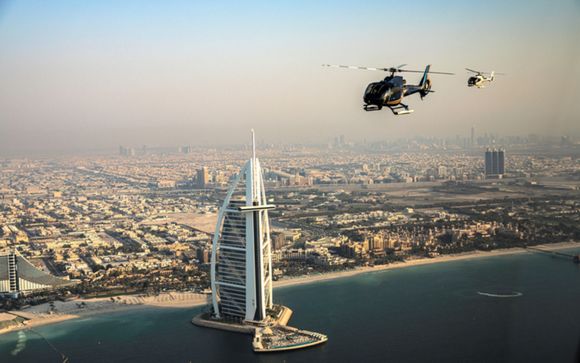 You will take off from Police Dubai Academy for a 12-minute flight. Fly over the Wind towers, the Burj Al Arab, the famous islands of the world and the coast of Jumeirah, Burj Khalifa the tallest building in the world. This helicopter flight will make you discover an extraordinary city between desert and skyscrapers. An incredible view to discover Dubai An unforgettable experience to share with friends, family or lovers.
Important Information:
Duration of the flight 12 min
Wearing a mask is compulsory in the helicopter.
You must arrive 1/2 hour before the flight for boarding formalities
Proof of identity will be requested before the flight
For your safety, the weather conditions may delay your flight
Children under 16 must be accompanied by an adult
120 kg maximum per adult
All operators have an approval number
Not Included:
Registration fees of 24.50 € / person to rules when booking 
Dubai —
It seems hard to imagine, but under Dubai's glittering skyscrapers and monumental glamour is a history dating back to 1833, when the area around Dubai Creek was settled on by the Bani Yas tribe. Now home to stylish beaches, grand hotels, and lavish shopping malls, Dubai is the ultimate place for a luxurious and elaborate sun-soaked getaway.
To get a taste of Dubai life before its rapid modern expansion, wander the maze of streets in the Al Bastakiya quarter, taking in sights such as original Arab architecture and the Bastakiya Museum. Afterwards, immerse yourself in the chic surroundings of modern downtown Dubai - experience the high life at the top of the immense 830m-tall Burj Khalifa, or discover a shopping experience like no other at the Mall of Dubai, which also houses a theme park, aquarium, and a genuine Diplodocus fossil.
At the end of the day, where better to relax than on one of Dubai's stunning beaches? Jumeirah Beach Park is the most popular, where you can laze under palm trees and gaze at the stunning skyline of the city. Surrounded by so many exhilarating sights, you'll never want to leave!