We Love —
Explore the beautiful country of Sri Lanka on a fabulous mini tour
Then relax in the gorgeous Maldives on white sand beaches at Meeru Island Resort
Enjoy the best of 2 countries all in 1 amazing holiday!
New
Voyage Privé
—
Carefully selected by our experts especially for you
These hotels won the
Certificate of Excellence
from the world's leading review website, which honours hotels & accommodations that
consistently demonstrate a commitment to hospitality excellence
.
Here to Help —
Booking 35 days in advance and spending over £500 per person? No need to pay in full today! Just select the 30% deposit option on our payment page (terms & conditions apply)

For any additional information on this offer or assistance in making your reservation please call one of our dedicated team on 0844 8262098 or email sales@voyageprive.com

Opening hours are Monday to Friday 08:00 to 20:00 and Saturdays  & Sundays from 09:00  to 17:30.
Your Destination —
Sri Lanka
is a lush, tropical island paradise, known to ancient Greek mariners as Taprobane. Arab traders called it Serendib – hence the word "serendipity", meaning discovery by happy accident. It was famously described by Marco Polo as "undoubtedly the finest island of its size in the world". This is a culturally rich and environmentally diverse country, with 9 World Heritage Sites (the oldest dating back to the 3rd Century BC); 86 species of mammals (including elephant and leopard) and more than 400 bird species (including 26 endemics); a colorful array of flowering plants and trees, and a Hill Country famous for tea; 14 National Parks out of 100 areas protected by the government; and an Indian Ocean coastline boasting palm-fringed and sandy tropical beaches.
Maldives.
Unrivalled luxury, stunning white-sand beaches and an amazing underwater world make the Maldives an obvious choice for a true holiday of a lifetime. The Maldives is home to perhaps the best beaches in the world; they're on almost every one of the country's nearly 1200 islands and are so consistently perfect that it's hard not to become blasé about them. With some of the best diving and snorkelling in the world, the clear waters of the Maldives are a magnet for anyone with an interest in marine life. The richness and variety is astonishing; dazzling coral walls, magnificent caves and schools of brightly coloured tropical fish await you when you get down to the reef. In deeper waters lurk manta rays, turtles, sharks and even the world's largest fish, the whale shark. The best bit? The water is so warm many people don't even wear a wetsuit.
Your Itinerary —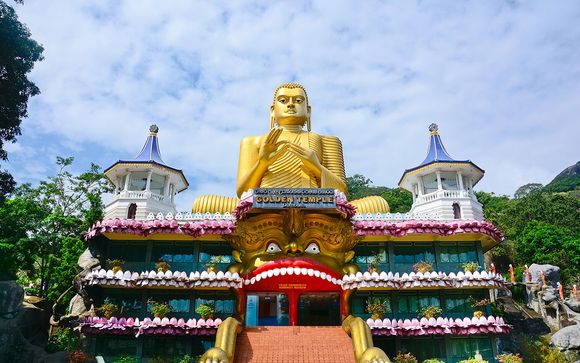 9 night stay (4 nights in Sri Lanka & 5 nights in Maldives) or 11 night stay (4 nights in Sri Lanka & 7 nights in Maldives) 05/09/2016 - 30/06/2017Day 01: Airport - Dambulla
(Approx Transfer time: 3 - 4 Hours)
Arrival at Colombo International Airport. Here, you will be met by a professional Chauffeur Guide Lecturer of Hayleys Tours. After the formalities at the airport you will be escorted to your air conditioned vehicle and transferred to Amaya Lake Hotel.
Later that day, if time permits, proceed to visit Dambulla Cave Temple.    A vast isolated rock mass- it was here that king Valagambahu took refuge in the 01st century B.C. He later turned the caves into a rock temple. Dambulla is a world heritage site and is the most impressive of Sri Lanka's cave temples. The complex of five caves with over 2000sqm of painted walls and ceiling found here are over 2000 years old and is the largest area of painting found in the world. The caves contain over 150 images of the Buddha of which the largest is the colossal figure of the Buddha carved out of rock and spanning 14m.
Return to hotel, accommodation Amaya Lake Hotel.
Day 02: Dambulla / Sigiriya / Dambulla
After breakfast at the hotel proceed to Sigiriya, where you can climb the 1200 steps and admire the fabulous frescoes on the walls of the ancient rock fortress. The Sigiriya Rock Fortress is known as the 8th wonder of the world, built by King Kasyapa in the 5th century A.D. and was a royal citadel for more than 18 years. In a sheltered pocket, approached by a spiral stairway, are the famous frescoes. The summit of the rock, with an area of nearly one hectare, was the site of the palace while the outer wall was built on the very brink of the precipice. The UNESCO sponsored Central Cultural Fund has restored Sigiriya 5th century water gardens to their former glory
On completion, proceed to Hiriwadunna to experience a unique village trek. Hiriwadunna is a super jungle and village experience which is popular with most guests. Walk over village paths and through a forest before crossing a jungle river by catamaran to reach a farmers house where food is provided. After the village trek, return to your hotel to spend rest of day at leisure.
Overnight stay at Amaya Lake Hotel.
Day 03: Dambulla / Polonnuruwa / Minneriya / Dambulla           
After breakfast, begin your day by heading to Polonnaruwa for a city tour. Polonnaruwa, which became the capital of Sri Lanka following the decline of Anuradhapura, was to witness the Sinhalese Buddhist civilisation reaching still greater heights.
After the tour of Polonnaruwa, proceed to Minneriya for a Wildlife safari. Minneriya national park is one of the best places in the country to see wild elephants, which are often present in huge numbers, and wading birds. Dominated by the ancient Minneriya Tank, the park has plenty of scrub, forest and wetlands in its 88.9sqkm to also provide shelter for toque macaques, sambar deer, buffalo, crocodiles and leopards (the latter are very rarely seen however). Elephants, which can number 200 or more, come to feed and bathe during what is known as 'the Gathering'; and flocks of birds, such as little cormorants, painted storks, herons and large pelicans all fish in the shallow waters.
Between the months of August to September, In Minneriya, You will also be able to witness the once a year event of the " Elephant Gathering" in Minneriya. This is more spectacular than possibly any other wildlife event in Sri Lanka. During the dry season when water supplies start to diminish, more and more animals congregate around the Minneriya reservoir where grasses are rich and fertile. At any one time it is possible to witness up to 300-400 elephants. They are not migrating, they simply 'gather', to socialise, bathe, feed and possibly mate.
Overnight stay Amaya Hotel.
Day 04: Dambulla / Pinnawala / Colombo   
After breakfast, check out of the hotel and head to Colombo for the night. En-route stop by Pinnawala to visit the Elephant Orphanage. Pinnawala Elephant Orphanage is a home for young Elephants who have been displaced or lost from their natural habitat. Today with 70 elephants herein, Pinnawela has become the home to the largest captive group of elephants in the world.
On completion proceed to Colombo. Sri Lanka's commercial capital and the largest city with the highest population, Colombo is situated in the Western Province. It is a fascinating town which has a blend of eastern and western cultures where all colours of the island are drawn together. Many visitors appreciate the city's colonial heritage and enjoy the vast range of fine shopping and dining outlets that can be located within the rush of its urban buzz.
Overnight stay at Kingsbury Hotel.
Day 05: Colombo / Airport / Maldives
Today after breakfast you will be transferred to Colombo Airport to catch your flight to the Maldives, where you will be transferred via speedboat to the Meera Island Resort & Spa for an all-inclusive stay.
Day 06-09/11
Enjoy all-inclusive facilities at the hotel, spend days of leisure by the gorgeous beach or pool.
Day 10/12
Transfer to Maldives airport to catch your flight back to UK.
Your Hotels —


2 Adults
Enjoy a 3 night stay at Amaya Lake Hotel 4* in a Superior Room on a bed and breakfast basis. Just for you: early check-in.
Set on the tranquil banks of the magnificent Kandalama Lake, this showpiece resort captures the essence of Sri Lankan design, culture and tradition. Enjoy lush tropical gardens against a dramatic backdrop while uplifting, catchy raban melodies welcome you. Styled with laid-back sophistication, each guest room offers spectacular views of well-manicured gardens.
Find comfortable living spaces, accentuated by soft lighting, charming wooden accents and artisanal Sri Lankan touches. Awaken your inner spirit and revel in the restorative power of nature. Nestled in a secluded open-air courtyard, the ayurvedic spa is gracefully designed to present a serene, soothing ambiance to relax your body, revitalise your mind and renew your spirit.
Enjoy a 1 night stay at The Kingsbury Hotel 4* in a Superior Room on a bed and breakfast basis
The Kingsbury is a lovely hotel set in a prime location in the centre of Colombo. Local tourist attractions such as Bank of Ceylon Tower, Colombo World Trade Center and Pettah Market are not far from the hotel.
Daily breakfast is provided in the hotel cafeteria or as room service. The entire hotel is comfortably air-conditioned, with a lovely swimming pool, spa and wellness facilities and high-speed wi-fi. All rooms boast modern amenities, a private bathroom and all necessary comforts for a relaxing stay.
Enjoy a 5 or 7 night stay at Meeru Island Resort & Spa 4* in a Beach Villa on an all-inclusive basis
Meeru Island Resort & Spa is surrounded by a beautiful lagoon and long stretches of white, sandy beach - the only Resort on the island of Meerufenfushi. One of the largest Maldivian resorts, the Meeru, reached by speedboat from the airport is made up of 286 rooms including water and beach villas. With extraordinarily good quality cuisine at the two restaurants and lovely facilities, the resort has a lot to offer those looking for some sun. Offering a wide range of beauty services, fitness facilities and spa treatments, you are bound to leave here feeling refreshed.
There is an abundance of recreational facilites on site, including watersports, beach sports, library, golf pitch and putt, and a games room - keeping everyone entertained!
Please note: some dining outlets/menu items and premium, branded and international drinks may not be included and may incur a surcharge payable locally.  Meals, snacks and drinks may be available at selected times only

Some services may incur additional charges, payable locally.
Your Journey —
Flights: The flights included are with either a scheduled or no frills airline and are subject to live availability and prices can change. You can choose your preferred departure times during the booking process. Please select your flight options carefully as departure and arrival airports may differ.

Transfers: shared transfers are included in this offer.

Colombo International Airport - Amaya Lake Hotel (3-4 hours)
Amaya Lake Hotel - Kingsbury Hotel (2-2.5 hours)
Kingsbury Hotel - Colombo International Airport (47 minutes)
Flight from Sri Lanka - Maldives (1 hour 5 minutes)
Ibrahim Nasir International Airport - Meeru Island Resort & Spa (55 minutes)

Meeru schedules speedboat transfers to/from Ibrahim Nasir International Airport to coincide with­the arrival/departure flights of Meeru's guests.

For Travel between 10 Jan - 7th April internal flight is with Sri Lanka Airlines Departing at 19:20 and arriving at 19:55
For Travel on remaining dates internal flights with Sri Lankan Airlines departing at 13:35 and arriving at 14:30