We Love —
Explore the diverse and breathtakingly beautiful landscapes of New Zealand on this unforgettable 18-night Fly Drive Tour from Christchurch to Auckland.
Encounter beaches, geothermal sites, iconic filming locations and bustling cities in your very own rental car and take part in astonishing optional excursions along the way!
Stay in a variety of charming hotels and enjoy a choice of three unique room types, ensuring a comfortable break!
New
Voyage Privé
—
Carefully selected by our experts especially for you
Your Destination —
With tranquil beaches and magnificent mountain scenery,
New Zealand is a thrilling destination where visitors can
truly reconnect with nature.
It is also home to the indigenous Maori people who continue to practice their 800-year-old customs.
On this 18-night self-drive holiday, you will travel from Christchurch to Auckland
, discovering a variety of unique experiences and magnificent sights.
Explore bustling cities, observe geothermal springs,
soak up the sun on blissful beaches, and
enjoy a ferry surrounded by stunning scenery.
And, if that is not enough, you can also opt to add a variety of outstanding excursions, allowing you to
cater every aspect of this trip to your needs and desires.
Our Offer —
18-Night / 19-Day New Zealand Fly Drive
Your Itinerary In Brief —
Day 1: Arrival in Christchurch
Day 2: Dunedin
Day 3: Dunedin
Day 4: Te Anau
Day 5: Te Anau
Day 6: Queenstown
Day 7: Fox Glacier
Day 8: Greymouth
Day 9: Abel Tasman
Day 10: Abel Tasman
Day 11: Wellington
Day 12: Tongariro
Day 13: Taupo / Rotorua
Day 14: Taupo / Rotorua
Day 15: Hobbiton Matamata / Whitianga - Coromandel
Day 16: Paihia
Day 17: Paihia
Day 18: Auckland
Day 19: Departure from Auckland
Your Itinerary —
During their fly drive, our members will follow the itinerary as detailed below.
Day 1: Christchurch

Collect your vehicle at the at 'Go Rental' counter at the airport. 
Christchurch was the second largest city in New Zealand before the earthquakes of February and June 2011 devastated the city. The city is recovering from this tragic accident and has rebuilt its centre with "street art" - it still remains in reconstruction. The city is known for its beautiful gardens, museums and restaurants. It is also the starting point for many excursions in Antarctica.
Suggested:
- Visit the city and its gardens and the arts centre
- Stroll to the Akaroa peninsula to admire the wild fauna and flora
- Take a tour of the Antarctic Centre with information on Antarctica and many activities such as the simulation of a storm in Antarctica
- Observe "blue penguins"
Day 2 & 3: Dunedin

Leave Christchurch in the morning to drive towards the South East Coast, arriving into Dunedin (approx. 360 km).
The Otago region offers a great diversity of landscapes combining the beautiful historic architecture of the cities, a strong natural heritage of remarkable beauty and a rich fauna with endemic species. The historic Victorian buildings of Dunedin are among the best preserved in the southern hemisphere and give a certain charm to the city. A little further away from the city and towards Oamaru, you will be able to see the Little Blue Penguins (the smallest penguins in the world) coming out of the water every night to climb the land. The Otago peninsula is also home to yellow-eyed penguins (one of the rarest penguins in the world), this peninsula is a great example of eco-tourism and remains very well preserved. You can also walk to Moeraki, a small fishing village to observe the Moeraki boulders, a strange natural phenomenon. They are huge spherical rocks up to 1m wide scattered on the beach of Koekohe.
Suggested:
- Walk around Portobello, a charming little village on the Otago Peninsula
- Take the historic train over the Taeiri Gorge with viaducts and tunnels dating back to 1879
- Get closer to unique southern ocean animals and penguins & furseals of the Otago Peninsula
Day 4 & 5: Te Anau
Drive in the morning towards the West Coast along the 'Catlins Forests' arriving into Te Anau (approx. 300 km).
Fiordland Park is one of the most spectacular and largest in New Zealand. This classified site spreads its magnificent beech forests, its torrents and waterfalls thanks to its important precipitations all the year.Te Anau is the largest town near the Fiords near the largest lake on the South Island, Lake Te Anau. To reach Manapouri, starting point for fjord cruises, you will have to take a road that goes down into the mountain through lush forests, plains and beautiful lakes. Milford Sound is an unforgettable site whose highest point is Miter Peak (1,692 m). Doubtful sound, even wilder and more remote is less touristy.
Suggested:
- A cruise to admire Doubtful Sound or Milford Sound
- A small plane flight over Doubtful Sound
- Take a steam train ride in the Kingston Flyer
Day 6: Queenstown
Drive in the morning towards Queenstown (approx. 170 km).
The Central Otago region offers ever-changing landscapes creating sumptuous shades of color. Queenstown has become one of the great tourist centres of the country with its many outdoor activities and adventures! The capital of the Southern Alps is a beautiful city surrounded by majestic mountains and located on the shores of Lake Wakatipu just as grandiose.
Suggested:
- A jet boat ride on the Shotover River
- Make the highest New Zealand elastic jump
- Take a hike to Glenorchy and admire some of the landscapes of The Lord of the Rings
- The road between Queenstown and Arrowtown (50 km) bypassing Coronet Peak and back along Lake Hayes
- Visit Arrowtown about 20 km from Queenstown, a quaint little town in the Gold Rush
- The Central Otago region offers ever-changing landscapes creating sumptuous shades of colour
Day 7: Fox Glacier
Drive to the Glacier region crossing Cardrona & Wanaka before arriving into Fox Glacier (approx. 330 km).
A glacier forms when there is more snow falling than melting. There are many glaciers in the Southern Alps and among the largest are Fox (about 13 km long) and Franz Josef (about 11 km). These are the only glaciers in the world that can offer ice landscapes, subtropical vegetation and ocean temperate zones. The Fox Glacier rises down Mt. Tasman at about 2,500 m and ends at only 300 m above sea level. Although it has declined for many years, it now advances to the valley of a few centimetres or even meters per day.
Suggested:
- Helicopter overflight with landing on glaciers
- Walk to Lake Matheson where you can admire the reflection of Mt Cook, Mt Tasman and La Pérouse peaks.
Day 8: Greymouth

Leave the Glacier behind you and drive towards the coast to arrive into Greymouth (approx. 200 km).
This region is the wettest in New Zealand, giving the wild landscapes a special glow. In the past, the West Coast was very troubled by the discovery of gold deposits and is now much quieter. The city of Hokitika is the capital of Nephrite jade or greenstone or Punamu in Maori, a stone found only in the South Island. It was formerly used to make tools or weapons and is now used for jewelry and decorative items. According to the Maori, the stone holds a certain power and is sacred. In Punakaiki you will find the Pancake Rocks, rocks with the appearance of stack of pancakes. These are limestone formations eroded by wind and water, the sight of the sea rushing is all the more beautiful at high tide.
Suggested:
- Visit a jade tailor shop
- Take a walk to Pancake Rocks in Punakaki
- Visit an old gold mine
Day 9 & 10: Abel Tasman
Morning drive towards the Abel Tasman National Park (approx. 300 km).
At the northern tip of the South Island, you will find the smallest national park in New Zealand, Abel Tasman. Its area is 225 km² and many areas are accessible only by the sea. The beauty of the beaches and the turquoise waters are surprising.
Suggested:
- Watch out for resident Blue Penguins and other sea birds along the coast
- Explore the Abel Tasman National Park by kayak and enjoy watching the antics at the seal colony on Pinnacle 
Day 11: Wellington

Morning drive through Nelson towards Picton. Ferry crossing early afternoon from Picton to Wellington. The crossing of the Cook Strait takes about 3 hours (92km) is more than a means of transport between the 2 islands of New Zealand as the scenery is stunning.
The city of Wellington is located in the center of New Zealand, this strategic point allowed him to become the capital of the country in 1865 (after Auckland).New Zealand has expanded its cinematographic facilities in Wellington in recent years.
Suggested:
- Te Papa Museum, the largest in New Zealand
- The Zealandia Nature Reserve where you will find many endemic species
Day 12: Tongariro
Drive towards the Tongariro National Park (approx. 340 km). 
Located in the centre of the North Island, the oldest national park of the country is spread around the Tongariro volcano. The park is full of Maori cultural and sacred places and has been a UNESCO World Heritage Site since 1993. It covers 7,600 km² and includes the 3 active volcanoes of Tongariro (1,968m), Ngaurhuoe (2,290m) and Ruapehu (2,797m). The latter dominates the nature reserve and is the most active volcano in the park, it erupts every 50 years on average. Here, the landscapes are breathtaking and unfold in front of you with incredible beauty.
Suggested:
- Hiking Tongariro Crossing and its emerald lakes
- Walk along Whakapapanui Gorge to Taranaki Falls 
Day 13 & 14: Taupo / Rotorua

Drive along Lake Taupo towards Rotorua (approx. 180 km).
In this region, volcanoes and geothermal springs are great landscape designers and a trip to New Zealand would not be complete without this step. The city is located on a 200 km volcanic fault from White Island to Mt Ruapehu in Tongariro National Park and is built directly on the Pacific Ring of Fire. An unforgettable place where geothermal activity is omnipresent. The smell of sulfur and the eruption of geysers will make you feel that Rotorua is different from other places already visited. Rotorua is also the ancestral land of Te Arawa, a people who arrived more than 600 years ago, and whose presence offers many cultural experiences to visitors. It is also a great trout fishing area in the surrounding lakes and rivers.
Suggested:
- Experiment Maori culture with dances, songs and meals typical of Te Puia
- Visit the Maori Museum and the Bath House Art Gallery
- Visit the geothermal park of Wai-O-Tapu
Day 15: Hobbiton Matamata / Whitianga - Coromandel
On your way to Whitianga, consider visiting the Hobbit Village of The Lord of the Rings movies (located at Matamata on the way to Whitianga). Arrival into Whitianga (approx. 230 km).
Located only one and a half hours travel from Auckland Airport, the Coromandel Peninsula, New Zealand is a world away from the hustle and bustle of the city. The Coromandel Peninsula has a rugged range of mountains covered in natural rainforest running down the length of the peninsula. The western side has a rugged coastline, with native Pohutakawa trees growing down to the shore line. On the eastern side, are a series of large bays, with beautiful, white sandy beaches. It is no wonder that the Coromandel Peninsula is a favourite holiday destination for Kiwis!
Day 16 & 17: Paihia
Early morning drive to the Bay of Islands (approx. 410 km / 5h30 hrs).
Northland is the birthplace of New Zealand because it was here that the first Polynesian explorers followed by the British centuries later. The region therefore bears the double imprint of its two peoples.Northland's rugged peninsula stretches 450km between Auckland and Cape Reinga Point. Northland is famous for the variety of its brightly colored landscapes and wild coasts where silence is king. Northland includes Bay of Islands and Far Far North. The very rugged coast of Bay of Islands encompasses 150 islands including 8 main and many desert.
This region is also home to Waitangi Reserve, a landmark for New Zealanders. It was here that the Treaty of Waitangi was signed on February 6, 1840 by Maori chiefs and representatives of the British crown to allow settlers access to certain lands and rights over the country.
You will also be able to cross the Waipoua Forest Reserve where the oldest kauris of the country stand and see Tane Mahuta ("lord of the forest") 1500 years old, with a circumference of 13.77 m and 51.50 m high.
Suggested:
- Treaty of Waitangi museum
- Poor Knights islands for scuba diving
- Cruise to swim with dolphins at Bay of Islands
- A ride on Ninety Mile beach, Cape Reinga and its lighthouse
- Walks at Cable Bay and Spirits Bay
Day 18: Auckland
Morning or afternoon drive back to Auckland (approx. 220 km).
Auckland "Sailing City", cosmopolitan Auckland, relaxing Auckland, sparkling Auckland, so many names that carries the largest metropolis of the country. Many Polynesian, Asian and European cultures blend together to make the city attractive, diverse and full of life!With the mild climate, the omnipresence of the sea and its many beaches, the city constantly invites to enjoy the joys of the outdoors. There are about 102 almost deserted beaches within 1 hour of the centre and 1 in 4 people owns a boat.The city is also very volcanic and has 60 extinct volcanoes some of which have been converted into a park. Mt Eden, whose summit rises to 196m is the highest in the city and will offer you a spectacular panorama of the region.West of Auckland, crossing the Waitakere Ranges where you can enjoy the landscapes of huge kauris and ferns, you can relax or surf the black sand beaches such as Piha and Karekare. Take the time to enjoy the city and all its neighborhoods more attractive than each other. New Zealand's 'take it easy' way of life will not leave you indifferent!
Suggested:
- Take a walk on the volcanoes of Mt Eden or one Tree Hill
- Dinner in one of the many restaurants of Viaduct or Ponsonby
- Climb to the top of the Sky Tower and observe the city and its surroundings at 360°
- Victoria Market, the weekend to buy New Zealand crafts
Day 19: Departure from Auckland
Drive to Auckland international airport to drop off your vehicle. Check-in 2.5 to 3 hrs prior departure for all international flights.
Your Tour Hotels —
Our members will stay at the following hotels. They may choose between accommodation in a Studio for 2 guests, a One Bedroom Apartment for 3 Guests and a Two Bedroom Apartment for 4 Guests and will stay on a Room Only Basis.
Your Hotels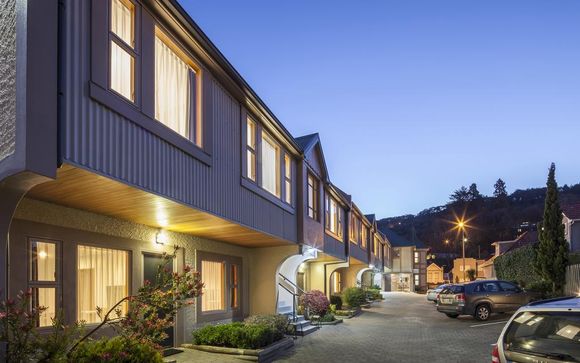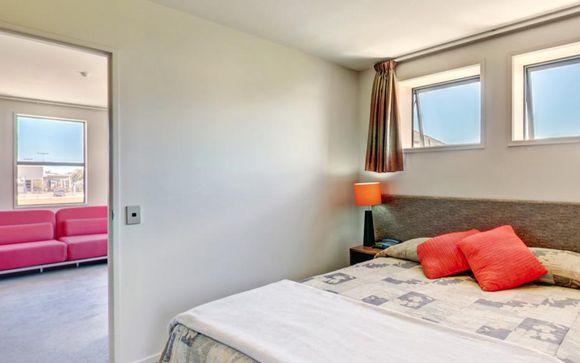 Christchurch:
1-night stay at the Argyle Motel or Similar
Dunedin:
2-night stay at the Amross Motel or Similar
Te Anau:
2-night stay at the Lakeside Te Anau or Similar
Queenstown:
1-night stay at the Blue Peaks Lodge or Similar
Fox Glacier:
1-night stay at the Sunset Motels or Similar
Greymouth:
1-night stay at the Coleraine Greymouth or Similar
Abel Tasman:
2-night stay in Motueka at the Equestrian Lodge Motel or Similar
Wellington:
1-night stay at the Astelia Apartment Wellington or Similar
Tongariro:
1-night stay in the National Park at the Tongariro Crossing Lodge or Similar
Taupo/Rotorua:
2-night stay in Rotorua at the Palm Court Rotorua Motel or Similar
Whitianga:
1-night stay at the Beachside Resort or Similar
Paihia:
2-night stay at the Admirals View Lodge or Similar
Auckland:
1-night stay at the Waldorf Stadium Apartment Hotel or Similar
Studio Sleeps up to


2 Adults
One Bedroom Apartment Sleeps up to



3 Adults
or
Two Bedroom Apartment Sleeps up to




4 Adults
Please note: 2 Bedroom Apartments generally have a double bed in one room and 2 single beds in the other room. We can not guarantee 1 double bed in each of the 2 rooms. If any of these hotels are not available, hotels of a similar standard will be found.
Your Optional Excursions —
Half Day Tour: Otago Peninsula Wildlife with Penguin Place (to be booked for Day 3)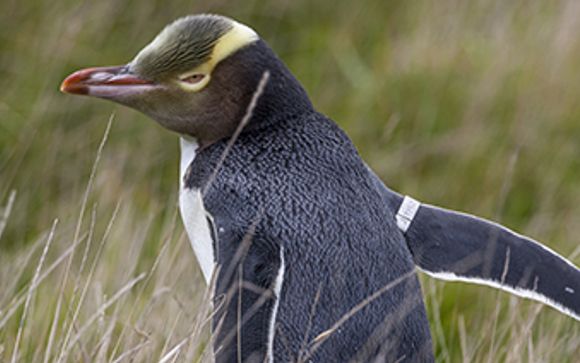 Combine the cruise on the Otago Peninsula with a guided tour of "Penguin Place" where yellow-eyed penguins are located. Enjoy this cruise on the Otago Peninsula to see this region-specific wildlife with its royal albatross. After the Otago Harbor exit, you will sail past Careys Bay's historic fishing village, gorgeous colorful bays, hills, farmland and forest far away. Your skipper will tell you Maori legends about the picturesque peninsula of Otago, the arrival of the first settlers and inform you about the volcanic geology of the region.
Then a bus will take you to the private reserve of Penguin Place where you can discover and observe the fabulous yellow-eyed penguins that are only on the South East coast of New Zealand and are an endangered species. You will be able to play the animal photographer and observe the unique behavior of pinguoins. Attention for the respect of the animals, you must not approach too closely. On your return, your bus will travel along the Otago peninsula to admire the beautiful landscape.
Departure at 13:30 and return at 18:30

Note:

The cloudy and windy weather is a very good weather to observe the albatross
A warm jacket can be lent to you during the cruise and the boat's aft deck is closed and chuffled
Binoculars to better observe the wildlife and information sheets will be provided
Souvenirs and refreshments can be bought
Milford Sound Nature Cruise ( 1 hour 40 minute cruise from Milford Sound) (to be booked for Day 5)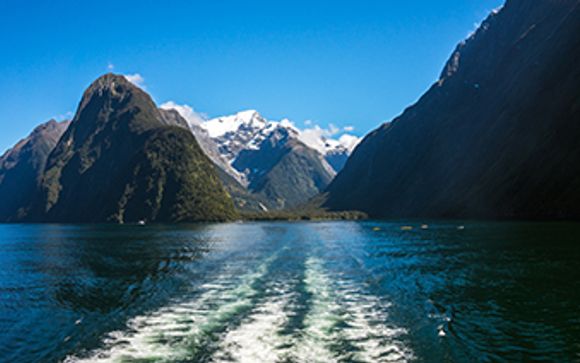 The best way to explore Milford Sound! Self-drive with your car and travel along the spectacular alpine route of the Milford Road (120 km each way).
On reaching Milford Sound join an extended and leisurely cruise of Milford Sound to the Tasman Sea on the Milford Mariner or Milford Wanderer. Nature Cruises have a relaxed and flexible itinerary designed for the free and independent traveller to allow guests to see and experience what makes Milford Sound world renowned. Spend over two hours on our smaller boats nudging into waterfalls, spotting wildlife and listening to the informative commentary from our specialist Nature Guide who mingles with guests. Keep a look out for wildlife including seals, dolphins and penguins. Lunch options (lunch not included) and complimentary tea and coffee are available.
Departure at 10:30 / 11:00 (The cruise is 1h 40 minutes)

What you need to bring:

Comfortable shoes (boots or sneakers)
A rain jacket & a warm jacket
Sun glasses & sunscreen, a camera
Cash to buy snacks & lunch on board of the boat
Doubtful Sound Wilderness Full Day Cruise (to be booked for Day 5)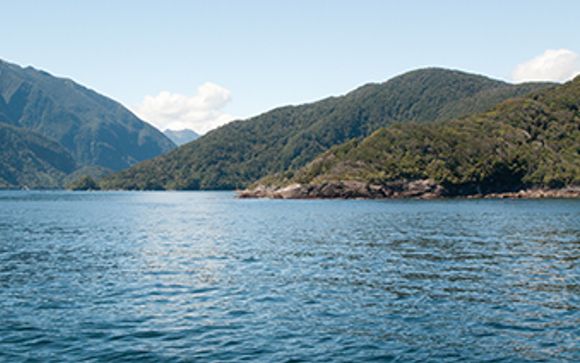 Departure by coach from your hotel in Te Anau to Manapouri joining our Doubtful Sound Wilderness Cruise. This is a short 30 minute journey through rolling countryside.
From Manapouri, cruise across the crystal waters of Lake Manapouri to West Arm before boarding a coach and crossing the alpine route of the Wilmot Pass through some of Fiordland's most dense rainforest. On reaching Deep Cove, board a modern catamaran vessel, the Patea Explorer, for a three hour cruise exploring the waterways of this serene and isolated fiord.
There is plenty of time available to explore points of interest and view the spectacular alpine scenery including waterfalls, rainforest and mountains all the way out to the Tasman Sea. The area is home to Bottlenose dolphins and fur seals and when in season, the rare Fiordland Crested penguin.
A Nature Guide with specialist knowledge of the region's history, flora and fauna provides detailed commentary in English. On the return cruise, the vessel's engines are turned off and passengers are treated to the 'sound of silence' where guests experience floating in silence on the fiord, only the rush of waterfalls and birdsong breaks the silence. Lunch not included. Complimentary tea and coffee are available.
Departure at 09:30
Return to Te Anau at 18:30
Flying Fox Helicopter Hike (am departure) (to be booked for Day 8)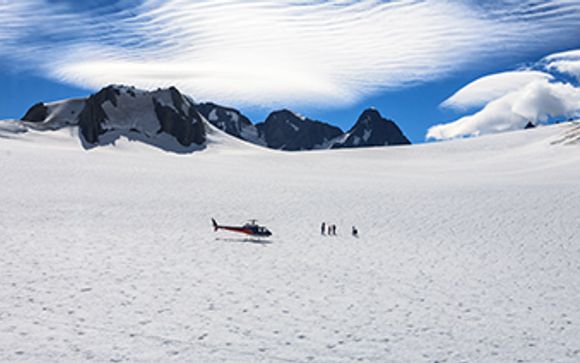 Combine the excitement of walking on a glacier with the thrill of a helicopter flight! The glacier overflight will allow you to access and explore a part of the inaccessible glacier, you will see spectacular caves and ice arches.
Meeting with your pilot at Fox Glacier helibase at 8.30 am. You will start your flight from the peaks of the lower glacier, here the ice is constantly moving. You will then make a tour over the upper ice section and Victoria Falls before landing. The landing place on fox glacier is exceptionally beautiful!
Your guide will then dress you with crampons, specially designed for these ice conditions and you will follow him in the glacier, where the incredible ice caves are only visible here. Each departure is a real exploration trip! Please note that this is a natural and ever-changing environment. Ice characteristics are constantly changing and no guarantee can be given as to the observed landscape. Flight from minimum 4 people. Suitable for children from 9 years old.
Tour depart everyday 8.50 am

Duration of the total excursion: 4 h - Weather permitting, the ice time is approximately 2.5 h.

What you need to bring:

3 to 4 layers of warm clothes like polar fleece, warm jackets (jeans are not recommended)
A hat and gloves, sun glasses & sunscreen, a camera
A small backpack with water and a snack 
Abel Tasman: Beaches, Bays and Seals (Full Day Tour) (to be booked for Day 10)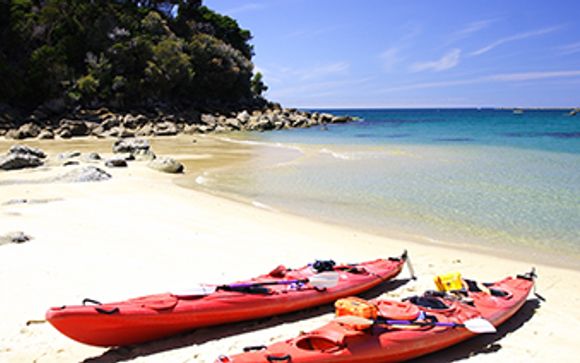 In the heart of New Zealand nature! Enjoy the beaches of white and golden sands and the turquoise waters of the park to combine walking, kayaking and discovering the fauna and flora in a heavenly place. (tour not possible for children less than 12 yrs old because of kayaking restrictions)
9.00 am Meet your Guide at Kaiteriter
9.20 am Vista Cruise departs Kaiteriteri for a scenic cruise past the islands and golden coves of the Astrolabe Roadstead to Anchorage Beach.
10.05 am On the golden beach sands in front of our Torrent Bay Lodge, your friendly, expert Guide settles you into a stable double kayak with full instructions and safety brief.  Then it's on to the water to paddle amongst the wondrous headlands, coves and islands of the granite coast.
Your Guide will ensure you make the most of the day depending on the tides, weather conditions, and your interests and abilities. Watch out for resident Blue Penguins and other sea birds along the coast. Enjoy watching the antics at the seal colony on Pinnacle Island (weather permitting). Stop at a sheltered golden cove for a lunch break. On your return journey, in favourable winds, your Guide will hoist a sail to ride the breeze.
3.30 pm: Rejoin the Vista Cruise (or there is also a pick up at 5.15 pm, to return to Kaiteriteri at 6.00 pm.
4.15 pm: Return to Kaiteriteri
Departure daily at 09:00 from Kaiteriteri. The return to Kaiteriteri will be around 16h15.

What you need to bring: (NOT INCLUDED)

Swimsuit & beach towel
Sun glasses & sunscreen
A small backpack with water and a snack
A camera (a protective bag will be provided to protect your belongings)
Spare clothes (warm sweater)
Soft shoes and walking shoes (no flip-flops)
Your picnic lunch
Dinner and Traditional Maori Show (to be booked for Day 13 or 14)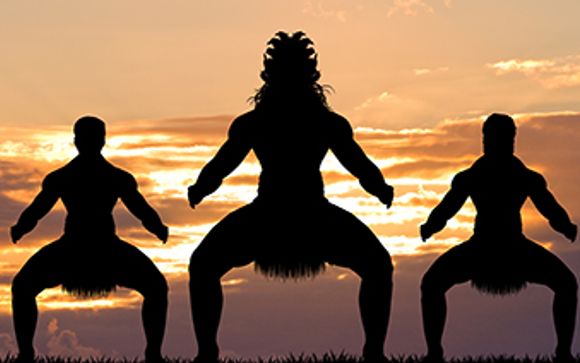 Excursion to Maori Cultural Center of Te Puia, 5min from downtown Rotorua. Te Pō - Native night from 18:00 to 21:00, daily, advance bookings are highly recommended. An evening you will not forget: mix of culture, dances, songs, myths and legends, natural wonders and Maori cuisine!
Your evening begins with a quick look at where your meal is prepared, in the ground, to be stewed. The preparation of your traditional dinner (hangi) begins in the afternoon to ensure its best cooking. The stones that will cover the food previously take about 2 hours to heat. The baskets where the food is deposited are wrapped in manuka leaves to give them a unique smoke flavor, then they will be buried in the ground to be cooked about 3 hours!
The evening will continue with a Powhiri, an authentic welcome ceremony. Powhiri is a Maori ritual when two groups meet for the first time. Gathered at the entrance of the Marae Rotowhio, you will be invited to this tradition which will begin with the sound of a pūtatara (conch). Thank you for keeping quiet during this ceremony as a mark of respect. You will then be invited to enter the Tupuna Whare (ancestral meeting place) where you can let yourself be counted many Maori legends, you rapture before the mythical haka or let yourself be lulled by the sweet melodies of Maori songs.
You will then be guided to the place where you will enjoy your meal (buffet, drink not included). Then at night, you will be driven for a few magical moments in the valley of Te Puia where you will end your journey in Maori land by some legends around Pohutu Geyser.
Visit the Geothermal site of Wai-O-Tapu (to be booked for Day 14)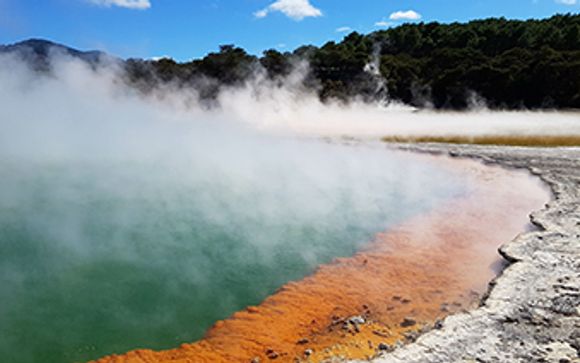 Entrance to the geothermal site. The Geothermal site has been carved by volcanic activity for thousands of years. Wai-o-tapu is considered the most colorful and diverse geothermal site in the country. You can discover the diversity of landscapes by small trails ranging from 30 to 75 minutes walks. The Lady Knox Geyser, eruption at 10:15, up to 10 to 20 meters high.
A guide to the site Wai-o-Tapu (English) will explain every day from 10.15 the history and mechanics of the geyser by a small informal presentation, for that go to the natural amphitheater near the geyser. The geyser is located on another island, about 3 minutes drive from the Wai-o-Tapu information center, directions to get there will be given at the entrance. The mud pool erupting is an atypical and unavoidable point of the site. This is the site of a former large mud volcano eroded by erosion in the 1920s.
Useful information :
- Please note that the Lady Knox Geyser erupts daily at 10:15 am
- A document will be given in your language with your ticket of entry (map to locate you and information on the various characteristics of the park.
- It is recommended to wear shoes suitable for walking on volcanic ground (sneakers, flat shoes, sandals and flip flops are not suitable).
Opening time: Every day from 08h30 to 17h00 (last admission at 15h45)
Hobbiton™ Movie Set Tour (to be booked for Day 15)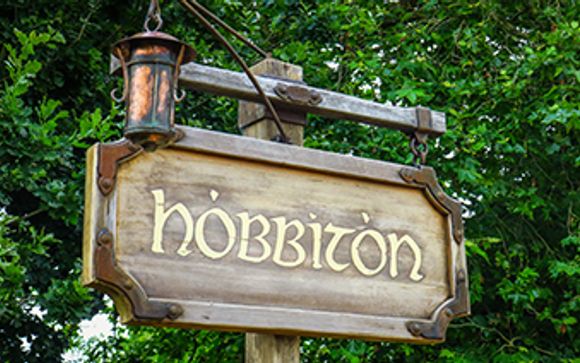 In the middle of farmland on the North Island, visit the Hobbit (Hobbiton) Village of The Lord of the Rings and The Hobbit movies. This fascinating 2-hour guided tour will take you back to the world of Peter Jackson.
During the visit, you will see the Hobbits House, The Green Dragon Inn, the Mill and other infrastructure and gardens built entirely for the movies.

Departure every day and open from 8 am
Carino Sailing Dolphin Cruise & Swim (Full Day Tour) (to be booked for Day 17)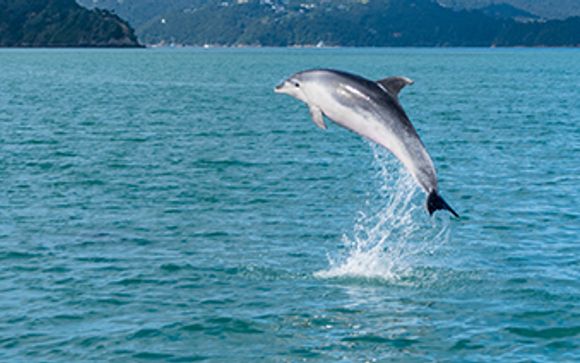 Dolphin watching / or swimming. The Bay of Islands is a unique location for bottlenose dolphins, as it provides them with abundant food and security for resting and breeding and is part of their large home territory. A chance to swim with wild dolphins. Here in the Bay of Islands we have very strict rules and regulations for conduct around wild dolphins. (conditions apply).
Watch wild dolphins acting as they do in the wild, learn from our experienced crew to understand and appreciated the magic of wild dolphins. Watch our adopted dolphins "Bad Jelly and Jim" or other dolphins we know by sight and their names. Explore island beaches and island walks. At the island stopover, snorkel, take nature walks, or just relax in the sun on the sandy beaches. Snorkeling – all equipment is provided.
The BBQ lunch is held back aboard CARINO NZ. It is a kiwi style BBQ. Vegetarians are also catered for on request. CARINO NZ has a licensed cash bar, with a range of New Zealand beers wines and cool drinks.
Departures Paihia daily: at 09:00 returning a 16:30
Your Journey —
Flights: You may choose from Economy, Premium or Business class flights on sectors that they operate, at the next stage of the booking process. The flights included are with either a scheduled or no-frills airline and are subject to live availability and prices can change. You can choose your preferred departure times during the booking process. Please select your flight options carefully as departure and arrival airports may differ.

Car Hire: Car hire is included throughout this offer.

Collect your vehicle at the Go Rental counter at the airport. Your rental includes GO Standard

• GO Basic insurance cover (applicable bond/excess applies)
• Airport access fees
• Extra driver fees
• One-way fee
• Unlimited kilometres
• 24hr Automobile Association roadside assistance
• Maps and travel guides
• Airport transfers upon pick up and drop off
• Afterhours pick up or drop off fees
• Airport or city hotel transfers upon pick up
• 15% GST (goods and services tax)
• Road User Charges
• Credit card fees
• Demurrage costs

Your vehicle must be returned to the depot with full tank. It is forbidden to smoke inside the vehicle.An international driving license in English or approved translation (accompanied by your country driving license of more than one year of seniority) is compulsory and must be both presented at the counter. The minimum age required to drive a vehicle is 21 years old. The vehicle will cross by ferry the South Island to the North Island. (If no cars are available with Go Rentals we will change to another similar company with change of vehicle between both islands).

CONDITIONS OF RENTAL WITH GO RENTALS
All GO Standard rates include Basic insurance with an excess to apply. Excess, for people over 25 is NZ $ 2500 and NZ $ 3500 for people between 21 and 24 years old.To reduce excess to NZ $ 0, the cost of 'Go Peace of Mind' insurance is NZ $ 28 locally per rental day Franchises are not debited, the renter takes an imprint of your credit card in case an incident occurs on thevehicle. Go Rentals GPS rental: NZ $ 8 per day. Go Rentals Child/Booster seat is NZ $ 45 per child.