We Love —
Standing beneath the awe-inspiring Hassan II Mosque in Casablanca, which has the world's tallest minaret!
Exploring the lively souks in the vibrant medina cities of Fez and Marrakesh.
Marvelling at the snow-covered peaks of the dusky blue Atlas Mountains!
New
Voyage Privé
—
Carefully selected by our experts especially for you
Your Itinerary In Brief —
Morocco is an iconic destination boasting towering mountains and lush rolling countryside. Visit ancient medina cities with stunning architecture brimming with tradition and culture. Follow the dazzling 7-night or 9-night tour incorporating the romantic sights in Casablanca with the enchanting palaces of Fez and bustling, colourful souks of Marrakesh.
Our Offers:
7-night Tour:
Day 1: Arrival in Marrakesh
Day 2: Marrakesh
Day 3: Marrakesh to Casablanca
Day 4: Casblanca, Rabat, Volubilis, Meknes, Fez
Day 5: Fez
Day 6: Fez, Ifrane, Azrou, Beni Mellal, Marrakesh
Day 7: Marrakesh
Day 8: Departure from Marrakesh
9-Night Tour:
Day 1: Arrival in Marrakesh
Day 2: Marrakesh
Day 3: Marrakesh to Casablanca
Day 4: Casblanca, Rabat, Volubilis, Meknes, Fez
Day 5: Fez
Day 6: Fez, Ifrane, Azrou, Beni Mellal, Marrakesh
Day 7: Marrakesh
Day 8: Marrakesh & Ourika Valley
Day 9: Marrakesh & Majorelle Gardens
Day 10: Departure from Marrakesh
Your Itinerary In Detail —
Day 1: Arrival in Marrakesh
On arrival, you will be met and greeted by our holiday advisor and transferred to your hotel.
Overnight at Palm Menara Hotel (or similar)
Day 2: Marrakech (Breakfast/Lunch)
Discover Marrakech.  Your tour today will take you to the El Bahia Palace, the Dar El Basha Quarter to see the traditional Moroccan restaurants, and onto the Qassabine and Smarine Souks (markets) to peruse their speciality goods of basketwork, dried fruit, spices and fabrics.
The ancient, former slave market of Rhaba Kedima Square reveals a fusion of Africa and the East, where locals arrive in their hundreds to buy ingredients. Free time at the huge, lively square at the heart of Marrakesh. Jemaa-el-fna is one of the city's principal attractions.
By day or by night, the square is filled with wandering salesmen, musicians, dancers, and snake charmers attracting the attention of a cosmopolitan crowd, who come to experience the lively and colourful Marrakesh.
Lunch in a Moroccan restaurant.
Overnight at Palm Menara Hotel or (similar)
Day 3: Marrakech to Casablanca (Breakfast/Lunch)
Journey north to Morocco's largest city, Casablanca, a modern metropolis with a distinctively European feel. Wander around the League of Arab States Park, a verdant area dotted with palm trees, before continuing to the Notre Dame de Lourdes Church with its exquisite stained-glass windows.
Passing the busy shopping area of the Habous Quarter, arrive at the magnificent Hassan II Mosque (exterior visit). Spanning over 20,000 square metres, the Moorish influenced mosque boasts the world's tallest minaret and is a symbol of pride to the Moroccan people.
Lunch in local restaurant, then check in to your hotel.
Overnight at Suisse Hotel (or similar)
Day 4: Casablanca - Rabat - Volubilis - Meknes - Fez (Breakfast/Lunch)
After breakfast, leave Casablanca and drive north to Morocco's capital city, Rabat. Similar in its European feel, the city offers numerous parks and wide, tree-lined boulevards and is also home to the Royal Palace, the official royal residence.
On arrival, visit the UNESCO recognised Hassan Tower, an iconic minaret built in 1195 from distinctive red sandstone and one of the few parts remaining from the original La Giralda in Sevilla.
Located across the road is the mausoleum of Mohammed V, one of the country's finest examples of modern Alaouite dynasty architecture. With stunning mahogany domes and intricate gold leaf decorations, it is the place where all Moroccans come to honour the tombs of their past Kings.
After Rabat, continue to Meknes to see the architectural legacy of Sultan Moulay Ismail. A ruthless tyrant, the Sultan was one of Morocco's greatest leaders. He settled in Meknes with his harem of 500 wives, where he brought in slaves to build an imperial city with ingeniously designed granaries and stables for an incredible 12,000 horses.
Lunch en route (included)
Visit another UNESCO World Heritage Site treasure, the ancient Roman town of Volubilis. The archaeological site is the best preserved in Morocco and contains beautifully intricate mosaics. After some time exploring the area, arrive in Fez and check in to the hotel. 
Overnight at Across hotel (or similar)
Day 5: Fez (Breakfast/Lunch)
A full day tour exploring Morocco's spiritual and cultural heart awaits. This enchanting city, set against a backdrop of the lush Zalagh mountain range, is acknowledged to be one of the most important in Morocco, where old and new thrive side by side.
Brimming with history, numerous civilisations have settled or passed through leaving a spectacular legacy of palaces, mosques, and museums, filled with precious treasures.
The ancient medina of Fez is the largest and oldest in the world and a UNESCO World Heritage Site. Remaining unchanged since the 12th century, it is home to the architecturally rich Andalucian Quarter.
Crossing a few of the 9,000 or so streets in this labyrinth district, you will pass some of the oldest and most esteemed of Fez's mosques and religious schools. This includes the 1,200-year-old Al Kairouyine which claims to be the oldest university in the world, as well as the grandiose El Bouanania Medersa, famed for its glittering emerald-green tile roof.
The spiritual capital is alive with traditional crafts and famous for its tanneries with their brightly coloured dyes and pigments, providing a fascinating insight into the sights and smells of a craft that has remained practically unchanged for centuries. Return to the hotel.
Lunch included in traditional Fassi restaurant
Overnight at Across Hotel (or similar)
Day 6: Fez – Ifrane - Azrou - Beni Mellal – Marrakech  (Breakfast/Lunch)
Bidding farewell to Fez this morning, journey past the small town of Azrou, tucked into the hills of the Middle Atlas Mountains, and through some of the most remote and beautiful landscapes in the region.
With gorgeous lakes and dense cedar forests that are home to the endangered Barbary Apes, the area is of great importance and an interesting contrast to the lowland regions.
Arrive in Beni Mellal, tucked away in the Middle Atlas Mountains, sitting at the foot of Jbel Tassemit (2247m), and next to the plains of Beni Amir, in time for lunch en route.
Return to the ochre-coloured city of Marrakech. Short halt in the palm groves (for refreshment), surrounded by more than 300,000 tropical palm trees and set against a backdrop of the snow-capped Atlas Mountains, encapsulating the exotic essence of Morocco with bright colours.
Overnight at Palm Menara Hotel (or similar)  
Day 7: Marrakech (Breakfast)
After a late breakfast at your hotel, you will be picked up from the hotel and driven to the medina. Enjoy shopping for ingredients at the local market and join a Moroccan cooking class in a riad, where you'll be taught how to use local ingredients to make a traditional Moroccan family meal.
Under the guidance of a great chef, learn to make dishes such as Moroccan salads, tajine, and bread while taking notes on the chef, which will be handed to you upon your arrival. Finally, in reward for all these efforts, taste all the preparations while sitting under the shade of an orange tree.
Enjoy a mint tea making competition, and get the recipes to surprise your friends back home!
Around 6 pm, you'll be picked up from your hotel and driven to Agafay desert for a memorable dromedary ride through the beautiful Oasis of Agafay. Admire stunning scenery of the lush oasis of the Agafay desert area. Visit ancient Berber villages for rest and history, and meet and share mint tea with locals.
Overnight at Palm Menara Hotel (or similar)
Day 8: Departure
Breakfast at the hotel.
Transfer to the airport for your return flight.
Day 1 - 7: Follow the same itinerary as the 7-night tour.
Day 8: Marrakech - Full day to Ourika Valley & Lunch in a Berber house (Breakfast)
After breakfast, depart for the High Atlas, travelling through Morocco's majestic countryside offers a welcome break from the hustle and bustle of Marrakech, and a rare glimpse into a more relaxed way of life in this magical part of the world. Along the way, there will be photo stops for panoramic views of the Sour village. 

Then, onto the village of Aghbalou in the Ourika valley, where you will be invited into the home of ZOHRA and his family. They will be delighted to share preparations for a Berber lunch and ceremonial mint tea with you. Zohra will ensure your your lunch is prepared with great care.

After lunch, leave Ourika valley to return to Marrakech but via the same road, dominated by the High Atlas chain, its summits reaching up to 4000 metres. You'll see magnificent panoramic views of the Mount Toubkal massif. The Berber houses are perched on mountainous terraces, blending into the countryside.  
Overnight at Palm Menara Hotel (or similar)

Day 9: Marrakech - Majorelle Gardens & Ramparts in horse-drawn carriage (Breakfast/Dinner)
After breakfast, you'll be picked up from your hotel for a tour of the ramparts and gardens of Marrakech including the interior visit to Majorelle gardens and Berber Museum.
Hop on board a horse-drawn carriage and trot away from the bustle of the souks. Experience this peaceful aspect of Moroccan life with a visit to the Marrakech's serene gardens and see impressive ramparts.
Sit back and relax on the cushions of an elegant horse carriage as you ride through the city and tour the ancient ramparts. See the characteristic red stone walls that make up the old fortifications of the Marrakech Medina before continuing to the city's oasis of harmony and tranquillity.
Marrakech's incredible gardens are a timeless picture of tropical plants, bamboo forests, cacti, calming pools, and cobalt blue buildings. See Majorelle Garden, designed by the French artist Jacques Majorelle and now privately owned by French fashion house, Yves St. Laurent.
At 8 pm, you'll be picked up from your hotel for a farewell dinner in at typical Moroccan Restaurant.
Overnight at Palm Menara Hotel (or similar)
Day 10: Departure
Breakfast at the hotel.
Transfer to the airport for your return flight.
Your Hotels —
Maximum room capacity
Throughout your tour, you'll stay in Standard Rooms in the following hotels (or similar):
Marrakesh: Palm Menara Hotel (or similar)
Casablanca: Suisse Hotel (or similar)
Fes: Across Hotel (or similar)
The 7-night tour includes 7 breakfasts and 5 lunches (excl. drinks), as per the itinerary.
The 9-night tour includes 9 breakfasts, 5 lunches and 1 dinner (excl. drinks), as per the itinerary. 
Your Optional Excursions —
4X4 Safari on the Berber roads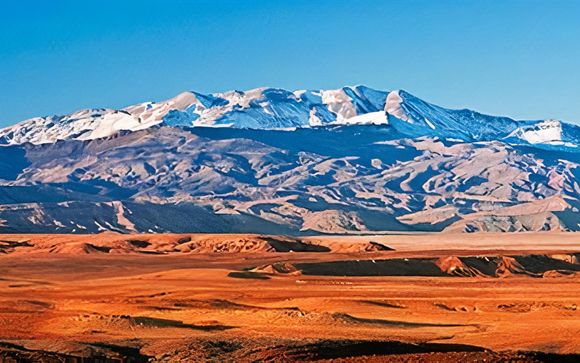 At the foot of the snow-capped peaks of the High Atlas, head out on an adventure on the Berber roads to meet the locals and discover their traditions. 
Hot Air Balloon, Hammam and Massage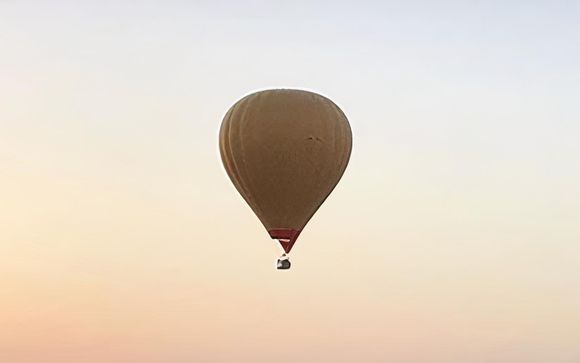 Created exclusively for Voyage Privé customers, enjoy a unique experience by discovering Marrakech aboard a hot air balloon. 
Prolong this feeling of escape with a visit to the Turkish bath for 45 minutes of exfoliation, in addition to a relaxing 30-minute massage.
Your Journey —
You may choose from Economy, Premium or Business class flights on sectors that they operate, at the next stage of the booking process.
The flights included are with either a scheduled or no-frills airline and are subject to live availability and prices can change. You can choose your preferred departure times during the booking process. Please select your flight options carefully as departure and arrival airports may differ.
Tour transport and inter-hotel transfers are included as per your itinerary. 
Your Destinations —
Marrakech is the epicentre of culture in Morocco, thanks to its ancient Medina, lively souks, and historic monuments. Immerse yourself in the heady atmosphere, with snake charmers in the bustling Jemaa El Fna Square, peace and tranquillity at the Bahia Palace, or an onrush of colour and spices in the dense souks of the Medina.
While Marrakech preserves its centuries-old history at places such as the Koutoubia Mosque, the city's Bohemian atmosphere is most present in Jardin Majorelle, a landscaped botanical garden created by French artist Jacques Majorelle and later bought by Yves Saint-Laurent. Alternatively, visitors can escape the city altogether and take a trip to the Atlas Mountains to visit the region's traditional Berber villages and argan oil cooperatives.
At the end of the day, Le Jardin Secret is the perfect place to enjoy a stylish meal in a chic Moroccan courtyard. Alternatively, retreat to one of the Medina's rooftop restaurants for a delicious tagine while watching the sunset over the city mosques.
The second-largest city in Morocco, Fes is an architectural gem and a first-rate destination. The Fes Medina is glorious in its chaos, with winding alleys leading to exquisite fountains and streets bursting with aromatic scents. Visit the imperial city of Meknes, the natural park of Tazeka and the Moulay Yacoub thermal baths.