We Love —
Head to both Sri Lanka and the Maldives with this breathtaking offer and enjoy the holiday of a lifetime.
Begin with a magical 4-night tour across Sri Lanka's cultural highlights, where you'll visit spots such as Sigiriya and the Dambulla Cave Temple while you stay in glamorous 5* hotels.
Your holiday will end with a Beach or Lagoon Villa break at the iconic Cocoon Maldives 5* - we've even included all inclusive dining and incredible seaplane transfers!
New
Voyage Privé
—
Carefully selected by our experts especially for you
Your Destinations —
With
8 Unesco World Heritage Sites
to be found on such a small area of land and
a 2,000 year old culture,
Sri Lanka is as fascinating as it is beautiful. A destination that is often skipped by many a traveller on their trips to India or Asia,
Sri Lanka remains one on the Indo-Asian best kept secrets.
 Visit its ancient sites and marvel over its legendary temples, or see the sacred home of the world's oldest living tree, Anuradhapura.
Take a safari tour in one of Sri Lanka's national parks to encounter elephants, leopards, water buffaloes, and exotic birds,
or spend the day relaxing on the
dazzlingly white, often untrod, beaches.
Try your hand at a little surfing or retreat up into the Sri Lankan hills to experience a more temperate climate and the lavish greenery of the tea plantations. In addition,
you can even trek through the rainforests with an experienced guide
or just take in the breathtaking vistas on a spectacular train ride.
With fabulously flavoursome food and a vast array of culturally rich experiences to delve into,
Sri Lanka promises to be one of your best-loved travel destinations, where the charm of the people will simply enchant you.
This design hotel is situated on the stunning island of 'Ookolhufinolhu' (sandbank point), just a 30-minute seaplane ride from Male International Airport. The delights of an idyllic tropical setting surround you – sparkling
 turquoise seas
, 
immaculate white beaches
 and 
some of the best diving and snorkelling in the Maldives. 
All manner of marine life, from 
manta rays to dolphins and turtles,
 are frequently spotted in the calm blue waters. With 
no other resorts nearby
, Cocoon Maldives 5* is the perfect place to unwind and get away from it all.
Our Offers —
7 Nights
4-Night Private Mini Sri Lanka Tour in 5* Hotels
3-night stay in a Beach Villa at Cocoon Maldives 5*

9 Nights
4-Night Private Mini Sri Lanka Tour in 5* Hotels
5-night stay in a Beach Villa at Cocoon Maldives 5*

11 Nights
4-Night Private Mini Sri Lanka Tour in 5* Hotels
7-night stay in a Beach Villa at Cocoon Maldives 5*

7 Nights
4-Night Private Mini Sri Lanka Tour in 5* Hotels
3-night stay in a Lagoon Villa at Cocoon Maldives 5*

9 Nights
4-Night Private Mini Sri Lanka Tour in 5* Hotels
5-night stay in a Lagoon Villa at Cocoon Maldives 5*

11 Nights
4-Night Private Mini Sri Lanka Tour in 5* Hotels
7-night stay in a Lagoon Villa at Cocoon Maldives 5*
Your Tour Itinerary In Brief —
Day 1: Airport - Habarana via Pinnawala
Day 2: Habarana - Sigiriya - Minneriya - Habarana
Day 3: Habarana - Dambulla - Matale - Kandy
Day 4: Kandy - Peradeniya - Kandy
Day 5: Kandy - Airport - Maldives
Your Itinerary —
During the tour portion of your stay, you will follow the itinerary as seen below while you stay in 5* hotels and enjoy a guided tour with a private driver.
Day 1: Airport - Habarana via Pinnawala

Upon your arrival at Bandaranayake International Airport, you will be warmly welcomed by a representative of Hayleys Tours. After the formalities at the airport you will be escorted to your air conditioned vehicle and thereafter you will be proceeding to Pinnawala Elephant Foundation. (Approx Travel Time from Airport to Pinnawala - 02 to 03 Hours drive). Enjoy an Elephant walk experience program at Millennium Elephant Foundation (Optional visit depending on the flight arrival time, Ideally morning flights from 0600 hrs – 1000 hrs). As many countries around the world are moving away from elephant rides, Hayleys Tours as a responsible Destination Management Company in Sri Lanka hope to move from offering this practice in the future by offering an alternative beautiful way of interacting with elephants at Millennium Elephant Foundation.
Millennium Elephant Foundation was founded in 1999 as a charity in Sri Lanka for captive elephants. The Millennium Elephant Foundation has always offered people the chance to interact with elephants in a safe and responsible way for both the person and elephant, whilst learning about the plight of Asian Elephants.
What's Included?
- Personalised educated guide for your whole tour
- Approx. 40 minutes walking with an elephant around the grounds watching and observing the way elephant behavior whilst learning about Sri Lankan elephants.
- Bathing the same elephant in the river, which will be a personal experience.
- Optional shower whilst standing next to elephant.
- Free entrance and tour of Maximus Elephant Dung Paper Factory.
On completion proceed to Habarana. (Approx Travel Time from Pinnawala to Habarana - 02 to 03 Hours drive) Upon arrival check in to the hotel and relax.
Day 2: Habarana - Sigiriya - Minneriya - Habarana

After breakfast at the hotel, proceed to visit the Sigiriya Lion Rock Fortress. (Approx Travel Time from Hotel to Sigiriya Rock - 15 to 20 minutes' drive). Proceed to climb the Sigiriya Rock Fortress which is known as the 8th wonder of the world. This rock fortress was built by King Kasyapa in the 5th century A.D. and was a royal citadel for more than 18 years. In a sheltered a pocket, approached by a spiral stairway, are the famous frescoes. The summit of the rock, with an area of nearly one hectare was the site of the palace and the outer wall was built on the very brink of the precipice. The UNESCO sponsored Central Cultural Fund has restored Sigiriya 5th century water gardens to their former glory. Sigiriya Rock Fortress where you could climb 1200 steps and admire the fabulous frescoes on the walls of the ancient rock fortress. This is not recommended for clients with Vertigo & walking difficulties.
On completion proceed to Minneriya national park for an exciting safari. (Approx Travel time from Sigiriya to Minneriya - 20 to 30 Minutes drive). Minneriya national park is one of the best places in the country to see wild elephants, which are often present in huge numbers, and wading birds. Dominated by the ancient Minneriya Tank, the park has plenty of scrub, forest and wetlands in its 88.9 sq km to also provide shelter for toque macaques, sambar deer, buffalo and crocodiles (the latter are very rarely seen however). Elephants, which can number 200 or more, come to feed and bathe during what is known as 'the Gathering'; and flocks of birds, such as little cormorants, painted storks, herons and large pelicans all fish in the  shallow waters. Depending on the movement of the herds of the particular day the chauffeur will decide the best park to visit among Minneriya, Kaudulla and Eco Park. On completion return to the hotel.
Day 3: Habarana - Dambulla - Matale - Kandy

Today after breakfast, check out of the hotel and proceed to visit the Dambulla Cave Temple (Approx Travel Time from Habarana to Dambulla - 15 to 20 Minutes drive). Dambulla Cave Temple is a vast isolated rock mass and it was here that king Valagambahu took refuge in the 01st century B.C. He later turned the caves into a rock temple. Dambulla is a world heritage site and is the most impressive of Sri Lanka's cave temples. The complex of five caves with over 2000 sq. meters of painted walls and ceiling found here are over 2000 years old and is the largest area of painting found in the world.
The caves contain over 150 images of the Buddha of which the largest is the colossal figure of the Buddha carved out of rock and spanning 14 meters. Dambulla is a massive rock from the surrounding plains of Dambulla of 600 feet high which includes climbing of steps as well as walking on the plain boulder. *Not recommended for clients with walking difficulties. On completion proceed to visit the Spice Garden in Matale. (Approx Travel Time from Dambulla to Matale - 01 to 1 ½ Hours drive)  Matale is famous for spice gardens. For centuries, spices have been one of Sri Lanka's celebrated exports. Spices are mostly grown in home gardens (as a home industry) and used not only to flavor food but also for medicine and cosmetics  On completion continue your journey to Kandy and check in to the hotel. 
Day 4: Kandy - Peradeniya - Kandy

After breakfast at the hotel, proceed to Royal Botanical gardens. (Approx Travel Time from Kandy to Peradeniya - 15 to 20 Minutes' drive). This was originally the King's own royal pleasure garden that was later converted in to a botanic garden and opened to the public. At the Royal Botanical Gardens at 'Peradeniya' you could treat your eyes to an amazing, wide and rare collection of tropical and temperate, exotic and indigenous flora, and an orchid house with the largest collection in Asia. On completion do a city tour of Kandy and then return to the Hotel.  Later afternoon visit the Temple of the tooth relic Temple of the Tooth Relic is a Buddhist temple in the City of Kandy. It is considered the foremost sacred place of worship in the Buddhist World. According to legend, the tooth was taken from the Buddha as he lay on his funeral pyre. It immediately became an object of great reverence and was enshrined in a series of nested jeweled reliquaries. On the outside, the temple buildings are not magnificent or elaborately decorated. While with red roofs, they cluster around Kandy Lake. In striking contrast to the plain exterior, the interiors of the temple buildings are richly carved and decorated with inlaid woods, ivory and lacquer. The relic of the tooth is kept in a two story inner shrine fronted by two large elephant tusks. On Completion, return to your hotel and spend the rest of the day at leisure, enjoying the hotel amenities. 
Day 5: Kandy - Airport - Maldives

Today, following breakfast, you will be transported to the airport for your flight to the Maldives.
Your Tour Hotels —
Our members will stay at the following hotels with rooms as per itinerary and upgraded half board dining included (breakfast and evening meal served in the main restaurant - excludes drinks).

Please Note: Guests staying in Sri Lanka over Christmas Eve (24th December or New Year's Eve (31st December) will have an additional fee added to the cost of their booking, payable for meal supplements on these dates.
Your Hotels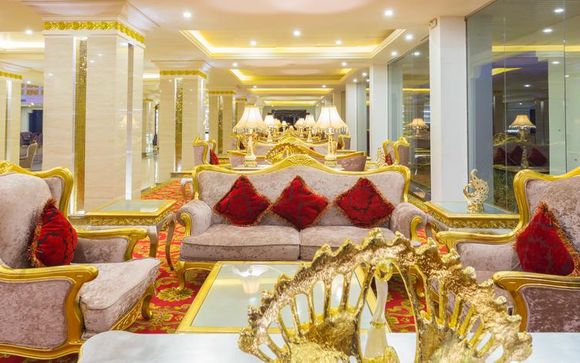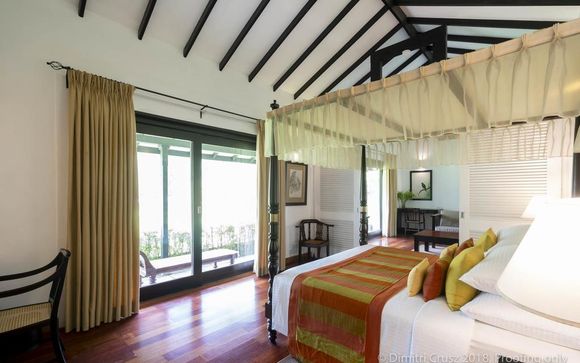 Habarana:
2-night stay in a Superior Room at the Cinnamon Lodge 5*
Kandy:
2-night stay in a Deluxe Room at the Grand Kandyan 5*
Sleeps up to



3 Adults
or


2 Adults
+
1 Child
Please note: the bed for the 3rd guest sharing is likely to be a sofa bed or camp style bed. If any of these hotels are not available, hotels of a similar standard will be found.
Cocoon Maldives 5* —
Following your tour, you will enjoy a 3, 5 or 7-night stay at the Cocoon Maldives 5*. Here, you may choose between a Beach Villa and a Lagoon Villa while you dine on an All Inclusive Board Basis (breakfast, lunch and evening meal with snacks and drinks included).
Just for you:
Honeymooner benefits (minimum 4-night stay) - as follows:
 - Bottle of wine and chocolates with special turn down service per room per stay
 - Romantic candlelit dinner for two persons
Please Note:
 Honeymooners will be required to submit certified documents to prove their recent marriage (validity max. 6 months)
Nestled amongst the swaying palms and sweeping beaches of Ookolhufinolhu island,in an unexplored part of the Lhaviyani Atoll, this boutique hotel blends luxury, design aesthetics, and hospitality into one elegant, modern resort. Designed by the 
renowned Italian firm LAGO,
 Cocoon Maldives 5*'s 
understated interiors 
let the extraordinary beauty of the surrounding environment take centre stage. Large windows frame entrancing vistas of the beach, lagoon and ocean, complemented by furniture carved from 200-year-old Wildwood. 
LAGO's unique "floating bed" designs
 are a common fixture in all the rooms. The resort features an expansive reception pavilion, 
three restaurants, two bars, a dive centre, a spa
, and a kid's club, in addition to 
150 villas on the beach or poised on stilts in the lagoon.
Please note: Some facilities may incur an additional fee, payable locally.
Your Room Options —
Located on the sunrise side of the island at the boundary between land and sea, these semi-detached villas are designed to provide the maximum privacy while giving a view of, and easy access to, the private beach area and the stunning turquoise lagoon beyond.
Sleep up to



3 Adults
or


2 Adults
+
1 Child
These luxurious over-water villas are the epitome of understated elegance. Every element has been chosen to elicit feelings of calm and relaxation.
Sleeps up to



3 Adults
Please note: the bed for the 3rd guest sharing is likely to be a sofa bed or camp style bed. Children are not permitted to stay in Lagoon Villas due to their position over water.
Your Board Basis —
Octopus Restaurant
The main buffet restaurant serves breakfast, lunch and dinner showcasing culinary highlights from around the world. 
Manta Restaurant

An a la carte restaurant facing the lagoon.
Palm Grill

Relaxed beach restaurant under the palm trees, dedicated to grilled seafood and meats.
For drinks, you can choose from the Loabiloabi Bar or the Kurum-Bar.
Please note: some dining outlets/menu items and premium, branded and international drinks may not be included and may incur a surcharge payable locally.  Meals, snacks and drinks may be available at selected times only
Your Time —
Spa
Indulge in relaxation and rejuvenation at the spa, discreetly nestled amidst lush gardens. The range of treatments includes detoxifying massages and scrubs to help you unwind. Private suites are available for both singles and couples.
Diving Centre
A fully-equipped diving centre is ready to whisk water babies off on their latest underwater adventure. Alternatively, try your hand a wide range of watersports, from snorkelling to jet skiing.
Excursions
With an abundance of exciting excursions available, you'll have a hard time choosing between night fishing, dolphin spotting cruises or and sandbank picnics.
Your Optional Excursions —
Scuba Dive Pro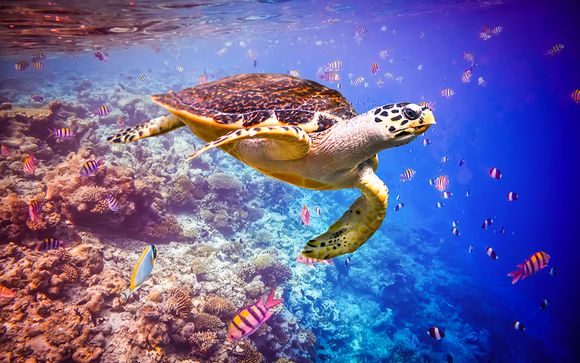 Our guests may choose between the following:
Scuba Diver Starter - 4 DivesScuba Dive Pro - 5 Dives
Scuba Dive Pro - 10 Dives


The resort is located close to 50 spectacular dive sites. These include the famous "Shipyard", which has two shipwrecks in the same dive site, and the "Kuredhoo Express", a famous point for watching sharks. Cocoon Maldives 5* is a great location to see some of the Maldives' most charismatic megafauna, such as manta rays, turtles, Napoleon fish, and grey reef sharks.
Cocoon Maldives 5* houses a fully-equipped diving centre, run by certified professionals.

Please Note: This option requires guests to be at least 8 years of age. Guests will be required to show their PADI certification to take part in this option.
Your Journey —
Flights: You may choose from Economy, Premium or Business class flights on sectors that they operate, at the next stage of the booking process. The flights included are with either a scheduled or no-frills airline and are subject to live availability and prices can change. You can choose your preferred departure times during the booking process. Please select your flight options carefully as departure and arrival airports may differ.

Transfers: Return transfers are included throughout your Sri Lanka tour and return seaplane transfers are included throughout your stay in the Maldives.

For inbound transfer arrangements please confirm with your transfer provider when you arrive. Alternatively, please check with the reception of your accommodation. If you still require assistance, please call the transfer provider directly.

Please Note: 
- The seaplane transfer provider imposes a luggage restriction of 20kg of checked luggage and 5kg soft hand luggage - All additional weight will incur an additional charge of US $5 per kg.
- Neither the resort nor the transfer provider shall be held liable for any claims arising from missed international flights, due to a delay of seaplane transfer caused by adverse weather conditions or similar.
- Seaplanes operate during daylight hours only. Guests arriving in Malé on an international flight, landing after 15:30 will need to find their own overnight accommodation in Malé at their own expense. They will be transferred to Cocoon Maldives 5* the following day.