We Love —
Immerse yourself in India's vibrant culture on this fascinating tour which includes the famous Golden Triangle!
Once in a lifetime experiences include traditional rickshaw rides in Delhi, Jaipur or Varanasi!
Choose from Standard or Superior category hotels with Half Board dining; if opting for the latter, you'll be treated to luxury 5* accommodation throughout your adventures!
This offer comes with the additional opportunity to add a pre-extension in Abu Dhabi, where the majestic Hotel Sofitel Abu Dhabi Corniche 5* awaits!
Your Destinations —
Fly to India for
an exhilarating tour that will dazzle the senses.
Discover a diverse culture and exceptional heritage in this well-planned journey that takes you on an adventure through
stunning landscapes, amazing architecture and local traditions.
Our Offer —
9 nights Golden Triangle Tour & Varanasi in Standard Hotels
9 nights Golden Triangle Tour & Varanasi in Superior Hotels
OR
9 nights Golden Triangle Tour & Varanasi in Standard Hotels with Abu Dhabi Stopover
9 nights Golden Triangle Tour & Varanasi in Superior Hotels with Abu Dhabi Stopover
Your Itinerary In Brief —
Day 1: Delhi
Day 2: Delhi
Day 3: Delhi - Jaipur
Day 4: Jaipur - Amber - Jaipur
Day 5: Jaipur - Agra
Day 6: Agra
Day 7: Agra - Delhi - Varanasi 
Day 8: Varanasi
Day 9: Varanasi – Delhi 
Day 10: Delhi (Departure)

Your Itinerary —
During your tour, you will follow the itinerary as seen below.
Day 1: Delhi
Arrive and transfer to your hotel in Delhi. Enjoy free time, dinner and an overnight stay at your chosen hotel.
Day 2: Delhi
Enjoy breakfast at your hotel followed by a fabulous city tour of Delhi, visiting Jama Masjid, Chandni Chowk in a Rickshaw, Raj  Ghat  (where Gandhi was cremated), the Raj Path, and the majestic Door of India. After lunch, you will visit the Qutub Minar and a Sikh temple.  Dinner at hotel and overnight stay.
Day 3: Delhi - Jaipur
Following breakfast, you will depart to Jaipur. Upon arrival, pay a visit to the Birla Temple to assist in a religious ceremony. You will also visit the Royal Albert Hall Palace and walk through Jaipur's Bazar. Dinner and overnight stay at the hotel.
Day 4: Jaipur - Amber - Jaipur
Depart to Amber Fort after breakfast. Visit the Palace in the ancient capital of Rajasthan. After lunch, come back to Jaipur and visit the Astronomy Centre and Royal Palace. You will also get to visit the Hawa Mahal Palace. Dinner and accommodation at the hotel.
Day 5: Jaipur - Agra
After breakfast you will depart to Agra, visiting the forsaken city of Fatehpur Sikri en route. Upon arrival in Agra, you will visit the Red Fort - a beautiful palace which was the residence and later prison of emperor Shah Jahan. Transfer to your hotel for dinner and an overnight stay.
Day 6: Agra
In the afternoon you will visit one of the seven wonders of the world, the Taj Mahal, built by emperor Shah Jahan in honour of his beloved wife. At sunset, you will return to your hotel for dinner and an overnight stay.
Day 7: Agra - Delhi - Varanasi 

Following breakfast, you will travel to Varanasi via Delhi Airport. Upon arrival, you will check in to your hotel for an overnight stay.
Day 8: Varanasi

In the early morning, you will take a boat ride across the holy river Ganges to see the spiritual baths in the ghats and the burning places. Return to the hotel to have breakfast. After that, you can walk around the little streets of Varanasi's Old Town visiting the Durga's Temple, Tulsi Manas Mandir and finally the Varanasi University. Dinner and accommodation at the hotel.
Day 9: Varanasi – Delhi 
Breakfast will be served at the hotel. In the morning, you'll visit the Old Town on a Rickshaw. At the scheduled time, you will be transferred to Varanasi airport. Depart for Delhi and enjoy a transfer to the hotel. In the afternoon, you will have free time to explore. Dinner and accommodation at the hotel.
Day 10: Depart from Delhi  
Breakfast will be served at the hotel. At the scheduled time, you will be transferred to Delhi Airport for your flight home.
Your Hotels —
Our members will have the choice of staying at the following Standard category or Superior category accommodation with this offer. You will stay at the below hotels in a Standard Room on a Half Board Basis (breakfast and lunch at the main restaurant- excludes drinks).

Our guests have the opportunity to upgrade to Full Board Board Basis (breakfast, lunch and evening meal served in the main restaurant - excludes drinks) at the next stage of the booking process for an additional fee. 
Standard 4/5* Category Hotels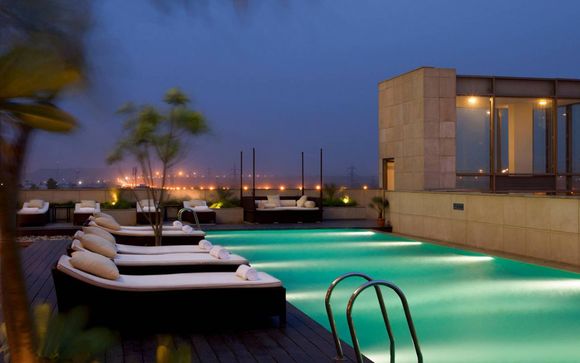 Delhi: 
Crowne Plaza Today 5*
Jaipur:
 Holiday Inn 5* / Royal Orchid 5*

Agra:
 Sheraton 4* Sup

Varanasi:
 Rivatas 4* Sup
Delhi:
 Crowne Plaza Today 5*
Sleeps up to



3 Adults
or


2 Adults
+
1 Child
Superior 5* Category Hotels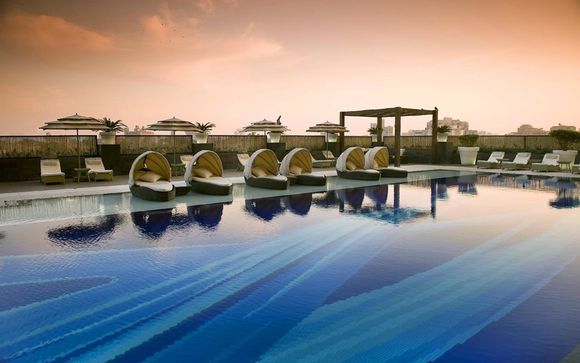 Delhi: 
The LaLiT New Delhi 5*
Jaipur: 
Jaipur Marriott Hotel 5* or The Lalit Jaipur 5*
Agra: 
Jaypee Palace Hotel 5* / Radisson 5*
Varanasi:
 Crowne Plaza 5*
Delhi: 
The LaLiT New Delhi 5*
Sleeps up to



3 Adults
or


2 Adults
+
1 Child
Please note: the bed for the 3rd guest sharing is likely to be a sofa bed or camp style bed. If any of these hotels are not available, hotels of a similar standard will be found.
Optional Stopover in Abu Dhabi —
You may choose to extend your trip by adding a 3-night stopover at the Hotel Sofitel Abu Dhabi Corniche 5* in Abu Dhabi. Here, our members will enjoy a choice between a Superior Room and a Luxury Room while they dine on a Half Board Basis (breakfast and evening meal served in the main restaurant - excludes drinks).

Please Note: Your room will be assigned depending on the combination you select as listed above in the 'Our Optional Offers' box.
Just for you:
Complimentary early check-in from 8 am (subject to availability)
Taxes included
Exclusive Discount Rate: -10% if booked 60 days prior to arrival and -20% if booked 90 days prior to arrival
As the United Arab Emirates capital and largest emirate,
Abu Dhabi is quickly becoming a contender for out-dazzling Dubai. It is a unique blend of diversity, from the contemporary chic of downtown Abu Dhabi to the timeless Bedouin traditions of the
surrounding mountains, deserts and the sandy beaches.Overlooking the famous Corniche, this hotel is fantastically located for tourists.
You are within minutes walk from the city's shopping malls and historical areas, as well as the fantastic Tourist Club Area and Le Meridien Village, where an abundance of leisure, dining and entertainment options will keep you occupied.
The pristine white sand and sparkling blue waters are a magnet for beach lovers,
and a wide variety of watersports are also available for the more adventurous! If you can tear yourself away from your sun lounger, head for the mountains for cool air and Bedouin traditions, or opt to take a jeep or camel desert safari.
Hotel Sofitel Abu Dhabi Corniche 5* —
Gaze over the Arabian Gulf and Dhow Harbour from this skyscraping Sofitel hotel.
The Sofitel Abu Dhabi Corniche 5*
fuses elegant French Art Deco and Arabian opulence,
with stunning results. The facilities are second to none - revitalise mind and body in the signature So Spa, plunge into the 8th-floor outdoor pool or work out at the gym. 
The cuisine is equally indulgent,
with bars and cafes serving authentic French pastries, fresh Gulf seafood, traditional Saj bread, or delicate Thai dishes infused with Middle Eastern flavours.
As night falls, head to the jazz cocktail bar or enjoy a shisha by the pool
with magnificent views over the Arabian Gulf.
Please note: Some facilities may incur an additional fee, payable locally.
Your Room —
Surround yourself with chic Art deco inspired design in a 42m² room. Enjoy complimentary WiFi, a BOSE wave, interactive TV with international channels, aspacious bathroom, a working space and a luxurious MyBed.
Sleeps up to


2 Adults
+
1 Child
Step into a peaceful room and lose yourself in a magnificent sea view of the Corniche and the Arabian Golf. Revel in luxurious amenities from complimentary Wi-Fi, a BOSE wave, a MyBed experience, a spacious bathroom and a working area.
Sleeps up to


2 Adults
+
1 Child
Please note: the bed for the 3rd guest sharing is likely to be a sofa bed or camp style bed.
Your Board Basis —
Grills@Chill'O
Chill'O pool bar and terrace offers delightful daytime cocktails, thirst-quenching fruit juices and gourmet sorbets. The pool bar presents a menu of vitamin-packed drinks to enjoy alongside tasty snacks. Get together for evenings with friends to smoke Shisha while sipping mint tea. Indulge in mezzes, tapas to share, antipasti with soft chill-out music in relaxed lounge seating. 
Saray Al Basha
Discover this unique restaurant that offers an exquisite array of Lebanese flavours. Delight in Lebanese flair in a blend of contemporary interiors and delicious cuisines. 
French Bakery Corner
Bakery Corner offers a variety of fresh bread, rolls, French croissants, pastries, sandwiches and offers breakfast take away and delivery.

Corniche Restaurant

Featuring three live cooking stations offering the best of French "cuisine bourgeoise" and rotisserie cooking;  Pan-Arabic cuisine with Gulf, North African and Levant influences and a traditional saj oven; a Boulangerie counter with exquisite breads, pastries and sweets. 
Le Cafe Lobby Lounge
For an energising breakfast, morning coffee, afternoon tea or a midnight treat, pop into Le Café Lobby Lounge. Teas, Turkish coffees and a dizzying parade of French and Middle Eastern pastries await, with sculptures inspired by Brancusi.


Parmigiana

Offers contemporary Italian cuisine in charming interiors providing a truly authentic Italian experience with a breathtaking view over the Corniche and Arabian Gulf.


Jazz 'N Fizz Bar

A chic bar for a signature cocktail and a fine cigar, Jazz'n Fizz is decorated with dark woods, deep reds and a beautiful embossed ceiling create a stylish feel. The jazz music is infused with Latin and Arabic influences.
Icon VIP Bar
A place to celebrate or chill out with friends and colleagues while enjoying live music. Guests can choose from a wide variety of exquisite international dishes, wines and speciality cocktails.
Please note: some dining outlets/menu items and premium, branded and international drinks may not be included and may incur a surcharge payable locally.  Meals, snacks and drinks may be available at selected times only
Your Time —
Rejuvenate after your flight with a spa treatment at the So SPA, blending local products with the latest techniques and treatments by Carita and Cinq Mondes. Hammams, Jacuzzis, steam rooms and saunas provide even more chances to relax.
The high tech gym features Technogym equipment in cool, bright surroundings, with a personal trainer on hand if you wish. The outdoor pool on the 8th floor also provides stunning views of the city and Arabian Gulf. Refresh yourself after bathing with drinks from the swanky Chill O'Pool Bar.
Your Optional Excursions —
You may choose to add the following excursions at the next stage of the booking process. 
Visit and Lunch at the Shahpura Haveli Palace (near Jaipur)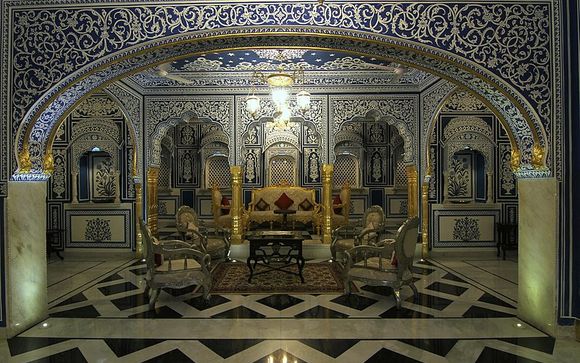 An exquisite example of Indo-Saracenic architecture, the Shahpura Havel is located in the heritage city of Rajasthan, Jaipur. Over the years, this stunning haveli has been home to a number of royals, celebrities and artists.
Visit the Akshardham Temple in Delhi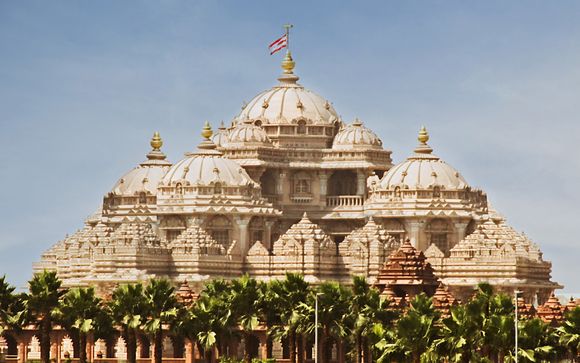 Akshardham or Swaminarayan Akshardham complex is a Hindu temple, and a spiritual-cultural campus in Delhi, India. Also referred to as Akshardham Temple or Swaminarayan Akshardham, the complex displays millennia of traditional Hindu and Indian culture, spirituality, and architecture. Inspired by Yogiji Maharaj and created by Pramukh Swami Maharaj.
Yas Waterworld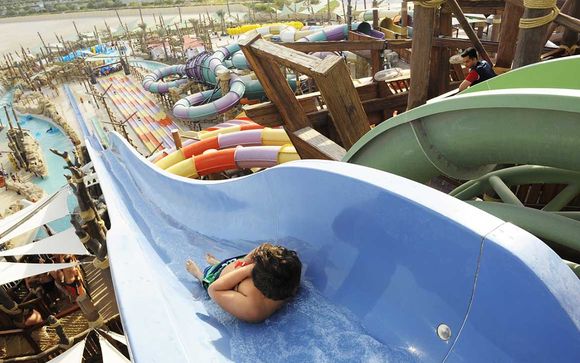 Yas Waterworld Abu Dhabi is the UAE's first mega waterpark, set across 15 hectares of the exciting entertainment district that is Yas Island. The park offers 43 rides, slides and attractions that will thrill the whole family.
Ferrari World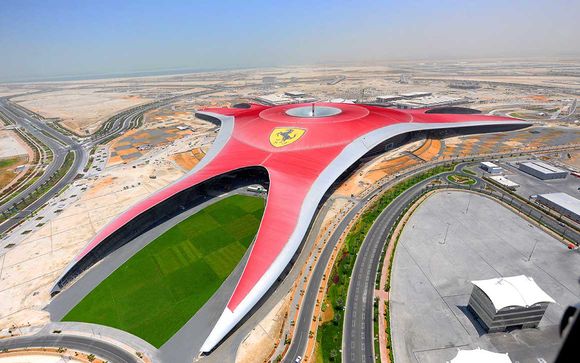 Ferrari World Abu Dhabi offers a truly amazing experience with thrilling rides, exciting attractions, themed stores and restaurants, all inspired by the Ferrari brand and its Italian heritage. The park boasts more than 20 rides and attractions for all ages and interests, from speed thrill rides to truly advanced simulators, plus a wide variety of Italian restaurants, unique shopping experiences and dedicated entertainment.
Le Louvre Abu Dhabi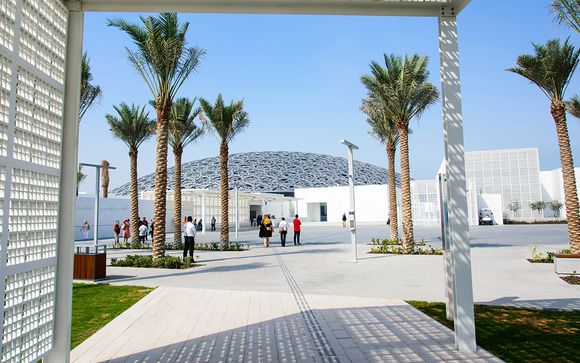 The Louvre Abu Dhabi is a spectacular art and civilisation museum, characterised by its signature dome of geometric latticework. Within this behemoth of a museum, you can marvel at a multitude of artefacts and fascinating collection pieces from all over the world.
Abu Dhabi Tour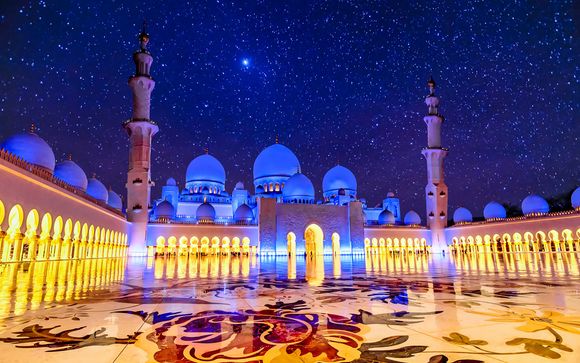 Considered to be one of the most modern cities in the world, Abu Dhabi, the federal capital of the United Arab Emirates and the largest of the seven Emirates, offers you miles of clean beaches and shimmering golden islands just off the shoreline. 
From the new majestic Sheikh Zayed Mosques or the spectacular Corniche coastline to the fishing harbour and Heritage Village – everywhere you can witness the story of the ancient and present sources of the Emirate's wealth. This excursion will give you an unforgettable experience of a place where the future meets the past. You will also pass by the "Emirates Palace Hotel", an enchanting landmark and a wonder for all who pass through its magnificent gates. Also said to be one of the worlds most expensive constructed Hotels worldwide.
Desert Safari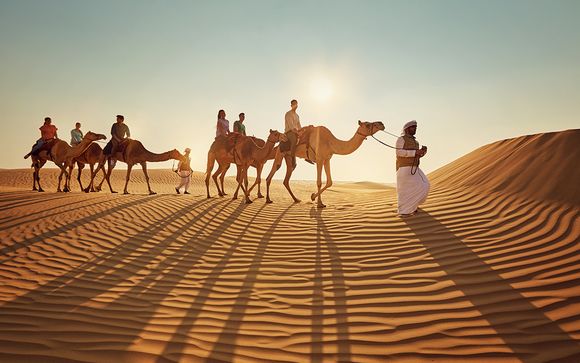 After settling down in the 4 WD vehicles, the jeeps will speed through the desert of the golden sand dunes. The dune bashing or desert driving continues with the thrill of going up and down the dunes provoking many shrieks and laughter full of excitement. This safari gives us the opportunity to discover the desert within a few hours. 
On this tour, we will experience the thrill of driving up and down golden yellow sand dunes in our 4WDvehicles. Driving over the high sand dunes, the route leads to our campsite, which is set in a serene enclave and especially decorated to give it an authentic Arabic ambience. Here we relax in the calm and silence of the desert under the starlit sky, surrounded by majestic sand dunes, which seem to glow by the light of the setting sun. 
A sumptuous Arabian style BBQ of various succulent fresh meats and salads will be served. After dinner smoke a shisha or relax and gaze at the amazing galaxy of stars....this is interrupted by the loud Arabic music which invites our belly dancer for her professional performance... you would be surprised to see how many people she will have on the dance floor by the end of her performance!
Your Journey —
Flights: You may choose from Economy, Premium or Business class flights on sectors that they operate, at the next stage of the booking process.

The flights included are with either a scheduled or no-frills airline and are subject to live availability and prices can change. You can choose your preferred departure times during the booking process. Please select your flight options carefully as departure and arrival airports may differ.

Transfers:  Transfers are included throughout this offer as per itinerary.