We Love —
Escape to Iceland and enjoy a fantastic stay at this sleek and stylish Mystery Hotel 4*, alongside a range of incredible included excursions!
From whale watching and and discovering the Jokulsarlon Glacial Lagoon, to exploring the South Shore and visiting the fantastic Fontana Wellness Spa, these excursions are sure to guarantee the trip of a lifetime.
During your stay, you'll be accommodated in a comfortable Upgraded Room on a Bed and Breakfast Board Basis.
New
Voyage Privé
—
Carefully selected by our experts especially for you
Your Destination —
As the northernmost capital in the world,
Reykjavik enjoys a unique atmosphere few other capitals can match. Overlooked to the north by the volcanic range Esja, 
this picturesque city is the perfect place for a laid-back break or one filled with action!


Laugavegur is the beating heart of the city, a street
 brimming with bars, restaurants, and boutique shops
 - stop by one of the cosy cafes to try Icelandic favourites such as rye bread with toppings like herring or trout. If you're looking to soak up some culture, 
visit the Reykjavik Art Museum to see modern art by Icelandic artists, or the National Museum of Iceland to dive into the city's Viking roots.
 Of course, Reykjavik is also the ideal starting point to 
discover the wild landscapes of this stunning island
 - join a tour of the popular Golden Circle, a 230km route taking in 
Þingvellir National Park, the Geysir geothermal area and the breathtaking Gullfoss waterfall.
Mystery Hotel 4* —
Discover a city rich in art and culture or simply relax and
unwind at this stylish and sophisticated Mystery Hotel 4*, located just 15 minutes from the centre of Reykjavik.
Indulge in a gourmet meal at the hotel's on-site restaurant,
renowned in Scandinavia for its emphasis on traditional Nordic cuisine,
sip a chilled glass of wine in the mellow atmosphere of the contemporary Lobby Bar or enjoy a nutritious breakfast or mid-morning snack in serene surroundings.
Guests may also choose to soothe their senses in the tranquil setting of the spa. 
The hotel's rooms and suites offer elegance and comfort and are fitted with all the latest technology. Bright windows,
attentively restored timber-beamed ceilings, precious Venetian fabrics
and marble bathrooms all add unforgettable refinement to your stay.
Some services may incur additional charges, payable locally.
Your Room —
This offer is based on a stay in a Queen Room.
Just for you:
Complimentary guaranteed upgrade to a higher room category
Settle into your spacious and contemporary room which boasts the ideal space for a peaceful nights sleep. With high-speed internet access and a cosy work area, this comfortable guest room provides a host of necessary amenities. This bright and airy room, decorated in cool, calm tones has a queen bed and wooden floors, in addition to complimentary WiFi and a flat-screen TV.
Sleeps up to


2 Adults
or

1 Adult
+
1 Child
Your Board Basis —
This offer is based on a Bed and Breakfast stay.

Just for you:
15% discount with 'Restaurant Reykjavik': Geysir Bistro, Restaurant Reykjavik, Grillhusid (vouchers issued) 
15% Discount at the SATT Icelandair Hotel Reykjavik Natura, the VOX Hilton Reykjavik, Slippbarinn Icelandair Hotel Reykjavik Marina and the Geiri Smart Canopy Reykjavik
At this Mystery Hotel 4*, the lobby is the hotel's heartbeat, where the force of nature meets the best in modern design – a relaxing retreat and gateway to the lively bar. The hotel's restaurant is an exquisite seasonal venue for a tasteful night out. Throughout winter, summer, spring and autumn you can enjoy the best on offer at an eatery that places its focus on new Nordic Cuisine.
Please note: some dining outlets/menu items and premium, branded and international drinks may not be included and may incur a surcharge payable locally. Meals, snacks and drinks may be available at selected times only.
Your Time —
Soothe your senses in the tranquil setting of the hotel's fantastic on-site spa. Experience deep relaxation with a luxury facial or pedicure and a relaxing head or shoulder massage at an additional charge, before enjoying steam baths or log cabin saunas – alongside a spacious gym which comes complete with professional trainers.
Your Included Excursions —
Our members have the following excursions included in their stay.

From 3 nights: 
- Warm Baths & Cool Lights
- The Golden Circle & Friðheimar

From 4 nights:
- Warm Baths & Cool Lights
- The Golden Circle & Friðheimar
- South Shore Adventure

From 5 nights: 
- Warm Baths & Cool Lights
- The Golden Circle & Friðheimar
- South Shore Adventure
- Jokulsarlon Glacial Lagoon

From 7 nights:
- Warm Baths & Cool Lights
- The Golden Circle & Friðheimar
- South Shore Adventure
- Jokulsarlon Glacial Lagoon
- Whale Watching

Warm Baths & Cool Lights (From 3-Night Stays)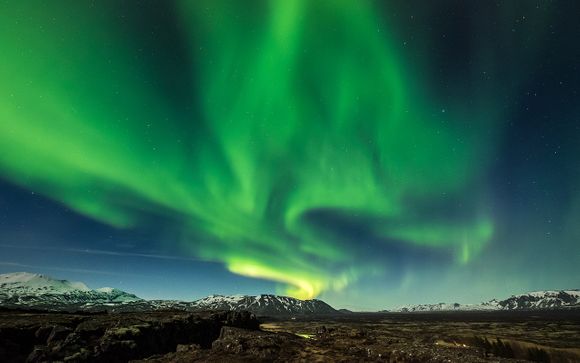 Hot Springs & Northern Lights
This tour includes relaxation, a local culinary experience and an exciting northern lights hunt.
Local Icelandic Dinner Buffet
We drive via the UNESCO site Þingvellir National Park towards Laugarvatn Fontana Spa, where we nourish both body and soul. Upon arrival at Fontana Spa, we start by filling up our energy with a delicatessen from the local style dinner buffet followed by geothermal bathing on a cosy evening.
Laugarvatn Fontana Geothermal Baths
Fontana Spa has three steam rooms built over a natural hot spring and a traditional sauna along with three different hot pools. It is perfect to relax and socialize and from the hot tub, you can see a panoramic view of the countryside around Laugarvatn.
Icelandic Northern Lights Hunt
Afterwards, on our way back to Reykjavík, we go on a northern lights hunt but since they are a natural phenomenon, sightings are not guaranteed.
Tour duration: 18:00 - 00:30
The Golden Circle & Friðheimar (From 3-Night Stays)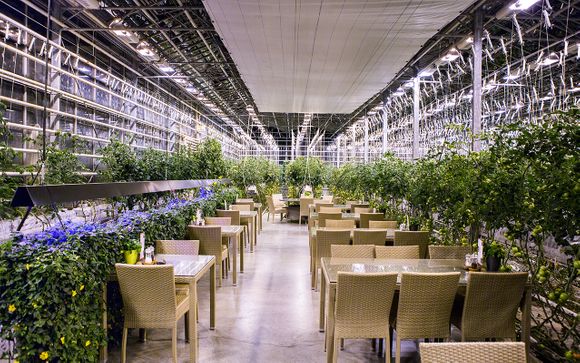 Golden Circle Iceland
This best-selling tour of Iceland's most famous landmarks includes a visit to Friðheimar greenhouse. The classic Golden Circle with a sustainable twist!
Fridheimar Greenhouse
The tour starts with a visit to Fridheimar greenhouse where we learn about the magical methods of managing pests by using biological controls. We also learn how to grow delicious tomatoes in a eco-friendly way with the aid of geothermal heat which Iceland has in abundance.
Geysir
After Fridheimar, we stop at Geysir geothermal area. The Stokkur geysir shoots a column of water up to 30 meters (98 ft.) into the air every 4-8 minutes in a thrilling display of nature's forces. 
Gullfoss Waterfall
The visit continues with Gullfoss waterfall, created by the Hvítá river, which tumbles and plunges into a crevice some 32 m (105 ft.) deep. 
Thingvellir National Park
We also visit the historical and geological wonder that is Thingvellir National Park. Here the American and Eurasian tectonic plates are pulling apart at a rate of a few centimetres per year. Thingvellir is a UNESCO World Heritage Site.
South Shore Adventure (From 4-Night Stays)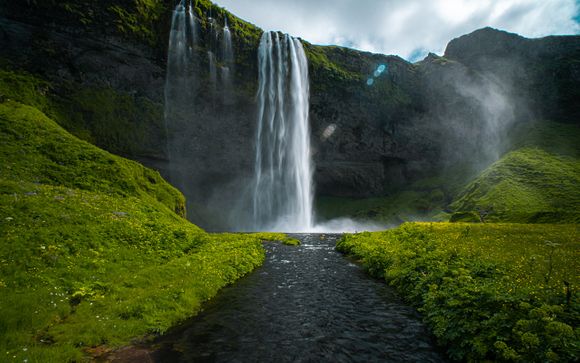 This tour is ideal for nature lovers of all kinds. We take you along the south coast of Iceland, one of the country's most scenic regions, as far as Vík, a charming village surrounded by high beautiful bird cliffs.South Iceland is special for that it is one of the flattest regions on the island. Because of that, most of all grain farming in Iceland is done there. The high mountains to the north, shield the area from the harshest winds from the north.
Jökulsárlón Glacial Lagoon & Diamond Beach (From 5-Night Stays)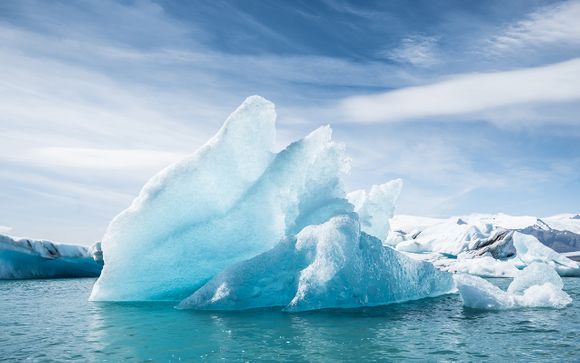 With its enormous and ancient icebergs breaking off from Vatnajökull glacier, this natural wonder of Iceland is a sight you absolutely cannot miss. The lagoon produces a feeling of incredible tranquillity as the 1000-1500 year old ice silently drifts into the lake and slowly melts away. The lagoon covers 18 square kilometres (7 square miles) and reaches more than 248 metres (814 ft) at its deepest point. You may recognize the lagoon from scenes in Batman Begins, Tomb Raider and two James Bond movies. 
We stop at the gorgeous Seljalandsfoss and Skógafoss waterfalls. Seljalandsfoss is part of the Seljandsá river, which has its origins in Eyjafjallajökull glacier. What makes Seljalandsfoss so famous and interesting is that you can walk behind it. We recommend you bring either a raincoat or a waterproof coat along if you want to walk behind it. Skógafoss, another famous Icelandic waterfall, is the starting point of the Fimmvörðuháls walk over to Þórsmörk. The waterfall was also used in the films Thor: The Dark World and The Secret Life of Walter Mitty.
We will also stop at Vík í Mýrdal for dinner and there you can walk to the black sand beach and see the Reynisdrangar rock formations. 
Whale Watching (From 7-Night Stays)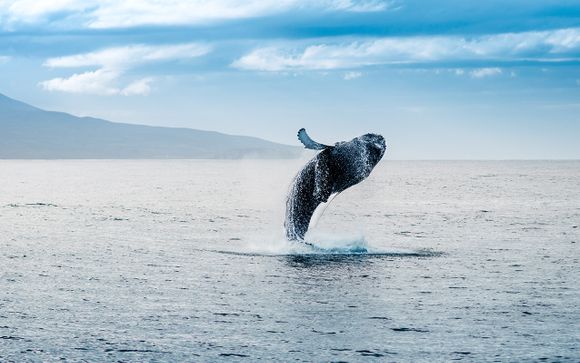 The ocean around Iceland is home to some the most magnificent creatures on Earth. This tour will give you the possibility of seeing whales in their natural habitat as well as the rich and thriving birdlife Iceland has to offer. You might see some spectacular behavioural displays from breaching humpbacks to spinning dolphins and graceful minke whales.
Your Optional Excursions —
Our members can choose to add the following excursions at the next stage of the booking process for an additional fee - subject to availability. 
FlyOver Iceland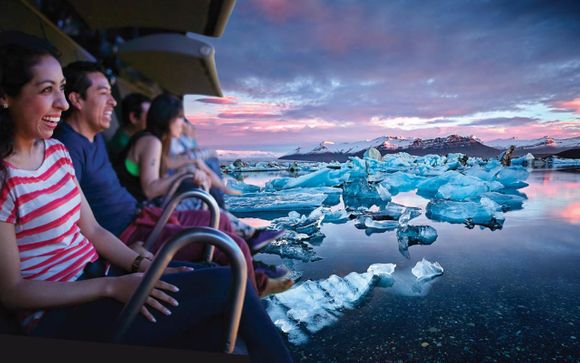 FlyOver Iceland is located in the exciting Grandi Harbor District - this all season attraction takes you on a breathtaking journey across Iceland. Soar over land, sea and ice. Move with the arctic winds. FlyOver Iceland is an immersive flight experience. The ride utilises state-of-the-art technology to give the guest the feeling of flight. Guests will hang suspended, feet dangling, before a 20-metre spherical screen while our film whisks you away on an exhilarating journey across Iceland.
Special effects, including wind, mist and scents, combine with the ride's motion to create an unforgettable experience. Before your flight begins, you'll be immersed in the magic of Iceland in pre-ride events. Our flight guides, a storyteller and resident troll Sú Vitra will lead you through two unique adventures that'll ignite your imagination with stories of Iceland, its people and the natural forces at work. The total duration of the experience is 30-35 minutes. We do recommend that you reserve one hour for your visit to FlyOver Iceland.
The FlyOver Iceland building is a landmark at the Grandi district. This beautifully designed house not only holds the FlyOver Iceland flight ride and pre-shows but also a souvenir shop with handpicked local items, photos from the ride and unique souvenirs. The ground floor houses as well a café where you can relax before or after your virtual flight. Please Note: FlyOver Iceland has no age limit, however we cannot accommodate anyone in our flight ride under the height of 102 cm (40 inches).
Langjökull Ice Cave Experience (with pick up and drop off)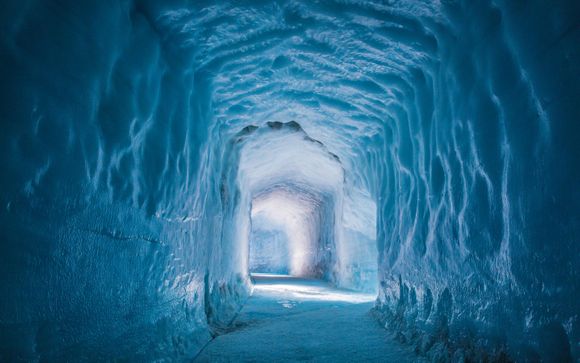 Visit a unique and remote man-made ice cave in Langjökull, one of Iceland's largest and most spectacular glaciers. You begin the tour by bus from BSÍ Bus Terminal and then change to a monster-truck which will take you almost to the top of the glacier, where you enter the magnificent cave. Going into the glacier is an unforgettable trip which takes place in one of the world's greatest wilderness. Imagine standing on an ice cap reaching 600 metres below your feet! Tour duration: 09:00 - 18:30.
Ice Bar - Moment of Frost Package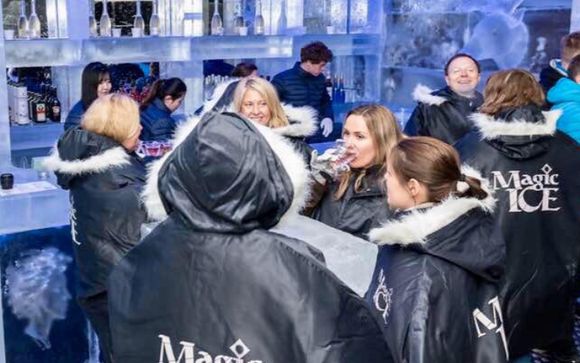 Uncover this enchanting adventure whilst on your action-packed Iceland trip. Pay a visit to Reykjavik's sub-zero experience for a chance to discover an ice-art gallery with sculptures & a bar, all made in crystal clear ice. This visit will include entry to the Ice bar & gallery along with all you need to keep you wrapped up warm during your visit - gloves, a winter poncho, in addition to 1 hand-crafted welcome drink served in an ice glass!
Golden Circle & Glacier Snowmobiling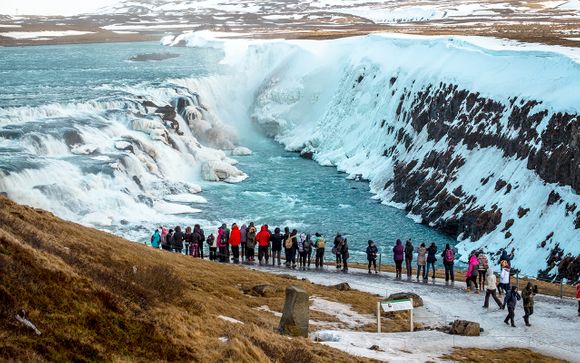 First, you will stop at Þingvellir National Park which is known for its exceptional beauty and historical importance. Þingvellir is as well a designated UNESCO World Heritage Site. The second stop is at the high-temperature geothermal area known as Geysir, with its numerous spouting hot springs. From there we drive to Langjökull where we take a one hour exhilarating snowmobile tour on the vast white snowcap. On our way back to Reykjavík we stop by the stunning Gullfoss waterfall. Tour duration: 09:00 - 19:00.
Your Journey to your Mystery Hotel 4* —
Flights: The flights included are with either a scheduled or no-frills airline and are subject to live availability and prices can change. You can choose your preferred departure times during the booking process. Please select your flight options carefully as departure and arrival airports may differ.
Transfers: It may be possible to add shared flybus transfers at the next stage of the booking process for an additional fee (flight inclusive offers only - subject to availability).

Please find the information on the Flybus shared transfer service here. Departures from Keflavik Airport are in connection with all arriving flights. Pick up from hotel accommodation starts 30 minutes prior to your departure. The Flybus departs from Keflavík Airport 35-40 minutes after each flight arrival. Busses are located right outside the terminal building. If you are arriving late at night or your flight is delayed, don't worry, there will be a Flybus waiting for you.