We Love —
Soak up the sunshine from the decks of the MS Adriatic Princess with a breathtaking cruise across Croatia's highlights!
Travel from historical Dubrovnik to incredible destinations such as Split, Hvar, Mljet and Omis with these fantastic adventures.
Choose between two unique cabin types and feast on a delicious Half Board basis throughout your holiday.
This offer is also complete with a 7-night bus tour across Sarajevo, Beograd and Zagreb with stays in a selection of 4* hotels throughout.
Your Destinations —
The
 UNESCO World Heritage Site
 of Dubrovnik's Old Town is surrounded by city walls built between the 13th and 16th centuries. Stroll round these fortified walls, 
enjoy panoramic views of the city and the Adriatic Sea,
and step back in time by taking a guided tour of the narrow stone streets of the Old Town itself. Escape the hustle and bustle of the Old Town with a 
15 minute boat ride to the quiet and relaxed atmosphere of the Island of Lokrum. 
Swim in the blue waters of the Adriatic Sea, sunbathe on the beach or enjoy a refreshing drink in one of the cafes.
Croatia's Adriatic Islands dot its southern Dalmatian Coast in 
a dazzling display of rich culture, ancient history, and astonishing views.
 Here, time seems to slow to a pace as leisurely as the slow sunset that bathes these islands in the glorious afternoon sun. 
Medieval towns, golden sandy beaches, and mouth-watering cuisine make these islands a must-visit destination. 
One of Croatia's most attractive islands is Korcula. A rich tapestry of culture,
 fragrant olive groves and vineyards, and bright blue seas,
 Korcula is a petite and peaceful island with endless natural beauty.
Pucisca is 
a coastal town and a municipality on the island of Brac 
in Croatia. It is often
 listed as one of the prettiest villages in Europe,
 and is known for its white limestone and beautiful bay. The whole island of Brac is famous for its incredible production of olive-oil and figs. Thanks to 
verdant, Mediterranean greenery, the fresh sea, and the mountain air, 
Brac is a true paradise.
Omis is 
a small town and port that sits just 26 km southeast of Split. 
Due to its colourful history, 
Omis is best known as the home of pirates,
 who used to attack trade ships at the mouth of the River in the 13th and 14th century. During this period, Omis Pirates were the most feared people along the Adriatic coast. These days, Omis is home to
 stunning scenery, a dramtic 15th-century fortress, and breathtaking beaches.
The second-largest city in Croatia, 
Split is a great place to see Dalmatian life as it's really lived. 
Always buzzing, this exuberant city has just the right balance of tradition and modernity. Step inside Diocletian's Palace 
(a Unesco World Heritage site and one of the world's most impressive Roman monuments)
 and you'll see dozens of bars, restaurants and shops thriving amid the atmospheric old walls where Split's life has been going on for thousands of years. To top it off, Split has a unique setting.
 Its dramatic coastal mountains act as the perfect backdrop to the turquoise waters of the Adriatic.
Hvar is a Croatian island that can
celebrate its illustrative history while looking firmly in the future.
 This island is part of the central Dalmatian archipelago situated in a picturesque natural setting.
 Just 10km from Hvar town, you will find one of the most beautiful townlets on the island, founded in the 15th century.
 Owing to several old bridges that connect the two sides of its bay, Vrboska is often referred to as Little Venice. With the imposing architectural site of the fort-church of "St. Mary of Mercy", and the cultural Fisherman's Museum,
 the peaceful town of Vrboska is more than just a beachside destination.
 In Hvar Town, wander through 13th-century walls and pass Gothic palaces interspersed with popular clubs and more modern architecture.
 The beautiful waves of the Adriatic sea hit the shore, and golden beaches border this enchanting land.
Mljet is 
well-regarded as Croatia's greenest island,
 and is home to Mediterranean vegetation in abundance, crystal-clear waters, soft, sandy beaches and 
a wealth of underwater sea life. 
Mljet is conisdered to be 
one of the most beautiful of the Croatian islands. 
The island is also well known for its two salted lakes, which are located at the north end of the island.
Our Offer —
14 Nights
7-night stay in a Lower Deck or Main Deck Cabin onboard the MS Adriatic Princess
7-night bus tour with stays in a Double Standard Room at 4* hotels throughout

Your Itinerary In Brief —
Cruise
Day 1: Arrival in Dubrovnik
Day 2: Dubrovnik - Korcula
Day 3: Korcula - Pucisca - Omis
Day 4: Omis - Split
Day 5: Split - Hvar - Vela Luka
Day 6: Vela Luka - Pomena - Slano
Day 7: Slano - Dubrovnik
Day 8: Dubrovnik

Bus Tour
Day 9: Dubrovnik (Day excursion to Montenegro)
Day 10: Dubrovnik 
Day 11: Dubrovnik - Mostar - Sarajevo 
Day 12: Sarajevo - Belgrade
Day 13: Belgrade - Novi Sad - Osijek - Vukovar
Day 14: Osijek - Vukovar - Zagreb
Day 15: Zagreb - Departure

Your Cruise Itinerary —
During their cruise, our members will follow the itinerary as seen below.

Please note: The language spoken on board the cruise is guaranteed English.
Day 1: Arrival in Dubrovnik - Saturday (Dinner included)

Embark at any time after 14:00. Over a welcome drink and a snack, meet your Cruise Director and the crew and get acquainted with the rules and safety measures. Your journey begins with dinner onboard and an overnight stay in Dubrovnik.
Day 2: Dubrovnik - Korcula - Sunday (Breakfast and Lunch included)

The far south of Croatia holds many gems. Whatever you might consider to be the town's main drawcard, Dubrovnik's mighty city walls and its courteous spirit will swiftly transport you back in time to when this was an independent republic which successfully rivaled the Venetian Republic. Its outpost is your next stop, with your journey interrupted only by a refreshing dip on the Elaphite Islands. You'll know Korčula was a Venetian stronghold as soon as you lay your eyes on the many lion statues which lurk at you from the town's facades and gates, intertwined with some of the most outstanding stonework you will get see anywhere on the Adriatic coast. Overnight in Korčula. 
Optional: Dubrovnik town tour with a coach transfer from Dubrovnik port (Gruz) to the Old town – optional walking tour package (or on day 7) and Korcula town walking tour – optional walking tour package.
Day 3: Korcula - Pucisca - Omis - Monday (Breakfast and Lunch included)

Breakfast is served over the stunning views of the playfully dispersed archipelago of Korčula, and followed by a scenic sail around the tips of Pelješac peninsula and Hvar Island - perhaps even a refreshing dip along the way. Stop to visit the homeland of 'the Croatian marble', the island of Brač. You've probably seen this ultra-quality limestone already, perhaps on the front of the White House in Washington DC or Bundestag in Berlin. Once back at the mainland, get stunned by the dramatic rocks backing the lovely settlement of Omiš right at the mouth of Cetina River. Overnight in Omiš. 
Optional: Stonemasonry school – optional walking tour package and optional excursion on the Cetina river
Day 4: Omis - Split - Tuesday (Breakfast and Dinner included)

When sailing along the Croatian coast, surpassing the beauty around you may seem like an impossible task. Perhaps so, but there are sites on the Croatian mainland which surely parallel it, such as the Krka River and its stunning estuary. A coach trip brings you to the small town of Skradin, the guardian of the mouth of River Krka, and the gateway to its National park. The place where wild waterfalls inspire serene lakes, the park is definitely worth a visit. After returning to the seaside, visit Trogir, a petite island bridged to the mainland.
A showcase of stunning architecture founded upon Greek and Roman heritage, Trogir is protected by UNESCO, just like its big neighbor and your next stop, the town of Split. Explore on your own or join our optional walking tour* to learn about the Diocletian's Palace, once the Roman Emperor's retirement estate and today a lively city centre. Whatever you do, make sure to take it easy in Split, as after all, that is the true highlight of local living. Dinner on board and overnight in Split.
Optional: *Split Walking Tour – optional walking tour package
Day 5: Split - Hvar - Vela Luka - Wednesday (Breakfast and Captain's Dinner included)

In a splash of islands lined up directly across from Split, Hvar is the one known for purple lavender fields, potent red wines and glitzy jet-set feasts along starlit waterfronts. Especially so at its prime hotspot, the Old Town of Hvar, also the home of the oldest theatre in Europe and organized tourism in Croatia! Join an optional walking tour* to learn more about the interesting history and starry present of the town and the island, before sailing over for a swim at the beautiful archipelago of PakleniOtoci. Later in the afternoon, drop the anchor in Vela Luka on Korčula, where you will enjoy dinner and an overnight stay.
Optional: *Hvar town – optional walking tour package
Day 6: Vela Luke - Pomena - Slano - Thursday (Breakfast and Lunch included)

Your captain will choose a secluded bay to hop in the sea and start the day. Surrounded in deep green forests which earned Korčula its name and fame, meditate upon the sound of crickets and silence as you immerse yourself in the essence of this region: the crystal blue sea. Then continue to another green island, this time Mljet. The national park on the island is the home of two salty lakes connected with by a small channel with the sea. Nature lovers will get a kick from hiking or cycling here, possibly even kayaking over to the small inlet in the center of the lake, charming with its 12th-century Monastery of St. Mary. Spend the evening in the small settlement of Slano on the mainland, once adored by Dubrovnik sea captains.
Optional: Mljet National Park, free time in the National park.
Day 7: Slano - Dubrovnik - Friday (breakfast and lunch included)

In vicinity of Slano, the petite town of Ston claims its fame for many things gourmand: strong wines, ancient salt production and succulent oysters and mussels. Relax in Slano before sailing out to Dubrovnik. Midway, a dip on Lopud Island gets you up before you arrive. Surrounded in immense city walls, as if in a universe of its own, the world-famous facades line up as you walk the same streets like the cast and crews of the Game of Thrones, Star Wars and Robin Hood. Enjoy an evening of romance, glitz and glam, as you will be staying in Dubrovnik overnight.
Optional: Dubrovnik town tour with a coach transfer from Dubrovnik port (Gruz) to the Old town – optional walking tour package (or on day 2) and optional excursion: Taste of Dalmatia
Day 8: Departure from Dubrovnik (Breakfast and Dinner included)

Enjoy a farewell breakfast before disembarking by 09:00 am. Keep in touch with your fellow travelers, Cruise Manager and the crew. Late morning you will be transferred to your hotel in Dubrovnik. Overnight in Dubrovnik.
Please Note:
- Cruising route is subject to change depending upon weather conditions
- Departures are guaranteed. Elite Travel reserves the right to change the vessel provider in case the contracted services are not supplied according to the previously agreed standards
- Guests are obliged to follow ship rules (found in written form on the ship) especially with regards to bringing drinks on board
- In case of bad behavior Elite Travel/the captain reserves the right to ask the clients to disembark
Your Bus Tour Itinerary —
After disembarking from their cruise, our members head off on their bus tour and will follow the itinerary as seen below.

Please note: The tour is in English and French
Day 9: Dubrovnik (Day excursion to Montenegro) (Breakfast and Dinner included) 

Today you will enjoy a day excursion to Montenegro. Departure from the hotel driving through Konavle valley and around the bay of Kotor, continuing drive to Perast and boat ride to the islet of Our Lady of the Rock, sightseeing of the Baroque church from the 17th century. After Perast you will go on towards the town of Kotor for a sightseeing tour with local guide (no entrance fees). Then make use of some free time in Kotor. Upon departure there will be a short ferry ride across the bay of Kotor, then drive towards Dubrovnik and arrival back to the hotel. Dinner and overnight in Dubrovnik.

Day 10: Dubrovnik (Breakfast and Dinner included) 

Today you have the day at leisure. There is an optional excursion available to the island of Korčula. Korčula holds indisputable a privileged position among the Croatian islands. Here we find more legends, tales and monuments than anywhere else. Being famous stonemasons, shipbuilders and seafarers the people of Korčula left their marks all over the world, but they saved their best works for their own city. Experience the narrow streets, beautiful churches and magnificent palaces in one of the best preserved Medieval towns in the Mediterranean. After sightseeing there will be free time for lunch or even swimming. On the return a stop will be made in one of the well-known wine cellars of the Pelješac peninsula to sample some of the excellent local wine. Dinner and overnight in Dubrovnik/Dubrovnik area.


Day 11: Dubrovnik - Mostar - Sarajevo (Breakfast and Dinner included) 

Embark on a morning departure to Mostar, the city of bridges, where the traveler from the south gets the first glimpse of the continent beyond. Orientational walk with your tour leader in Mostar and free time for lunch. Then depart to Sarajevo, the capital of Bosnia and Herzegovina. Sarajevo is one of the historically most interesting cities in Europe. It is the place where the Western & the Eastern Roman Empire split and where the people of the Orthodox East, the Ottoman South and the Roman Catholic West met, both an example of the clash of civilizations and of historical turbulence and a beacon of hope for peace and tolerance, reached through multi-cultural integration. You will enjoy a city tour of Sarajevo upon arrival. Dinner and overnight in Sarajevo/Sarajevo area.
Day 12: Sarajevo - Belgrade (Breakfast and Dinner included) 

Embark on a morning departure to Belgrade, capital of Serbia. A short break will be made in Zvornik, a charming little town in the northeastern Bosnia on Drina river. Belgrade is situated at the place where Sava joins the Danube River. There are spots in Belgrade you must definitely see and feel. Streets, squares, monuments, parks, fountains, archeological sites. Many of them have been given the status of cultural assets. Upon arrival, enjoy a guided tour of this beautiful city between two rivers famous by its sunsets. Dinner and overnight in Belgrade.

Day 13: Belgrade - Novi Sad - Osijek - Vukovar (Breakfast and Lunch included) 

Morning departure to Novi Sad (Serbia's second largest city), located on Danube river. Novi Sad's position at one of the continent's true crossroads and history as a multinational commercial and transit center has left it endowed with historical and cultural sights that even much larger cities have difficulty matching. Novi Sad has much to boast about, from the imposing fortress on the opposite bank to the churches representing numerous denominations throughout the old town's exceedingly pleasant pedestrian zone to several unheralded but noteworthy museums and art galleries.
Your local guide will show us all 'must see' locations. After the guided tour of Novi Sad you will continue towards Ilok. You will have opportunity to taste wines in one of the famous Croatia wine cellars "IločkiPodrumi" followed by traditional lunch.  On our way to Osijek we will stop in Vukovar which is the biggest Croatian river port located at the confluence of Vuka River in Danube, a town also known as a symbol of the Croatian war for independence, as it arose from the ashes of the '90s into the proud city that it is today. Overnight in Osijek or Vukovar.
Day 14: Osijek - Vukovar - Zagreb (Breakfast and Lunch included) 

You will start you morning with the city tour of Osijek. Osijek Pancake - flat, rich in rivers, Slavonia has unique natural wonders and delicious regional cuisine that will take your breath away: endless plains, the intense yellow of its corn and sunflower fields, the flavors of its cuisine  that will make all your senses travel.... Osijek, the largest city in eastern Croatia, beautifully settled on the banks of Drava River. Osijek remains a popular tourist destination for its Baroque style, open spaces and lots of recreational opportunities. Located in one of the most fertile and most certainly the biggest agricultural area of Croatia, the town is its semi-official gastronomic capital. The city tour passes by the Cathedral and the Tvrdja (Old Fort).
The drive will then continue and the first thing you see when approaching Djakovo from either side is the brightness of the bricks of the two towers and cupolas of its Cathedral, beauty of which welcomes the visitors. After the visit, departure towards Zagreb followed by a visit to the Ethno Village of StaraKapela for a lunch (no drinks included) of the products of the Pannonia soil. Upon arrival sightseeing tour of Zagreb, Croatian capital city, gives you the opportunity to see the fortified Upper Town, the city's historical center, St Mark's church with its multi-colored roof, the Cathedral, Croatian National Theatre and the University. Through the carved facades of buildings and baroque churches, we see many green spaces and terraces of cafes where the locals like to gather. Overnight in Zagreb/Zagreb area.


Day 15: Zagreb - Departure (Breakfast included) 

Enjoy a departure transfer from the tour hotel to Zagreb airport.
Your Cruise Ship —
Our members will stay onboard the MS Adriatic Princess, and will enjoy a choice between a Double Lower Cabin and a Double Main Deck Cabin, both of which include Half Board Dining (daily buffet breakfast and lunch each day other than day 1, 4 and 5 when dinner is served onboard - includes selected drinks).

MS Adriatic Princess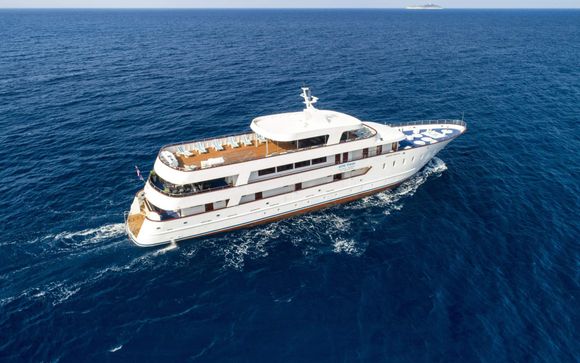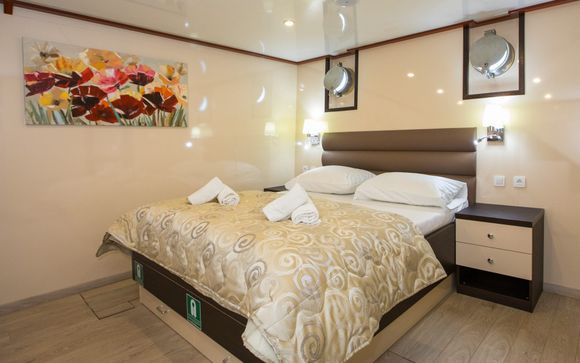 The MS Adriatic Princess is a sleek, modern motor yacht and is the ideal choice for a cruise along Dalmatia's scenic coast. Its size allows it to berth in many of the historic and atmospheric ports of the islands of Croatia. For your comfort, the ship features just 18 very spacious, fully air-conditioned cabins, all of which boast twin or queen-size beds and private en suite bathrooms.
Public spaces include an air-conditioned salon-restaurant and fully equipped bar, leading out to an alfresco lounge area with comfortable sofas to relax on. A large sun deck on top of the ship has room for all passengers to take in the ever-changing panoramas of this magical region or relax and sunbathe on the provided sun-beds.
Both Cabins Sleep up to


2 Adults
Your Bus Tour Hotels —
During their bus tour, our members will stay in the following 4* hotels in Double Standard Room on a Half Board basis (Breakfast and lunch or evening meal served in the main restaurant - excludes drinks).
Your 4* Hotels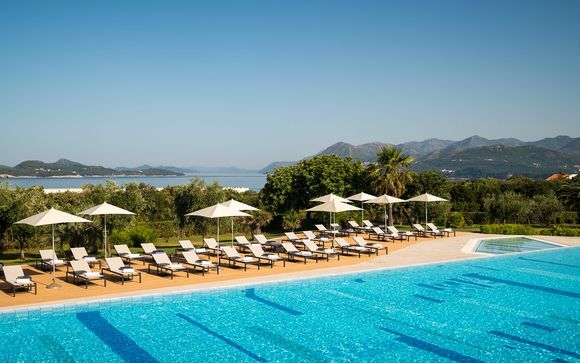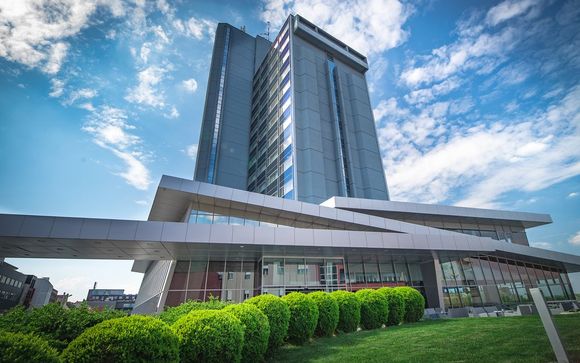 Dubrovnik:
Hotel Valamar Lacroma 4* or similar – Double Standard Room

Sarajevo:
Hotel Colors In 4* – Double Standard Room
Belgrade:
Hotel Zira 4* – Double Standard Room
Osijek:
Hotel Osijek 4* – Double Standard Room
Zagreb:
Hotel Astoria 4* or similar – Double Standard Room
Sleeps up to


2 Adults
Your Journey —
Flights: You may choose from Economy, Premium or Business class flights on sectors that they operate, at the next stage of the booking process.

The flights included are with either a scheduled or no-frills airline and are subject to live availability and prices can change. You can choose your preferred departure times during the booking process. Please select your flight options carefully as departure and arrival airports may differ.
Transfers: All transfers are included.

For inbound transfer arrangements please confirm with your transfer provider when you arrive. Alternatively, please check with the reception of your accommodation. If you still require assistance, please call the transfer provider directly.