Enjoy your Sun Holidays ☀ in Rome - Voyage Privé



Table of contents
Book your holidays for Italy ✅ in Rome and enjoy the sun with Voyage Privé. Experience Rome and its historic monuments. 🏛
Travel to Rome
A firm favourite for foodies and fans of culture alike, Rome is the perfect destination for a break, all year round. Couples will love romantic walks along the beautifully lit river, with views of St Paul's Basilica. For families, the range of historical and artistic destinations ensure there's something to keep everyone entertained. Singles will love opportunities to enjoy culture and society whether alone or as part of many group tours available in the city. And who could fail to enjoy such a range of sumptuous Italian food? The capital of Italy, Rome epitomises the country's values - style, taste, history, art, a sense of community and zest for life.
The Voyage Prive travel expert's opinion on travel to Rome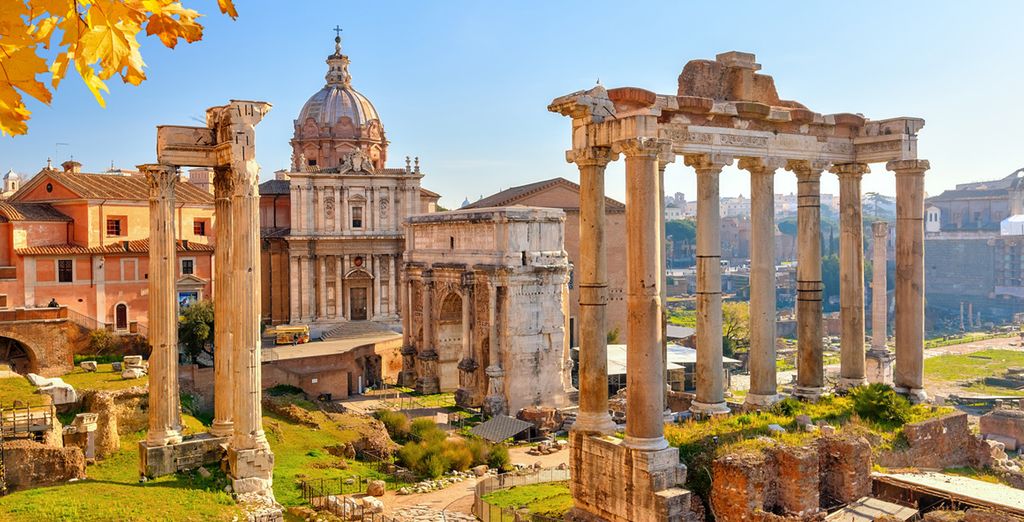 Sunny, cultural and fully to the brim with delicious dining options, Rome is one of Voyage Prive's favourite destinations. It's easy to tailor-make a holiday to suit your taste when travelling to the Italian capital. Whether you like to cram in sightseeing or prefer a leisurely stroll around the main attractions, punctuated by rest stops in bars and cafes, you'll love your break to Rome. Arguably one of the most romantic European cities, Rome has an enchanting and relaxed atmosphere. Families will be entertained by sights which bring to life the exciting and gruesome history of the Roman Empire. The city is welcoming and friendly, so those travelling alone or in groups will feel right at home, too.
Top 5 things to do / see in Rome
1. The Colosseum

The Colosseum, also spelt Coliseum, is a Roman amphitheatre first commissioned in AD 72. Standing close to the Roman Forum, the Colosseum never fails to impress in its grandeur and sheer size. 80 entrance arches allowed access to 55,000 spectators – today thousands visit every year. This impressive architectural feat measures 188m long, shaped elliptically to maximise visibility for spectators. Imagine the grandeur and ceremony of the Roman Empire, those citizens of yester-year who gathered to witness gory gladiatorial battles. Lions would have dominated the stage alongside famed fighters, life and death played out before their eyes. The biggest amphitheatre ever built, the Coliseum is not to be missed and should be top of every traveller's list.
2. Vatican City, including the Sistine Chapel and the Vatican Museums

You may have seen pictures or film taken inside the Vatican City, but nothing can compare you for its beauty and grandeur once inside and viewing in person. A distinct city state, the Vatican City is home to the Roman Catholic Church's headquarters. St Paul's Basilica stands tall above this walled city, which is as beautiful inside as out. Marvel at the stunning artistic feats of Michaelangelo in the Sistine Chapel before enjoying the grandeur of St Peter's Square. The Vatican Museums won't fail to disappoint, either. Here you will find an array of Roman Sculptures as well as the fascinating Gallery of Maps. The Vatican is the perfect place to visit whilst on a sun holiday to Rome - the interior offers cooling shade, welcome after walking around the city in the heat. Remember an umbrella or sun hat for the queue or, even better, book in advance.
3. Trevi Fountain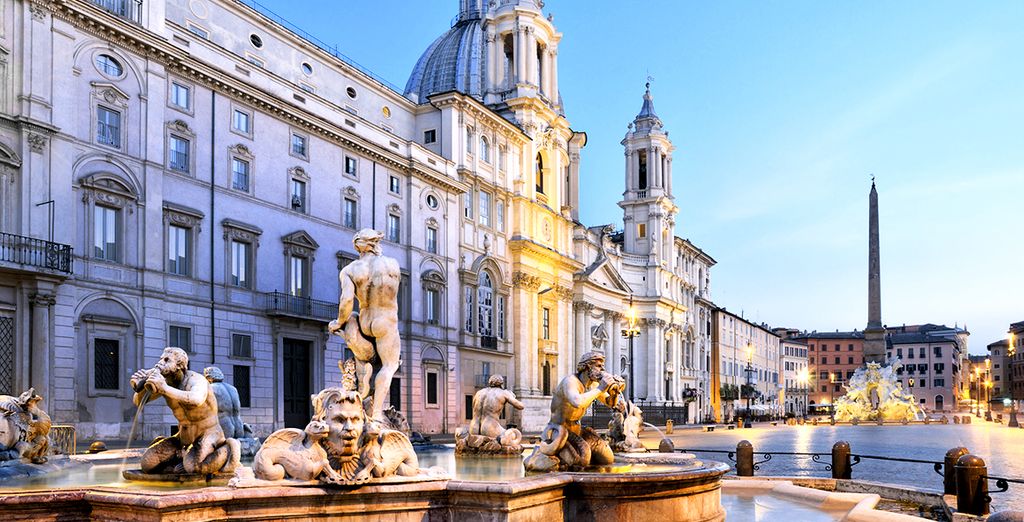 For the chance to have dreams come true, be sure to visit Rome's famous Trevi Fountain. Tourists travel from far and wide to make a wish in the crystal clear waters of the fountain, which collects around two thousand Euros per week. Decorated with winged horses, the fountain is a marvellous sculptural feat in its own right. While tourists enjoy the Baroque design of the fountain, coins tossed into the fountain by hopeful visitors don't go to waste. The city collects the coins for a supermarket benefiting the city's poor.
4. Roman Forum

Alongside the impressive architectural beast that is the Colisseum lies a collection of ruins known as the Roman Forum. Once a complex of villas, public meeting areas and temples, today the Forum remains a grand spectacle. Walk a space developed in the seventh century BC and imagine it as a thriving hub for commerce and socialising in the age of the Empire. Don't miss the Curia and Casa delle Vestali, two of the sites most impressive landmarks.
5. Pantheon

With legendary status and fantastically preserved, the Roman Pantheon stands tall and dignified. A monument to the pagan gods of the Ancient Romans, it was built between 118 and 125 AD. See first hand the dedication to Marcus Agrippa, inscribed in Latin on the external brick. The Pantheon was built by Emperor Hadrian to replace Commander Agrippa's Pantheon of the previous century, which burnt down. The Pantheon looks beautiful in the sun.
Which hotel to choose in Rome Hotel Locarno
Hotel Locarno is a charming and artistic residence, just a short walk from the Piazza del Popolo. Period features add a sense of elegance to this boutique guesthouse, a firm favourite for artists, musicians and writers. Choose from single and double rooms or sumptuous suites. The Hotel's internal courtyard and rooftop terrace are great places to enjoy a bite to eat or evening cocktail. The Trevi Fountain and Spanish Steps, two favoured attractions, are just a short walk away.
Rome Times
The Rome Times Hotel occupies a central location close to the Termini Station and just a ten minute walk from the Coliseum and Trevi Fountain. A stunning terrace is a favourite feature at this hotel, offering guests views from across the city. Thoughtfully designed for discerning visitors, rooms feature handmade furniture and high quality linens. Elegant and convenient, the hotel also offers a breakfast buffet featuring local produce.
Hotel Best Roma
Traditional, comfortable and super central, the Best Roma is a great base for a trip to enjoy an authentic Roman experience. Take a short stroll to the Porta Maggiore, the Roman Forum and Coliseum, or the Trevi Fountain. The hotel is well served by the city's bus network, making travelling around easy. Continental breakfast is served in an elegant hall or, if you wish, in your room. Travellers looking to enjoy Rome's buzzing nightlife will find the Hotel Best Roma well located to explore the student area, San Lorenzo, or Via del Pigento, also nearby.
Practical information about Rome
What is the weather in Rome
Sun holidays in Rome are almost guaranteed throughout the summer. Dry, hot weather dominates, and rainfall is unlikely. The city is usually warm in Spring and Autumn, too, and likely to be a little quieter. Outside of high season, you will enjoy six to eight hours of sun. December, January and February can be wet, although usually not too cold. These are the quietest months, so the best time to look around Rome's many attractions without large queues.
What budget to plan?
Rome has options to suit all budgets, with hotels ranging from €60 to €450+ per night. Dining options are similarly varied. Pizza is readily available for less than €15 (including beer!) whilst restaurants range from €25 to €150 per head. Most taxi rides will cost around €10, although most people who visit the city travel around primarily on foot.
Discover more sun holidays and offers to Rome : Weekend, Holidays, Last minute, Sun holidays
FAQ Sun Holidays Rome
Register online for free to access all the exclusive deals of Voyage Privé and book your next sun holidays to Rome.
Voyage Privé offers exclusive deals up to 70% off. Enjoy a luxury hotel and make your choice among many options (car rental, transfer included, upgrade to superior room, half board...) and enjoy a holiday in the sun of Rome.
Rated 9.2/10 by our members, the Triviho Hotel is a design establishment with a unique atmosphere while being ideally located close to the best places of interest in the city. Ripa Roma 4* is located in the lively Trastevere district and offers elegant, bright and spacious rooms.