Last Minute Holidays to Rome



Table of contents
Rome is a wonderful place: packed with ancient buildings, redolent with centuries of religious importance and possibly with more important artworks than can be found anywhere else in the world, it is the perfect destination for a last minute break.
Where to Stay at the Last Minute in Rome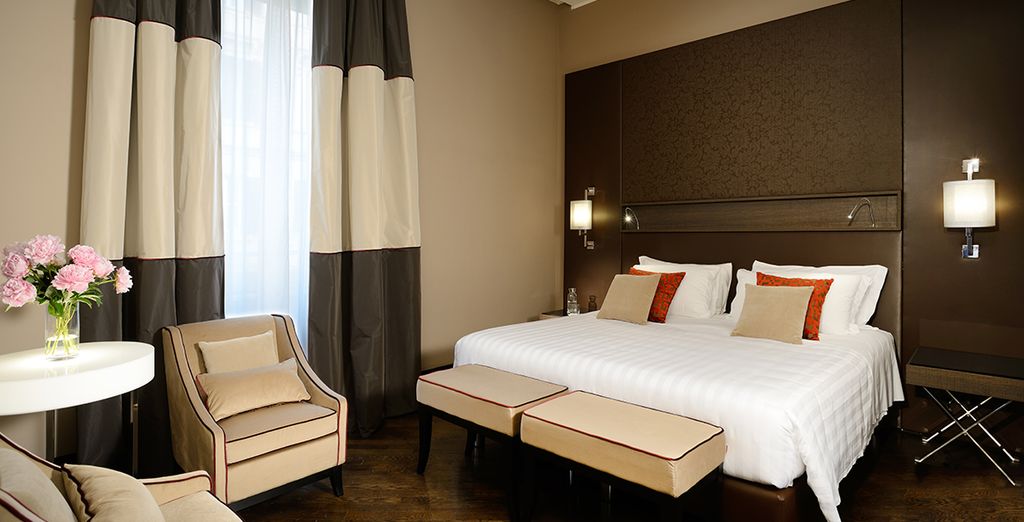 A combination of crisp white and natural browns, quirky décor and soothing home comfort make this hotel, just minutes from the iconic Trevi Fountain, the perfect home away from home while you explore the city on your unexpected last minute break. You will love the atmosphere of the hotel, especially after the sightseeing whirl that is part of any visit to the city.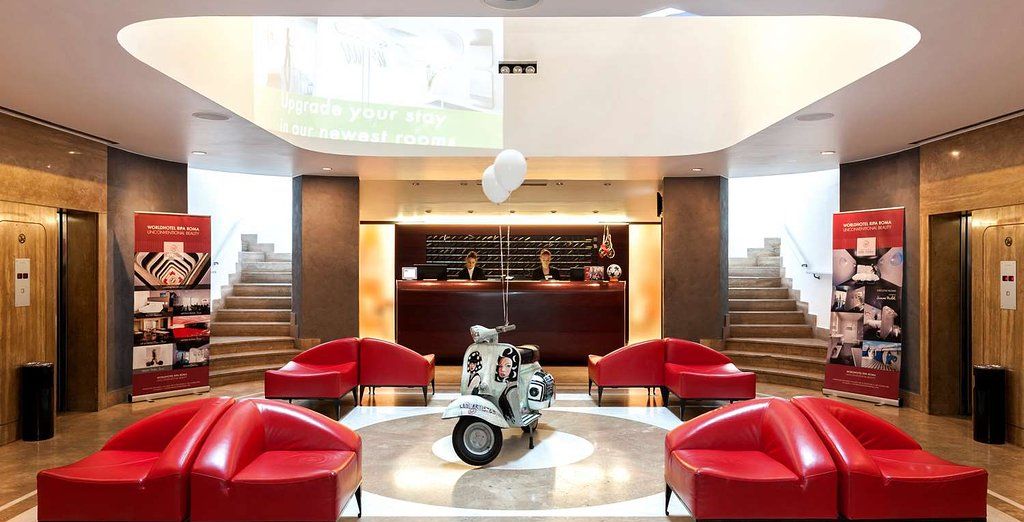 A stylish and trendy hotel in the heart of ancient Rome, this hotel is modern and progressive with unique décor touches that will linger in your memory long after you return home. The rooms are futuristic in design but comfortingly modern when it comes to all the amenities and comforts that you need in a hotel room.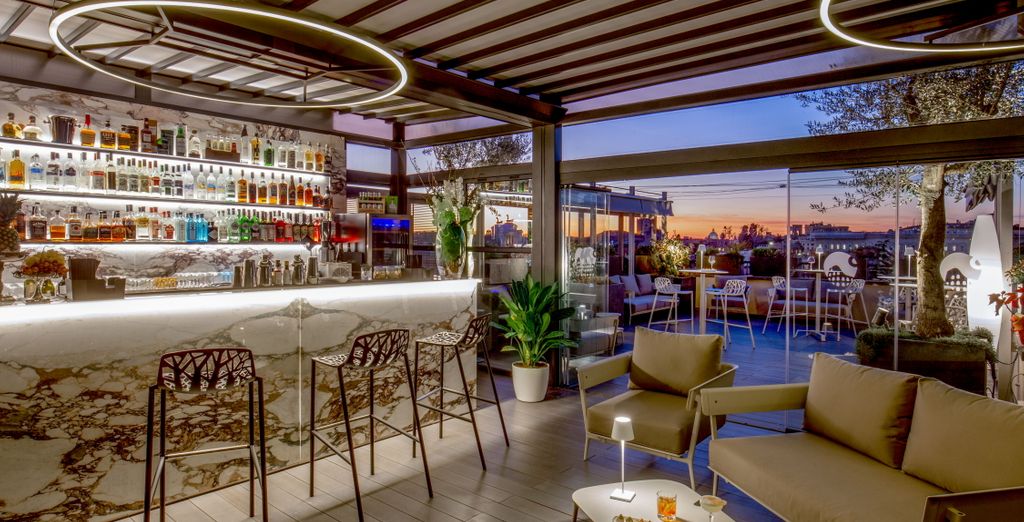 Close to the Coliseum and the Roman Forum, this quietly elegant hotel has everything you could hope for in any hotel, let alone a last minute bargain. Enjoy the view from the rooftop terrace as you dine on the very best of Italian cuisine, after a full day exploring all that can of the wonder of Rome, both ancient and modern.
How to Book Your Last Minute Holidays in Rome
Voyage Prive has all sorts of offers going for its members: all-inclusive, half-board, with flights included or not, as per your preference and even with car rental included or not. Browse the site to see all the offers on the go, or sign up for the newsletter and get all the latest deals before anyone else.
What kind of offers can I find at the last minute for Rome?
You can find a range of holidays on offer in Rome. You can take off by yourself for a quick weekend getaway, or you can take a partner for a romantic city break of three or four days. Or even, if the timing is right, you can snap up a quick week-long family holiday for you, your partner and the children! There are offers of all types designed to suit travellers of all types.
The five best things to see and do in Rome
1. Trevi Fountain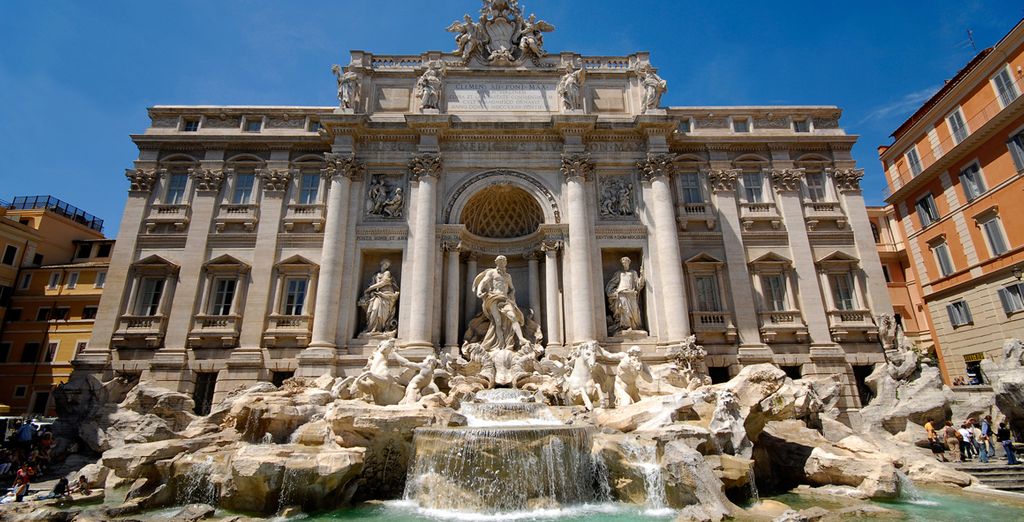 Perhaps one of the most famous fountains in the world, the Trevi Fountain has appeared in films and literature produced all over the world. It is the largest Baroque fountain in the world and stands 26 metres tall and nearly 50 metres tall. Linguists will be delighted to learn that the fountain marks a place where three roads met, and thus the fountain shares its name with 'trivia' the name for bits of information left at junctions of three roads or more, the better for information to spread. Created in 1762, the legend of the fountain holds that if you throw a coin over your left shoulder using your right hand, you are guaranteed a return to Rome before you die. An estimated €3,000 are thrown into the fountain daily, marking a lot of happy visitors determined to return to the city at some point in their lives.
2. Spanish Steps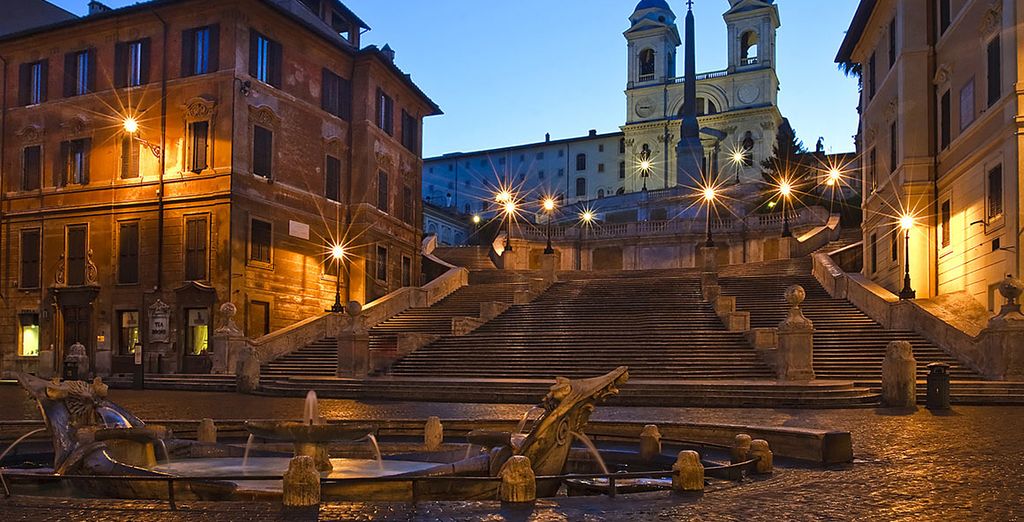 Made famous by instances as diverse as the pre-school reading book 'Busy, Busy, World' by Richard Scarry and the agent of cool himself, James Bond, the Spanish Steps are often depicted with cars bouncing their uncomfortable way down them. They were called Spanish because they linked the Spanish embassy (at the top) to the Holy See (below) and they were built to celebrate the establishment of peace between France and Spain. Sitting on the steps is forbidden, but they are often the site of markets, floral displays and are something of a community hub for locals and visitors alike.
3. Sistine Chapel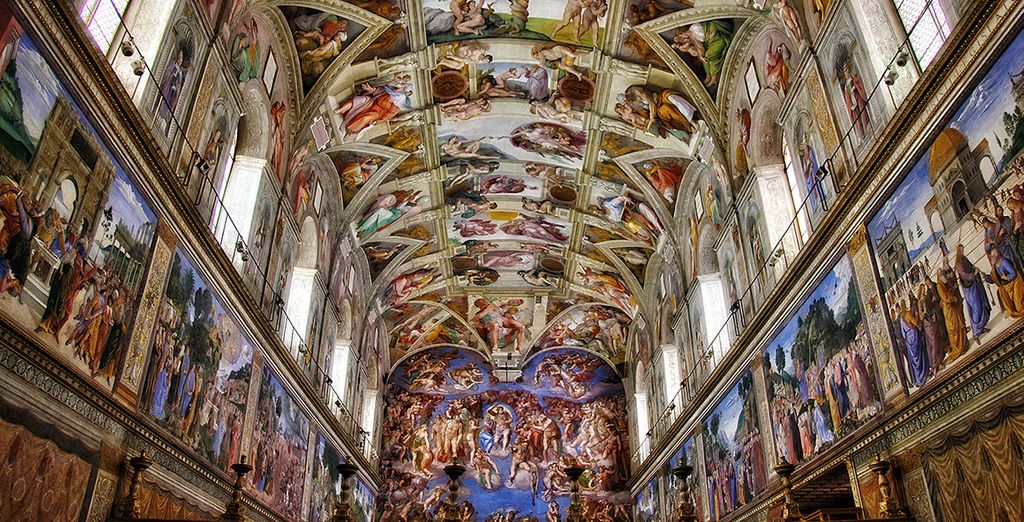 This beautiful building serves many functions, religious and secular. The best known is that the ceiling was painted by Michelangelo, with that evocative scene 'The Creation of Adam' where God is stretching out a finger to his newest work, perhaps being the most famous. Catholics will know the Chapel as the site where the papal enclave takes place when a new pope is being elected. The Chapel was built to Biblical dimensions, to emulate the Temple of Solomon. But the whole building is frescoed with works of artistic masters, including a lot more work by Michelangelo and is well worth the time spent wandering about simply admiring the fantastic and moving paintings and sculptures.
4. Vatican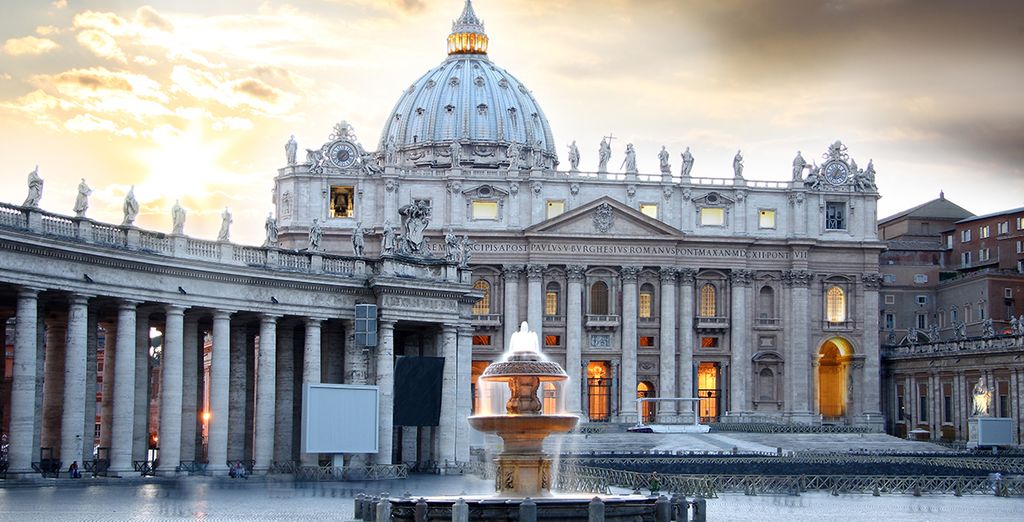 Obviously the home to the global Catholic Church, the Vatican is a unique institution. A country in its own right, smaller than New York's Central Park and fully contained within a city, the Vatican is the seat of Catholicism and the home of the Pope, who is elected as God's representative on earth. The wonderful artworks, beautiful buildings and rich religious history make the Vatican an intriguing prospect for exploration, even for those who are not at all pious.
5. Roman Forum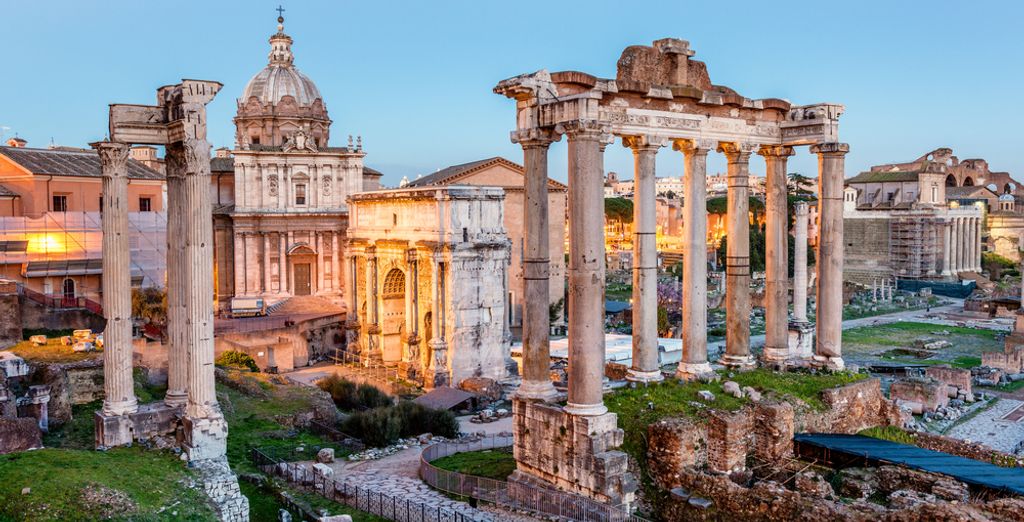 The ancient heart and hub of Rome, the Forum is the site of Rome's original community centre: the place were elections were held and celebrations feted. Speeches were aired here, and criminal trials, gladiatorial contests and so much more all took place in this rectangular place, now dotted about by ruins and tame patches of lawn grass. But there is still an echo of the vibrancy of life that shook this place and stepping quietly amongst the stones, you will get a sense of what life was like in those long ago days when the Roman Empire was creeping across the world, seemingly unstoppable.
Our Practical Advice for Rome
On a last minute holiday you are unlikely to have had much time to think about where you want to go, but it is vital that you do so: there are so many wonderful places, museums, fun excursions and more that you will become stressed at the thought of missing out if you try to do too much. Instead, plan activities to fill most of your time in Rome, and enjoy those fully. Perhaps a visit to Trevi Fountain to throw a coin into the water in the approved manner will ensure that you get to come back and finish your explorations?
What to pack for a last minute holiday to Rome?
Bring plenty of layers as Rome weather can be unpredictable. Being able to layer up or down as needed, and having a handy travel umbrella to stave off an unexpected rain shower will ensure that you can complete your sightseeing in relative comfort. Speaking of which, you will probably walk a lot in Rome, so do bring comfortable shoes with you.
What budget to plan in the last minute?
Plan on needing about €50 per person per day, not counting your accommodation if you want to be certain of having a good time on your last minute holiday. The prices of food and souvenirs in Rome can vary wildly between regions: tourist heavy areas tend to be the most expensive, but if you can find out where the locals shop and eat, you will probably save a considerable sum.
The Voyage Prive travel expert's opinion on City Breaks in New York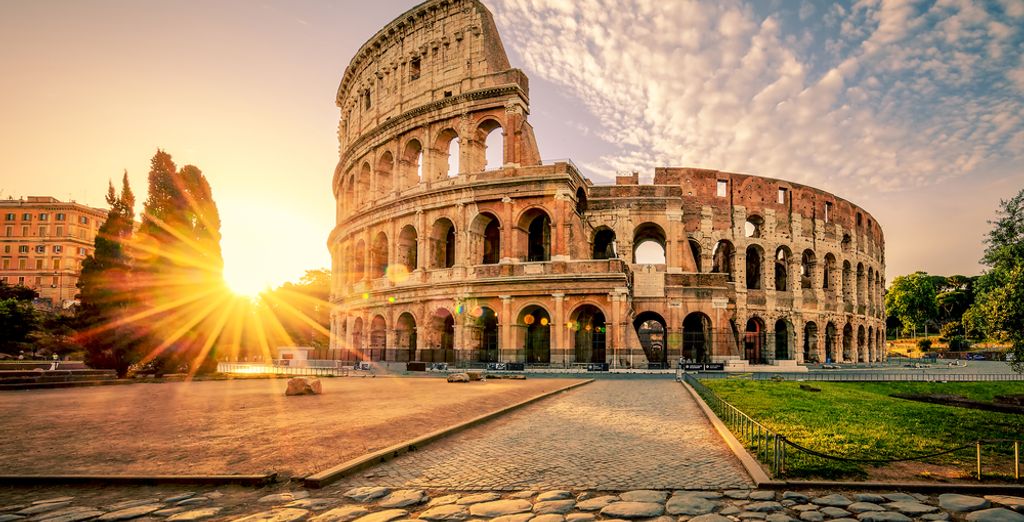 Famous landmarks
As one of the most important - if not the most important - cities in human history, the Italian capital of Rome is virtually bursting at the seams with cultural landmarks. Everywhere you turn in Rome is rich in history and practically every corner is a site to behold. Did you know that the whole city is actually a UNESCO World Heritage Site? Take a tour of the world famous Colosseum, site of the legendary bloodshed of countless gladiator fights. Visually astounding and deeply fascinating, the Colosseum is a must-see for any bucket list. The nearby Roman Forum is equally impressive; these ruins used to be the centre of Roman public life and it's completely free to explore.
Rome is home to the Vatican - an independent state of its own and seat of the head of the Catholic Church. Home to innumerable, priceless artworks and sculptures, the Vatican's jewel in the crown is undoubtedly the Sistine Chapel, a wonder to behold both inside and out.
A modern twist
For such an ancient city, Rome still has many contemporary attractions just waiting to be discovered. The MAXXI (National Museum of the 21st Century Arts) is a breath of fresh air and with artworks from local and international artists, it is truly bursting with colour, fun and entertainment. Or why not try a visit to Anti-Cafe? This truly unique cafe charges not for your food and drink but for the length of time you stay there. With free Wi-Fi, a scanner and printer and unlimited coffee refills, it's a 21st-century dream. Perfect for travel bloggers, freelancers, business men and woman or simply sending an email back home!
A foodie's dream
Italian food is a favourite with many people and there's nothing quite like experiencing a delicacy in the heart of the country. Be sure to seek out some independently run, local restaurants and enjoy handmade pizzas, locally sourced sea food, a typical traditional favourite and of course Italian gelato - yum!
Italy is a majestic country in many ways and Rome is a must-visit city just waiting to be enjoyed by independent adventurers, couples and families. To save money and ensure you have more to spend when you get there, browse our selection of luxurious hotel deals.