Maldives Holidays 2021/2022 - Best Deals



Table of contents
Maldives Holidays : Sand and sea, and everything in between
For picture postcard sunsets decorated by coconut palm trees and flawless, white sandy beaches, look no further than the Maldives. A small cluster of islands wallowing in the waves of the Indian Ocean, only 1% of this archipelagic nation's land is above sea level! Yet that doesn't leave a shortage of things to see and exciting activities to partake in, whether you're just looking to bask in the sun or try one of the many water sports on offer.
Maldives Holidays : Take a dip in the tropical seas
With the majority of the islands' land dominated by the sea, there is an abundance in activities and excursions that take full advantage of it. The Maldives is a world leading water sports hub, and water skiing, kayaking or wakeboarding on the spectacularly clear surf will make you feel as if you're shooting your very own Hollywood film. If you think the islands' scenery is something to behold, just wait until you scrape below the surface of the waves surrounding it. Snorkel or scuba dive among a treasure chest of coral reefs in every colour imaginable, and the 2,000 species of fish that call these reefs home. If you'd prefer to stay dry but don't want to miss out, there are plenty of exciting excursions to see whales, dolphins and sharks in their natural habitats. With over 23 different types of whale and dolphin having been spotted around the islands, including the seldom-sighted Longman's Beaked Whale, holidays in the Maldives really do offer the chance to experience once in a lifetime opportunities.
So many ways to relax in the Maldives
The Maldives is synonymous with relaxation, and not least because of its famous, pristine beaches, popular with sunbathers. This nation is home to traditional spa treatments that use oils from their national tree, the coconut palm, as well as the white sand from their beaches to promote wellness and healing. There is also the opportunity to partake in yoga and other exercise classes, taught by expert instructors. After a morning of rejuvenating exercise and spa treatments, take a shopping trip to the boutiques and try some of the renowned fish-inspired cuisine at a local eatery. Round off the evening at one of the underwater nightclubs for a truly unique experience! Does a holiday in the Maldives sound like everything you've ever dreamed of? Then sign up to Voyage Prive today to browse our exclusive offers on luxury hotels. Stretching across the equator in the Indian Ocean, the Maldives is a nation comprising of over 1000 islands. A popular tropical holiday destination, with its white-sand beaches, colourful reefs and abundant marine life, the Maldives is perfect for those searching for a tropical island getaway. Whether you are looking for fun beach activities, a relaxing break, or wish to immerse yourself in the local culture, there are many opportunities here.
Top 8 Things to Experience in the Maldives
1. Snorkelling
With numerous coral reefs that stretch the length of the islands, there are plenty of opportunities to explore these areas up close. Many resorts have their own private reefs where snorkelling activities are offered, while private tour operators also provide snorkelling excursions around the atolls.
2. Diving
If you want to get even closer to the marine world of the Maldives, there are many diving opportunities available. North and South Malé Atolls and Ari Atoll are home to many popular diving spots which include manta rays, sea turtles, and even whale sharks. There are shallow dive options for inexperienced divers and deeper dive options for certified divers.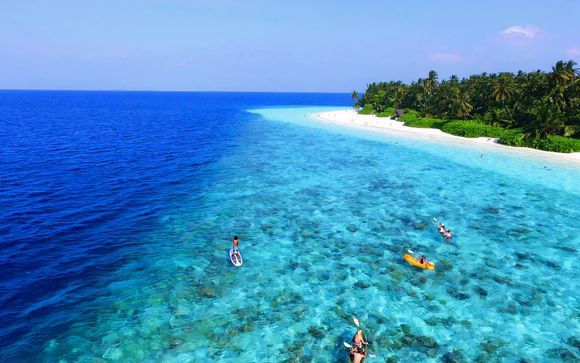 3. Surfing
The Maldives are home to several surf breaks and are fast becoming a popular surf destination. Hudhuranfushi and Huraa Islands are among the most popular surfing spots, and resorts there have in-house instructors who will teach you the basics to get you started. These surfing spots are very popular and bookings are limited, but quieter surfing locations can also be found in the southern atolls.
4. Dolphin Watching
The warm tropical waters of the Maldives are home to several species of marine mammals, including spinner dolphins. There are many tours that can take you around the atolls where these dolphins can be spotted. Some tours also offer opportunities to swim with the dolphins so you can encounter these creatures up close and personal.
5. Visit Malé
Malé is the capital of the Maldives and is a great place to experience the country's unique cultural background. Sultan Park is home to the National Museum and National Art Gallery and is a great place to immerse yourself in the history and culture. The Islamic Center houses the largest mosque in the Maldives, the Good Friday Mosque, while other mosques in Malé date back to the 17th century. The Malé Fish Markets are also a great way to experience the local culture and industry.
6. Explore the Islands
Of the over 1000 islands that constitute the Maldives, only about 200 are inhabited, yet each has its own individual charm. Hulhumalé is an ever-growing residential island with parks and beaches, while Utheemu and Feydhoo are great places to experience the Maldives' heritage. Many resorts and tour operators offer trips between the various islands which you can explore at leisure on bike or foot.
7. Relaxing
Being in a tropical paradise, it is natural to want to slow down and just enjoy the atmosphere. In addition to sunbathing and swimming, many resorts also offer luxurious spa treatments, including unique offerings such as underwater spas and night spas by the beach. Yoga retreats are also available for relaxation and meditation.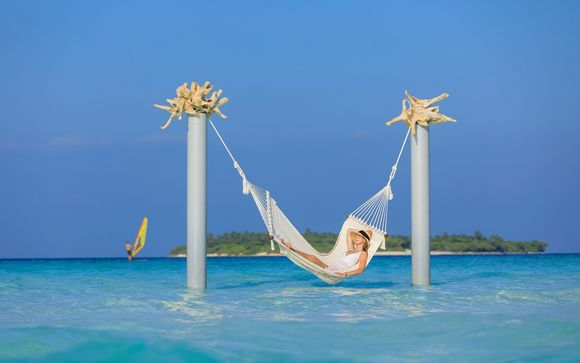 8. Watching Sunsets
Experiencing a tropical sunset over the ocean is magical, and there are several ways to appreciate it. Resorts and restaurants offer dinners at sunset which can be a romantic way to enjoy this moment. Taking a cruise on a dhoni, a type of sailboat used throughout the Maldives, is another way to experience close of the day. Alternatively, you can enjoy the sunset as you lie on the beach or in a hammock and watch as embers fade and stars emerge.
Our Best Hotels for Holidays in the Maldives
Situated on the island of Ookolhufinolhu, just 30 minutes by seaplane from the airport, this resort is a great place to relax and unwind. Accommodations include semi-detached beach villas with easy access to the private beach, and lagoon villas and suites that overlook the turquoise waters of Lhaviyani Atoll.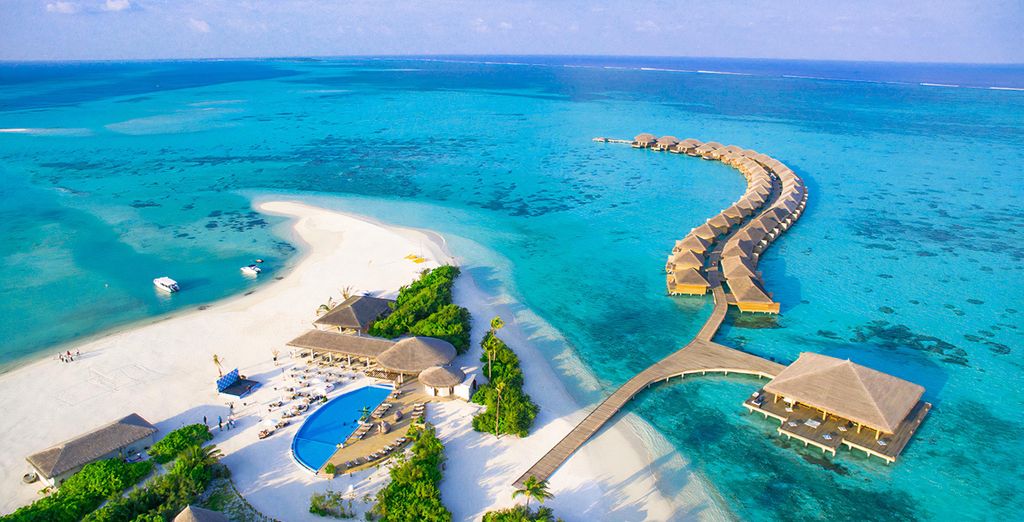 25 minutes by seaplane south of the airport lies Vakarufalhi, in the South Ari Atoll. This resort has a high-quality dive centre as well as the highly-rated Duniye Spa. Accommodations include beach villas surrounded by lush gardens with direct beach access and water villas with breath-taking views of the Indian Ocean.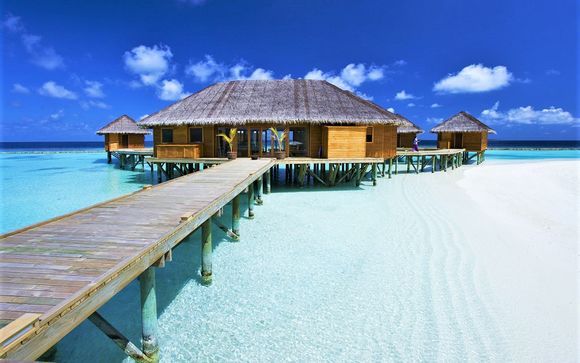 This resort is a quick 15-minute speedboat journey from Malé Airport to beautiful Emboodhoo Lagoon. Featuring luxury rooms and villas with wonderful views of the ocean, you can enjoy easy beach access, an infinity pool, a spa and al fresco dining. The resort also has an integrated leisure and entertainment complex, The Marina @ Crossroads, as well as entry to the Marine Discovery Centre and Maldives Discovery Centre.
Being only one of two resorts on the Haa Alif and Haa Dhaalu Atolls, this is a perfect place to enjoy some privacy and relaxation. Located on the unspoiled island of Dhonakulhi, this resort is great for romantic couples, families, and those who want to get closer to nature. Each villa features several large bedrooms, spacious rooms and jacuzzi tubs, as well as your own private pool with quick access to the beach or ocean.
This resort is designed for adults only to enjoy a romantic getaway, a dream honeymoon or just some alone time. Each private villa overlooks the ocean for stunning sunrise views and easy access to the lagoon and is a popular option for many Voyage Privé members.
When should I holiday in the Maldives?
While the Maldives are blessed with warm, sunny weather all year round, the period between May through October is considered the monsoon season. As there is a higher chance of rainfall and wind during this period prices may be lower, but conditions can be good for surfing. The dry season between November and April is ideal, and even in high season, the islands are so spread out that crowds are not an issue.
Going on holidays in the Maldives
Once you arrive at Velana International Airport on Hulhulé, you will need to transfer to your island resort. Island transfers can be done by speedboat or seaplane, and travel time can range from 10-70 minutes, depending on the distance. Be aware that seaplanes only operate during daylight hours, and transferring to and from the airport outside these hours will require an overnight stay in Malé. There is a 24-hour ferry service in Malé running every 10 minutes and buses to nearby Hulhumalé Island leave the airport every half hour.
Enjoying your holiday in the Maldives
With its isolated resort islands and idyllic tropical setting, the Maldives is most suited for couples looking for a romantic holiday. That said, there are plenty of activities at these resorts to keep families with young children occupied. Many of the resorts are in the higher price range, however, there are cheaper accommodation options for solo budget travellers, particularly in or near Malé itself. Be aware that the Maldives is a strict Islamic country, and although there is some leeway given at resorts, customs should be respected when visiting local communities. The recommended length of a stay should be about a week to make the most of your time.
The Voyage Privé travel expert's opinion on the Maldives
The unspoiled beauty of the many islands of the Maldives make this a unique holiday destination. Although popular for its pristine beaches and tranquil ocean waters, the islands are ideal for those interested in exploring the beautiful underwater environment and engaging in marine activities. The Maldives is a great place to visit if you want a laid-back destination where you can choose to take things at your own pace.
FAQ Last minute deals Maldives